The most important day for Star Wars fans has arrived, and the F1 Pit Building in Singapore is buzzing with activity. From the 501st Legion, Rebel Legion, and FightSaber Character March-In to a lightsaber performance by FightSaber, the occasion saw enthusiasts from all walks of life coming together to celebrate their shared love for the popular sci-fi epic.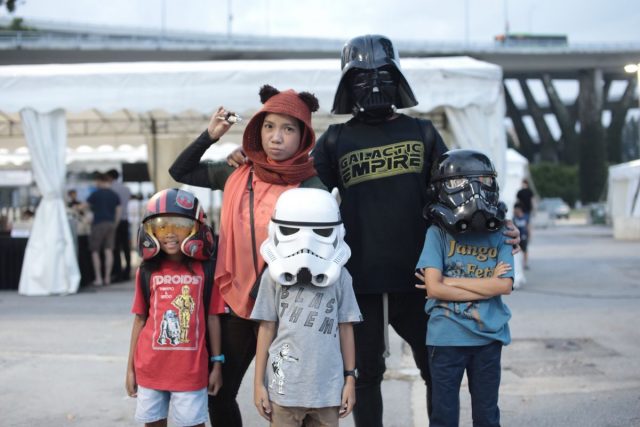 There's plenty of it to go around, too, with individuals dressing up as their favourite characters, and children swinging their lightsabers about. Jam-packed with fun, excitement, and laughter, Star Wars Day 2018 was as much of a good introduction to the series as it is for the fans.
Kicking off the event was the inaugural 501st Legion, Rebel Legion, and FightSaber Character March-In that saw great interest from the masses. Decked out in an entire ensemble of Stormtroopers, alongside their mighty leader Darth Vader and other familiar faces, the group was evidently a crowd favourite, with plenty of snaps going off for their photo session.
Terms like "Jedi" and "Sith" may have become synonymous with the Star Wars franchise, but there's no forgetting the iconic droids that have made a name for themselves in the movie. If you did some wandering about, you probably would have come across a familiar-looking droid that bears a resemblance to R2D2. That's R2-KT, a pink little astromech that was designed in loving memory of Katie, the late daughter of 501st Legion's founder Albin Johnson. Do drop by and say hi!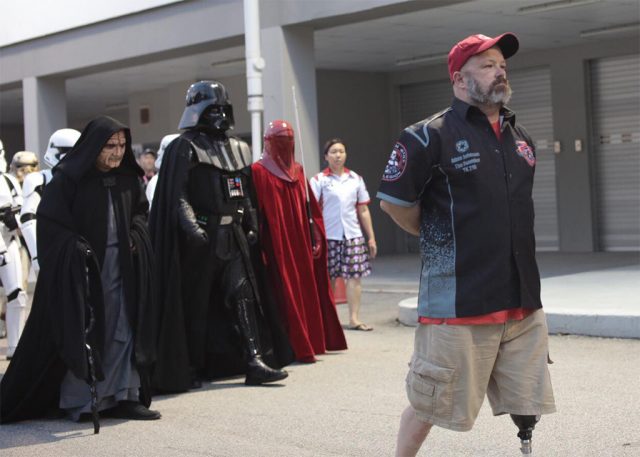 What's Star Wars without some lightsaber action? Trained professionals from FightSaber took to the opening stage to put up a slick choreography, filled with dynamic action, fluid footwork, and explosive action. Becoming the Jedi Master requires training from a tender age, however, and the Jedi Academy had young Padawans donning on their traditional garbs as they learn the basics of lightsaber motion.
Feel the Force, little ones.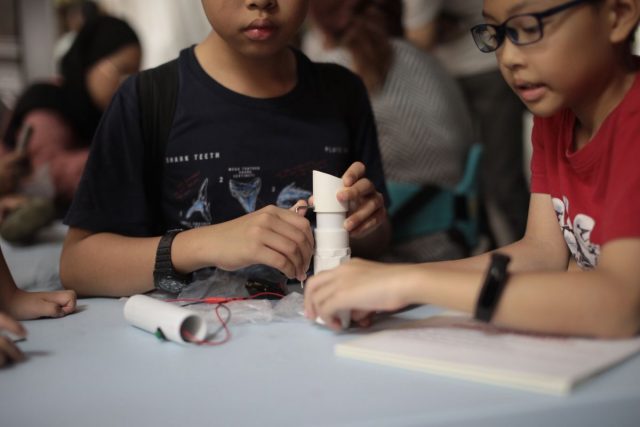 Remember how as a young kid, you would be amazed by the light-up effect of said glowing weapon? A DIY workshop allows kids to have a hand at building a mini lightsaber by means of electrical physics. With the hilt provided, participants would just have to connect the wires together, and…
…voila, a lit-up mini lightsaber is now yours to keep! It's to be noted that registration is open on-the-spot for the public, so slots are probably fairly limited.
Fancy a little hands-on activity? The Royal Selangor's School of Hard Knocks passes on the knowledge of pewtersmithing to a very limited pool of the first 200 sign-ups. True to its name, a lot of hammering is needed to shape the mould into the final product – and yes, the process really does require some hard knocks.
Fun came in other forms as well. Local artist group Band of Doodlers led the charge in the art department with live doodles and charity commissions, while kids were treated to a LEGO play area and colouring stations. For the casual visitor, there's also the photo booth to capture all the memories.
For the LEGO enthusiasts, Daryl Ng had his MOC creations on display for all to marvel at.
While Star Wars Day 2018 did pale in comparison to the previous year's, what's most important is the sense of community brought upon by uniting fans together, and we certainly felt that during the event!
Check out the rest of the action below, and may the Force be with you: