When it comes to all things Star Wars at Celebrations, one would always expect that the movies will be the main focus but Electronic Arts managed to pull off something incredible – the trailer for Star Wars: Battlefront II is actually way, way better than the teaser for Star Wars: The Last Jedi.
This is how it's done Disney. But maybe it's because one party has a lot to make up for.
Developer DICE has joined forces with Criterion, the folks who make beautiful melody from epic vehicular action, to work on Star Wars: Battlefront II. And in case you're wondering, there is finally a single player campaign with Battlefront II and that comes courtesy of the new studio at Motive, who have the experience at crafting stories and action games.
And their tale will be epic, as the game explores the events that took place between Return of the Jedi and The Force Awakens! Lucasfilm even confirmed that Battlefront II's single player story will be canon within the Star Wars universe.
In the single player, gamers play as as Imperial TIE pilot/commander hybrid (of the Inferno Squad), Iden Versio who is the daughter of a high ranking Imperial officer. Return of the Jedi kinda destroyed her world didn't it? The story picks up right after the destruction of the Death Star II, and players are supposed to avenge the Emperor. (Spoiler alert – you fail. But hey, maybe you're the reason why Luke up and ran.)
But wait, is Palpatine alive? Or is it… Well, there is someone dressed in a red Imperial robe (like the Imperial Royal Crimson Guards), along with an astronaut-like helmet as a breathing apparatus. These Imperials really love their scary headgear don't they?
For those not keen on the campaign, the multiplayer mode takes place across all eras in the saga, from The Phantom Menace, up to The Force Awakens. And yes, it includes The Clone Wars animated series era as well. There's even The Last Jedi heroes and vehicles as pre-order bonuses too.
The Heroes now have more presence, and each Hero has a career advancement to unlock more skills/abilities, to get more powerful. Oh, and you get to play as a Republic battle droid now too. That's not all, you can even play as Luke Skywalker and Kylo Ren at certain points in the single player story campaign too.
The game also adds to the new Disney Star Wars lore, with the addition of a new planet Vardos. Created just for the game, Vardos is an Imperial utopia where children grow up and are taught about the Empire, about about order, stability and not necessarily evil.
Because who sends kids to school and tells them that they are the next generation of evil doers?
Star Wars: Battlefront II is slated for a November 17th release!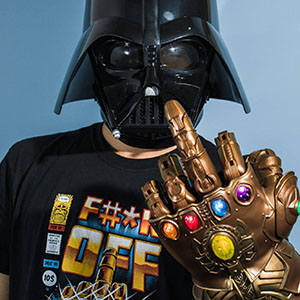 Yonk is a geek who is fortunate enough to have an equally geeky Star Wars fan for a wife, who owns a LEGO Millennium Falcon encased in a glass coffee table as their home's centre-piece.
---

Drop a Facebook comment below!

---