A new interactive Marvel-themed adventure is coming, and this time, you'll be at the center of it with Marvel Move, a fitness app that makes working out fun through new original Marvel stories. Explore the Ten Realms with Thor and Loki, or escape a strange place with the help of Doctor Strange; before you know it, you'll be smashing those fitness goals in no time.
From the creators of the best-selling fitness app Zombie Run comes Marvel Move, which launches in Summer 2023 and features five different fitness programs themed around various Marvel characters. The app combines expert-designed fitness programs with engaging stories from Marvel creators, and you'll be able to train for a 5K, 10K, or even a half-marathon by the end of the story. A premium tier membership is also available, which gives you access to private Q&A livestreams, free trials of Marvel Unlimited and Zombies Run, and more!
The app will launch with five workout programs to choose from:
Thor & Loki: Asgard 5K Training
A beginner-friendly 8-week 5K marathon training program with 24 fully voiced workout sessions that takes you on an adventure through the Ten Realms with Thor and Loki. The training program will guide you from being an exercise newbie to running a full 5K marathon, while you explore the intricate narrative.
X-Men: Age of ORCHIS
From X-Men comic writer Tini Howard comes X-Men: Age of ORCHIS, which lets you live out your superhero dreams as you discover your mutant identity on Krakoa. You'll be recruited to work alongside the X-Men to counter a rising threat to mutantkind, with fan-favourite appearances like Wolverine, Storm, Jean Grey, and many more.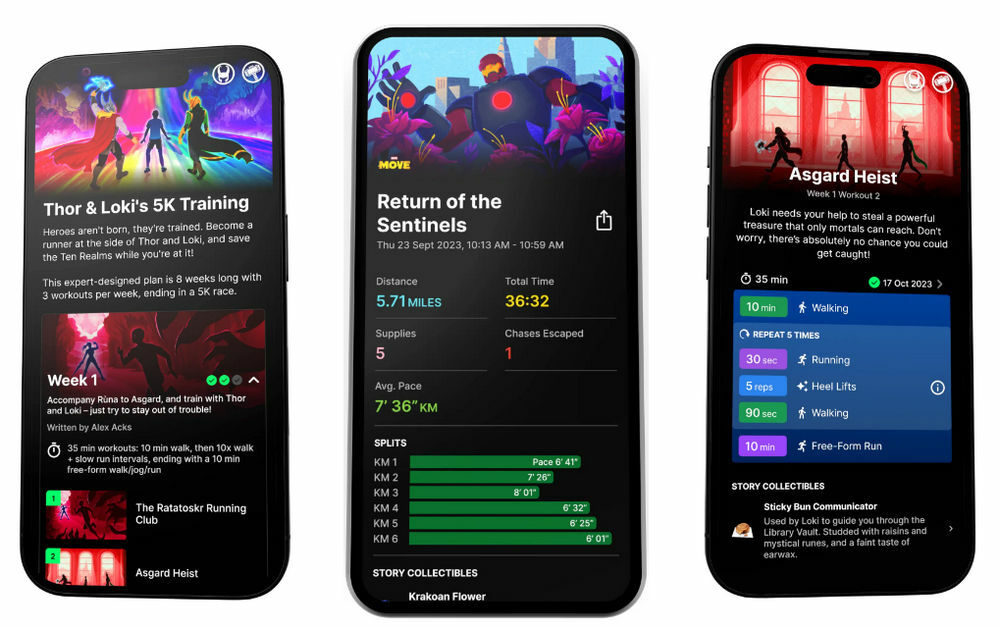 The Hulk: Hulkville
If you like Night-Vale-esque stories, why not start with The Hulk: Hulkville, as you join Bruce and Betty Banner in sneaking the Hulk into a remote desert town, but all isn't as it seems as you're thrown into a mystery with strange forces at work, and you'll get to uncover the mystery as you work out.
Daredevil: Terminal Degree
In Daredevil: Terminal Degree, you'll assume the role of a fresh law student who gets pulled into the criminal underworld, working alongside Daredevil himself to bring down the whole house of cards. For Daredevil fans, you won't want to miss this one!
Doctor Strange and Scarlet Witch: In Dreams
You find yourself listening to an audio tour guide for a place you've never visited, and things are getting stranger as you realise there's another voice leaking through, warning you, trying to guide you: a certain Sorcerer Supreme. You'll need to figure out where you are, and how you'll escape in this action-packed fitness adventurer featuring Doctor Strange and Scarlet Witch.
We're certainly excited for the launch of Marvel Move, which will drop on both the Apple Store and the Google Play Store via the ZRX app — stay tuned for more exciting details!