2018 is indeed the year for superheroes – at least on Marvel's side of things. On the silver screen, these heroes have been smashing box office records left and right, with the hype train still going strong as Ant-Man and the Wasp continues to charm audiences.
Bringing the action over to real life sees the Avengers assembling at the Marvel Studios: Ten Years of Heroes exhibition hosted by the ArtScience Museum, and soon to be in the lineup is Sentosa Sandsation: Marvel Edition, a new theme for Southeast Asia's biggest sand festival.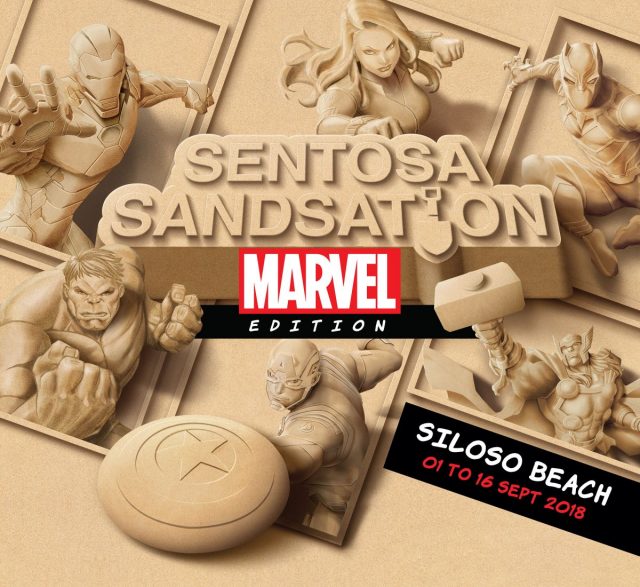 The second year of a three-year collaboration between Singapore Tourism Board and The Walt Disney Company Southeast Asia, the event will feature 15 larger-than-life sand sculptures of popular characters, such as Iron Man, Thor, Captain America, and Hulk, across September 1 to 16, 2018 at Siloso Beach.
Intricately-crafted, the sand-art creation is the brainchild of internationally-acclaimed talent JOOheng Tan and his team, who also happen to be Singaporeans #LocalPride. For those looking for more excitement, there's a host of interactive Marvel-oriented activities to look forward to, including:
Hulk Smash – Discover how your strength compares to a Marvel superhero, as you watch the ground break and tremor according to the intensity of your smash.
Freeze Frame Station – Show off your superhero moves along other Marvel superheroes in a 180-degree photo opportunity activation, and take home a photo memorabilia after.
Hero Action Centre – Find out how similar you are to a Marvel superhero, and bring home a customised Singapore-themed Marvel comic book.
The last on the list seems to be pretty nifty, and it'd be interesting to see how local elements can blend in. It's definitely something to look forward to for fans, although there's no word on whether there's a limit set for the number of comic books to be given away.
Apart from the above, there will also be sand sculpting workshops for individuals aged five and above, alongside movie screenings by the beach, and unique offerings at Madame Tussad Singapore's Marvel 4D Experience.
And if you'd fancy some competitive thrills? The Sentosa International Sand Sculpting Championship is set to return with 14 of the world's best sculptors in tow, as they build towards their ultimate Marvel-inspired creation to walk away the victor.
With a sand-sational and geeky experience in store, heading down to the State of Fun sounds just like the perfect weekend plan for fans to indulge in all things Marvel – an experience that should most certainly include art lovers and families with young children as well.
---

Drop a Facebook comment below!