The last time audiophiles heard of Sennheiser's Momentum headphones was in 2019. Now, after three years, the company has announced the Momentum 4.
The all-new Momentum 4 wireless headphones promises improved battery life. a new modern design where long-lasting comfort is made stylish and more.
For starters, Sennheiser says users can expect up to 60 hours of battery life – even with Adaptive Noise Cancelling (ANC) turned on. The Momentum 4 also has quick-charge where 10 minutes of charge gives off 6 hours of use. To help conserve battery, it is also equipped with automatic pause and automatic on/off. This means the headphones will power off when left unattended and will turn back on when picked up.
Since Sennheiser expects users to wear the headphones for a long time, it's got to ensure that they're comfortable for use throughout the duration. The new hinge easily adjusts and doesn't exert too much pressure on the head. Earcups also rotate flat and physical buttons have been replaced with a touch panel on the right-hand side where users can easily change in between ANC and Transparency mode. The new synthetic earpads also ensure exceptional and long-lasting wearing comfort, as well as high precision in reproducing sound and ANC performance.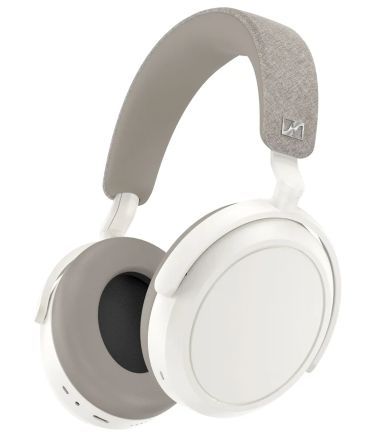 Speaking of sound, the Momentum 4 relies on a 42mm dynamic driver that provides what Sennheiser describes as an 'audiophile-inspired acoustic system'. It also allows users to customise their listening experience through the Sound Personalisation feature via the Sennheiser Samrt Control app. Users can choose to listen with built-in EQ and various presets and sound modes – whichever sounds better to their ears.
Users can also take calls effortlessly as the Momentum 4 sports four digital beamforming microphones to ensure high-quality voice pick-up and automatic wind suppression for optimised calls and easier voice assistance access via Siri and Google Assistant.
The new Momentum 4 Wireless Headphones retail for S$499 and comes in two colours: black and white. It is available in Singapore starting 9 September 2022 at the Sennheiser webshop, as well as on Amazon, Lazada and Shopee.