We had fun at the preview of this year's Halloween Horror Nights; head here for our review on the local scare-fest. But how did the ideas come up for these scare-laden spectacles and what was going on behind the scenes?
We had a talk and found out more about the method to the mayhem with Halloween Horror Nights 5's crypt keepers. They are executive producer Andrea Teo, assistant vice president of Resorts World Sentosa's entertainment Wee Thye, and creative director Markham Gannon.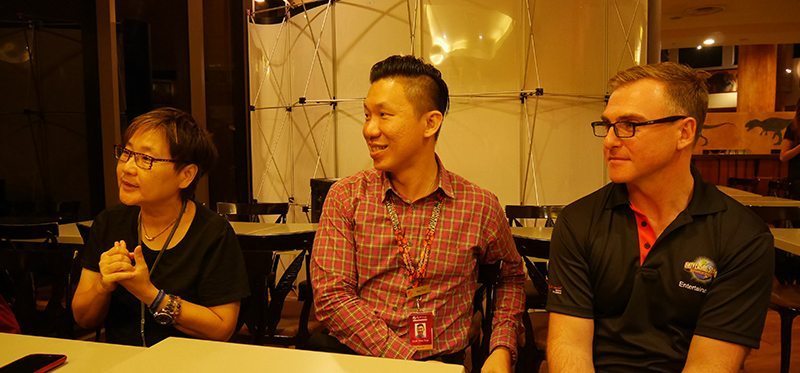 On This Year's Haunted Houses
Andrea Teo: I think this year, this being the year of Singapore's birthday celebration, we took a distinctly local turn. Three of our horror houses are about parts of Singapore's life that people are going to recognize.
For Block 50, our designers took pains to really duplicate an HDB flat and have a whole facade standing tall for everyone to see. When you go in, you'll see a very familiar narrow corridor. We took great pains to make sure every race was covered.
Wee Thye: It was a lot of fun doing the multi-racial thing; for the guests to walk through four different experiences.
AT: It brought back memories of doing Under One Roof (laugh). But in a horror version. The crew laughed about it.
WT: From the set, to the dressing, all the way to the sound design. All levels of the creative team had fun doing this because ithey were working on something they're familiar with.
Markham Gannon: Yeah I think for the locals and visitors, [Block 50] had a tangible fear because it was a familiar environment. We injected horror in ordinary circumstances. LIke you're in somebody's house but with that disconcerting feel.
AT: The brainstorm session goes like this: there's a part of an idea here, a part of an idea there, and a part of an idea everywhere. We build our way together then we
I was a bit skeptical about Block 50 because it might turn up repetitive with one corridor house to the other. We solved that thanks to one of our team members suggesting that we can break through the walls; have them linked together without any need to take the stairs.
WT: The best part about this house is that we may separate guests during the visit. One group will get stuck in the lift; the door closes and something will happen inside. We want the experience here to also be unpredictable.
On The MRT Haunted House
WT: It all started because someone started this train of thought: Let's touch upon something that affects Singapore on a daily basis. This year's talk about train disruptions, so why not? But having MRT cabins upon MRT cabins combined together can seem a bit boring.
The whole idea of what's under the tracks and doing a backstory on why people shouldn't build MRT tracks on places you shouldn't.
AT: The MRT took the longest. There were 3 to 4 versions for pre-production that we kept rejecting. Some were unbuildable, while others were playing it too safe. We also wanted to brand it  with Russell Lee's Singapore Ghost Stories, since lot of our audience read his work.
It was challenging because there were no Russell Lee stories focused on MRTs; just side things and annotations.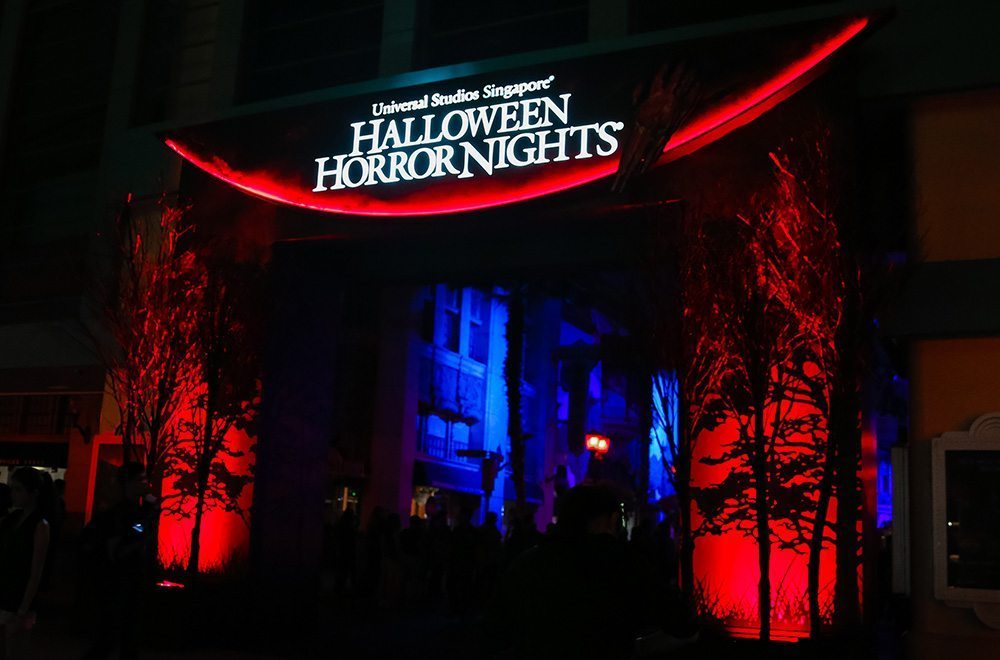 MG: We had to take these side things and put them all together in one big story.
WT: It turned out alright in the end because we had different locations tied in to the MRT, like the station, broken-down cabin, the tracks and what's underneath. It's not restricted to just "indoors" and MRT cabin spaces. We even included an element of going back in time to a black-and-white era too.
On What Scares A Singaporean
AT: Local relevance plays a lot to it. When we play around with familiarity, we play around with what people would be scared of. For example, the Hell House has that old-school vibe about it and is culturally specific. It's easy for us because we know what the trigger points are.
Even so, we also have specific scaring tactics that are quite universal. The element of surprise,the element of distraction, element of distraction,different angles of view. In short, it's the combination of knowing your craft and knowing your audience, while doing the setup and payoff.
On The Fear Of HHN Repetition
WT: It's definitely a challenge. Different settings give rise to different tactics and technologies. The new house ideas allowed us to use different techniques that we couldn't implement in the previous year.
In the Hell House,there were lanterns where you have to duck down under, giving you a huge sense of claustrophobia. It's still using basic elements of distraction.
AT: The challenge is also how to make the scares and vibe more unexpected. How to make more interesting hotspots and how to make more surprises.  We made it so that visitors look up more instead of looking down; changed the eye line.
MG: The availability of content will always be there because of Asia's superstitious horror roots. Visitors outside of Singapore will definitely get a kick out of it because of the stories and sightings like the old Changi Hospital. Local content is a big plus for us because it's identifiable material that is also different from what they're used to. We never really say that any chosen idea has to be [in a specific way]; the idea just finds and narrows itself down. Collaboration is really important here.
AT: It also helps that we have a large variety of people in our team. From example we have people who like astrology, people who knew about the Blood Moon before we did. We still discover things ourselves and do research;the ideas eventually finds itself from all this collaboration.
WT: I remember when working on Under One Roof with Andrea that comedy needed to be rooted in reality. The funny thing is that comedy and horror are similar in a way; the concept of setups and payoffs are still used in both genres. One makes people laugh, one makes people scream. HHN5 is a balancing act between the two genres, obviously leaning towards the latter.
We actually plan 12 months in advance for this; sort of like National Day Parade.With so many ideas coming in during brainstorming sessions, we always narrow it down to the ones that hits closer to home or is relevant to the news climate.
On The Possible Backlash Of Portraying Racial Stereotypes In Block 50
AT: We'd like to think that we're using "archetypes", not "stereotypes". These are archetypes of the mixture of Indian-ness, Malay-ness and "other"-ness you see in HDB flats.
WT: Nothing is made in ill will. We're not putting down or mocking anyone here.
MG: I will say as an expat that exploring the HDB setting [in HHN5] is still new to me and makes me feel like a visitor, even if I've been here for more than 5 years.The storytelling is a lot clearer in that sense; I take it as an asset for a lot of our visitors to understand Singapore and its different cultures. Singapore is a lot of cultures poured together. It's part of the joy being here together.
On Their Personal Favourite Attraction
AT: Can I cheat? (laughs) I like the HDB and the Hell House.
WT: I like all of them! But if you put a gun to my head, I'll say HDB.
MG: I would say HDB too because it's so commonplace here. I find it more disconcerning because it feels so normal. Having said that, each house felt diverse. It's definitely more varied this year.
Get a Discount on your Tickets!
Want a sweet Geek Culture Readers' discount for this year's Halloween Horror Nights? Head here: http://bit.ly/HHN5-GeekCulture
---

Drop a Facebook comment below!