October brings about a full month of horrors, unseen in the remainder of the year. No, it's not the haze caused by the fires in Indonesia, but Halloween brings about its own aggression. The adults get to go to Halloween themed parties, while the teens get to visit haunted houses crafted to bring on the scares. If you haven't heard, Universal Studios Singapore is hosting Halloween Horror Nights 5, the only massive horror themed event in the Republic.
But what about the children? Trick or treating is not exactly an Asian thing, so where does that leaves the little kids who would be too grossed out by fake blood, not to mention screaming at the adults trying to elicit a scream?
The friendly folks at Legoland Malaysia have opened up a new month-long celebration aimed at the kids, and it's the perfect time to bring the little ones there. Halloween Brick-Or-Treat Party Nights at Legoland Malaysia is home to several all day activities, including a live performance, meet and greet, and free Lego bricks for children.
The majority of the activities takes place at the Lego Kingdom, where a stage has been set up. The show, which features two new Minifigures, Frankenstein and the Green Witch, takes place throughout the day. (Although, I would like to point out that the creature created by Dr. Frankenstein has no name, so its name is not Frankenstein.)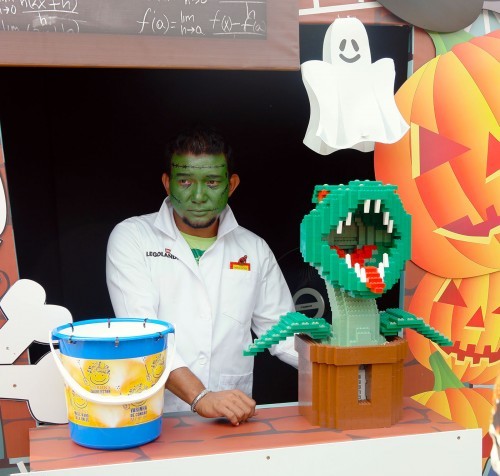 What will appeal to kids is a free bag of goodies. Look for this booth, which, during the media tour, was manned by the Frankenstein monster. No, it's not the Minifig creature. This is one of the staff members and you can do two things here. Make a donation and scream into this thingamajiggy beside him, and record your name and the reading. Legoland Malaysia will pick a winner to win a pair of annual passes to the park.
Show the guy your ticket and you child will get a bag of goodies, which includes several Lego pieces. Now, head on down to the six activities booth and exchange your Lego pieces for some exclusive items.
I'm not going to spoil the surprise by telling you which pieces to trade at which of the booths, and for what gifts, but if your child is the shy sort, I would encourage you to bring your child along. The costumed staff at each of the booths are trained to interact with the children, and it is fun bringing your little one and seeing how each one of them played with the kid.
Of course, it is not just for kids. For you Lego collectors out there, there is a special and unique Lego piece that is only available at Legoland Malaysia, and only during the month of October. The Halloween 2015 Commemorative DUPLO Brick is a limited edition official brick produced in limited quantities, and completing a series of tasks at the event will get you a special set.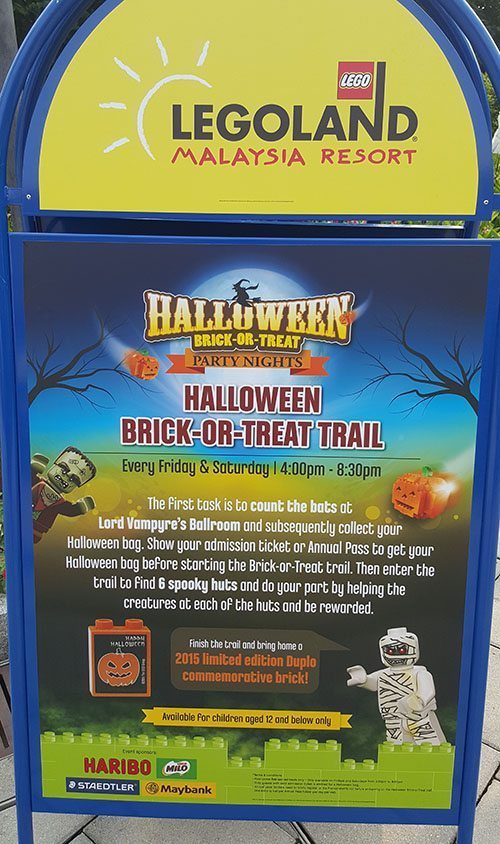 Halloween at Legoland Malaysia takes place from Oct 2 to Oct 31, and parts of the park will open late, until 8:30pm on Brick-or-Treat Party Nights, which takes place every Friday and Saturday. Tickets are priced at RM$85 each. Annual Pass holders enjoy free entrance, and can bring a friend for RM$70.
Visit www.legoland.com.my for a web deal that gives a free ticket for every 3 tickets purchased. Maybank card holders enjoy 25% off a ticket when buying it at the entrance.
---

Drop a Facebook comment below!