The new wave of gaming cosplay ducks by Tubbz are finally starting to ship, and we have just received the Resident Evil duo Leon S. Kennedy and Jill Valentine. Leon is the protagonist in last year's Resident Evil 2 Remake while Jill is the protagonist in the more recent Resident Evil 3 Remake.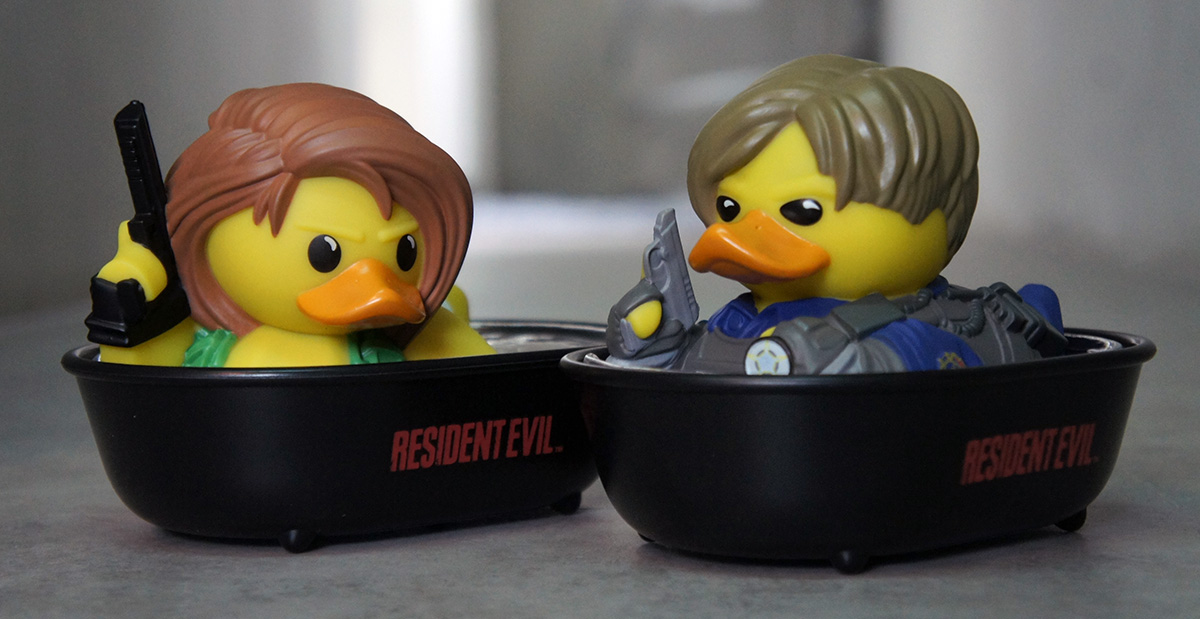 Despite having turned into quacking rubber duckies, Tubbz managed to keep them looking badass and ready to slay some zombies. Each duck measures at around 9cm tall and made of PVC. There's also Chris and Claire Redfield available in this wave. Can we have some zombies, lickers and perhaps even Nemesis too please?
Each duck collectible comes with a stackable display box and tub featuring the Resident Evil logo on the side.
Once again, Numskull Designs have done a wonderful job with the detailing and paintwork. Just look at the R.P.D. logo print on Leon's arm. And they've even managed to retain Jill's white sweater wrapped around her ducky waist.
There's even whole range of other game characters coming up, including the likes of Sonic the Hedgehog, DOOM, The Last of Us, and even more Street Fighter ducks.
The Tubbz Resident Evil ducks are available for pre-order now, and retail for US$12.99. The collection is expected to start shipping in June 2020.
Want more ducks? Check out our photo galleries of Ken & Blanka from Street Fighter and Venkman & Stantz from Ghostbusters.
---

Drop a Facebook comment below!