Six-sided square dice? Pah, it's time to inject some novelty into the conventional roller, and who better suited to do so than the guys over at Polyhero?
Following prior Kickstarter successes with their very own imaginative Warrior Set and Wizard Set dice, they are looking to roll (hah) out another adventure with a new set of dice on Kickstarter.
Termed 'The Rogue Set', the classic 7-piece collection features familiar RPG elements like potions, and rogue class-signature items such as arrows, short swords, locks, and lockpicks.
Needless to say, it comes with its unique set of qualities that may or may not be lacking in the previous editions, one of which we got our hands on – the Wizard Set.
First impressions matter, and Polyhero pulls them off well with well-composed images of the project. The design scheme is the right mix of colour, and the material seems to be of fine quality topped with a glossy finish.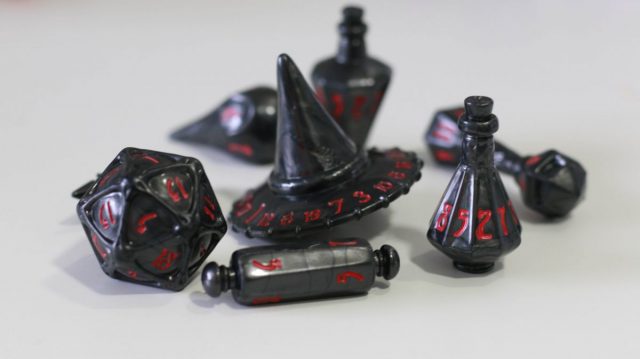 In person, the dice surface is more reflective than paint-covered, catching the glare of lighting fairly easily. The material, while not exactly sub-par, gives off the feeling of being cheap, especially for the ones coated in red (Dragonfire & Brimstone) – and the impression is made worse with the shoddy, misted ziplock bag packaging.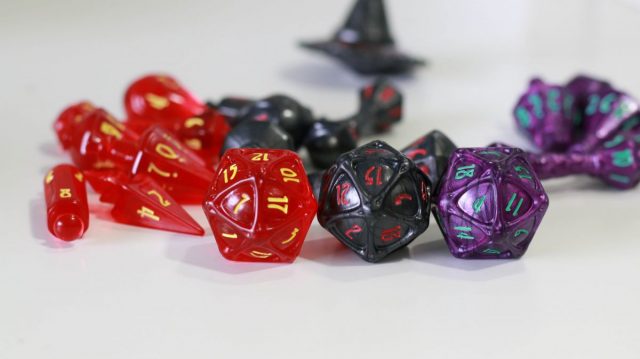 Compared to the previous images, their real-life look may come as a slight disappointment to some. The magic of photography, however, is a well-known craft of hoodwinking, and the difference is only expected. Overall, the concept is highly creative, and extra brownie points go to the novelty factor, but there's definitely room for improvement where quality is concerned, especially since it tends to be fairly inconsistent.
Caveat emptor would really be applicable in this case.
Thanks to the lightweight body, the dice are able to roll nicely across surfaces with little difficulty, as they should. Of course, the motion doesn't go on for long for most of the oddly-shaped, flatly-cut ones, but there's always the Wizard Hat from the Level-Up Pack for that.
Here's the thing about novelty: it rewards, but only when done well. That's not to say the Polyhero guys did a poor job. Rather, it's more accurate to say that in the creation of more unconventional designs, the probability factor is compromised for selected dice.
Take, for example, the teardrop-shaped die, which ends up way more on '3' than other numbers. It may not account for much, but in a game of odds, this is something that players should take note of.
Going for US$20, the price is fairly steep for an underwhelming set of dice, though there's no denying the appeal of owning one of these cool-sounding creations, especially for the tabletop fans. Alas, they fall flat of expectations with their above-par-but-not-great quality.
Interested parties may visit Polyhero's official website for more information on the Wizard Set, as well as its companion release, the Warrior Set. Details about their ongoing Rogue Set project can be found at their Kickstarter page.
---

Drop a Facebook comment below!