After 10 long years of serving delicious Penang food to Singaporeans across the border, Penang Culture is celebrating their anniversary by bringing dishes from different states of Malaysia to the tiny lion city.
The Malaysian restaurant has also curated a special menu to celebrate the occasion including brand new dishes from KL and Malacca, as well as signature dishes that are sure to be crowd pleasers.
From now until 31 May 2021, Singaporeans can travel across Malaysia with their taste buds and enjoy Malaysian cuisine that are not only unique to each state, but also relish in some fusion dishes.
On the menu are: Malacca Golden King Prawn Seafood Bee Hoon, KL Crispy Breaded Chicken Cutlet, Penang Fragrant Kam Heong Clams, Penang Rojak, Penang Premium Nasi Lemak and Johor D24 King Chendol.
Whilst it sounds completely normal at first, the Malacca Golden King Prawn Seafood Bee Hoon is anything but normal. Remember the cheese fad where you put cheese on literally anything? We're talking cheese on ramen, cheese teas and yes, even slapping cheese on babies for the heck of it. Whilst fads typically have short-lived lives, it seems the cheese fad is very much alive in Malacca where this bee hoon is swimming in a big bowl of – you guessed it, cheese. And if you haven't figured it out yet, the golden in this dish's name alludes to the cheese gravy made up of nacho, gouda and parmesan cheeses.
Hailing from Malacca, the cheese bee hoon is a true testament of fads that do stand the test of time and it's definitely an eyebrow raiser. The Malacca Golden King Prawn Seafood Bee Hoon is cooked with succulent king prawns, lala (clams) and squid in a rich and thick milk and cheese sauce. Since Asian food (or Malay food for that matter) don't often use cheese in cooking, this dish is reminiscent of carbonara pasta minus the bacon bits, mushrooms and dried gravy. The soupy dish can serve up to 3 pax and costs S$24.90 (U.P. $49.80).
Yes, you must be wondering – "How does it taste like?". Well, it tastes like cheese. Any cheese lover would be thrilled to have this dish because not only is the cheese flavour noticeable in the milky-like gravy, the juicy and succulent king prawns makes this dish sweet too. The strong yet strange cheese flavoured base is not for the traditional malay food lovers or haters of whacky fusion food. Whilst not a personal favourite, it truly is a unique dish one can't come across anywhere else in the world but Malacca. Guess Singaporeans are lucky to have Penang Culture around. We probably wouldn't recommend this dish if you're lactose intolerant and we sure wish that the dish has a bit of spicy kick to balance out the sweetness of the dish and to keep to its Malay roots.
The KL Crispy Breaded Chicken is a safe and simple dish that is enjoyable for all. The chicken cutlet is thick and fried to orange perfection. Crispy with every bite, this is a dish that is best eaten when hot but still enjoyable when not. It's likely a dish you would have when you're in need of good fried chicken but want something different from the regular KFC or the korean chicken that have gained popularity here in our sunny Singapore. Served with an accompanying Western-Asian fusion dipping sauce made out of mayo and curry, the modern flavours reflect the metropolis of KL with ease. The KL Crispy Breaded Chicken costs S$8.90 (U.P. $17.90) and does not come with rice or noodles (gasp, how very non-Asian).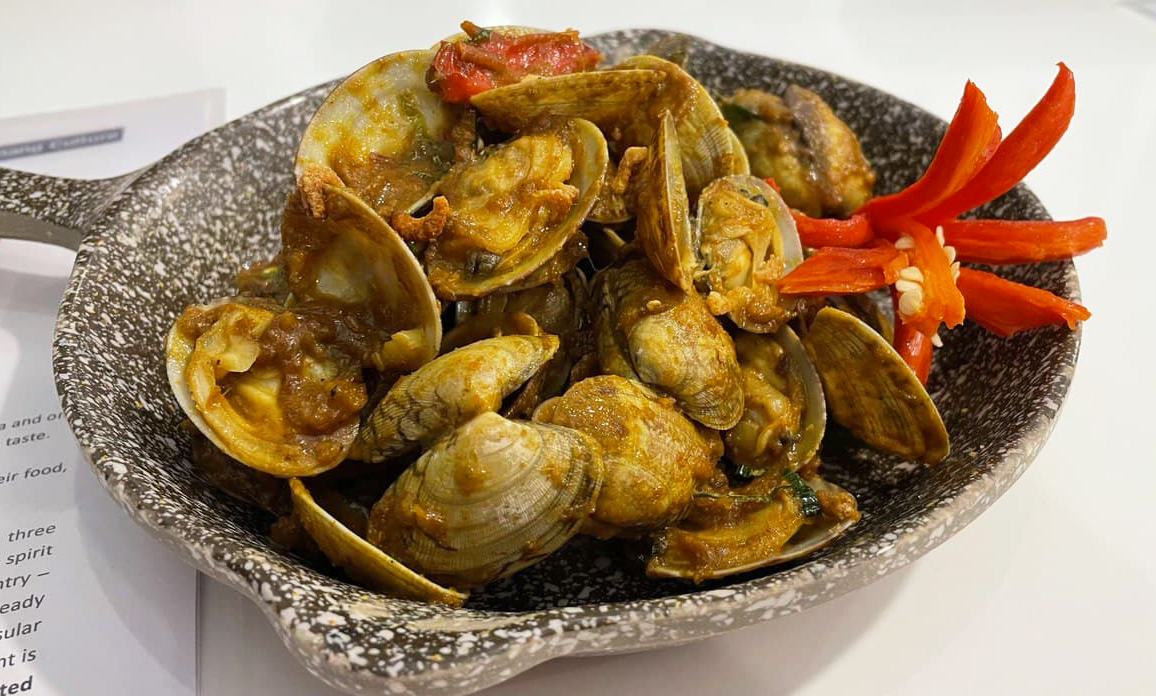 Our favourite out of the new dishes has to be the Penang Fragrant Kam Heong Clams (S$9.90, U.P. $19.80). This dish is made up of lala clams stir-fried with dried shrimp, curry leaves and a rich caramel-like sauce. The Penang Fragrant Kam Heong Clams is the perfect pair of sweet and spicy and packs a punch of flavours for fans of anything curry flavoured. The star ingredient is the kam heong sauce made with Penang Culture's chef's family recipe utilising curry powder important from Thailand for that powerful curry flavour.
Curry is rarely served with anything that isn't red meat, chicken or fish (usually red snapper) so clams is definitely a new venture. One would think that the salty-ocean taste or odd fishy flavour that comes with seafood dishes will disrupt the flavour of the kam heong sauce but it is completely unnoticeable. We can't put our fingers on whether it's due to the intense curry flavour bursting out of the kam heong sauce or that these lala clams are properly cleaned out. Either way, this dish is a must try – even for those who don't like clams. We came into this never having clams in anything else instead of a Boston clam chowder and after this dish, we can say we are a fan of clams.
As much as Penang Culture is always up to give patrons something new and exciting with every visit and festive occasion, Penang Culture wouldn't be what it is if it doesn't celebrate traditional Penang food.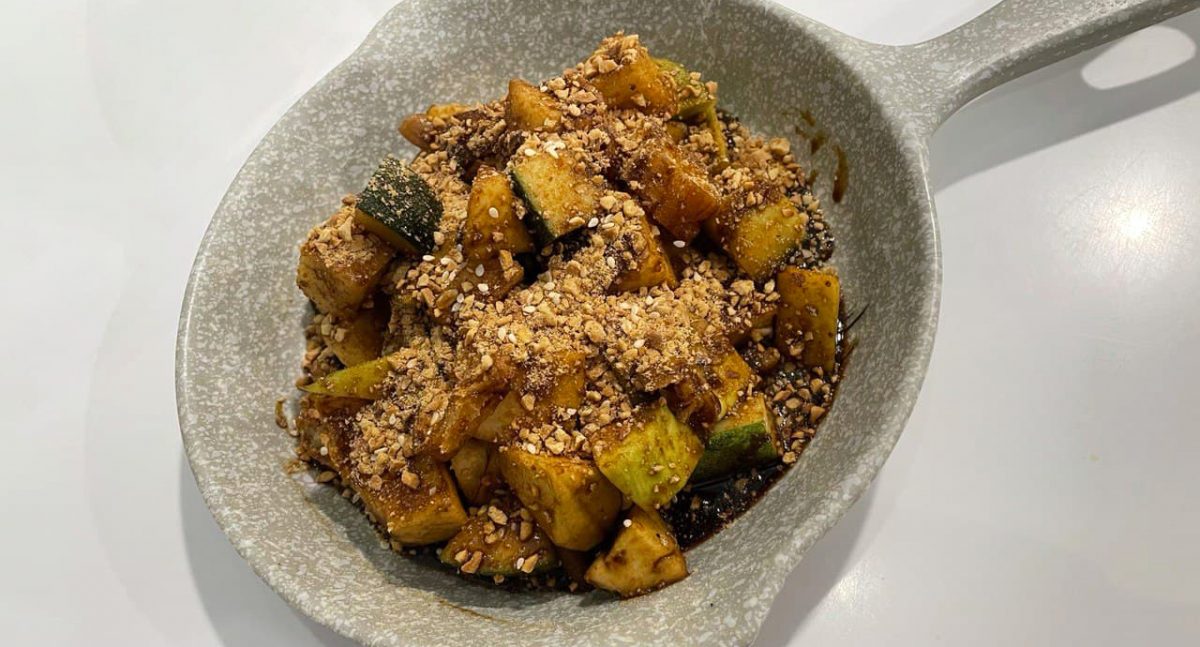 Penang Rojak is a signature fruit rojak of fresh fruits (guava and pineapple) and vegetables tossed in a rojak prawn paste. Topped off with generous crushed peanuts, the Penang Rojak is a sweet, sour and crunchy treat. Of course, the real star of the show is the thick, black and gooey prawn paste that won't be found on top of any regular Western fruit salad. However, this rojak is not hard to find in Singapore as it's a delicacy shared amongst the Malay Peninsulas made up of Singapore, Malaysia and Indonesia. For S$5.90, you can find the same rojak in many other places in Singapore.
Nasi Lemak is yet another classic dish shared amongst Singapore and Malaysia. Think coconut rice with fried egg, sambal, anchovies, nuts and fried chicken (or fish). Except the Penang Premium Nasi Lemak takes it to the next level with fried prawns and acar (pickled vegetables) as additional sides to this famed dish. Penang Culture's Penang Premium Nasi Lemak is definitely for those who want to indulge in a loved dish that gives you a little extra than the norm. For S$14.90, the Penang Premium Nasi Lemak has a premium homemade taste that gives you comfort with every bite. The dish boasts fried eggs, two different types of sambals – one spicy sambal with fried anchovies, and one sour vegetable sambal -, fried succulent prawns, acar and fried chicken. For it's higher price, the Premium Nasi Lemak is a filling and hearty dish that you won't regret when you finish.
Last but not least, the Johor D24 King Chendol. Malaysians and Singaporeans love our durians and there's no denying that Malaysia has one of the best durians in the Southeast Asian region. Likewise, chendol is an iced sweet dessert famed in the region too. Containing droplets of green rice flour jelly, coconut milk and palm sugar syrup, Penang Culture takes the Chendol dessert to a whole new level with durian puree and freshly squeezed coconut flesh atop a cold and creamy mountain of shaved ice. Of course, the dessert is accompanied by the must-have green rice flour jelly, coconut milk and sweet palm sugar syrup to make this dessert live up to its namesake.
If you're a fan of Durian then this is a must-try dessert that will hit all the right spots. The custard-like flesh of the D24 King Durian is sweet, creamy and mimics that of an ice cream. The distinctive smell and flavour of the durian fruit together with the chendol presents a polarising delicacy that is both unique and addictive. Be warned, this dessert is really cold and sweet so don't rush through it and enjoy every bite of it. Don't come running if you end up with a toothache the next day. Even so, for just S$6.90, both the pain and the pleasure is oh so worth it.
All of the dishes in this special menu are perfect for sharing, though we won't judge if you decide to have them on their own. New dishes are only 50% when you dine in or takeaway – i.e. the Penang Fragrant Kam Heong Clams for S$9.90 instead of its usual price of $19.80 – at any of Penang Culture's outlets (NEX, CompassOne, White Sands, JEM and VivoCity). If ordering in is more of your thing, then don't worry because customers can get 20% off their order with any of the restaurant's delivery partners.
The special 10 year anniversary is for a limited time only from now to 31 May 2021.