The battle to become the king of monsters will soon take to the silver screen in the form of Godzilla vs Kong, but before the epic showdown inevitably occurs, fast food chain Carl's Jr. is all ready to usher in the hype.
From 15 March onwards, diners can get their hands on two new, limited-run food items themed after the upcoming movie: the Godzilla Burger (S$22) and Kong Burger (S$18), both of which would appeal greatly to those with bigger appetites. The first offers three pieces of 100% chargrilled premium Australia Angus beef patties, while the latter swaps out the Angus beef patties for a three-piece premium ground beef pick instead. A free bottled drink will also be included with a purchase of either burger. Choose from Ayataka Green Tea, Coke, Coke (No Sugar), Mango Tea, or bottled water.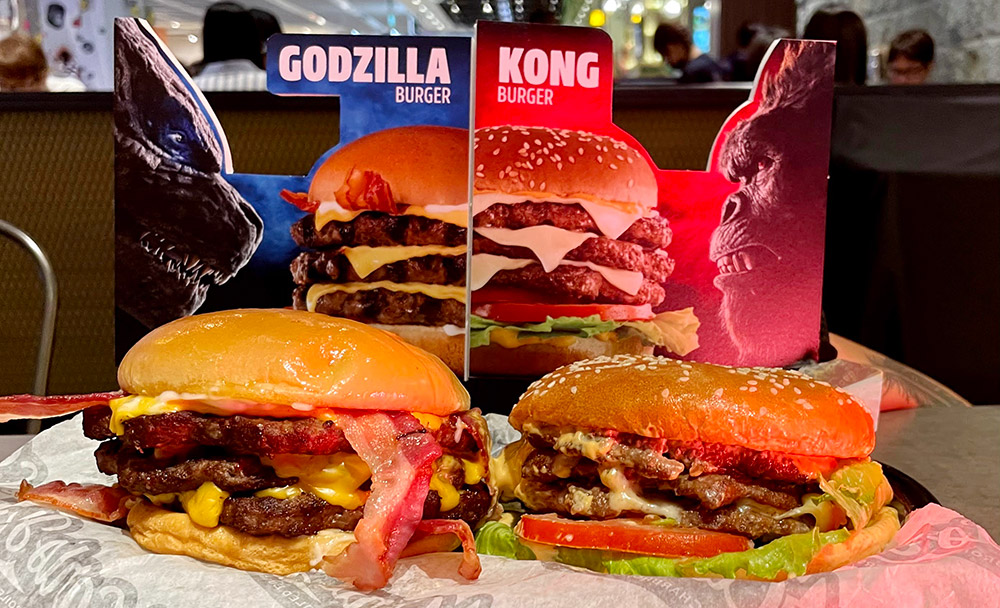 If you're wondering what makes up each burger, here's the lowdown.
Godzilla Burger – S$22
x 3 Angus Beef Patties
x 3 American Cheese Slices
x 4 Bacon Strips
Mayonnaise
Kong Burger – S$18
x 3 Ground Beef Patties
x 3 Swiss Cheese Slices
Tomatoes & Lettuce
Santa Fe Sauce (Mexican)
The biggest draw of the collaboration, however, is the 52 Free Burgers Booklet that grants customers one free burger every week for 52 weeks (or one whole year). In order to qualify, one has to participate in an Instagram contest taking place between 22 March to 4 April, and post a creative video of them eating the Godzilla or Kong burger with the @carlsjrsingapore tag and #carlsjrsingapore and #godzillavskong hashtags. 10 lucky winners will be picked out from the list.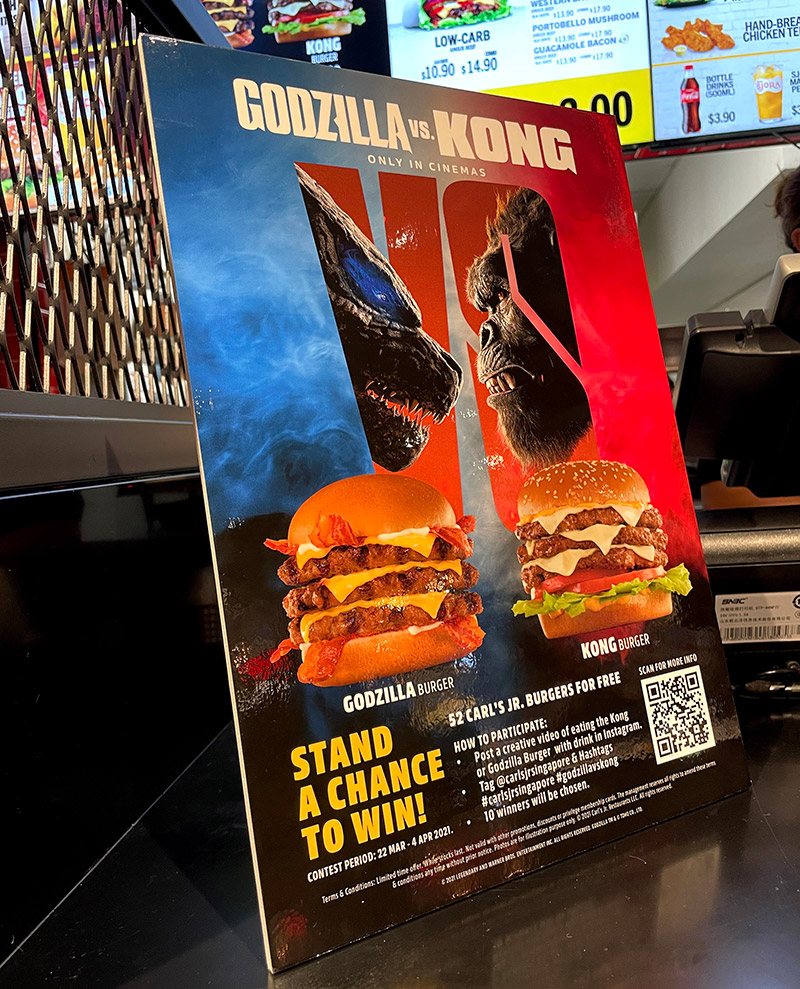 If the burgers aren't enough, don't forget to settle for some fries, onion rings, crisscut fries, or even chili cheese fries.
The Godzilla and Kong Burger may pose a bit of a challenge for small eaters, but that's to be expected – after all, it's only right to honour two of the greatest monsters in a heartier way than Carl's Jr.'s regular-sized meals can provide. Besides, with the movie slated for release on 24 March in Singapore, there'll be some time left for fans to experience the full Godzilla vs Kong experience with a filling meal before or after watching it.
As the saying goes, it's go big or go home.
---

Drop a Facebook comment below!