If there's one thing that you can take away from Star Wars: The Last Jedi, it's that many of us walked out wanting a taste of those delectable Porgs.
Well, local F&B brand PastaMania is taking a stab at bringing the flavours of Star Wars to you, in a very different way than what Sunshine did earlier in the year.
And no, Porgs are not on the menu.
Come December 22, PastaMania will be introducing three new premium pastas inspired by the galaxy far, far away, from The Last Jedi.
There's the "Speed of Light – Italian Chicken Sausages with Aglio Olio Pasta", which we bet can easily outrun an Imperial battleship, the "A Chosen Destiny – Seafood Squid Ink Pasta" that won't ever be a trap, and the "Power of the Galaxy – Beetroot Barramundi", which you cannot underestimate.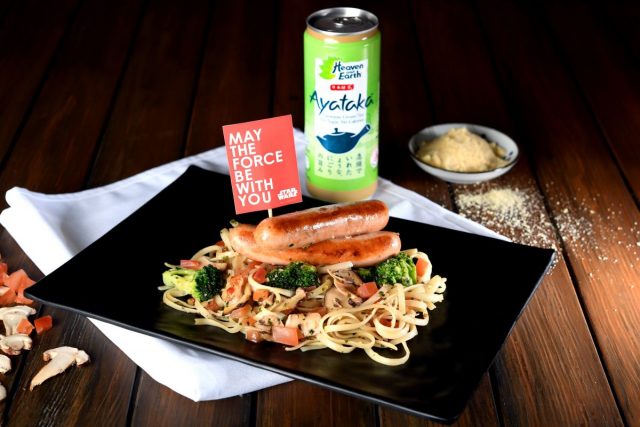 All these limited edition menu additions come with a calorie-free, zero-sugar Ayakata Green Tea, to keep the calorie count below 600kCAl.
The extra touch of healthiness means that diners can look forward to indulging themselves with nary a hint of guilt, especially during this festive indulgence season. After all, we all have our guilty pleasures!
Of course, what is Star Wars without collectibles. There are nine limited-edition mini plushies up for grabs. Over the span of three weeks, three new characters will be launched every Friday, and all of them can be purchased by topping up S$12.90 with every order of the Star Wars bundle meals.
Details are as follows:
Week 1 (Dec 22): Chewbacca, Stormtrooper, Yoda
Week 2 (Dec 29): BB-8, R2-D2, Boba Fett
Week 3 (Jan 5): Princess Leia, Kylo Ren, Darth Vader
Bundle Meals:
Single Meal (S$28): 1x Star Wars Pasta, 1x Ayakata Green Tea
Super Value Meal (S$29.90): 1x Star Wars Pasta, 1x Ayakata Green Tea, 1x Star Wars Mini Plushie of the Week
Trio Value Meal (S$84): 3x Star Wars Pasta, 3x Ayakata Green Tea, 3x Star Wars Mini Plushie of the Week
---
If you want to collect all twelve (yes, nine are available in stores, and another three are online exclusives) plushies and an AT-AT, PastaMania is also extending an exclusive online promotion to diners, where they can purchase the full 12-plushie bundle set at S$327 on their website that comprises of:
6 Star Wars Single Meal Vouchers (valid till 31 Jan)
12 Star Wars Mini Plushies (with additions of Han Solo, Rey, and C-3PO)
Exclusive Limited Edition AT-AT Walker (to be self-assembled)
Therein lies the greatest catch: the AT-AT Walker, together with Han Solo, Rey, and C-3PO, are only available with the online bundle, and cannot be purchased in-store.
The online exclusive bundle will be made available for collection or delivery from Jan 6 onwards, through self-collection at Cineleisure over two weekends, or delivery (extra charge of S$10).
Running till Jan 12, 2018, PastaMania's Star Wars-themed menu caters to both foodies and fans alike. Grab your wallets, and bring good company along – it's time to feast on some good ol' Star Wars pastas!
---

Drop a Facebook comment below!