It's easy to dismiss OlliOlli World with its cartoonish graphics. After all, games like Tony Hawk and the like have well-established the skateboarding video game genre well and it captures the grit of the sport like no other.
Having had a preview of OlliOlli World back in June 2021, much has changed and it's all for the better! While the game's core still remains the same, it'll be hard to convince anyone otherwise that a side-scrolling skateboard game might appeal to gamers, as the nature of such games tends to be found in Metroidvanias and the like these days.
This is a big pity considering that OlliOlli World has certainly much to offer for anyone looking to take a plunge. Kicking things off, the game does hold your hand quite a bit in laying out the mechanics of the game. In fact, the entire first world is dedicated to teaching players the game, mechanic by mechanic. By the time one makes it to the end of the world, players would have a whole slew of tricks and moves up their sleeves.
If you're a fan of CalArts art style, OlliOlli World would be a treat right away. If Finn and Jake had a chance to make an Adventure Time skateboarding adventure this would be it. Deploying a liberal use of colour, the game does not shy away from its quirky nature right from the offset. Players will have to customise their own character from the get-go and the multitude of options might be a bit overwhelming. But, it's actually of little consequence as you can always pick a preset look and you're good to go.
From here on, this is where OlliOlli World starts to get really interesting. Getting through the initial levels seems to be easy because the requirement to pass the stage is simply to make it across the finish line. On a deeper look, one starts to realise that simply getting to the end with mediocre scores is not enough due to the presence of a global leaderboard.
Even in the preview build, the scores populating the leaderboard seem to be what are perceived to be astronomical numbers. But, OlliOlli World has made it possible for anyone to replay the chart-topping run and give players an idea of what it takes to match, and eventually, beat the score.
It really does become a competitive game that will see many individuals trying their best to reach the top. While the global board might pose as a daunting mountain to climb, there's also a friend's leaderboard to give you an idea of how you stand among your immediate circle.
For the truly competitive, OlliOlli World is bound to give players a good amount of depth considering the number of combos one needs to pull off to reach the top. Transitioning from 360 Flip, into a 720 Flip, into a grind, and then repeating the process again to maximise your score multiplier feels amazing once you're able to finally land it. While it might not be the same kind of dexterity experience in real life, the amount of practice and repetition to achieve greatness digitally takes the same amount of hard work.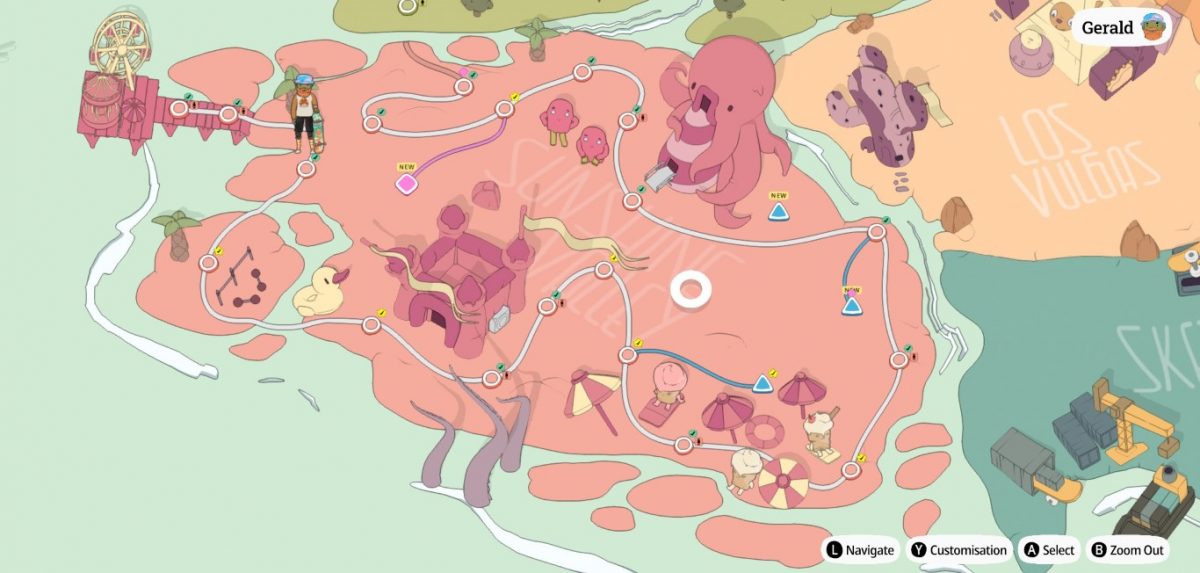 Thanks to Roll7's pedigree, controls for OlliOlli World feel tight and players will definitely want to plan out their tricks prior to tackling a map. Considering the speed at which the game moves, OlliOlli World reminds me of Battletoads bike levels of old, making it a source of PTSD for some. Eventually, it feels like you're playing Street Fighter with the massive amount of joystick inputs while looking to navigate the course ahead to gain as many points as possible.
All things considered, OlliOlli World is bound to be a treat for fans of the series. Seeing it transitioning from pixel art to stylized animation might be jarring for some but looking at the core gameplay, this is shaping up to be a must-play for fans.
OlliOlli World is slated to release in February 2022 on PlayStation 4 & 5, Xbox Series X|S, Xbox One, Nintendo Switch and PC via Steam.
Gerald currently straddles between his love of video games and board gaming. There's nothing that interests him more than trying out the newest and fanciest gadget in town as well. He dreams of publishing a board game sometime in the future!
---

Drop a Facebook comment below!