There are very few games that are synonymous with a genre, but just as how the Final Fantasy franchise is forever linked to RPGs (Role Playing Game), the Tony Hawk series will forever be seen as the de facto skateboarding game. While a niche sport, skateboarding games, on the contrary, have been quite popular, thanks in part to the 21 games in the series.
How else would virtual skateboarders get in on the action, without breaking a sweat.
But in the last decade, OlliOlli has quietly but most surely stepped up. 2014's OlliOlli was a 2D skateboarding side-scroller that redefined the genre, and gave the accustomed third-person genre a whole new look. Developers of OlliOlli, Roll7, was still a small studio that consisted of seven members including creators Simon Bennet (Co-chief Executive Officer), Thomas Hegarty (Co-chief Executive Officer) and John Ribbins (Chief Creative Officer). 
Both titles were at the top of their game, offering the perfect rendition of the extreme sport because of their tricks and realistic representation. The gameplay revolved around players cruising through skateparks and streets with a third-person camera, performing tricks with different button combinations. Besides Tony Hawk: Ride, which uses a skateboard peripheral to simulate real-life skateboarding, the rest of the series pretty much stuck to the same gameplay and realistic visuals.
Olliolli was picked up by Sony for PlayStation Vita and went on to win multiple awards, including Gamespot's 'Game of the Month' in January 2014, and 'Game, Original Sports' at the 2014 National Academy of Video Game Trade Reviewers, which was not surprising given that it was widely praised for its 8-bit aesthetics, and balance between its simple control and difficulty.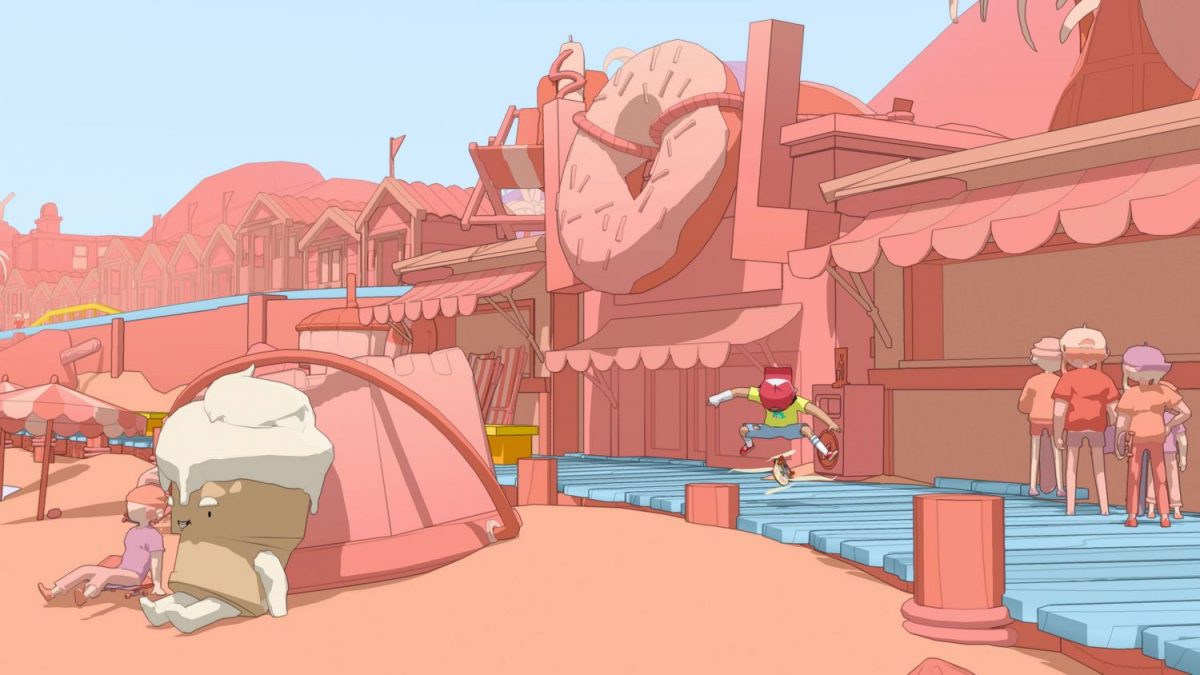 What made OlliOlli so special was not only the gameplay or the mechanics, but the passion that was shared amongst the developers. Ribbons, Hegarty and Bennet shared a long history and love for skateboarding ever since they were kids, and this was essentially what kickstarted their Olliolli franchise, which had two titles until now.
Seven years after OlliOlli, they're finally back with their third entry, OlliOlli World, a refreshing 3D side-scrolling skateboarding game that'll offer fans and newcomers a unique skateboarding tale and experience into the vibrant world of Radland they'll never find anywhere else.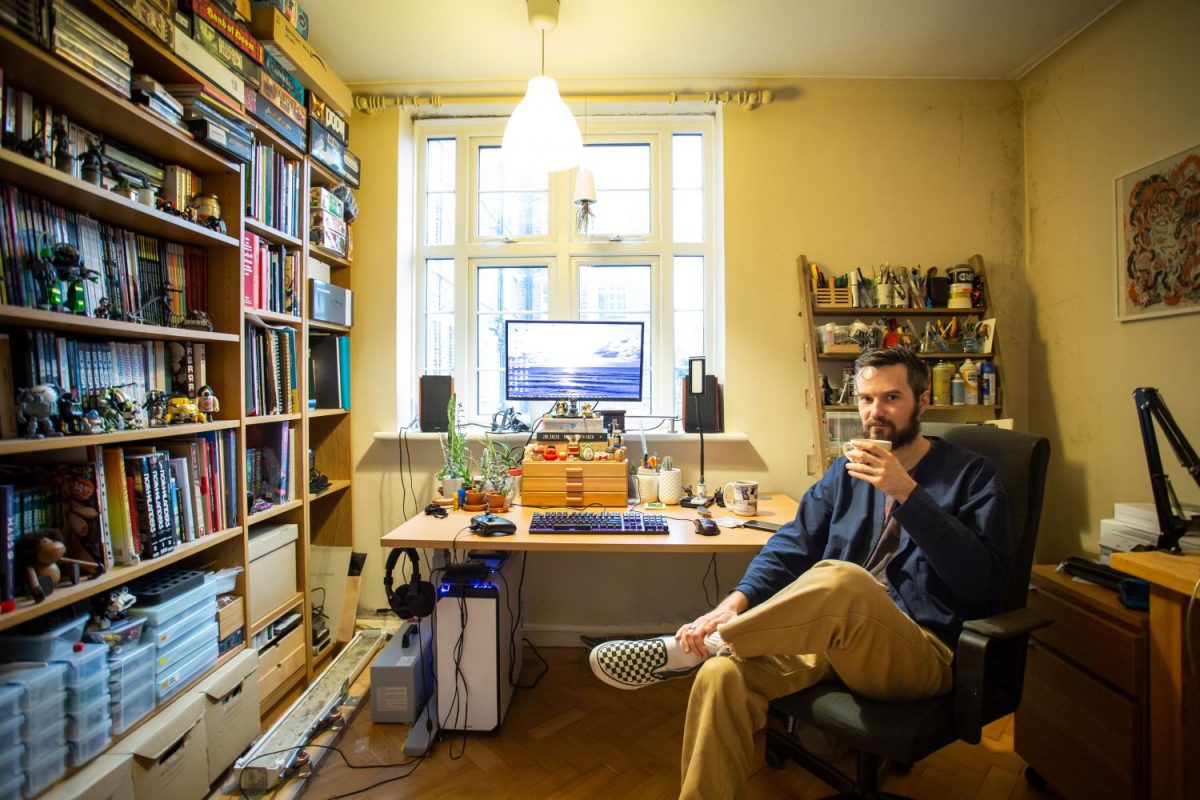 "When we came into this [OlliOlli World], every other skateboarding game out there was pretty much realistic Downtown LA, or realistic San Francisco. We're just not gonna do that", said Ribbins right off the bat during an exclusive one-on-one interview with Geek Culture.
Instead of cities, what makes OlliOlli World special is the unique visual and the environment of the game, and how it strays away from the cliche skateboarding genre. Ribbins explained that they wanted to make a world inspired by skate culture, by taking ideas from cool board graphics and uncommon skate videos.
One such example was 'Adio – One Step Beyond', a video on skateboarding where skateboarders would do tricks in unorthodox places such as the desert and woods.
"'Let's just make a whole skatepark in the woods or in the desert', that was really just kind of the starting point for the much weirder world of Radland."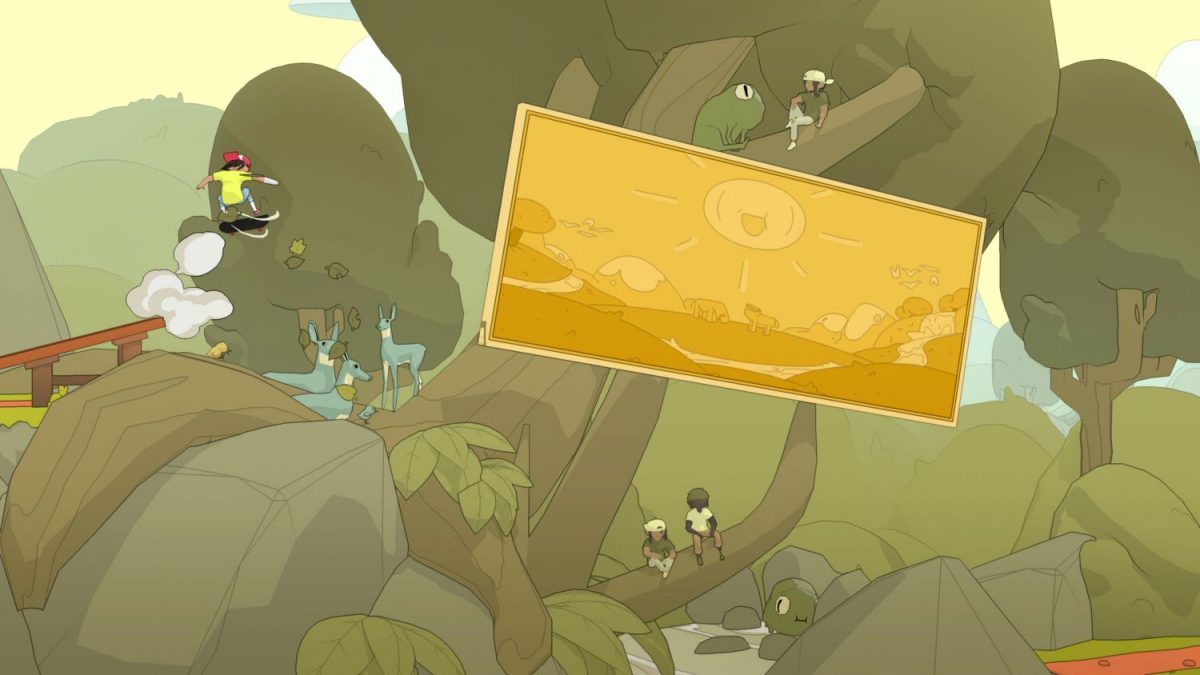 OlliOlli World is a venture into new territories, even for the team themselves as it's the first time the OlliOlli title gets a 3D look. According to Ribbins, the challenge was in balancing between 3D and 2D, since they didn't want to move too far away into a completely new game, but far enough to make things interesting, or what Ribbins would refer to as "keeping the soul of an OlliOlli game".
Besides that, OlliOlli World will also feature a storyline that the studio has never done on this scale before for their previous titles. There'll be interesting non-playable characters players meet along the way, which adds a whole lot of flavour into what used to be just a tricks-centric game. 
For the team, what drove them to make the sequel even better was having the ability to create a colourful world that was welcoming to be in, especially during such trying times. The world of Radland consists of quirky, unique, and really lively characters that put a different spin on skateboarding games and the entire genre.
To Ribbins and the team, being able to work on something that's tremendously cheerful and happy in a year where everyone has been stuck at home was a nice escape and drive for many of them.
"It's nice just to play something that's happy, colourful, cheerful and vibrant, and I think what's driven us is this want to make something that will put a smile on peoples faces and hopefully make people happy when they play it."
Ribbins went on to explain how the studio is in a great place, with people that enjoy the atmosphere, and experience in creating something that all of them love and are passionate about. There's no doubt these efforts can be seen through the eyes of the players when they get into the game – there's always something different between games that are made for profits and games made for passion.
One quote by Robbins that might stick around for a while was how "You make happier games if you're a happier person" and he's not wrong.
The spirited and sparkling animated world of OlliOlli World holds a very distinct vibe that many identical games seem to lack. Our hands-on demo with the game was an experience that offered time off from the real world and a trip into a peculiar skateboarding universe that's extremely exciting.
OlliOlli World is meant to cater to both new players with its simplicity and control systems, as well as veterans of the previous games. Players will progress through higher difficulty levels and can take on optional tougher challenges if they want to bring their skateboarding skills up a notch. 
The full game will feature unlockable rewards to customize our looks, tricks and styles for each player, and include plenty of side quests to explore.
We're certain that the game has a lot more to offer besides skateboarding, and might potentially see some sort of multiplayer competition elements added in due time after launch.
OlliOlli World is slated to releases this Winter 2021 on PlayStation 4 & 5, Xbox Series X|S, Xbox One, Nintendo Switch and PC via Steam.
---

Drop a Facebook comment below!