The legacy of Pokemon continues to burn strong year after year, and its dedicated fanbase is certainly enjoying the constant stream of goodness from the hugely popular series. Following the latest release of Pokemon Ultra Sun and Moon, Nintendo has announced that more is in store for the franchise, alongside the usual leaks and rumours that have made their way to the Internet.
As it turns out, some of them actually ring of the truth.
Return to the Kanto region and experience a classic Pokémon journey in a whole new way with Pokémon: Let's Go, Pikachu! and Pokémon: Let's Go, Eevee! on the Nintendo Switch! Coming November 16, 2018: https://t.co/kXLdxUMjjA #PokemonLetsGo pic.twitter.com/EKzQsTbDuE

— Pokémon (@Pokemon) May 30, 2018
Let's Go Pokemon and Let's Go Eevee are the latest endeavours by the big N, starring the ever-recognisable series mascot and latter adorable Normal-type as the main companions. Both games, which feature borrowed inspiration from Pokemon Yellow, will see players return to Pallet Town in the Kanto region to collect the original 151 Pokemon, in addition to some Alolan variants from Sun and Moon, and a yet-to-be-announced Pokemon.
Game Freak director, Junichi Masuda elaborated upon the move to adopt elements from the first-gen title:
We took inspiration from and used the Pokemon Yellow Version as the base for these games. Those games came after [Pokemon Red and Blue] and what they did was take those original games, and a dd a bunch of elements from the animated series, like Team Rocket and other characters, to better resonate with young kids. We knew we wanted to try out new gameplay ideas with this game, and wanted to find a version to add onto where it would make the most sense.
Essentially, the impending titles can be considered to be a Pokemon Yellow reboot of sorts, but with some twists in store. A first-ever move in the history of Pokemon games, drop-in co-op play will be made available, alongside different in-game mechanics.
As the name suggests, each version of the game features a Pikachu or Eevee, who follows the player throughout his journey to become the very best that no one ever was. Instead of the traditional wild Pokemon encounter, where a one-on-one battle between two sides ensues, Let's Go Pikachu and Eevee has gamers swiping on-screen at monsters in a way that's awfully reminiscent of Pokemon Go.
Similar to the cultural mobile game phenomenon, monsters are caught through Pokeballs that are thrown by means of gesturing at the screen, controlled by a single Joy Con. The change in the capture system is probably meant to target more at the newcomers than seasoned fans, who have perhaps hopped onboard from the mobile hit.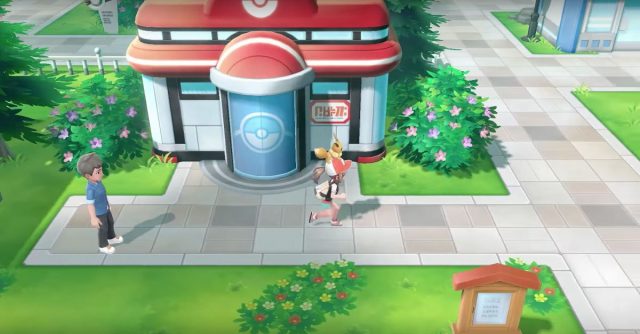 Apart from the above, players now also have the option to choose the Pokemon they want to engage in battle with, rather than facing off in random encounters. This means goodbye to those pesky Caterpies and Weedles, and hello to selective brawls involving a brand-new system displaying nearby Pokemon on a visible map. Meanwhile, trainer and gym battles are business as usual, and existing footage seems to hint at a familiar storyline.
You can use the #PokeBallPlus as a Joy-Con in #PokemonLetsGo! Good things may happen if you place one of your favorite Pokémon into the device and walk around with it in the real world. It will be able to connect to Pokémon GO as well! pic.twitter.com/I18Y55odpp

— Pokémon (@Pokemon) May 30, 2018
For those who fancy more frills, there's the Pokeball-shaped controller Pokeball Plus available as well, a separate entity that can be used to shuttle any Kanto Pokemon between the mobile and Switch games – something that's handy for sure, but not necessary, especially with a hefty US$50 tagged to it. One would be better off using that money for another new Switch game, since the advantage it brings is hardly worth that price.
With #PokemonQuest and #PokemonLetsGo, there are so many new ways to explore the world of Pokémon! Trainers can look forward to even more with an all-new core series Pokémon RPG title in development for the second half of 2019! pic.twitter.com/d5uiIpenMI

— Pokémon (@Pokemon) May 30, 2018
Since both Let's Go titles are coming exclusively to the Switch on November 16, 2018, pricing is expected to be at least US$50. It may be a little bit of a tough sell, but the newly-implemented multiplayer features and pleasant graphics are not unwelcome. Just one note, though – despite the new changes, this is not the core RPG game that Pokemon fans have been anticipating, which Masuda promises is gearing up for a 2019 release.