It's been a long time coming, but Michelle Yeoh can finally call herself a history maker. Following an outstanding performance in Everything Everywhere All At Once, the Asian — or more specifically, Malaysian-born — performer has scored her first-ever Oscar nomination in the Best Actress category.
The milestone comes after years of scene-stealing outings in her long-running career, and is one of the 11 nominations racked up by the movie. Apart from best costume, original score, original screenplay, best original song, film editing, and directing for Daniel Kwan and Daniel Scheniert (known collectively as the Daniel brothers), Everything Everywhere All At Once also secured supporting role nominations for Jamie Lee Curtis, Stephanie Hsu, and Ke Huy Quan.
Yeoh will face stiff competition from Ana de Armas for Blonde, Michelle Williams for Fabelmans, Cate Blanchett for her performance as troubled composter Lydia Tár in Tár, and Andrea Risebourough for her role in To Leslie. To many, though, she's already a winner.
Historically, the Oscars' best actress category is one of the award body's least diverse, with barely a dozen Black women nominated for best actress and just four Latinas receiving nods in it. Not a single openly-Asian woman has ever gotten their name onto the list, which makes Yeoh's achievement all the more impressive.
"It's taken a long time. But I think this is more than me," she told The Hollywood Reporter on Tuesday after the nominations were announced. "At the present moment, constantly, all the time, having Asians walking up to me saying, 'You can do it, you're doing it for us.' It's like, 'I understand. I totally understand.' All this time, they've not been recognised, they've not been heard."
Originally released in March 2022, Everything Everywhere All At Once quickly grew to become an awards season darling and crowd favourite with its absurdist sci-fi approach. The comedy-drama tells the story of Evelyn, a laundromat owner who's going through a tax audit and experiencing distress from her husband's impending divorce and tense relationship with her daughter (played by Hsu). As she gets plunged into a multiverse of her unrealised alternate life paths, the character will have to come to terms with the life she's already leading.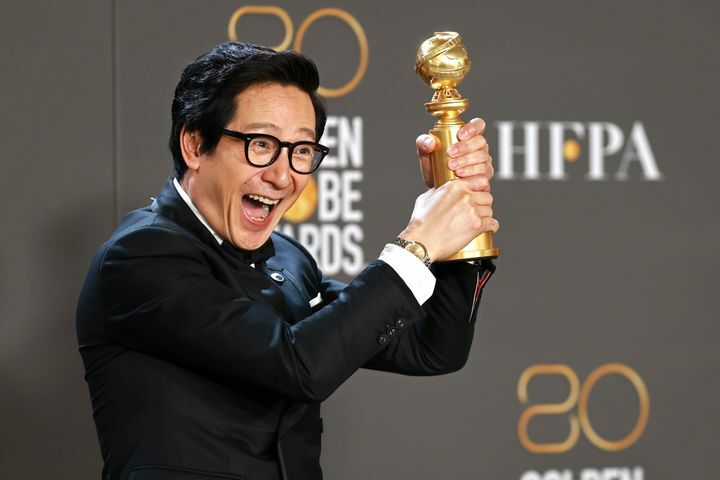 The film was one of the most discussed releases of 2022, winning over the hearts of many with its visual gags, humour, heartwarming scenes, and exploration of real-life issues. It become A24's first movie to cross the US$100 million mark globally, and proved to be a much-needed career resurgence for Ke, who nabbed the Golden Globe for Best Supporting Actor for his role as Evelyn's husband, Waymond.
The 2023 Oscars will air on 12 March 2023 from 8pm ET.