For many techies in Singapore, this time of the year would've been the annual PC Show, to get their hands on the best gadgets of the season, but COVID-19 has put a stop to that. And even if that annual gadget sale were to take place, there's no guarantee that the crowds will want to make their way there. Even with the lifting of some Circuit Breaker measures this week, social distancing measures are still in place islandwide, which means shopping for a gadget, be it a new smartphone or the printer for your child, in stores is not recommended.
The good news is that the next edition of the Lazada Online Tech Show is happening this week, from 4 – 8 June for all your tech needs. Similar to the previous one that happened back in March, Lazada is teaming up with brands to replicate the same experience, filled with deals meant to provide shoppers with the opportunity to purchase new gear, without the hassle of having to leave their homes and spend hours on end queueing. 
Despite school being back in session this post-Circuit Breaker period, folks are still encouraged to stay home and not go out unnecessarily. And with many folks still working from home, browsing the deals in the Online Tech Show is one of the best ways to upgrade your WFH workstation. After all, you might be in need of a new laptop, smartphone, or even a new electric shaver.
Aside from the deals listed below, the top spenders during the sale will stand a chance to win up to S$16,000 worth of rewards. These rewards include:
LG Smart Styler Steam (worth S$3,099)
Samsung Galaxy S20 Ultra (worth S$1,898) – read our review
LG 43-inch TV (worth S$919)
Additionally, there will be a Midnight Flash Sale on 4 June (12am – 2am) to kick off the sale, so don't miss out on these super-hot items!
And as always, their trade-in for old equipment means you can get rid of unwanted electronics, towards the purchase of a new product. The trade-in program applies to the items listed here. Usually after listing your unwanted device, you'd need to go down to the store/IT show floor to do the trade-in. In this instance, you only need to schedule a pickup at your doorstep at no additional cost to you, after which you'll get paid within 5 business days. The amount you get paid depends on the condition of the item at pickup.
Before we get to deals, here are a couple of new products that will be available, or on pre-order, on Lazada during the sale itself – we don't know about you, but at least one of them is breathtaking:
---
Price: $339
The new PG240 is PRISM+'s first gaming monitor to deliver a 1ms GTG response time on a 165Hz IPS display. Typical IPS displays feature an average of 4 or 5ms response times, but are still very popular with the local market because of the wide array of benefits to be had, which include stunning colour reproduction, great viewing angles and contrast ratios. The PG240 delivers all these benefits with its IPS panel while maintaining the insanely quick 1ms response time typically found only on TN panels, making it the ideal monitor for both gaming and creator work – the best of both worlds.
The PG240 also features a new height-adjustable arm, featuring a new ultra-smooth tooling for massive adjustability and the ability to always find the perfect viewing position with any setup.
---
Price: S$449
One of the more highly-anticipated wireless earbuds this year, the Sennheiser Momentum True Wireless 2 aims to improve upon the already impressive features that the original Momentum has. With a really solid Active Noise Cancellation, IPX4 splash resistance and up to 28 hours of play time, this is shaping up to be one of the best wireless earbuds of 2020.
---
Price: S$74.90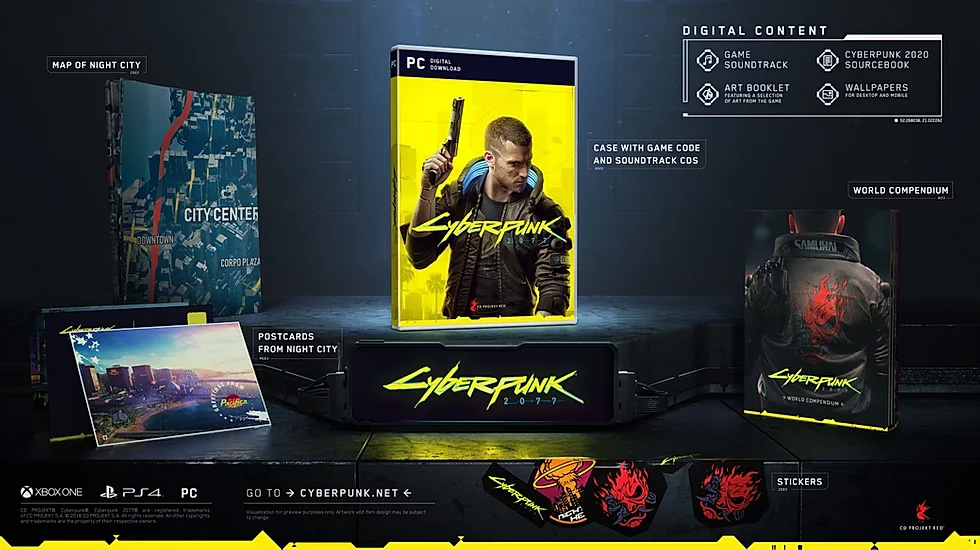 The hype for CD Projekt Red's Cyberpunk 2077 can't get any higher, and we've no doubt that this Standard Edition for PC could sell out as quickly as it goes live on Lazada. This edition features a bunch of physical goodies aside from the game itself, including stickers, a map of Night City, and a world compendium detailing the game's setting and lore. Check out the other editions available here.
---
Price: S$799
With so many folks working from home, it only makes sense to get a proper light source to ensure one doesn't strain their eyes too much. The Dyson Lightcycle (read our review) is one of the more solid options out there, of that we've no doubt. Its slim form factor means it can slot easily into your workspace, and its rotatable arm gives it that bit of flexibility. What's most important, though, is its unique time, date and GPS-driven algorithm that lets it adjust light automatically depending on the time of day and location for added convenience.
---
And whether you're upgrading your work from home set-up, investing in some hardware for your child's home based learning, or want to reward yourself with some great gadgets, here are some Online Tech Sale deals to check out from Lazada.
---
Original Price: S$1,798
Sale Price: S$1,425
Those looking for a new gaming laptop without having to bust their wallet can look no further than the Acer Nitro 5. Powered by a 9th-Gen Intel i7 processor and NVIDIA GeForce GTX 1650Ti graphics, this 15-inch laptop has more than enough firepower to handle both games and content creation without so much as breaking a sweat. Plus, it's pretty portable compared to most other gaming laptops, at just 2.2kg.
---
Original Price: S$1,698
Sale Price: S$1,398
Lightweight is a word many would associate with the ASUS Zenbook 14, among other things. Weighing at just 1.09kg, this 14-inch notebook is the perfect companion for both the commute and the home. Its 50Wh battery means folks can use it for a day's worth of work and still have some juice left for the rest of the day.
---
Original Price: S$649
Sale Price: S$609
The latest iPhone is one for those who want all the flair of an Apple product without having to rip their wallets a new one. Costing about a third of the price of an iPhone 11 Pro max, the new iPhone SE is a really solid budget alternative, using the same A13 bionic chip so it can perform quite well in any scenario. Read more about our top 10 budget smartphones of 2020.
---
Original Price: S$149
Sale Price: S$79 (Flash sale on 4 June, while stocks last)
While the Logitech MX Master 3 is all the rage right now, its price point might not be the most attractive for everyone at the moment. Good news though, as its direct predecessor, the MX Master 2S, just became much, much more affordable for the Online Tech Sale at about half the price. Featuring a super-fast scrolling wheel, Bluetooth pairing with up to 3 devices, and a battery that can last up to 70 days, this is a worthwhile investment for years to come if you're on the hunt for a new mouse. Read about how Logitech built is greatest mice from scratch.
---
Original Price: S$799
Sale Price: S$399
There's no better way to beef up your WFH setup than to go the whole nine (read: 21:9) yards with a new ultrawide gaming monitor. Prism+'s X300 is a solid option when it comes to that, boasting a 200Hz refresh rate with a 1ms response time to enhance your FPS gaming experience. Also, having a monitor as wide as this means you can have more windows open to further boost your productivity. Definitely a win-win in our eyes.
---
Original Price: S$52.23
Sale Price: S$34.88
With so many gadgets flooding our desks these days, there can never be enough ports with which to charge them, or to transfer data. With the likes of the UGREEN USB-C 5-in-1 Hub, however, you can say goodbye to those port management woes.
---
Original Price: S$179
Sale Price: S$109
One can't mention a sale without talking about JBL, whose Bluetooth speakers almost always go on sale here at really good prices. The JBL Flip 5 is but one of many solid JBL speakers that will be up for grabs during the Online Tech Sale. Boasting a sleek, waterproof design, this speaker will serve as a great sidekick for all your music needs, whether rain or shine.
---
Original Price: S$79
Sale Price: S$35.90
Those looking for something a little more portable (and something to fuel their fandoms too) can look to the ZNT X MARVEL Iron Man Bluetooth speaker. Featuring Tony Stark's iconic helmet and colours, this speaker provides decent stereo sound and powerful bass while being only the size of your palm.
---
Original Price: S$89.90
Sale Price: S$56.90
While copies of Ringfit Adventure still cost a bomb today, Ubisoft's Just Dance 2020 provides a much more affordable alternative for those looking to work up a good sweat at home on their Nintendo Switch.
---
Original Price: S$1,299
Sale Price: S$949
If you're on the search for a significant upgrade to your living room entertainment, the LG 49-inch UHD 4K TV might just do the trick. Its quad core 4K processor removes video noise and creates more vibrant colour and contrast, which translates to more punchy visuals and overall more immersion when catching your favourite movies and shows, or even playing video games on it.
---
Original Price: S$69
Sale Price: S$57.42
We won't be surprised (nor will we judge) that the past two months have made many of us into shaggy cavemen. Braun's All-In-One Trimmer will get the job done, with the ability to trim beards, nose hairs, and of course thin that mane sitting on top of your scalp. Maybe get someone else to help you do the latter for your convenience.
---
Original Price: S$129
Sale Price: S$115
The end of the Circuit Breaker coincidentally also means the weather has gotten much more humid for some reason. As Singapore's version of summer rolls in, investing in a new fan will be one of the top priorities for many residents. The Honeywell HFY-045 Tower Fan is one of the more attractive sale options, featuring a slim form factor, easy-to-use LCD digital controls, and an easy-to-clean system.
---

Drop a Facebook comment below!