Have you ever bought a massive LEGO set, open it only to find out that the bags inside can easily fit into a box half the size? That has always been the case with most things PC gaming – massive, bright and in your face. While some of these PC parts and accessories might look grand in their oversized glory, some don't. When it comes to headsets, svelte ones are available for audiophiles but gamers tend to get stuck with massive ones that might provide users with superb surround sound in their games, but don't quite provide the same kind of quality in terms of comfort, due to their sheer bulk.
However, companies like Logitech have been constantly pushing the boundaries of form and function with their Logitech G series headsets. The most recent entry, the Logitech G733 Lightspeed, has proven that a good gaming headset doesn't necessarily have to be a boulder weighing your head down while you play games.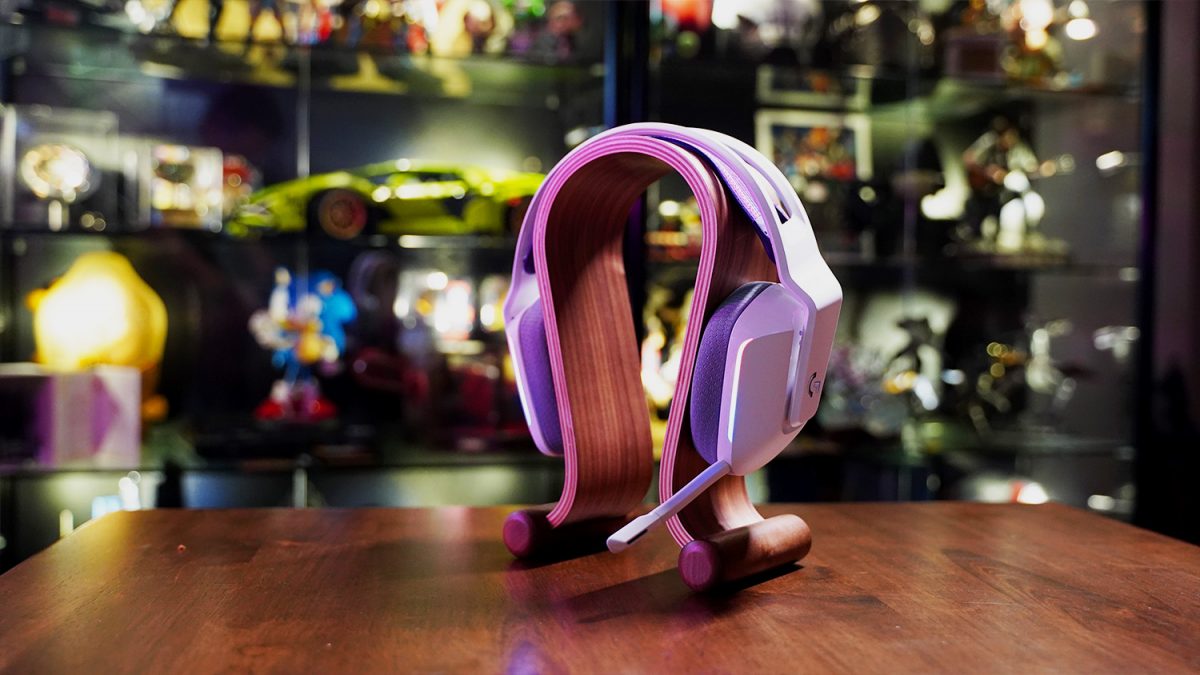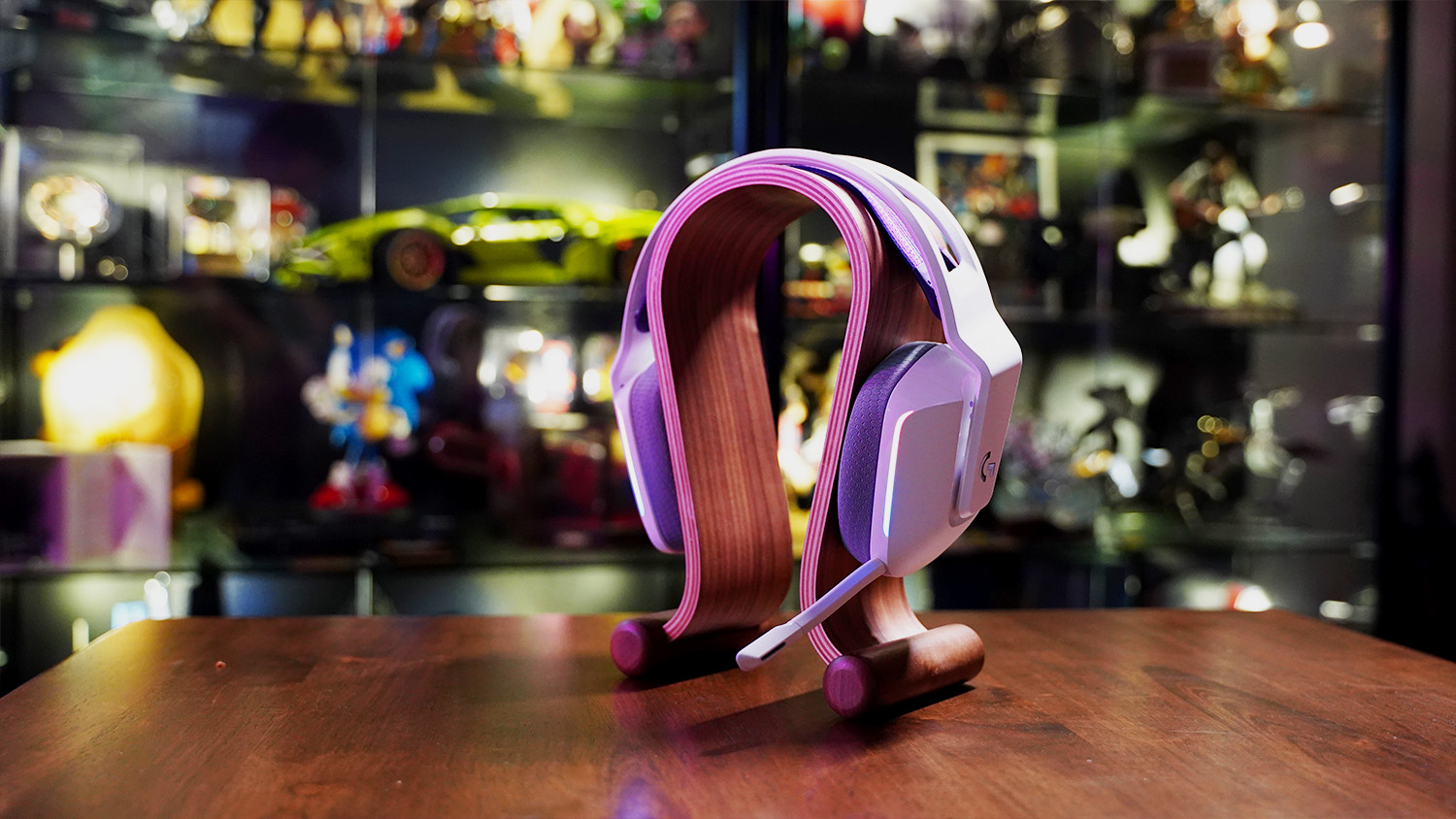 Unlike most of its other Logitech G audio brethren, which are typically more understated in design, the G733 features a more bold aesthetic in the form of its colourways. It's an interesting oxymoron of loud but clean, with colourways such as White (which is on the review unit we received), Blue and Cyan screaming for your attention, while sporting relatively clean-looking and sleek designs, as compared to the likes of the chunky Astro A50.
The G733 itself is made out of a hard plastic material that seems limber enough to be able to flex and twist, but durable enough to take a hit or two. But of course, it isn't as strong as the likes of the Logitech G Pro X Lightspeed, which comes reinforced with a steel frame, which the G733 lacks. But then again, steel frames are still something of a luxury, and aren't really a necessity for gaming headsets.
A pair of RGB strips adorn the ear caps, which sync nicely with all other light-based Logitech peripherals on G HUB. Interestingly, they aren't that bright even in dimly-lit settings, and don't get in the way of your peripheral vision while playing. Even if you're not an RGB fan, you might even appreciate just how cool the strips look in the darkness.
Despite being slightly smaller than most other gaming headsets, the G733 is still a chunky monkey. And, like most other gaming headsets, it sadly doesn't fold inward, and its ear cups can't rotate to rest comfortably on your neck when not worn.
After spending a few weeks using the Logitech G733 Lightspeed, one can tell that the company has been hard at work perfecting the comfort aspect. Weighing 278 grams, it is significantly lighter than the Logitech G Pro X Lightspeed (318g) and the Astro A50 (363g). While it isn't actually that light, what does make it feel much lighter than it weighs is the presence of an elastic band under the plastic headband. This stretches over your head as you wear it, supporting the weight of the headset and in turn absorbing about half the headset's overall weight as a result of the stretch. This alone makes the G733 so comfortable to wear, and the best part is that you don't even notice it on your head as there is very little to no clamping.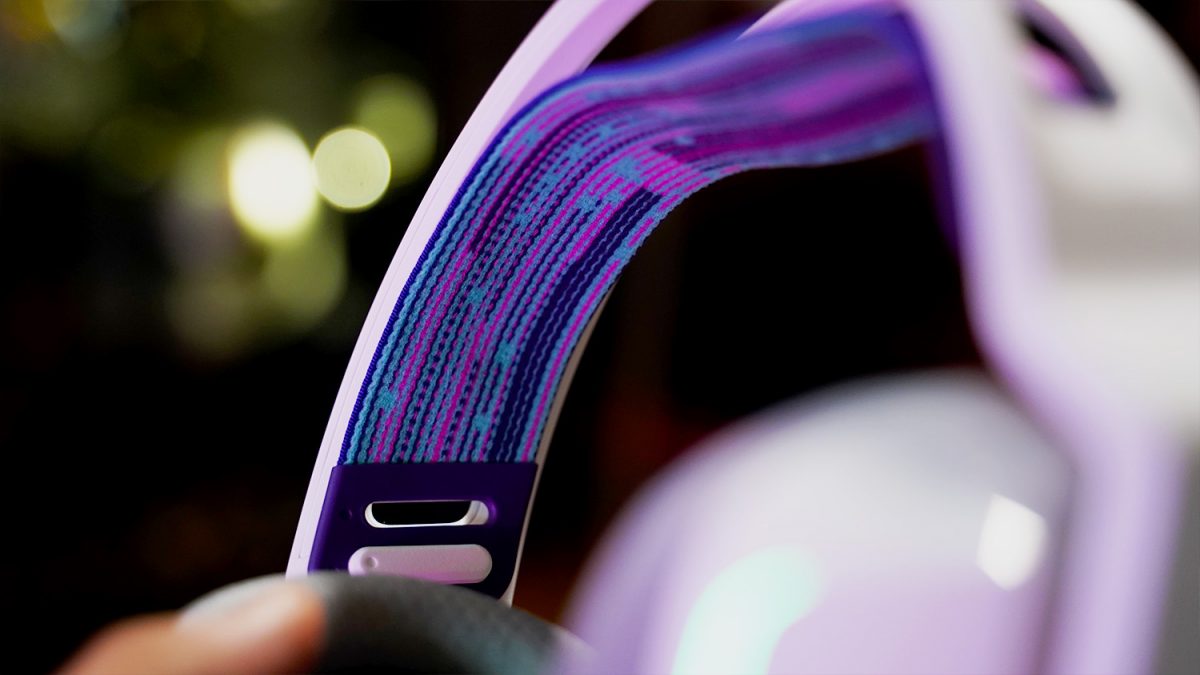 What makes the G733 even more comfortable is its memory foam ear cups. Made with a knit mesh material, these ear cups go over the ear and sit comfortably there. They feel really breathable and don't bite into your spectacles (if you're wearing them) even after hours of wear. When combined with the elastic headband, the G733 is sure to guarantee very little to no headaches after a full day's (roughly 8 to 10 hours on average) worth of use.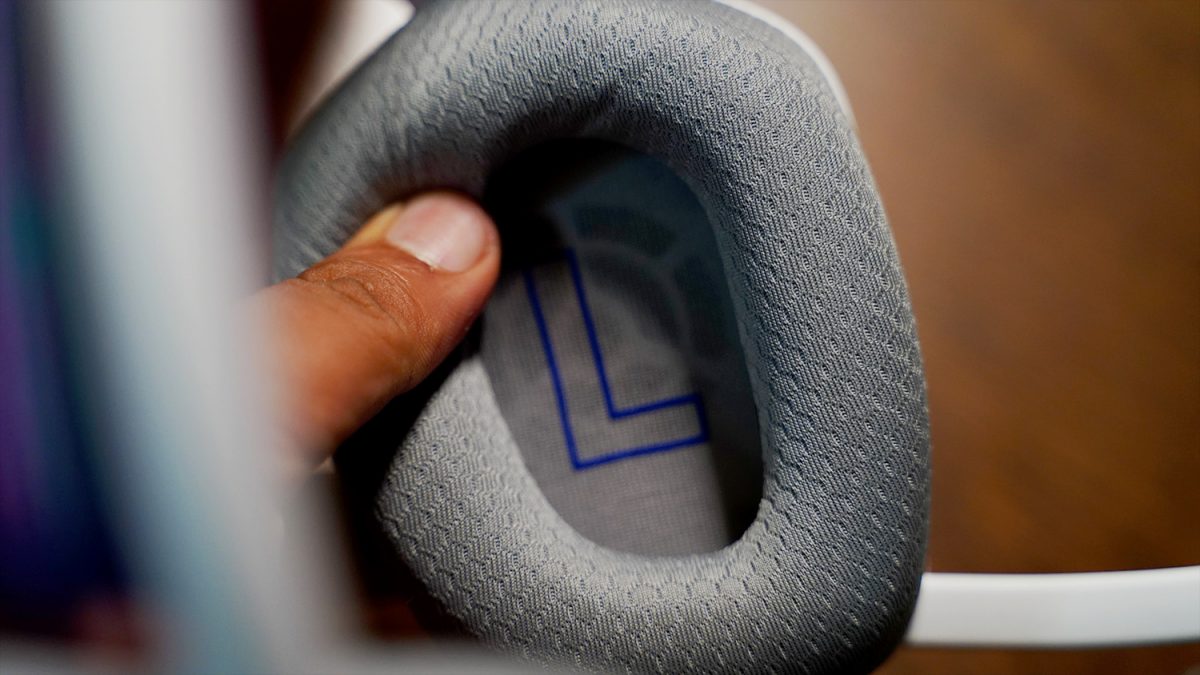 Of course, as with most other entries in Logitech's Lightspeed slate of wireless peripherals, the G733 possesses really strong Bluetooth connectivity, but only via the 2.4GHz USB receiver found in the box. Like the G Pro X Lightspeed before it, probably the only downside of making this headset a wireless one is the fact that it takes up a full USB slot on your laptop, PC or console, which means one less for, say, an SSD or a mouse input. That said, however, the connectivity holds up pretty well, even after walking up to two rooms away from our connected device (that's a good 15 metres, which is actually quite decent compared to most other Bluetooth audio devices that go up to only 10 metres). 
While we can go on about how comfortable the Logitech G733 Lightspeed is, its audio is also nothing to scoff at — but let's just say it's not up to par compared to some of Logitech's other meatier offerings.
In a general sense, the overall audio from the headset's 40mm drivers feels less punchy and lacks clarity compared to the G Pro X. The bass probably is the only one that stands out, though, and is great when playing games or watching content that involve tons of low-frequency sounds such as explosions on games such as Apex Legends or Call of Duty: Modern Warfare. It doesn't really do so well in the mids and highs, which is more prevalent in games such as The Witcher 3, Star Wars Jedi: Fallen Order, or even Fall Guys, and the separation among the three tiers of sound isn't exactly the clearest either.
Even after cranking up the mids and highs on the G HUB software, it doesn't seem to do the trick and remains relatively lacklustre as a whole when gaming. Given the fact that the audio can only be adjusted while on G HUB, PS4 and Xbox One users will be automatically at a disadvantage simply due to the fact that they won't be able to access the PC-only software. Let's just say console players benefit much more from the lack of a cable when using the G733.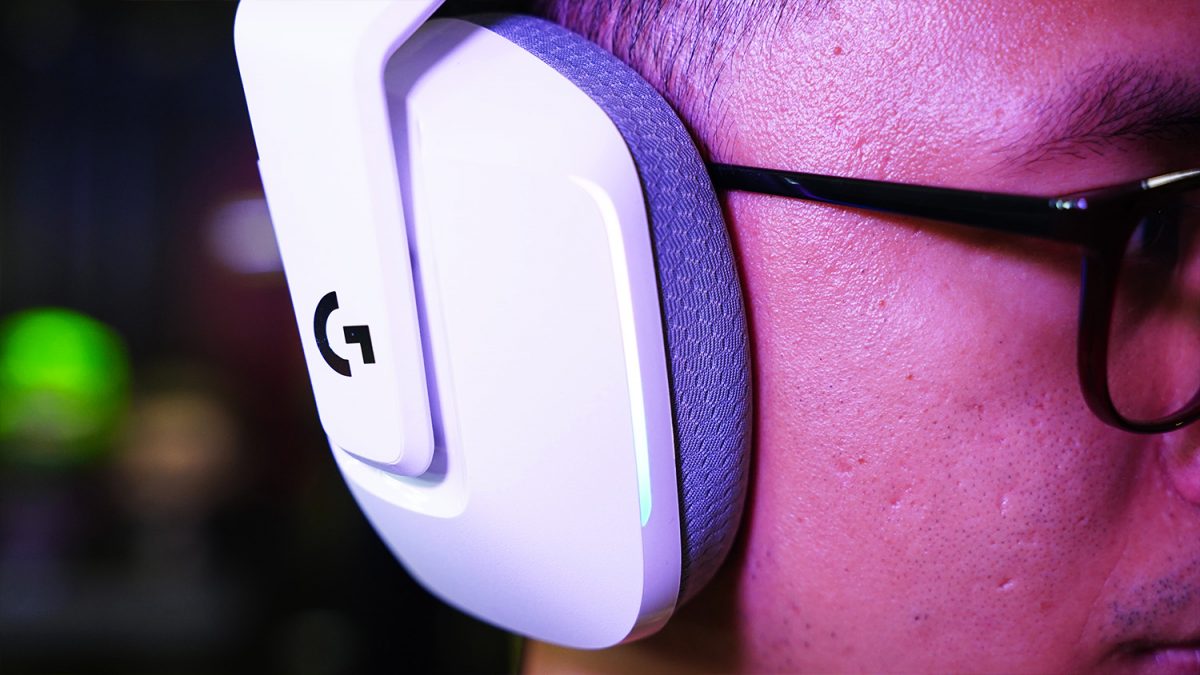 The above-average sound quality is perhaps more obvious when playing music. Bass-heavy tracks such as Drake's "Laugh Now Cry Later (feat. Lil Durk)" fare quite well, but even then, when it comes to the vocals and the blare of the horns don't get that much love, compared to when listening to it on the more casual Audio Technica ATH-M50xBT wireless headphones. The crunchy electric guitar and Robert Plant's belting voice suffer just as much in Led Zeppelin's "Black Dog", with the G733 just unable to keep up with the sheer shrillness and force of both sounds. Even the much cheaper (albeit wired) Razer Blackshark V2 X performs much better with music and doesn't even have the software to back it up.
If you thought the audio on the G733 isn't up to snuff, the microphone is probably worse. The fact that it is detachable alone means it already suffers from the same problem as the Logitech G Pro X Lightspeed in that speech doesn't come out as clear as compared to those with fixed mics. That said, it's always good to be able to remove it if you're not using it.
In just the playback on G HUB alone, the recorded voice came out crackly and muffled. The presence of Blue Voice software can only boost it so much (if you pick just about any other preset except the Radio ones, they make your voice sound deliberately worse by adding a gimmicky retro filter), and even then, it's really not by much. That said, your voice is still respectably discernible even in a chaotic environment such as a teamfight or raid in-game, at the very least.
At S$209, the Logitech G733 Lightspeed ranks among one of the best wireless gaming headsets in its price point. Again, while wireless gaming headsets still generally pale in comparison to their wired counterparts, this one more than makes up for it with superb comfort and a generally catchy design. It's also a decent alternative to other, more premium offerings in the market with generally acceptable audio and mic quality.
GEEK REVIEW SCORE
Summary
For a gaming headset, the Logitech G733 Wireless only has an above-average sound and mic at best. However, it more than makes up for it with a really lightweight and super comfortable build. Also, while RGB gaming headsets are generally frowned upon, this one doesn't seem to be all that flashy (pun intended), which is nice if you want some edge on your gaming experience.
Aesthetics -

9/10

Build Quality -

9.5/10

Performance -

7.5/10

Value -

8/10

Geek Satisfaction -

8.5/10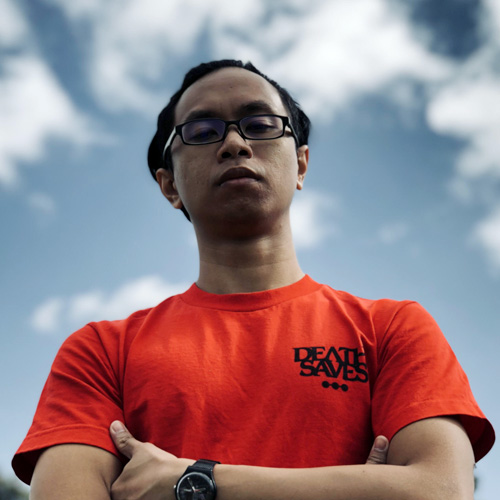 Marion has a serious RPG addiction. Sometimes it bleeds into real life; he forgets to sleep because he thinks he has a Witcher's body clock. Forgive him in advance if he suddenly blurts out terms such as "Mind Flayer" and "Magic Missile", because never once does he stop thinking about his next Dungeons & Dragons game.