Sprucing up your workstation or home gaming set-up isn't simply about attaching a few cute posters and calling it a day anymore. From RGB keyboards to headphones, graphics cards and even mousepads, it's hard to deny that the RGB craze has swept us all along. And now, to further fuel your addiction to this multi-coloured phenomenon even RGB chairs have entered the playing field.
Park your posterior down because this baby glows.
And of course, no one understands this better than ASUS, with their impressive portfolio of RGB accessories and hardware. Hey, if your table and desktop glows, why not wheel out the very first ROG Chariot RGB Gaming Chair to match the decor.
Designed for both comfort and style, the chair features plenty of adjustable parts and a racing-car style that is sure to make you stand out from the crowd. Seamless stitchwork runs parallel with the chair's form, and paired with the embroidered logo, gives the chair a red accent which highlights its unique shape.
Additionally, the rear of the chair is adorned by two fabric straps covered in the signature ROG cybertext pattern. There's also a quick-release, hook-and-fastener loop in the middle. And if there was to be any use for these, each strap has woven loops attached and probably can function as a convenient suspension for your gaming kit or bags. The straps should also support a maximum load of up to 2kg.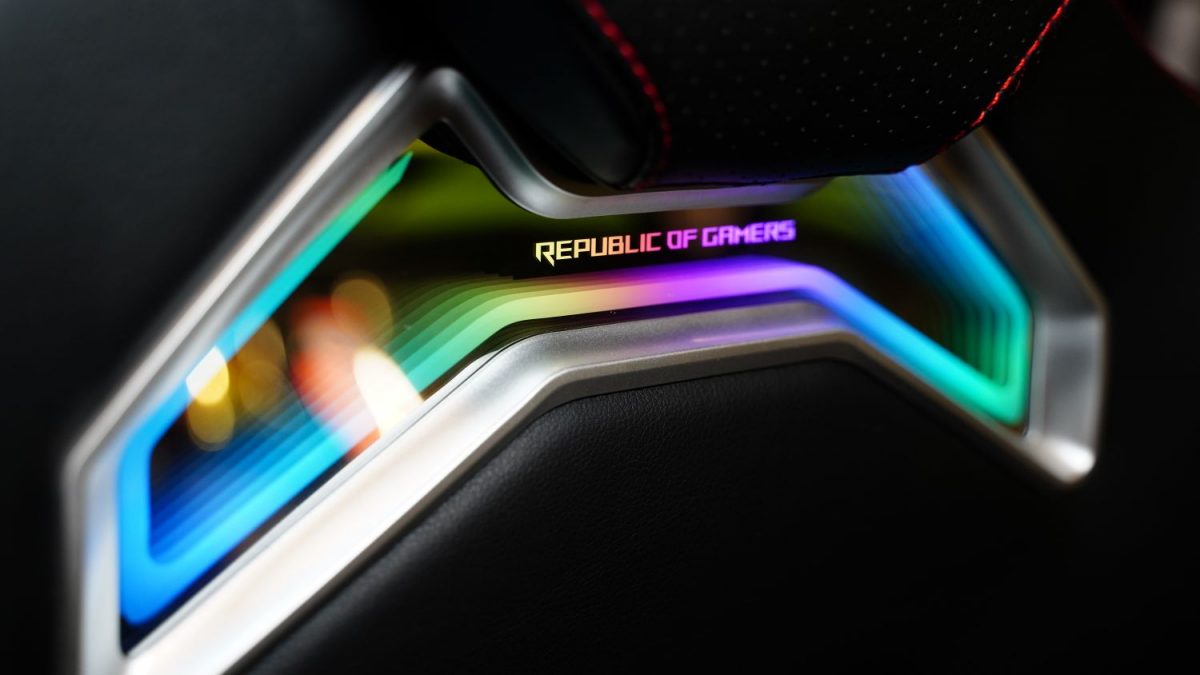 Integrated Aura RGB lighting illuminates your chair through the infinity mirror underneath your headrest and rear-side ROG logo. If having eight pulsing colours isn't your cup of tea, you can easily adjust to the single colour Breathing or Static mode via the IPX4 splash-proof intuitive one-touch controller. (But then again, where's the fun if you stick to one colour?) There are seven preset effects in total, Rainbow, Color Cycle, Wave, Glowing Yo-Yo, Strobing and the two mentioned above.
However, the very fact that the lights are all positioned behind your head will probably diminish that futuristic RGB experience you were going for during your livestream. This may be a downside for those who want something flashier. You won't seeing any RGB lights while sitting in the chair, unless you position a mirror behind you. Moreover, the lights are powered by an external power bank (that is not included). This means you'll have to spend a little more to enjoy the RGB experience.
Hey, if this was an office, making the chair glow can be a prominent "Do Not Disturb" sign to everyone else, seen from across the room.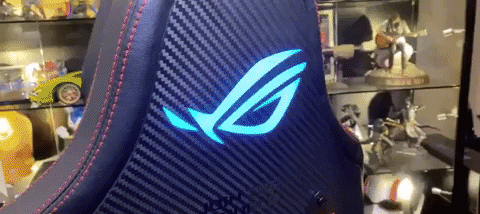 Aesthetics aside, being a gamer, or anyone with a deskbound job, a healthy sitting posture becomes imperative for determining whether you will end your day with an aching back (or butt). The ROG Chariot is built to be body-hugging with a racing-style bucket seat. The ergonomic helps keep us snug with more support for our lower back to help us power through a long work day.
Adding to that is the memory-foam lumbar cushion and high-density foam headrest providing firm support to the rest of the body. Moreover, the rest of the chair itself is made out of high-density, cold-cure foam.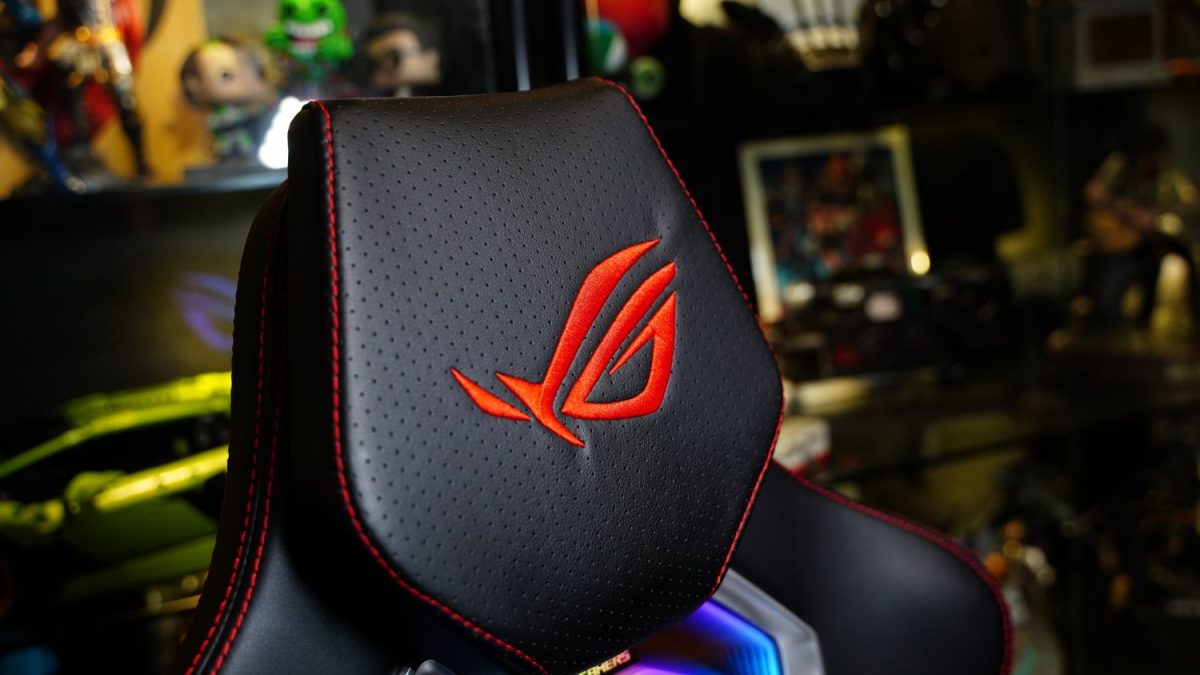 The chair is even covered in a breathable PU leatherette. For people living in warmer climates, you will greatly appreciate the airflow as it provides cool and comfortable seating. This means no sweaty under-thighs and butts even after a long day spent in the chair. The leatherette also provides some durability to the chair to help prevent too much wear and tear.
As with most gaming chairs in the market, finding the sweet spot for your arms is also no issue as the ROG Chariot comes with 4D adjustable armrests. You can move them up or down, pull them towards or away from you, rotate the angle or even move them in or outwards. The adjustment mechanism works smoothly though you may have to tug a little harder when angling the armrests.
By lifting the lock on the under-left side of the ROG Chariot, you will be able to tilt and rock your chair as you lean back. This keeps the chair in tune with your body movements and allows you to sink into a comfortable position. And of course, ther chair allows you to raise or drop it with a lever on the under-right side.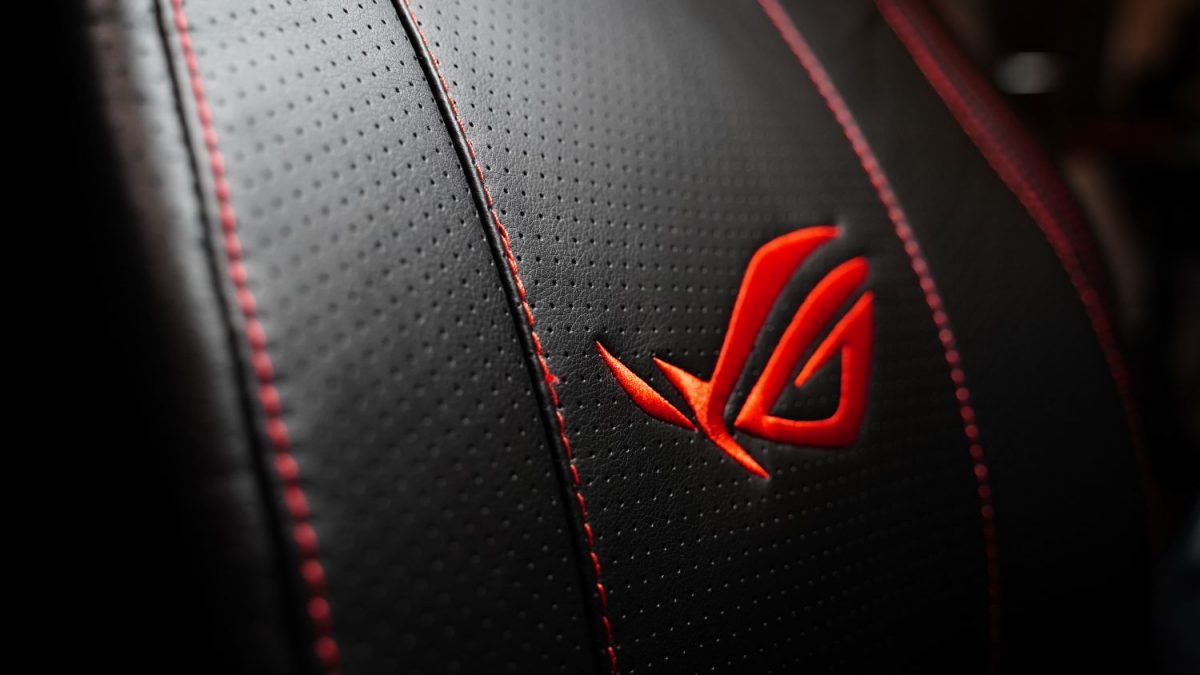 If you feel like taking a quick nap, the chair can even be reclined to 145 degrees from an upright position. The lever for this adjustment can be found on the right side of the chair. Pair it with a footrest and you get the perfect bed even in your office. (Just don't let your boss catch you slacking off though!)
One thing that may affect the comfort of the chair is the height of it. The chair is designed specifically for people measuring 165 to 195cm in height. This becomes very obvious with the positioning of the headrest. If you're below the stipulated height, you will find yourself leaning back with your head at an awkward angle. Pushing the headrest out of the way is also not an option as it is undetachable, hence you may experience nausea after a day spent with your neck in a weird position.
But beyond ensuring comfort, ASUS also takes safety seriously as the ROG Chariot has a base manufactured from strong aluminium alloy. This, along with the Chassis 4 Explosion-Proof gas lift provides stability and you won't find yourself teetering off balance on a flimsy frame anytime soon. These enable the chair to take up to an impressive load of 120kg.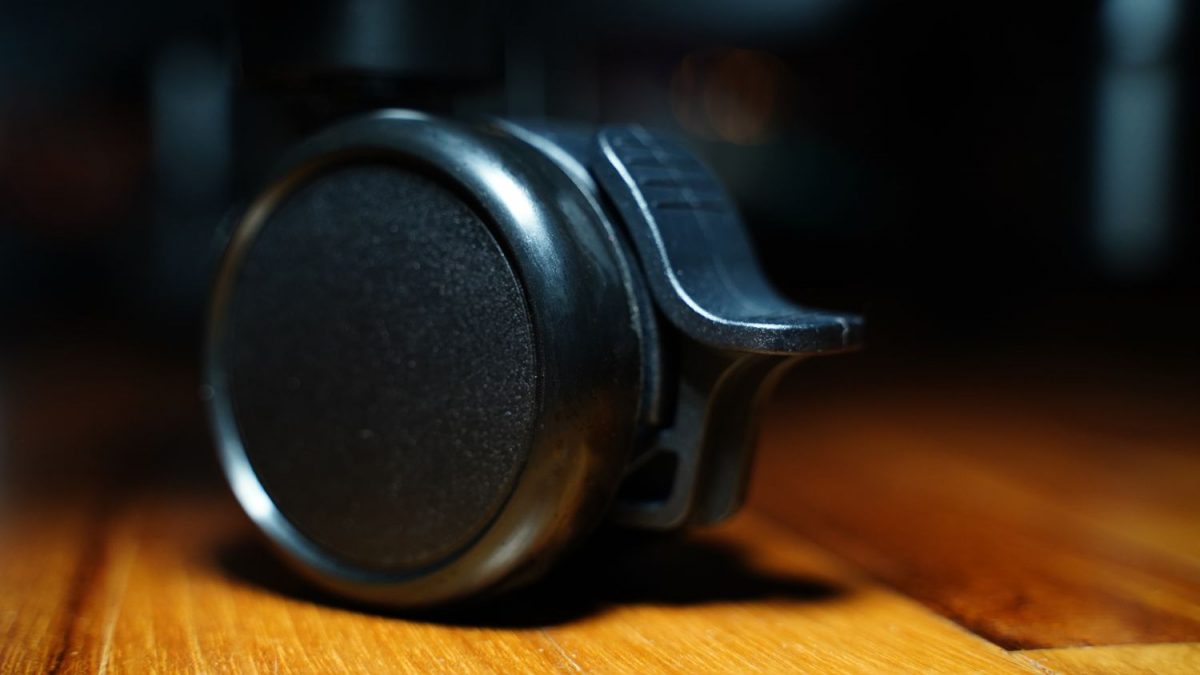 Moreover, you won't have to worry about the chair scratching your floor as the wheels are rubberised. This does cause the chair to roll around a bit more though. However, the problem is combated by the brakes attached to each of the five wheels.
The ROG Chariot RGB Gaming Chair is designed to provide comfort and support for long sitting hours. The price of it may be steep at S$799, but its RGB lighting will add a bit of fun and brighten up your workspace while serving as a real conversation starter with any fellow RGB lovers.
GEEK REVIEW SCORE
Summary
The ROG Chariot RGB Gaming Chair is ergonomically designed for gamers or anyone with a desk-bound job who will appreciate the firm full-body support and comfort on top of providing a touch of colour to brighten up your workspace.
Aesthetics -

7/10

Build Quality -

8.5/10

Performance -

8.5/10

Value -

7/10

Geek Satisfaction -

8/10