As expected, the LG G6 Android flagship smartphone is here from the South Korean tech giant, and my best guess is that some loyal Android users are going to be disappointed by it.
The company has longed been one of the lone holdouts against a non-removable battery, but it made its decision and the LG G6 comes with a non-removable battery.
The LG G6 is a 5.7 inch Android smartphone, powered by the Qualcomm Snapdragon 821 processor, 4GB of Ram and will be have 32GB or 64GB variants. It runs Android 7.0 Nougat and packs a microSD slot which is expanable up to 2TB.
In order to squeeze more screen space while retaining a comfortable grip on the phone, LG is implementing a display with a 18:9 screen aspect ratio that supports HDR10 and Dolby Vision and give customers the best of both worlds. This also moves the company's flagship phone into a space more common amongst digital TV broadcasting.
2:1 or 18:9 content already exists in the market with Netflix's House of Cards and Jurassic World being the most notable content employing this format.
Strong visuals have to be paired with audio that matches up as well. The LG G6 still retains its audio jack and 32-bit Hi-Fi Quad DAC is found within the device as well. No sense in dropping one of the great features from the LG V20.
Our favourite wide angle camera concept from the V20 is implemented into the G6 too, with dual 13MP rear cameras, including a 125-degree lens on the widest lens. The front gets the same treatment as well with a 100-degree field of view using a 5MP front camera. The field of field is slightly smaller than the LG V20 which might reduce the distortion along the edge of the image.
The rear camera bump, which was last seen on the LG V20, is now gone. Overall, we have a smaller phone as well with the overall length and width of the LG G6 being millimetres less than the V20. Looking at images, we see nothing but screen from the front as well. The front facing camera is but a small sliver integrated into the bezel.
LG's phones have always been great to hold in hand, and the G6 is now crafted from aluminum and glass plus the phone is now rated IP68 water and dust resistant. This comes at a cost as the much lauded removable battery is now gone. That's simply the tradeoff to keep the LG safe against the elements.
Last but not least, the LG G6 will also come with Google Assistant as well. Pixel owners had their time and LG has always been rather friendly towards Google's implementations in most of their devices.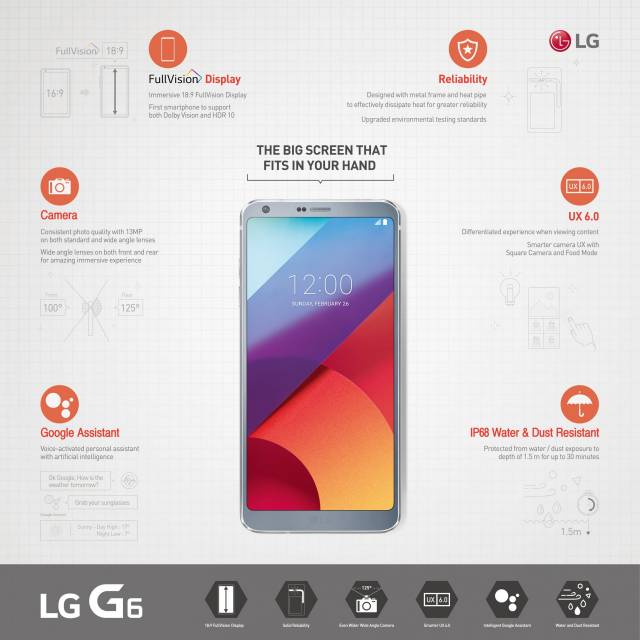 We're excited to see how impressive the LG G6 screen would look in real life and if the prices would remain competitive to invest in the next leap of mobile phone displays.
Here are the specs we have on hand for the LG G6 fresh out of MWC 2017:
SCREEN
5.7-inch 18:9 QHD+ FullVision Display (2880 x 1440 / 564ppi)
OS
Android 7.0 Nougat
CPU
Qualcomm Snapdragon 821
MEMORY
4GB LPDDR4 RAM / 32GB or 64GB UFS 2.0 ROM / MicroSD (up to 2TB)
NETWORKING
LTE-A 3 Band CA
PORTS
USB 3.1 Gen1 Type-C
CAMERA
Front 5MP Wide (F2.2 / 100°)

Rear Dual: 13MP Wide (F2.4 / 125°) / 13MP Standard OIS 2.0 (F1.8 / 71°)

SIZE
148.9 x 71.9 x 7.9mm
WEIGHT
163g
BATTERY
3,300mAh (embedded)
---

Drop a Facebook comment below!