My love for my existing LG G3 is well stated. As my daily driver and one year in, I found that it still keeps on chugging on along if not for a small drop in performance in battery life (still on my first) and minor performance kinks. Otherwise, it has been the best Android smartphone I've used thus far.
In hand, the LG G4 feels great and with its new handcrafted full grain leather looks very classy. At the event, LG seemed to place plenty of emphasis on the leather options. I personally found the red leather option the choice one for me.
In case you prefer something else, the LG G4 also comes in a multitude of colours. Which is something rarely seen in the flagship model of manufacturers; at least not at this level of variety. Leather options come in the featured brown and red as above and a black. Otherwise, it does come in a Metallic Gray and Shiny Gold which looks like the old G3.
How possibly could the LG G4 build on to the success of the G3? For starters, the G4 now has a F1.8 aperture lens illustrates how much emphasis LG has placed into getting consumers that perfect image each time. Everything else that you loved in the G3 is here and more.
We've seen manual mode in other smartphones but the UI for the LG G4 looks to be the most straightforward to operate and the level of control is impressive. Pretty sure we're gonna see very nice shots taken from this phone and seeing smartphone photography taken to the next level.
The killer feature in this iteration would be the new functions that LG has built into the G4. Need to shoot from the hip? Not problem, LG has you covered. The company states that the Quick Shot feature allows for a image to be shot within six-tenths of a second with the display off.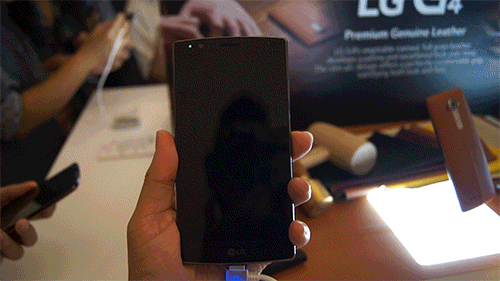 I do not have a stopwatch handy but from the looks of it, this claim does hold some weight. You can see the screen flash to indicate an image has been captured.
LG builds on my favourite feature of the LG G3 by adding the new and improved Gesture shot to allow a series of 4 selfies to be shot at 2 second intervals.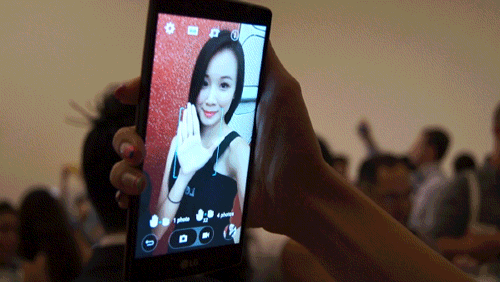 Just clench your hand twice to activate the mode. Words cannot express how awesome this feature is but the GIF above can! Awesome? The LG G4 certainly is!
Compared to the LG G3 on the far right, the LG G4 looks pretty much the same and it looks like the battery might be interchangeable as well. A replaceable battery is a rarity in smartphones these days. This feature certainly edges out some other manufacturers at least in my books. Carrying around a battery pack is a norm these days and why not just pop in a new battery and be done with it?
The final sweetener that was announced today would be that all G4 owners will receive an additional 100GB of Google Drive storage free for two years. This will come in handy with all the quad selfies that you would be taking.
Here are the Key Specifications of the LG G4:
■ Chipset: Qualcomm® Snapdragon™ 808 Processorwith X10 LTE
■ Display: 5.5-inch Quad HD IPS Quantum Display (2560 x 1440, 538ppi)
■ Memory: 32GB eMMC ROM, 3GB LPDDR3 RAM / microSD slot
■ Camera: Rear 16MP with F1.8 Aperture / OIS 2.0 / Front 8MP
■ Battery: 3,000mAh (removable)
■ Operating System: Android 5.1 Lollipop
■ Size: 148.9 x 76.1 x 6.3 – 9.8mm
■ Weight: 155g
The LG G4 will be available in Singapore at the end of May, retailing at S$998 for Genuine Leather in Brown, Black & Red while the Metallic G4 will be at S$928 in Gold & Silver.
---

Drop a Facebook comment below!