GameStart 2014 was, by all accounts, a massive success. Last year's inaugural show attracted no less than 12,000 visitors, and the event is slated to return this November with twice the hall space – and if 2014's performance was any indication, twice the fun.
If fun is what the GameStart organisers are going for, I'd say they're off to a brilliant start. While some conventions might be content to release a companion app to go along with their event, the folks behind GameStart 2015 have gone the extra mile and produced a full-fledged mobile game.

F2P Without P2W
Before I go any further, let me make one thing clear: This is not some cheap, microtransaction-laden, match-3-gems-and-spam-your-friends, sorry-excuse-for-a-"game". GameStart 2015: The Game (as I'm calling it – I'll explain in a bit) is a side-scrolling action-adventure that will instantly appeal to fans of classic titles like Mega Man or the original Ninja Gaiden… with the difficulty intact.
Unlike many other mobile games on the market, GameStart 2015: The Game is a true free-to-play title and contains ZERO in-app purchases. You won't find any shortcuts or power-ups that can be bought with money here. Raw skill, reflexes, and lots of patience are the key – just like how gaming should be!
About the name: Plenty of effort went into developing this game, but surprisingly, no one actually thought of a proper title for it – amusingly, I was met with awkward silence when I posed the question of how I should be referring to this game in this article.
(I personally like GameStart 2015: Alyse Strikes Back – Return to the Suntec Convention Centre: The Official Game of the Event – The Wonderful Adventures of Alyse: Episode 2… but that's just me.)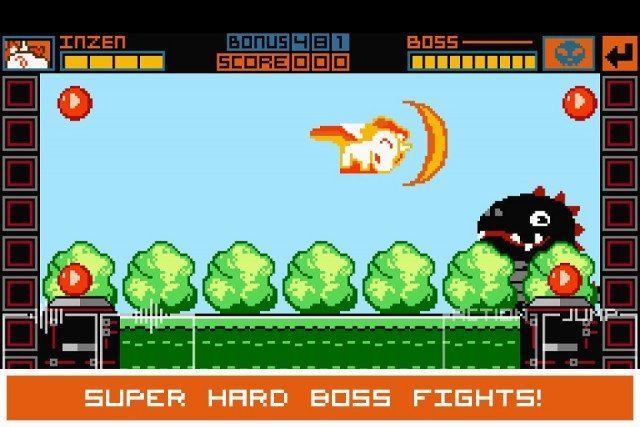 Time To Git Gud, Scrub
I mentioned earlier that GS2015: TG* is no walk in the park. Make no mistake: This game is tough. As Alyse, the mascot of GameStart, be prepared to jump, shoot, and dodge your way through waves of merciless enemies as levels grow increasingly difficult. Hardcore gamers who miss the challenge of old-school 2D side-scrollers like Contra will feel right at home. Sorry cheaters, no Konami code to be found here!
(*I still prefer GS2015: ASB – RttSCC: TOGotE – TWAoA: E2.)
Other than Alyse, the game also features a slew of unlockable characters, each with their own unique gameplay quirks. Characters from games made by various local developers such as Inzen Studio and Witching Hour Studios make an appearance, and players can even choose to play as Xian, Singapore's very own Street Fighter IV World Champion – provided you've done well enough to unlock him, of course!
Bonus: Look out for Geek Culture's Beholder as an in-game boss.
Future updates have also been teased, with additional characters and levels expected to appear further down the line. The GameStart team has promised to stick to their guns and keep the game fully free-to-play, so all these additions will be available to everyone at no extra charge.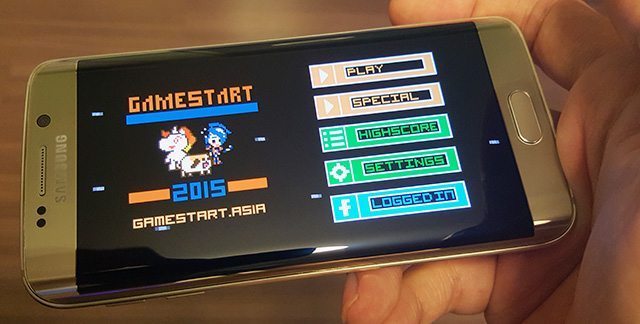 All Your Base Are Belong To Us
The GameStart team wanted a game that could evoke the retro-classic feel of the NES era, and have tapped the talents of local developer Seow "Sonic" Zong Hui to develop GS2015: TG. You might be familiar with some of Sonic's past work – he was the one responsible for the hugely successful Street Fighter X Mega Man, a game that began life as a fan project, but picked up so much positive word-of-mouth along the way that Capcom chose to release it officially as part of their Mega Man 20th anniversary collection.
It's thus no surprise that aside from solid gameplay, GS2015: TG boasts high production values, with gorgeous 8-bit styled graphics and presentation. The chiptune soundtrack is also top-notch, with contributions by local audio production house IMBA Interactive and San Francisco-based hip-hop artist/producer Alex Esquivel AKA "A_Rival".
It looks like GameStart 2015: The Game is a sign of greater things to come for Singapore's premier gaming convention. We can't wait for more exciting announcements about this year's event, which will be happening from November 13 to 15, 2015 at the Suntec Convention Centre, Halls 401 – 402. Ticket sales are planned to start sometime in September.
For more details on GameStart 2015, do check out the official GameStart Asia website. In the meantime, be sure to grab GameStart 2015: The Game from the Google Play Store or the App Store for your mobile platform of choice!
---

Drop a Facebook comment below!