The next few months are going to be some of the best in gaming as it is the key time period that publishers release their games. We take a look at the 15 biggest games releasing through early September to the beginning of December.
Mad Max (September 1st)
In the Wasteland it's every man for himself. Playing as reluctant warrior, Mad Max, you must embark on a treacherous journey to build the ultimate war vehicle, and leave the madness behind.
Who is not interested in the idea of a Mad Max game? Especially when the development team are the people behind the Just Cause series. A combination of vehicular combat and third person action this is definitely looking like a blood soaked open world action epic.
GEEK ANTICIPATION: 8
---
Metal Gear Solid V: The Phantom Pain (September 1st)
The Soviet invasion of Afghanistan has brought a new edge to the Cold War, and in 1984, a one-eyed man with a prosthetic arm appears in the country. Those who know him call him Snake; the legendary mercenary who was once swept from the stage of history and left in a coma by American private intelligence agency, Cipher.
The drama at Konami has not dampened the anticipation for this game one bit. Ground Zeros gave you a small taste of what to expect and Phantom Pain looks like it will deliver. Beautiful graphics and an sandbox world to play in, what more do you want?
GEEK ANTICIPATION: 10
---
FIFA 16 (September 22nd)
Say what you will about yearly sports releases. Think of the developers. What can you possibly do to avoid 'just a roster update' comments each year. Well, FIFA 16 is a big improvement over last years game in virtually all departments. Defending is much more realistic and believable, while attacking is more fluid and fun. Ultimate Team and Career Mode have also seen improvements. The inclusion of women's international teams is also a first for the series.
GEEK ANTICIPATION: 7
---
Tony Hawk Pro Skater 5 (September 25th)
After some pretty terrible games in the series, Tony Hawk returns to its Pro Skater roots. Like previous installments of the series, Pro Skater 5 will feature a list of playable professional skateboarders to play as. Players will also have the ability to customize their own skaters. Classic game modes return such as score attack and HORSE.
GEEK ANTICIPATION: 7
---
Lego Dimensions (September 29th)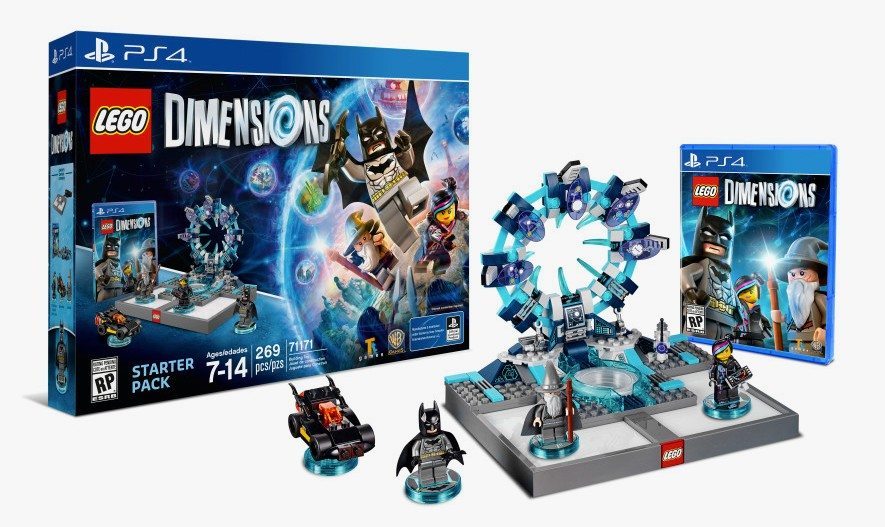 Lego Dimensions is basically the Lego version of Disney's Infinite games. This is a good thing.  It follows the "toys-to-life" format, in that the player has actual Lego figures and a portal which can be played within the game itself. The game will feature characters and worlds from 14 different franchises, including DC Comics, The Lord of the Rings, The Lego Movie, The Wizard of Oz, The Simpsons, Lego Ninjago, Doctor Who, Back to the Future, Portal 2, Ghostbusters, Midway Arcade, Scooby-Doo, Lego Chima and Jurassic World.
Storywise it's a classic good vs evil setup that looks fun. Lord Vortech seeks the Foundational Elements the planet is built on, which have the power to control the multiverse and it's up to you to stop him. The only drawback is that this game could be expensive in the end due to the fact that there are so many great add on character packs.
GEEK ANTICIPATION: 9
---
Rock Band 4 (October 6th)
The announcement of Rock Band 4 was pretty much out of nowhere. Most people thought that this series was dead. With new consoles the series it getting a resurrection. Harmonix has promised compatibility with your old instruments along with all your old DLC content (PS3 to PS4 and 360 to XB1 only). Harmonix have also said that this will be the last disc based Rock Band and all new content will be delivered to the core Rock Band 4 game via updates. Interesting.
GEEK ANTICIPATION: 8
---
Assassin's Creed Syndicate (October 23rd)
The disaster that was the launch of Assassin's Creed: Unity will be forever remembered in gaming history. A botched release that the game never recovered from. The new Assassin's Creed has a lot to live up to. With Assassin's Creed: Syndicate things are looking a little brighter.
Set within London in 1868 during the Industrial Revolution, the story follows twins Jacob and Evie Frye as they navigate the corridors of organized crime during the Victorian era and fight against the established order, controlled by the Templars.
The game looks just like any other Assassin's Creed game. Mission structure, story elements  and the way it plays. However, the new setting of London in the Industrial Revolution had piqued my interest. Hopefully Ubisoft can release a working game and deliver a great new game to the series.
GEEK ANTICIPATION: 8
---
Halo 5: Guardians (October 27th)
Peace is shattered when colony worlds are unexpectedly attacked. And when humanity's greatest hero goes missing, Spartan Locke is tasked with hunting the Master Chief and solving a mystery that threatens the entire galaxy.
The next blockbuster chapter in the Halo series arrives with many changes to the core experience. Some have accused it of dumbing down and becoming like Call of Duty or that campaign doesn't look at all interesting. Whatever Halo 5 turns out to be i'm sure it will tell a great story with its 4 player co-op and have a fantastic online multiplayer suite. It will be interesting to see if Microsoft pick up any substantial new Xbox One owners with this release.
GEEK ANTICIPATION: 9
---
Need for Speed (November 3rd)
Not really much to say on this one. After skipping a year, Need for Speed returns with a full reboot. Featuring a huge open world to race around and a story told through some very slick FMV, Need for Speed is looking pretty spectacular.
This is Ghost Games first full game by themselves after helping out with Need for Speed: Rivals and by the look of things they know what they are doing. The only sticking point is that the game is online only. If you cannot connect then you cannot play. Did EA not learn from SimCity…
GEEK ANTICIPATION: 8
---
Call of Duty: Black Ops 3 (November 6th)
Another year. Another Call of Duty. This year is the turn of Treyarch, probably the best Call of Duty developer there is. Before Black Ops 3 was announced there was speculation that they might reveal World at War 2 and send the series back to its roots. They didn't and we get the final part of the Black Ops trilogy.
Call of Duty: Black Ops 3 takes place in a dystopian future set in 2065, 40 years after the events of Black Ops 2. Air defense systems have advanced to a point where they cancel each other out. As such, most of the warfare between countries is done by covert operatives fighting behind enemy lines. Military technology has progressed to the point where robotics play a main role in combat, and super soldiers have been developed to fight in the battlefield. Humans have reached the point where they are considered to be more machine than flesh and blood. As a result, there is speculation and fear about an eventual robotic takeover. Just another day for Call of Duty…
As with all Call of Duty games, multiplayer is the key selling point and Treyarch have hit the nail on the head. Multiplayer looks fantastic. A combination of previous Black Ops games and Advanced Warfare. It looks fast, hectic and brilliant.
GEEK ANTICIPATION: 9
---
Fallout 4 (November 10th)
Probably the most anticipated game of 2015. Fallout 4 is is set to eat hundreds of hours of your life. Fallout 4 takes place 200 years after a war over resources that ended in a nuclear holocaust in 2077 – roughly the same time as the events of Fallout 3. The setting includes Boston, Massachusetts and other parts of New England known as the Commonwealth. Unlike previous titles, Fallout 4‍ '​s begins on the day the bombs dropped: October 23, 2077. The player's character  takes shelter in Vault 111 with their family, emerging 200 years later as the vault's sole survivor.
With many game elements returning from Fallout 3 such as V.A.T.S and the third/first person view scheme, players are going to feel right at home. The new features Fallout 4 is bringing sound amazing and time consuming.
One such new feature is the ability to craft and deconstruct settlements and buildings. Players can select some in-game objects and structures, and use them to freely build their own structures. In addition, the towns can be powered with working electricity, using a dynamic power line system. Merchants and non-player characters can inhabit players towns, for which players must provide sustenance by growing food in makeshift patches and building water spouts. Players can build various defenses around their settlements, such as turrets and traps, to defend against random attacks
Cannot wait!
GEEK ANTICIPATION: 10
---
Rise of Tomb Raider (November 10th)
Rise of the Tomb Raider. A paid Xbox One exclusive. A strange decision but it's happened. We have to live with it. A sequel to the fantastic reboot of a couple of years ago, Crystal Dynamics returns with a more action orientated second installment.
Lara Croft's experience of the supernatural on Yamatai has been covered up by the organization Trinity. In order to prove she is not insane, Lara becomes obsessed with finding the truth behind myths around the world. Rise of the Tomb Raider follows Lara Croft and Jonah Maiava as they search Siberia for the ancient city Kitezh, built by the Grand Prince of Vladimir in the 13th century, which Lara believes holds some truth behind immortality. In a race against Trinity, a well funded organization interested in the supernatural, Lara must survive against humans, animals, and the environment in order to find the truth behind the myths and become who she was destined to be.
After seeing the latest gameplay videos, Rise of the Tomb Raider seems to have taken elements from Splinter Cell and Hitman and maybe that is not a good thing. There is promise of puzzles and some actual tomb raiding but this sequel seems to be heading down the action path. We shall have to wait and see.
GEEK ANTICIPATION: 7
---
Star Wars: Battlefront (November 17th)
What would you get if you combined the Battlefield franchise and the Star Wars universe? Quite simple really. You would get Battlefront.
Yes it really is just a Star Wars version of Battlefield but that's great. Epic battles fought out on maps from past and upcoming Star Wars films. The game features 20 vs 20 player battles which has various modes such as Walker Assault where the defending team tries to stop the advancing AT-AT team and of course it features the usual deathmatch modes. The only disappointing thing is the lack of a single player campaign mode, this could put off quite a few fans that are not multiplayer inclined.
GEEK ANTICIPATION: 9
---
Rainbow Six Siege (December 1st)
The last Rainbow Six game, Vegas 2 was a huge letdown after the pretty incredible first Vegas outing. The new Rainbow Six looks…different. No campaign. Just an online multiplayer component.
Rainbow Six: Siege is returning to its tactical shooter roots. The online setup is pretty simple. Team Rainbow vs Terrorists. Players will swop between the two factions during the game. Before the rounds begin, players can plan how and where to enter or what kind of defensive setup the defending team will have. On paper this looks very good but unless you have a group of friends to play with….it could get messy with randoms.
GEEK ANTICIPATION: 7
---
Just Cause 3 (December 1st)
Set several years after the events of Just Cause 2, Rico Rodriguez leaves The Agency and returns to his homeland of Medici, a fictional Mediterranean island under the brutal control of dictator General Di Ravello who has set his eyes on world domination. Wanting to stop him, Rico goes on a journey to destroy his evil plans.
Just Cause 1 and 2 are probably the most insane, over the top and fun open world games to hit consoles in recent times. Featuring insane stunts, gun battles and sky diving things got just plain silly. Just Cause 3 is even more insane.
A variety of tools will be provided to players for traversal in the game. The grappling hook and parachute will be returning with improved mechanics. A new wingsuit, which is permanently equipped by the player, will be featured in the game and allow players to glide across the world in a much faster way. When the player almost reaches the ground while utilizing the wingsuit, they can draw themselves back up in the air by utilizing grapples, which creates an action sequence
Without a doubt this is 2015's craziest game.
GEEK ANTICIPATION: 8
The next few months are a goldmine for gamers. Will you have enough time in the day to play though?
---

Drop a Facebook comment below!