Think fresh cuts of gourmet meats and plenty of options are available. There's Meat the Butcher at Bukit Timah Road, Huber's Butchery at Dempsey, or Foodie Market at Tiong Bahru. Feel like some fresh seafood or sashimi though, and you'll have to head elsewhere. Fancy some cheese, cured meats or smoked salmon? That's another run to yet another specialty store. Toss in a craving for some fresh oysters and caviar, and you're talking about a run around the city, unless you're at the new Phoon Huat Deli.
If the name sounds familiar, that's because baking fans know the name as the leader of baking needs, with over a dozen Phoon Huat and Redman stores across the island. Previously known as PH Delicatessen when it was launched three years ago, the new Phoon Huat Deli, located within the Redman outlet at Star Vista, retains the departure from the traditional baking needs of its parent brand, and instead offers premium foods such as cheeses, premium cuts of beef and lamb, together with uni, oysters, and caviar, and at more wallet-friendly prices.
Think oysters for S$1.80 each, or striploin from S$4.20 per 100g.
Want something with a little more class? How about wagyu A4 ribeye priced at S$23.50 per 100g, or that prized Gillardeau fresh oyster, so identified with a laser engraved G on the shell, from $9 each? Or A5-grade Miyazaki wagyu from Miyazaki Prefecture of Japan, Mishima Reserve beef from USA, and Iberico pork from Spain?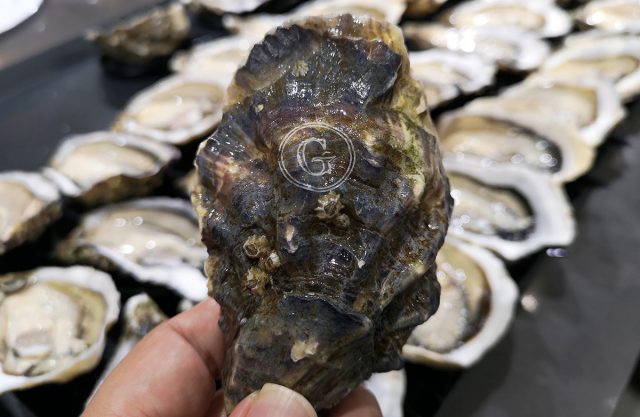 And nothing beats topping it off with a small teaspoon of Royal Belgium Caviar, and fresh uni from the deli, that also offers sashimi platters, sushi and donburi during lunchtime on weekdays.
At a recent showcase at the deli located at Star Vista, guest homecook Snowcology aka Chia Wee Loon showed how anyone, with the right ingredients, could replicate fine dining dishes in their homes.
First up is a selection of their raw and smoked fish, some of which were flown in from Japan that week. The company sees about four shipments of fresh seafood from Japan each week, the bulk of which are sold to other restaurants and suppliers in the local food and beverage industry, but a growing amount are now purchased in store by consumers.
This includes a selected of smoked fish that the company smokes, packages and seals, to ensure freshness and quality.
Next up is a serving of plump Gillardeau fresh oyster, topped with uni, caviar and a yuzu foam. Now, there are oysters and then there are Gillardeau oysters – each one is a plump, juicy little beast that would have worked amazingly on its own, not that the uni and caviar were not appreciated.
And here is something that you don't see very often – carabinero prawns (from S$12.80/100g) aka scarlet shrimp aka cardinal prawns, identified by their bright red shells and deep red highlights on the flesh. Harvested from the Mediterranean Sea, these crustaceans are highly prized in fine dining kitchens. The Spanish even consider them to be mini lobsters, offering the crunch, sweetness and juiciness of its larger brethren.
In this Carabinero Pasta in Smoked Paprika, Snowcology added Ikura Roe, Tobiko Roe and Garlic Chips, but his secret weapon was the Carabinero Oil, a mix of canola oil infused with the essence of 4 kg worth of Carabinero shells that has been reduced to a veritable container of red gold.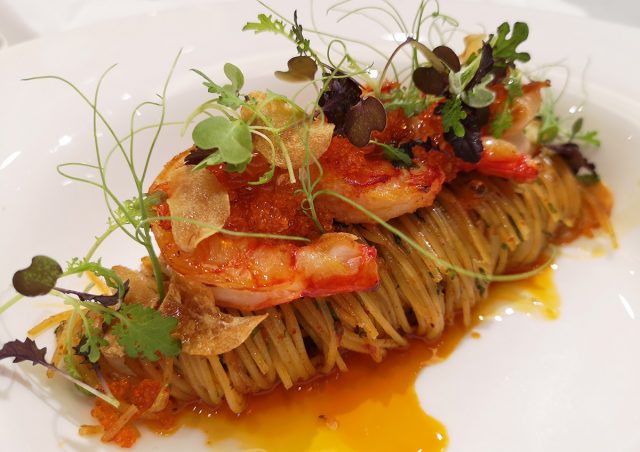 But the main course is the world-famous wagyu katsu sando, or beef cutlet sandwich. The crust is deep fried of course, but the inch-and-a half thick wagyu has been slow roasting in the oven for eight hours at a low temperature, rendering the meat tender, and the fat inviting. Wrapped between two slices of crusty thick toast, a dash of creamy beef au jus, thickened with truffle essence has been added, to give the sandwich that added kick.
Granted, these recipes and eventual dishes will take home cooks some time and effort to master, but everything you need is right there at the new Phoon Huat Deli.
Sherwin once held the Matrix of Leadership, but wisely passed it on to the rightful leader of the household.
---

Drop a Facebook comment below!