How many times have you played/watched Bandersnatch up to this point of time right now? If Netflix had their way, you've probably sunk in countless hours into their most unique offering to date.
Sounds just like a video game.
Going straight to the point this is what you need to do to trigger the secret ending:
Sugar puffs
Thompson twins
Accept
Accept
Go back
Refuse
Yes
No
The Bermuda Triangle
Shout at Dad
Visit Dr. Haynes
Pull Earlobe
Take them
Follow Colin
Yes
Stefan
Go back
Colin
Flush them
Hit desk
Pick up book
PAC
Throw tea over computer
P.A.C.S.
20541
Who's there?
Netflix
Try to explain
Tell him more
Fuck yeah
Fight her
Kick him in the balls
Who's there?
White Bear symbol
Back off
Kill dad
Bury body
Yes
He jumped
Chop or bury?
Chop up body
Destroy computer
Pick up photo
White Bear symbol
Chop up body
Destroy computer
Get rabbit from dad
PAX
White Bear symbol
Chop up body
Destroy computer
Get rabbit from dad
Toy
Yes
---
In case you don't have enough time to experience it all, this is the gist of what happens after going through the entire sequence.
Going back to the beginning, we see Stephan on the bus once again but this time he pops in a tape of his finished game also called Bandersnatch.
The tape is simply a monotone audio track but if run through a ZX Spectrum computer you get a QR code.
What's interesting about this page QR code is that it leads folks to an actual Tuckersoft website, within there's an opportunity to download and play the actual Nohzdyze game!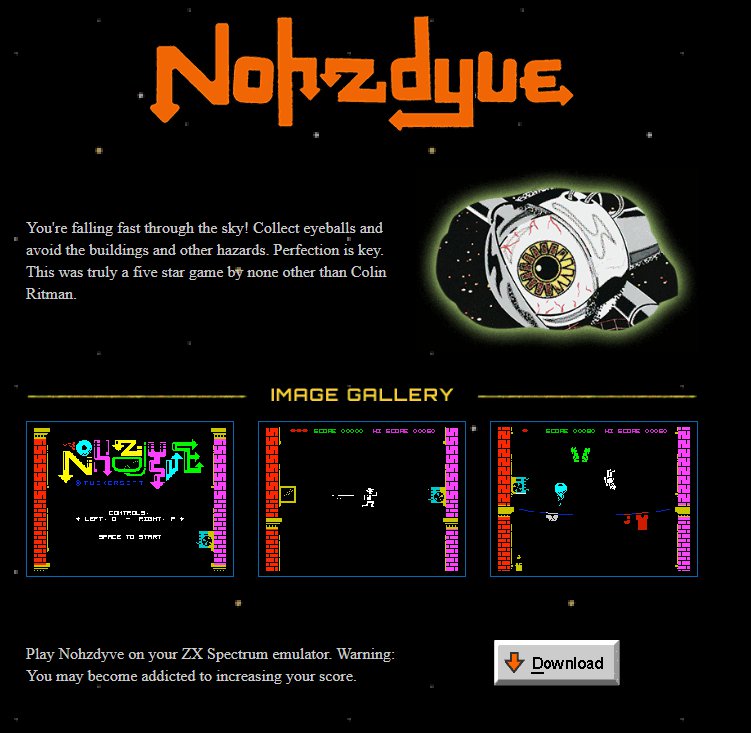 All you need to do is find an emulator on the net and you'd be able to play the game. It's not groundbreaking but it's definitely a nice touch of marketing to reward the superfans.
Remember how Stephan describes his game having less options and no free will at all, even the player would think they had? It's an irony that in the end, we are the ones being played JUST to unlock this secret ending.
---

Drop a Facebook comment below!