[UPDATE 31 October 2016: Winner Announcement! Congratulations to Goh Wei Sheng (Collector's Edition + Xbox One game) and Jeremy Mok (PS4 game)! Please check your email for prize redemption details.]
Nostalgia is a powerful thing but how many people actually remember how World War One was actually like?
With Battlefield 1 entering the fray, the limited Battlefield 1 Collector's Edition (worth S$299) has items that are also relics from video gaming's not-so-distant past. The curious thing was that in some places of the world, this set actually is being sold without the game itself. While it might sound baffling to some, there are some folks out there who love the premiums so much more than the actual game itself. So, in the world of financial sense, something actually clicked for the folks at EA.
But how can we ever give away a Collector's Edition without the game itself, it would be a travesty! We have two copies on hand for PS4 and Xbox One (special thanks to the good folks at PLAYe), both the winner and runner up gets a console version of their choice. Over to the main event!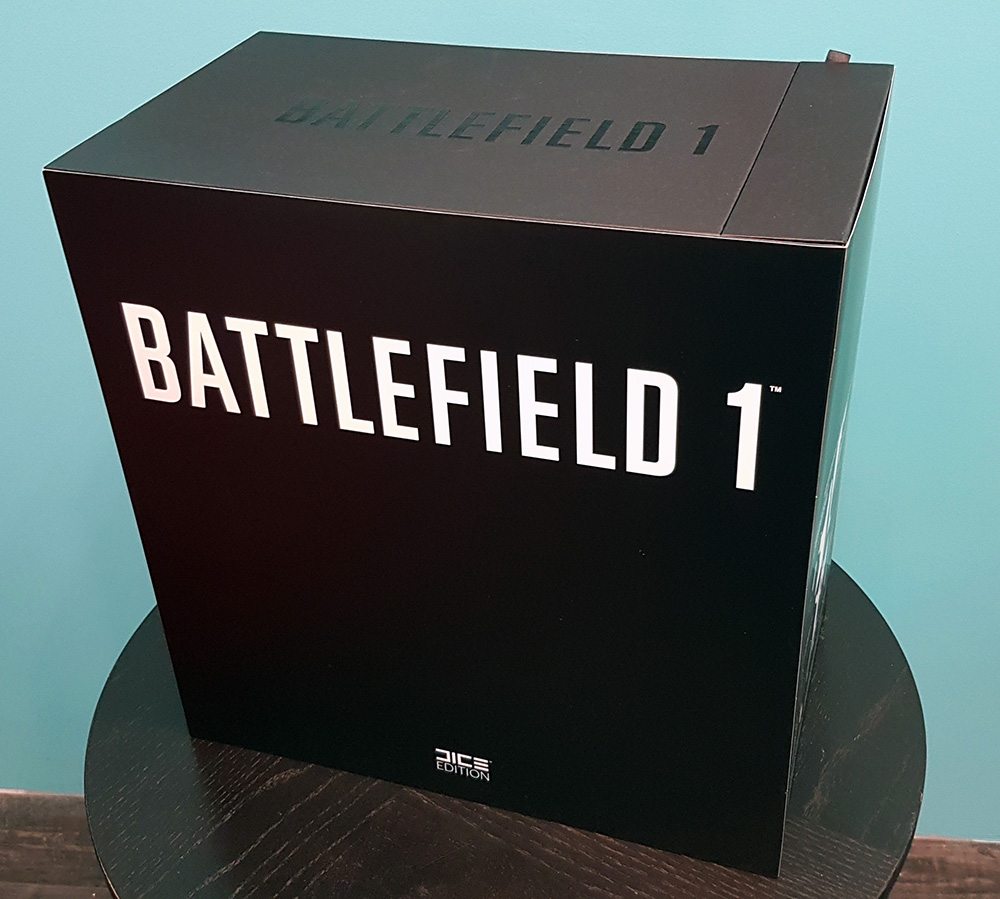 Good luck trying to get on the train with this beast. The Battlefield 1 Collector's Edition is not going to make it easy with its bulk.
Running your hands over the packaging illustrates how much thought EA put into the unboxing experience. As you slowly slide your hands over the box, you cannot contain the anticipation that is bubbling inside of you.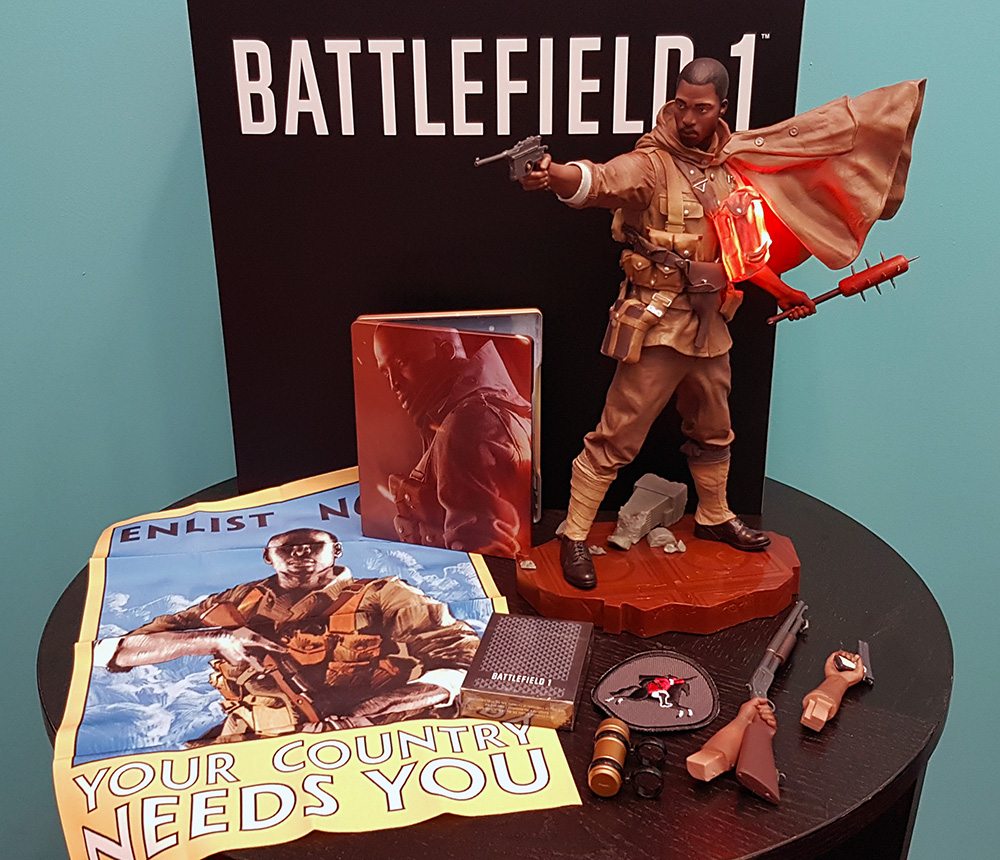 The Battlefield 1 Steelbook
Exclusive cover art only found within the collector's edition. Hard to go wrong with this art. If you bought yourself the steelbook edition of the game, maybe you can start thinking which case to use on alternate days to keep things fresh.
Cloth Propaganda Poster
It's been a while we've seen one of these in the wild. This cloth propaganda poster is miles better than those glossy paper posters that you might get with certain titles, once you've unfolded it you can't get rid of the lines.
Battlefield 1 Playing Cards
When you're out in the field, these guys are the best way to pass the time; that's if there's even a brief respite from bullets whizzing over your head.
Exclusive Battlefield 1 Patch
In case you didn't already know, Battlefield 1 features a Calvary class in which you spawn with a horse as part of your arsenal. If the trailer makes these guys as awesome as it seems, this is one patch you'd wear with honour.
Messenger Pigeon Tube
Ah yes, the days before email this was how you get the word out to let HQ know that the situation was SNAFU. And, that's counting the possibility that the messenger pigeon even made it out in the first place. At least in this edition, you'd be getting an exclusive DLC content in the form of The Doughboy M1911 Pistol which will be available to collector's edition owners for one full year before everyone else.
Collector's Edition Statue
This right here is the big one! The detail on this 14″ statue is amazing and taking a leaf from the folks at Hot Toys, you'd be getting two sets of arms (literally) to mix and match as you see fit. Would you prefer to blow your enemies away with the shotgun or go up close and personal with a spiked bat? Like within the game, the choice is all yours.
That's not all, this statue actually lights up and we really do like how he has the switch hidden behind the debris at his feet. No more having to awkwardly power him up with a switch at the usual locations of behind or under the base.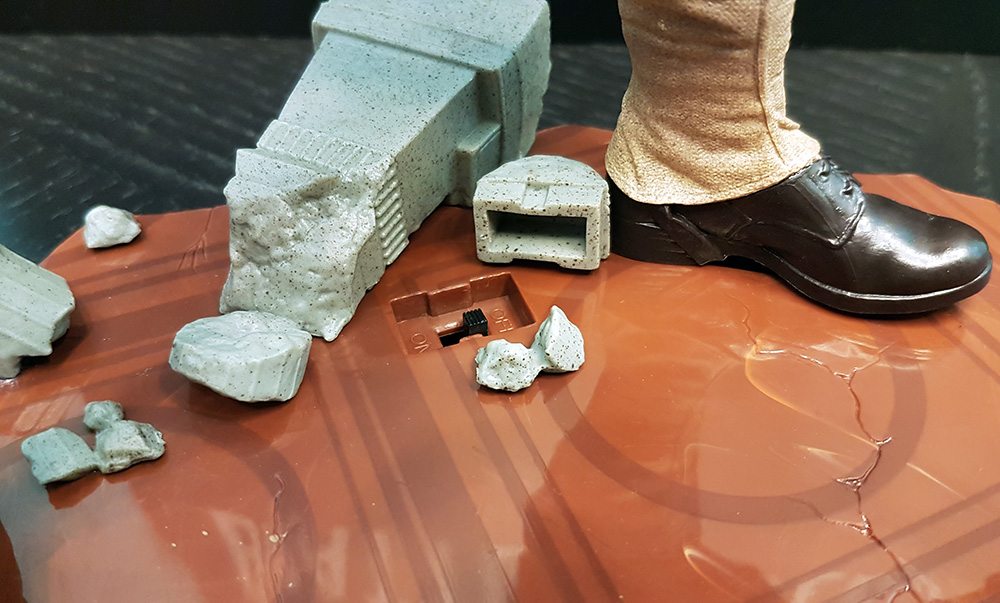 ENTER NOW TO WIN
To stand a chance to win, simply complete these 2 simple steps:
SHARE THIS POST and TAG a friend (or more) you would like share your loot with. ->
Fill in the form below.
Give us a LIKE below if you haven't done so yet, so you won't miss out on future similar giveaways!
[GIVEAWAY HAS CLOSED]
The giveaway is open to all residents of Singapore. The giveaway closes on 29 October 2016 @23:59hrs (GMT+8). 2 lucky winners will be picked at random. The winners will be announced here and be notified via email by 31 October 2016. Good luck!
Battlefield 1 is out in stores from 21 October 2016 on PC, PlayStation 4 and Xbox One.
---
BONUS OFFER: Get S$5 OFF via the PLAYe App

This entire giveaway could only have been made possible by the good folks at EA, for the Collector's Edition and PLAYe who had generously contributed two copies of the game to give out. If you're still sitting on the fence on getting Battlefield 1, maybe a S$5 OFF with every S$25 purchase code might be the sweetener you've been looking for. Do check out PLAYe for all your gaming needs and more!
Here are the steps to redeem your discount:
Install the PLAYe app for iOS or Android devices.
Create your PLAYe account.
At checkout, use the code "GeekC5" to receive S$5 OFF your transaction (with min. spend of S$25)
Note: The above code is valid only for new account signups.
Gerald currently straddles between his love of video games and board gaming. There's nothing that interests him more than trying out the newest and fanciest gadget in town as well. He dreams of publishing a board game sometime in the future!