For the last 27 years, Singapore's Great Singapore Sale (GSS) has been an event that people look forward to, but times are changing. While consumers would get excited to purchase items at a discounted price, there are now options in getting that retail therapy, including buying that coveted item at a steal, and having it delivered to your home via eCommerce?
Well, as consumers embraced more online shopping last year due to the pandemic, one casualty was GSS, which was effectively cancelled due to local Circuit Breaker measures, before turning into an online programme that failed to gain much awareness.
After all, in a sign of joining the ones you cannot beat, the Singapore Retailers Association (SRA), the organisers of the Great Singapore Sale announced today that it will be partnering up with Lazada to create a much more memorable GSS this year. As the official eCommerce Partner for 2021's Great Singapore Sale, Lazada will bring its eCommerce expertise to support SRA members who digitalise their retail business. This marks the first time in the 27-year history of the well-loved national event that GSS has embraced eCommerce, and worked with an online partner.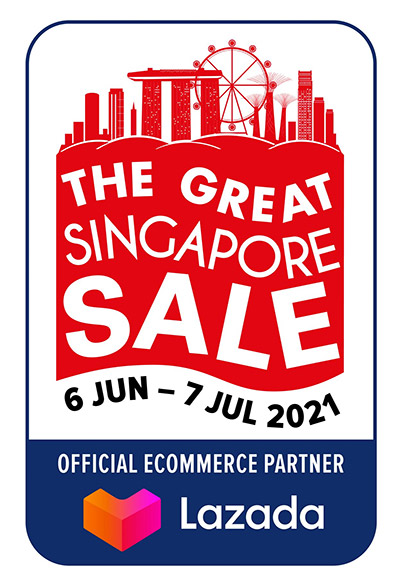 GSS will be held for a month from 6 June to 7 July, with the start and end dates both coinciding with Lazada's 6.6 sale campaign and its much-anticipated annual 7.7 campaign.
"The Great Singapore Sale is a national institution and sentimental for Singaporeans and those who remember flying into the country to enjoy the sales. In these challenging and transformative times, we're doing our part to rally the retail industry and equip them with the tools they need to have a successful Great Singapore Sale in 2021."

James Chang, Chief Executive Officer, Lazada Singapore.
Hundreds of brands are expected to join the four weeks of product promotions, and some of them, including homegrown tech company Prism+, the folks behind the the affordable monitors and smarts TVs, are looking forward to participating in GSS this year.
Our partnership with Lazada this GSS is timely, in the light of tighter SMM (safe management measures) guidelines limiting shopper traffic to stores and malls, and a changing retail landscape

Mr R Dhinakaran, President of the Singapore Retailers Association.
Jonathan Tan, co-founder and Managing Director of Prism+ noted that the company was never able to launch products with the buzz of a huge nationwide event before, and this year's GSS will allow them to do so, with the company planning to launch new premium TVs in conjunction with the GSS season. Although not much information about the product has been released, Tan assures that more details will be announced as 6 June nears.
Consumers can also expect new forms of shopper engagements such as exciting livestreams, games, and voucher promotions on Lazada's platform and in turn support sellers with the tools that they need to move their businesses online.
With this partnership, it looks like the Great Singapore Sale recognises the impact of eCommerce and understands that to remain a highly anticipated event, it has to evolve.