Ever wondered what it's like to be micro-sized? Now you can experience it with the launch of the latest attraction in Hong Kong Disneyland – Ant-Man and The Wasp: Nano Battle! from this Sunday, March 31!

Ant-Man and The Wasp: Nano Battle! is an interactive adventure that will have visitors take part in a mini journey alongside Marvel Cinematic Universe's smallest superheroes, Ant-Man (Paul Rudd) and The Wasp (Evangeline Lilly), who will be blasting and fighting nano-sized baddies together in an attempt to save Hong Kong.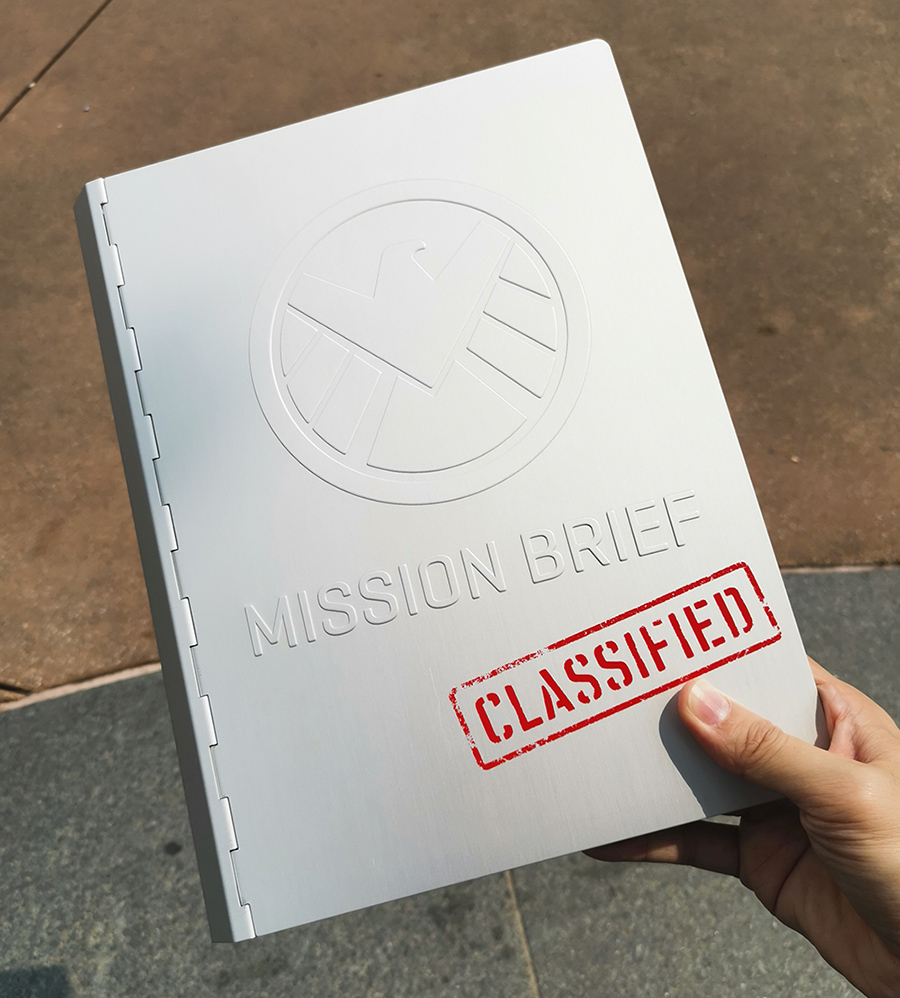 This ride is unique for two things: it's the first-ever Marvel-themed attraction that features a female superhero as the titular character, and it will feature an all-new, all-exclusive Marvel Studios story featuring the two micro-sized Marvel superheroes, alongside Leslie Lam (Jessica Hsuan), the first MCU character based in Hong Kong.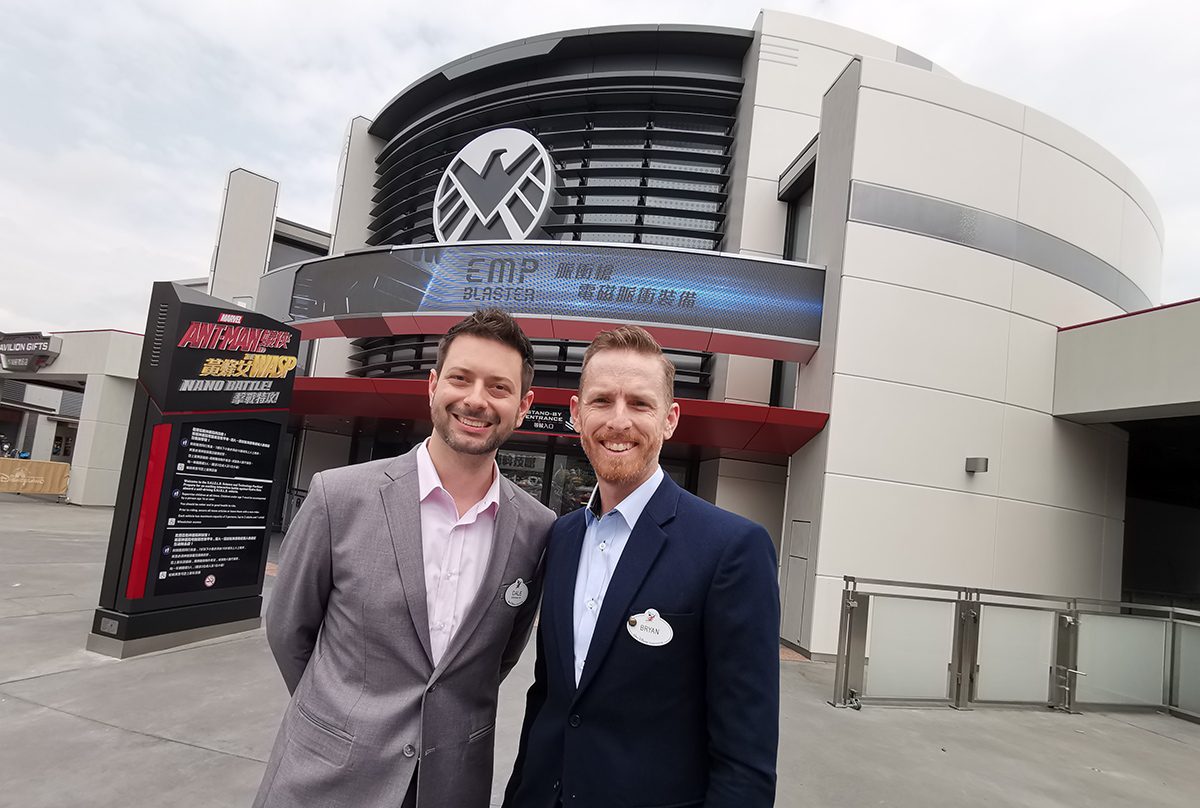 For those keeping score, Ant-Man and The Wasp: Nano Battle! is the second Marvel-themed attraction in Hong Kong Disneyland, with the first being the amazing Iron Man Experience, which debuted in 2017. So while Tony Stark/Iron Man is staving off HYDRA-bots at the Stark Tower, Ant-Man and The Wasp will require your aid in defending the SHIELD Pavilion in Hong Kong against the attack of the evil HYDRA AI, Armin Zola, and his army of Swarmbots.

After shrinking down with the two heroes, you'll be embarking on an action-packed blitz to the SHIELD Pavilion's Data Core in the D/AGR, SHIELD's deadliest new combat vehicle, cutting a swath through the hordes of Swarmbots with your equipped EMP blasters.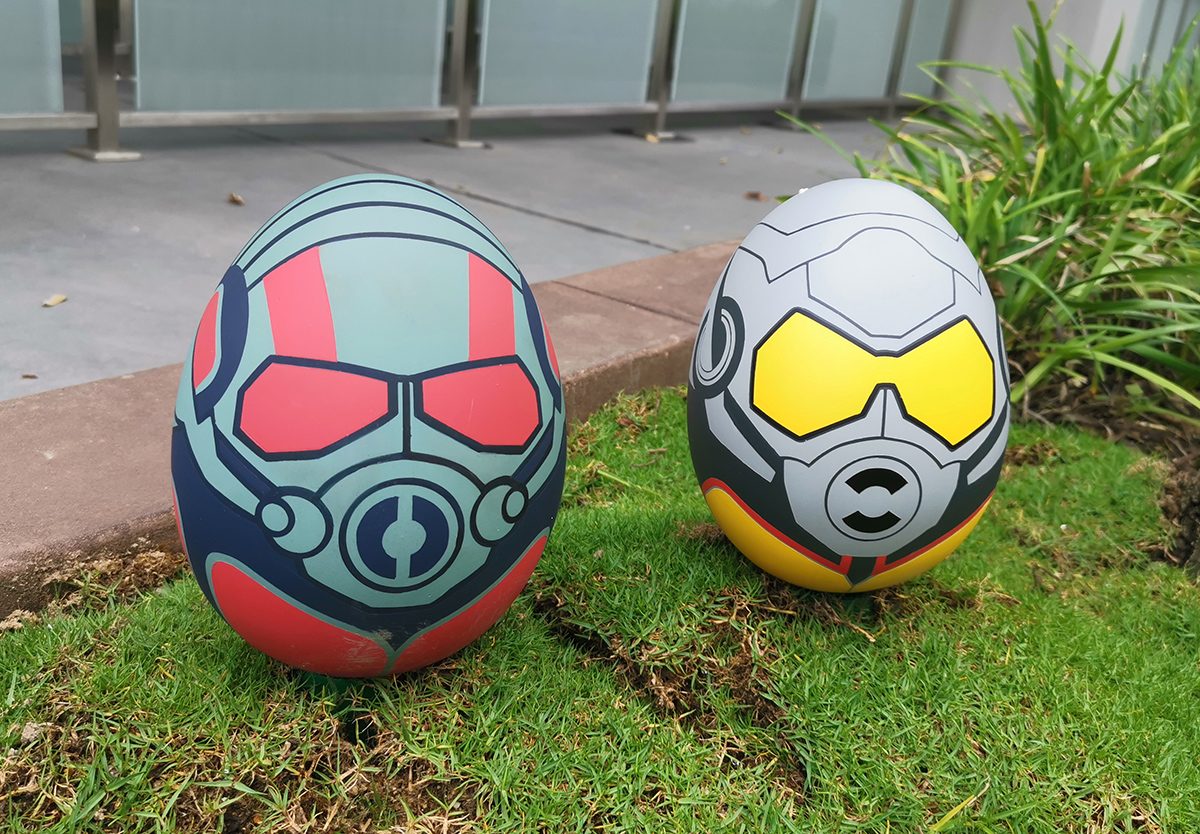 Fans will be shooting tons of flying baddies with laser guns while traversing on a high-speed micro-tank with Ant-Man and The Wasp flying and fighting alongside you and your friends. There'll be plenty of quick jabs at the enemies, with tons of exclusive local Hong Kong references, so keep your wits about you as you fight alongside the two heroes.

And once you've accomplished your mission successfully in the ride, head on over to Pavilion Gifts, the new shop in the north area of the SHIELD Pavilion, to purchase some swanky new Ant-Man and The Wasp, and SHIELD-themed swag. There are over 40 new items in the shop, so you'll definitely have more than enough options to consider as memorabilia for this cool new ride.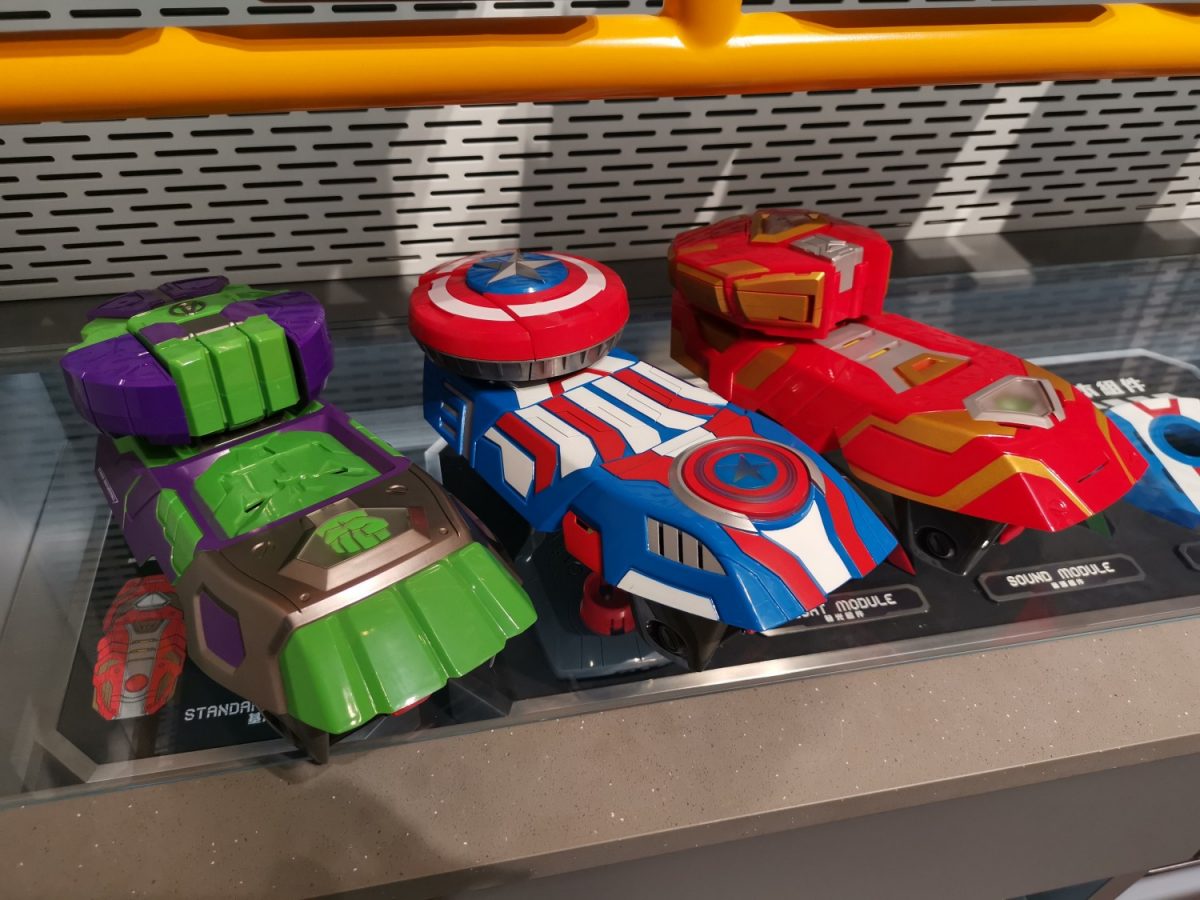 Gracing the launch of Ant-Man and The Wasp: Nano Battle! were Paul Rudd/Ant-Man himself, Marvel Studios President Kevin Feige, as well as Peyton Reed, director of both Ant-Man and Ant-Man and The Wasp.

"I grew up going to Disney parks, and now to be part of an attraction at Hong Kong Disneyland is a dream come true," mused Rudd at the launch event. "I can't wait to share this experience with my kids – they're going to love it!"

"It's so exciting to see Ant-Man and The Wasp transition from the screen into an attraction at Hong Kong Disneyland," added Feige. "With this experience, we have the opportunity to immerse fans in their story in ways that we haven't been able to do in the films."

Jessica Hsuan, who plays as the Nano Battle! exclusive character Leslie Lam, was also present at the launch. The renowned Hong Kong actress shared her excitement about being part of this "amazing" new Marvel Studios experience, and is genuinely thrilled "to have new local Marvel characters who truly represent" Hong Kong.

Peyton Reed (read the full interview here) had this to share when asked if there were any Easter Eggs fans could look out for when experiencing the ride. "There're tons of little Easter Eggs even as you're going through the pre-show line and watching that screens. All these items that have appeared in some of the Marvel movies, and even in some of the Marvel one-shots (short films included in Blu-ray releases). They're very obscure little things, and that's one of the things I liked about working within that whole Marvel Cinematic Universe. The connectivity between all the different stories, and Nano Battle! really does kind of tie-in to the Iron Man Experience attraction as well. I love that about it."

Director Peyton Reed can't wait for fans to try the ride.
With the cast and crew of Ant-Man and The Wasp: Nano Battle! being this passionate and excited about the ride, what's there to get all antsy about?

---
The Ride Experience

Right at the start of the queue line, guests are treated to a video console featuring a series of videos starring Iron Man, Ant-Man, The Wasp, and Leslie Lam, setting up the scene for the upcoming battle with Armin Zola and his army of Swarmbots.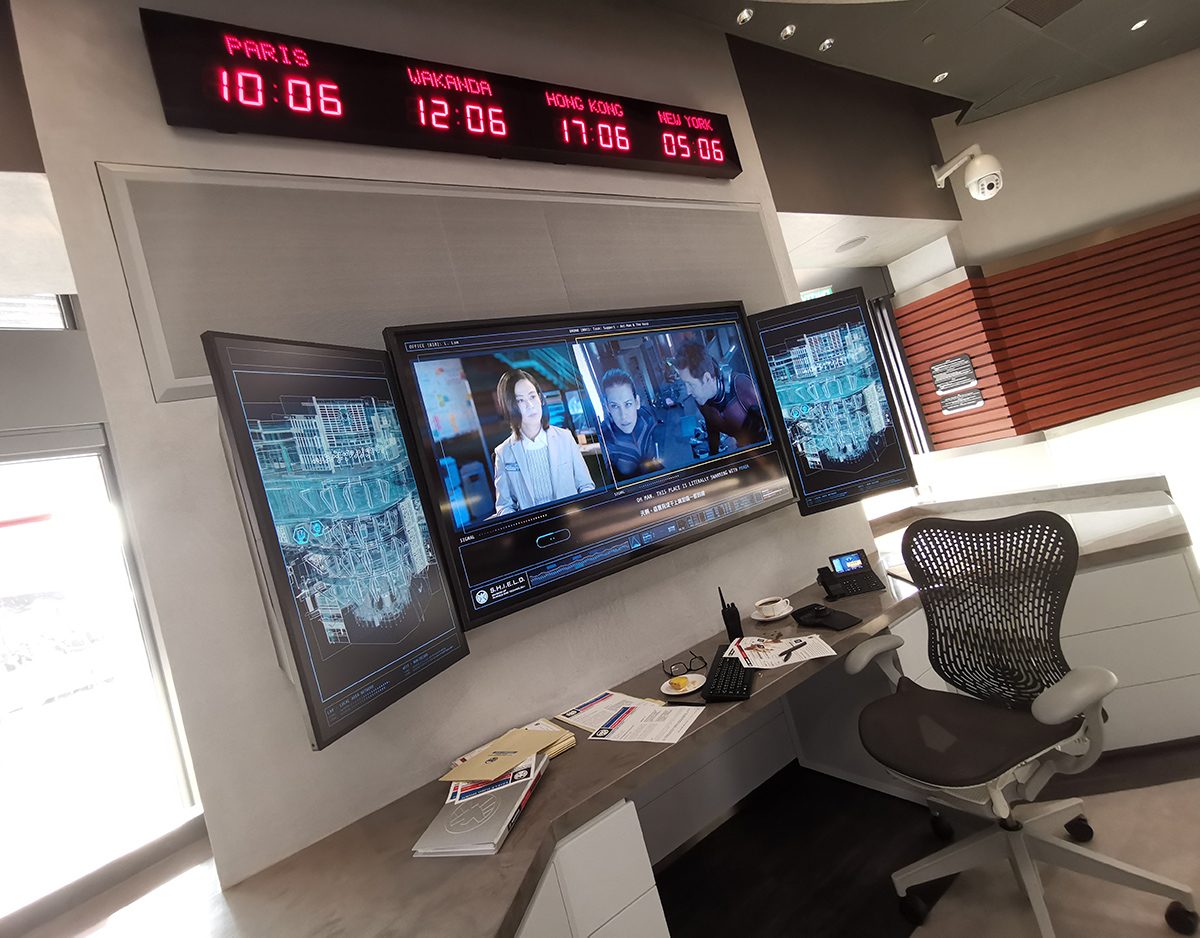 In one of the videos presented, Paul Rudd even gives "thanks" in Cantonese, which showcases Disney's commitment to localizing their rides. You can watch the video below:
As the queue line continues, the guests proceed into the Secure Storage Vault where SHIELD stores 14 types of artifacts, weapons and research items from Marvel movies, TV shows and comics. Some of these are unique and exclusively exhibited at Hong Kong Disneyland.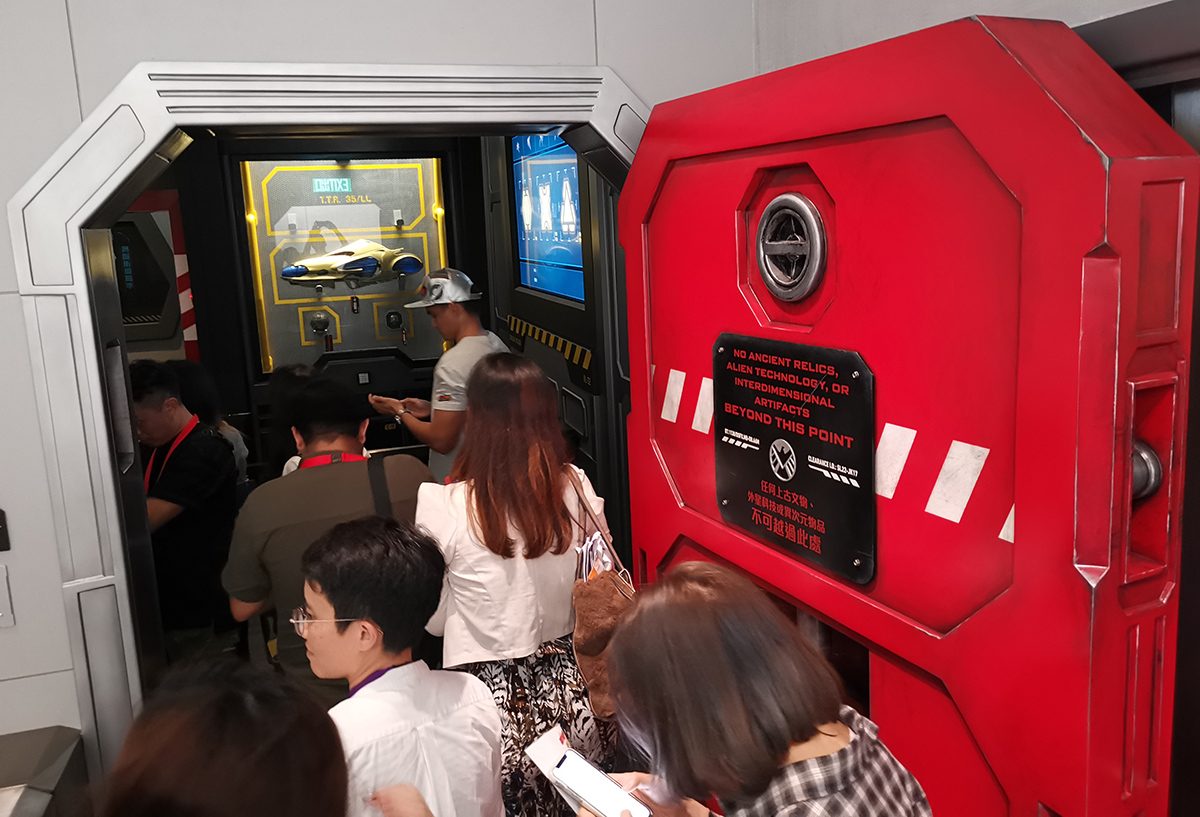 Upon exiting the storage vault, it's already time to board SHIELD's combat vehicle, D/AGR a.k.a. the Dagger, where guests will head deep into the Data Core to disable the Swarmbots using EMP Blasters. Each vehicle can take 2 riders at a time and is equipped with one blue and one red EMP Blaster, so take your pick.
Armed with the EMP Blaster, it's time to get trigger happy for the next 4 minutes, blasting away at 150 targets and competing with your friend to see who scores higher. Here's a pro-tip, aim for the smaller triangle-shaped targets for higher scores.
Curious to see what the ride is like? Have you tried the Buzz Lightyear Astro Blasters ride before? Remember how the new Guardians of the Galaxy – Mission: Breakout! ride in Disney California Adventure ride is a revised The Twilight Zone Tower of Terror experience? This is pretty much the same Buzz Lightyear ride, with a Marvel twist. The kids are gonna have a blast with it. And you gotta love the accuracy of the EMP Blasters.
Still can't picture it? Don't worry, we've got you covered with a POV footage right here:
With this latest offering, we can't wait to see what's in store for Hong Kong Disneyland in the near future when they are expected to roll out their third Marvel-themed ride, which is currently in the works as we speak.
Excelsior!