With most of the world sequestered in their homes, the best form of entertainment now comes in the form of TV shows (or WHO endorsed pastime, such as video games). But unless you happen to live in the United States and a few other select countries, you will likely be unable to access a number of streaming services such as Disney+ and Hulu. 
What then?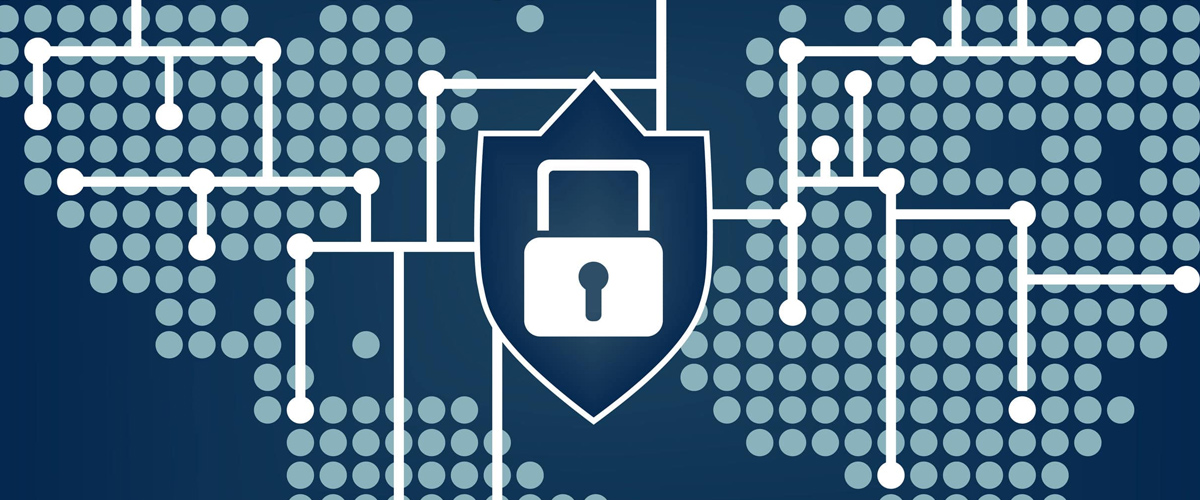 Well aside from giving up and sticking to the streaming services you already have, there is always the option of using a VPN. Not only will you be able to access country-restricted streaming sites but you can also enjoy better security and privacy when browsing around the internet.
If you are interested in trying out a VPN service for yourself, we have compiled some of the best VPNs currently available. We will be looking at a number of factors throughout this list, such as price, the number of servers, bandwidth cap, and availability of a free trial to help you determine which is the best service for you.
---
No.of Servers
No. of Server Locations
No.of Countries Available
Free Trial Available?
Price
3,000+
160
94
Yes
1 year: US$99.95 (US$8.32 per month)

6 months: US$59.95 (US$9.99 per month)

1 month: US$12.95 per month
Perhaps one of the most well-known of the VPNs in this list, ExpressVPN has been the top in a number of VPN ranking lists over the past few years and there is a good reason for that.
The VPN is powered by TrustedServer technology, which was built by ExpressVPN to ensure that a user's online activity is never logged down. This was put to the test when a server seizure in 2017 turned up zero information, proving ExpressVPN's "Zero Log" policy to be true. Not only that, but ExpressVPN is also one of the fastest VPN out there, with an average speed of 106 Mbps, meaning it is more than capable of effortlessly streaming that 4K show you wish to watch.
The VPN also comes with split tunnelling capabilities to let you route some of your device or app traffic through the encrypted VPN tunnel while other devices or apps access the internet directly. This means that you can safely download anything off the internet without having to slow down your other web activities, or stream shows off country-restricted sites while browsing the rest of the internet using your local IP.
As you will see in the other VPN services in our list, ExpressVPN also comes with a kill switch feature which helps to prevent your network data from leaking out of the VPN tunnel in the event that the VPN connection goes down. Having such a feature is extremely important as you never know when something can go wrong with the VPN, and it's always better to be safe than sorry.
An additional layer of protection is also offered by ExpressVPN as they accept bitcoins as payment, a feature not commonly offered by other services. Also, a single subscription to ExpressVPN lets you run up to five simultaneous connections. Which means a family of five can easily all watch HBO Go, Disney+, Hulu, Amazon Prime Video, and Netflix all at the same time using ExpressVPN.
That said, a quick glance ExpressVPN is the priciest of the bunch but it comes with a 30-day free trial for you to try out the service free-of-charge before deciding if you'd like to subscribe.
---
Number of Servers
Number of Server Locations
Number of Countries Available
Free Trial Available?
Price
5,063
80+
59
Yes
3 years: US$125.64(US$3.49 per month)

1 year: US$83.88 (US$6.99 per month)

1 month: US$11.95 per month
When you hear anyone talk about VPNs, NordVPN is usually a name that will be brought up during the conversation. It is just that recognisable among VPN users.
Based in Central America, security is the name of the game with NordVPN. A single subscription will grant you access to over 5,000 servers across the world, from 59 countries plus you can use the VPN on six devices simultaneously. It also comes with several noteworthy features including DNS leak protection, killswitch, dedicated IP address and allowing users to pay with cryptocurrency. What's more, it also comes with a "No Logs Policy" to give users additional security and privacy when the VPN is being used.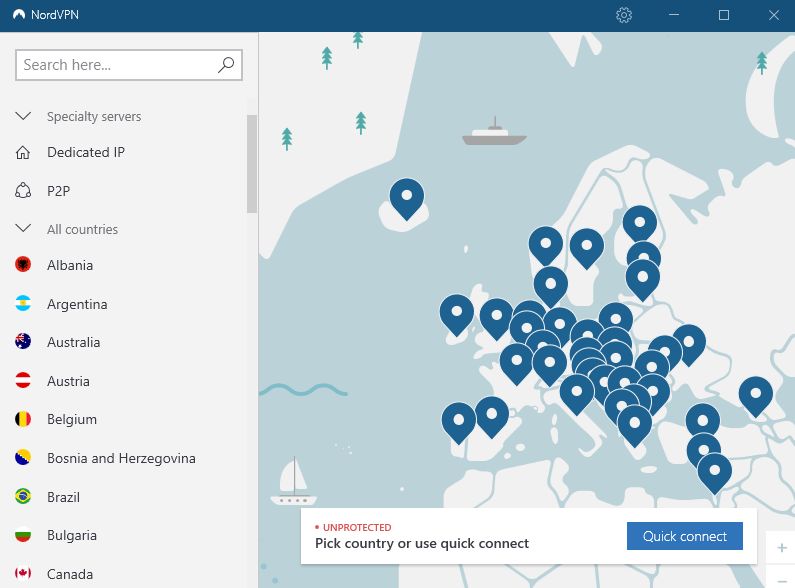 As for its price, it is a little more affordable when compared to ExpressVPN, with its 3-years and 1-year plan costing US$3.49 and US$6.99 a month respectively. However it's monthly fees, should we wish to subscribe for only a month is US$11.95 which is on the high end of the spectrum where fees are concerned. Fortunately, the VPN service offers a 30-day free trial which you can consider getting instead to see if you'd like to continue using the service.
---
Number of Servers
Number of Server Locations
Number of Countries Available
Free Trial Available?
Price
1,040+
60
61
Yes
2 years: US$47.76 (US$1.99 per month)

1 year: US$71.88 (US$5.99 per month)

1 month: US$11.95 per month
Surfshark might have the smallest amount of servers compared to the other VPNs on this list but it more than makes up for it with its features and affordable prices. The VPN can run on Mac, Windows, Android, and Apple, which is great considering how Surfshark offers unlimited simultaneous connections.
With this, your entire home, nay your entire office, can be effectively protected using Surfshark as your VPN provider. This unlimited device support means you'll be getting a great bang for your buck as Surfshark's 2-year plan only comes up to US$1.99 per month.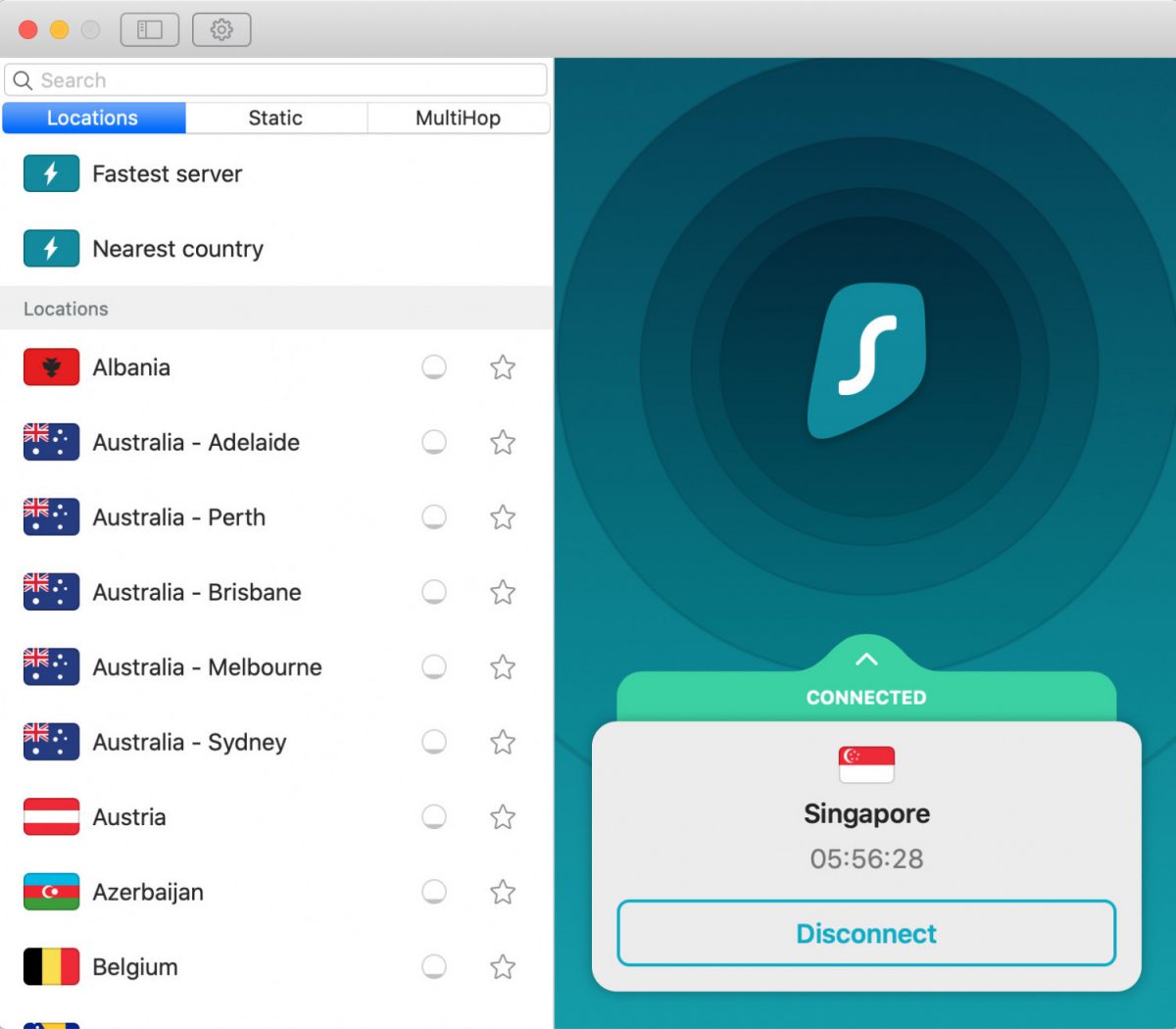 With regards to your personal privacy when using the VPN, Surfshark has stated in its privacy documents that it does not log any IP addresses, browsing history, amount of bandwidth used, network traffic, or even connection timestamps. Which is great considering you are using a VPN service to stay private and anonymous after all.
Another plus in our books is Surfshark easy to use UI, with buttons to automatically connect you to the "Fastest" and "Nearest" servers available. It is overall pretty barebones but it works when all you want to do is find a secure server to connect you quickly.
Unfortunately, we did occasionally experience a drop in internet connection when trying to disconnect from the server but it could also be chalked up to our internet being spotty.
If you still aren't sure if you'd like to subscribe, the service is also offering a 30-day free trial for you to test its service out. For an added layer of security, Surfshark offers the MultiHop feature which allows you to route all your traffic through several servers to hide your internet trail.
---
Number of Servers
Number of Server Locations
Number of Countries Available
Free Trial Available?
Price
3,379+
37
40
No
1 year: US$39.95 (US$2.85 per month)

6 months: US$35.95 (US$5.99 per month)

1 month: US$11.95 per month
Private Internet Access (PIA) offers its users fast and reliable connections with its over 3,379 servers across the globe. Not only that, but it also offers its users extremely competitively priced subscription packages with the 1-year plan only going for US$2.85 a month. Plus one subscription is able to be used on ten devices at once.

Some features we liked about PIA includes how it has a "Detect Best Server" function which saves you the hassle of figuring out which server you should be using. It also shows you the internet speed of each server to give you an idea of how fast your internet will be should you connect to any of them.
And as expected from a modern VPN, PIA has dedicated apps for Windows, Mac, Android, and iOS, making it incredibly accessible regardless of which device you are using. For those using Linux, it even has an app for that.
PIA also has a 30-day refund policy so you have a month to get a feel for the VPN service before deciding if you'd like to continue with it.
---
Number of Servers
Number of Server Locations
Number of Countries Available
Free Trial Available?
Price
6,100+
112
90
Yes
3 years: US$99 (US$2.75 per month)

2 years: US$88.56 (US$3.65 per month)

1 year: US$71.88 (US$5.99 per month)

1 month: US$12.99 per month
Cyberghost has the honour of being the VPN with the most number of servers in this list. Not only that, but it also comes with tons of features as well as an easy-to-use UI, and an adorable ghost mascot. Plus it ties pretty closely with Surfshark for cutest VPN names.
One feature we found useful was how Cyberghost would inform you on its app which server specifically to connect to in order to access certain streaming sites. Though we did find ourselves unable to watch certain country-restricted Netflix shows when using the VPN. Then again, Netflix has always been aggressive in blocking VPN so one server that works today might not work tomorrow.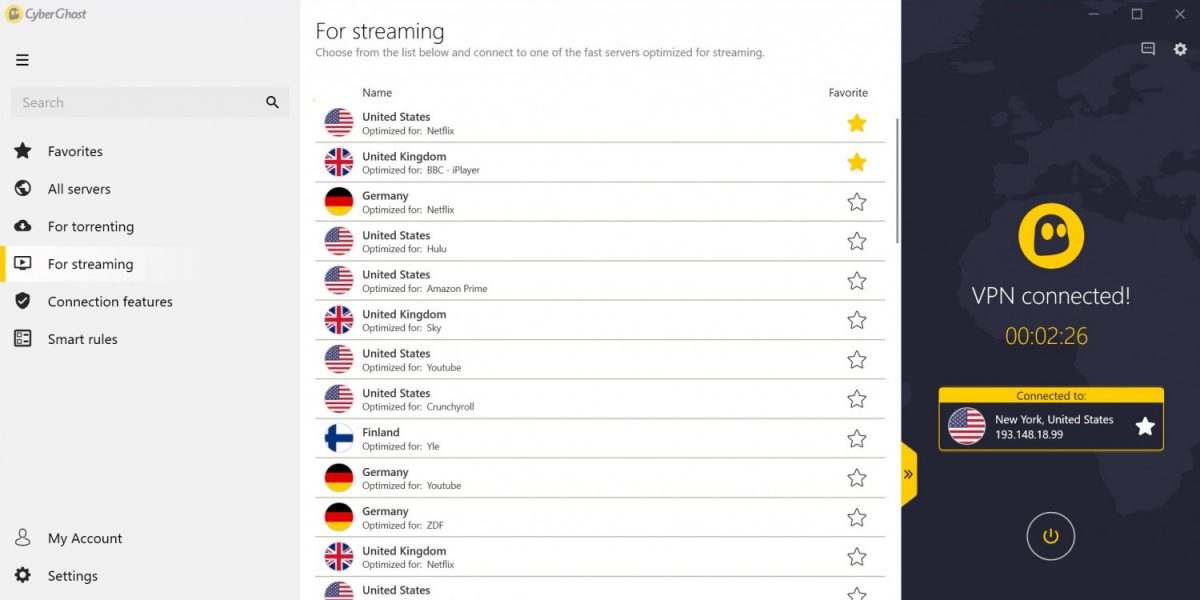 Having a large number of servers in various locations is certainly great for a VPN and Cyberghost definitely offers that with its over 6,100 servers in approximately 90 countries. This makes it easier for you to find an uncrowded server close to you, no matter where you are. In this regard, Cyberghost is only outdone by ExpressVPN which has servers in 94 countries.
A few of the other features Cyberghost offers includes IP Address Hiding, Wi-fi protection, and 256-bit military-grade encryption to ensure your online anonymity is never jeopardized.
Cyberghost is also a great VPN service for large households as one subscription lets you use seven devices simultaneously. The service offers up to a 3-year plan which will let you save the most money per month at just US$2.75 a month though we highly recommend you try the one month plan (US$12.99) first to see if the service works for you.
---
Number of Servers
Number of Server Locations
Number of Countries Available
Free Trial Available?
Price
3,800
83
74
Yes
18 months: US$39.96 (US$2.22 per month)

6 months: US$32.34 (US$5.39 per month)

1 month: US$10.99 per month
ZenMate started in 2013, making it a relative newcomer compared to the other VPNs on this list. However, that is not to say that it is a lightweight with regards to the service it provides.
The ability to stay anonymous online should be the hallmark of any self-respecting VPN service which ZenMate does well with its 3,800 servers in approximately 74 countries. It also has a zero-log policy meaning no one, not even the company, has any idea of what you are doing on the internet. Though it will take a server seizure the likes of what ExpressVPN experienced to truly reveal if a no-log policy is in place.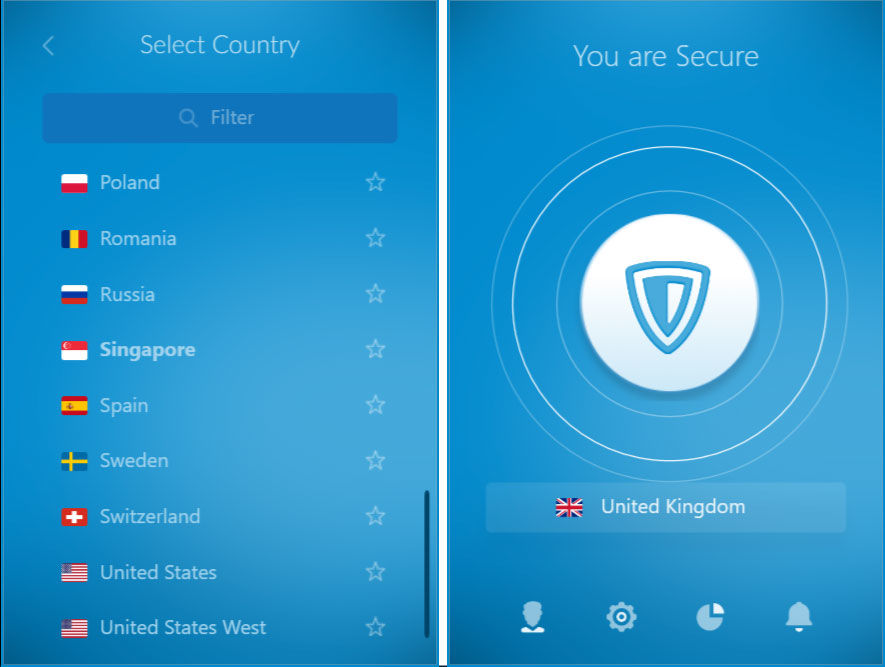 It also comes with the all-important kill switch to make sure none of your network details are leaked should your VPN service choose to go down one day. ZenMate also has a "Best Server Location" button in its app to help you quickly connect to the fastest server it can find for you.
Aside from Windows, Mac, Android, and iOS, ZenMate also has browser extensions for Chrome, Firefox, and Opera which comes in handy when browsing and streaming. Though do take note that these browser extensions only work to encrypt the traffic on the internet browser of your choice and activities such as torrenting apps and streaming of media outside of your browser will not be protected.
With regards to its price, ZenMate has the second most affordable plan in this list, with an 18-month plan costing US$2.22 per month. It also comes with a seven-day trial for you to test the service out. You can connect up to five devices at once with one subscription to ZenMate.
---
And there you have it, our quick guide to five VPN services you can try out. After all, there is no better time than right now (with the quarantine and all) to get a VPN and watch that TV series you've always wanted to on Disney+ or Hulu.
As you can see, each VPN services comes with different features and prices, with some overlaps, so you might want to consider going for their free trial first before making a decision on which VPN to use in the long run.
If you'd like to find out more about how else a VPN can help you besides unblocking streaming sites and protecting your privacy, then you can check out our VPN article.
---

Drop a Facebook comment below!