Ask any Singaporean and they'll likely tell you one of the best things about Singapore is the food here, with dishes like chilli crab and chicken rice not only from restaurants but also hawker centres. Unfortunately, the current COVID-19 pandemic has hit the F&B business in Singapore pretty hard. With most of us having to stay at home, we often resort to ordering food online through food delivery services such as Food Panda to order food from restaurants and small eateries.
But what about food merchants in hawker centres and coffee shops?
In a bid to help F&B businesses like these during this Circuit Breaker period, Google Pay Singapore is releasing a new "Menu Discovery" feature to help bridge the gap between users looking for a meal and food merchants looking to keep their business running.
With the Menu Delivery option on Google Pay Singapore, users will be able to browse from over 250 merchants listed in the app, with options to filter according to cuisine, delivery or pick-up options, and price range. The app will feature both fully-integrated and non-fully-integrated food merchants, with the former allowing customers to make payment through the app itself.
Customers purchasing meals through non-fully-integrated eateries will have the option of either sending a Whatsapp message to the merchant or calling them. Once the order is placed, the customer and merchant will then discuss payment options (i.e. PayNow or payment upon collection) and delivery options if that is available.
How Google Pay Singapore's Menu Discovery differs from other food delivery apps such as FoodPanda and Deliveroo is that it doesn't just list shops that are affiliated with Google Pay, but also instead offers broader coverage of food outlets for users to browse through. Interested F&B businesses can easily fill up a simple form to express their interest in appearing on Google Pay Singapore's Menu Discovery feature.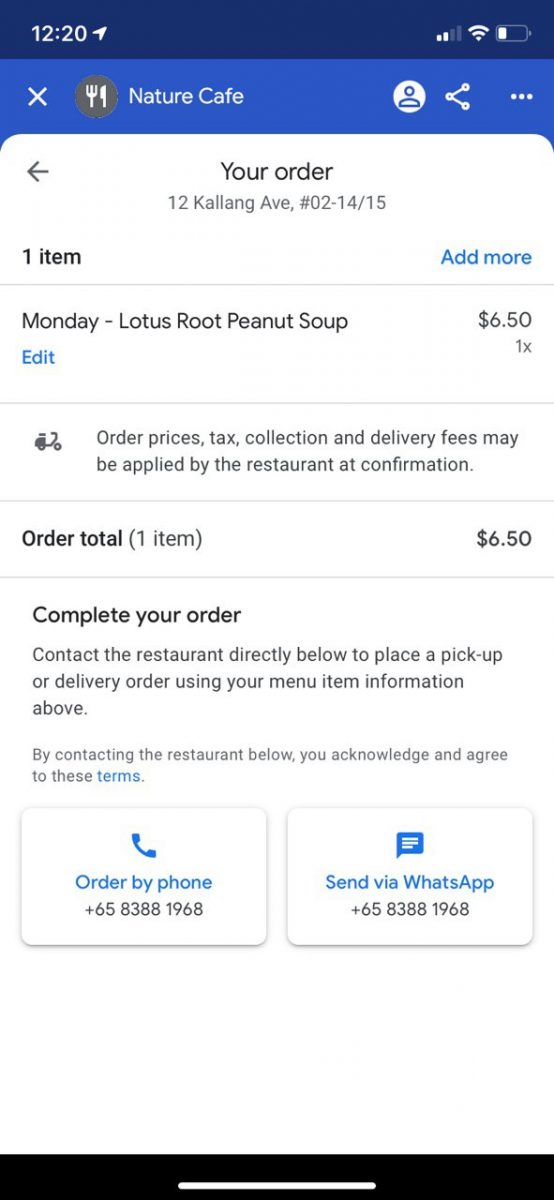 "Quick food pick-ups and door-to-door deliveries are now a necessity, as Singaporeans stay home during this critical period. Like several others in Singapore, we too were sharing food menus among family and friends" said Patrick Teo, Director of Engineering for Payments and Engineering Site Lead at Google Singapore. "So we thought, what if we could scale this and make this easier for consumers and restaurants? We rallied our employees to come together quickly and discussed ways in which we could offer a solution."
Teo adds, "We hope to make the process of discovering local eateries simple and easy, and support even the smallest businesses – like hawkers – and minimize disruptions to their business."
Furthermore, not only is this new feature beneficial to food merchants in hawker centres and coffee shops but also food outlets in the central business district whose businesses have suffered due to the sharp drop in human traffic.
According to Patrick, Menu Discovery was developed in roughly 2.5 weeks, a few days after the Circuit Breaker measures officially started. Members of the Google team recognised the issue F&B outlets faced with the pause in dine-in services and implementation of stay home measures, hence they got together to find a way around the situation.
Along with the help of volunteers to gather the menus of various food outlets all motivated by a want to help F&B businesses in Singapore during the Circuit Breaker period, Google Singapore finally came up with its new Menu Discovery feature.
Aside from Menu Discovery, users of Google Pay Singapore can also use the app to make peer-to-peer payment transfer through PayNow using their OCBC bank accounts. Google is currently working with DBS and Standard Chartered to bring them on board for the service. Users can also use the app to tap and pay on MRT and buses island-wide using their linked debit or credit cards, and at any store where contactless payments are accepted.
F&B businesses that are interested in listing their menu on Google Pay Singapore's Menu Discovery feature can fill up a simple Google Form to express their interest and a member of the Google team will get back to them in time.
Google Pay Singapore is available for download on both Android and iOS.