When in Tokyo, it's Shinjuku for trendy items, Shibuya for shopping, Akiba for toys…  but what happens when you get hungry? In between shopping at Akihabara for Japanese collectibles, electronics, and toys, you can have great meals there too.
Here are some recommendations for food places to eat in Akihabara.  All the places listed here have English menus, which will make ordering a lot easier for tourists.
---
1. Roast Beef Ōno
Japan, 〒101-0021 Tōkyō-to, Chiyoda-ku, Sotokanda, 1 Chome−2−3 土屋ビル 地下1階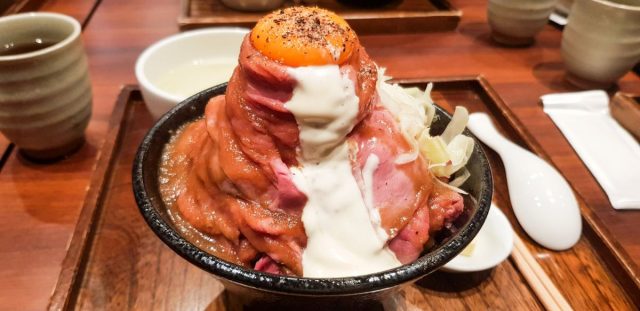 Roast Beef Ōno is the go-to place in the whole of Akihabara because this is the place you head for if you have only time for one meal in Akibahara. What's more, it's only a few minutes walk away from the train station. Ordering the Japanese Wagyu Don with the extra meat option will guarantee satisfaction for any hungry traveler. The presentation of this dish is impressive in itself, with a tower of meat shaped like an erupting volcano, and bursting the egg yolk at the top will cause the volcano to "erupt", with the runny yolk flowing out.
The wagyu beef slices are soft and tender, and they melt in your mouth as soon as you start chewing it. Despite its clear appearance, the cow tail soup that came along with it is super tasty too. Sadly, the popularity of this place has caused the prices of the dish to go up over the years.
---
2. akibaCIA

3 Chome-2-11 Sotokanda, Chiyoda-ku, Tōkyō-to 101-0021, Japan

After horsing around in Akiba, why not go for the real thing?
Recommended by a friend, akibaCIA serves horse on the menu, and is perfect for those who claim that they are so hungry, they can eat a horse. Go for the basic 400g roasted horse rice bowl – you won't regret it.  The horse meat is actually pretty good, and tastes like beef, with a bit of a gamey, mutton taste.
Alas, the quality of the food here is not consistent. On my 2nd visit to this place to try the horse steak, I found that my friend's bowl of roasted horse meat was tougher than that served on my first visit. As luck would have it, my steak came on a hot plate, so I was able to further cook the meat on the hot plate, in order to soften it up before eating it. Also, if you are tired of the same taste, you can start trying out the meat with a variety of sauces available, such as the onion based one, or their house-made steak sauce.
---
3. Kyushu Jangara Ramen
3 Chome-11-6 Sotokanda, Chiyoda-ku, Tōkyō-to 101-0021, Japan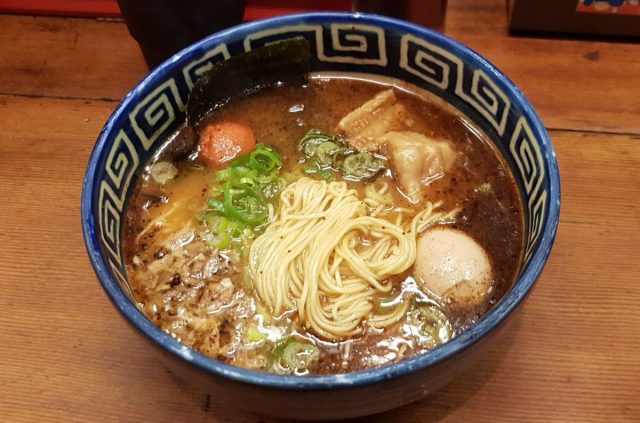 Kyushu Jangara is a ramen chain is famous for their tonkotsu (pork bone) ramen, and one of their signature dishes is the Kobonshan (tonkotsu broth with fried garlic oil) ramen. To get a better sense of the broth, scoop some of the tonkotsu broth from bottom of the bowl, by carefully avoiding the garlic oil, to try the natural broth. You will find it smooth and creamy, with a sweet pork taste. The noodles are the thin, chewy and springy type and the highlight of this dish is the marinated pork chunks in the soup. Just try ignoring the sensation of flavours in your mouth with each bite of a tender piece of pork. The minced pork is also very flavourful and goes well with the noodles.
Stirring in the garlic oil on top, the taste of the broth becomes punchier with a strong the garlic flavor. However, if you are not a fan of garlic, you might find the garlic taste too overpowering. In this case, you should order the Bonshan ramen (creamy tonkotsu) instead. Thankfully, I am a garlic lover, and I slurped down every bit of the soup.
---
4. Isomaru Susan Shop

外神田 1 16 10 山本無線駅前ビル, 1 Chome-16 Sotokanda, Chiyoda-ku, Tōkyō-to 101-0021, Japan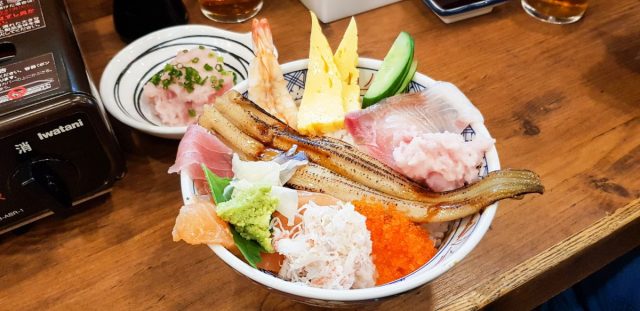 If you are looking for a quick and decent sushi fix in Akihabara, you can try Isomaru Susan for sashimi or grilled seafood. This is the overflowing seafood bowl and its taste is likely dependent on the catch of the season. I ordered the same dish last year and recalled that last years' was better though, but thankfully, the taste of the dish is still good. Also, the grilled salmon belly is easily the highlight of every visit. The fish skin is crispy, and the salmon flesh was grilled just right, to seal the fatty juices in. Also, as an added plus point, the ambiance of the place is also rather traditional.
---
5. Cheese Hedgehog Cafe

Japan, 〒101-0021 Tōkyō-to, Chiyoda-ku, Sotokanda, 4 Chome−4−3 小木曽ビル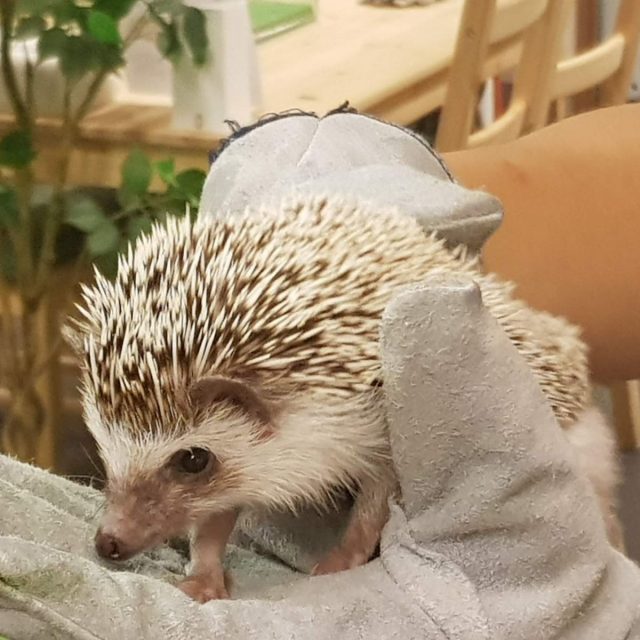 Cheese Hedgehog Cafe is actually a hedgehog petting cafe and nope, they do not serve hedgehogs marinated in cheese here. Visitors pay 1250 yen to chill in the cafe, where they are allowed to pet, play and take photos with the hedgehogs for 30 minutes. If there is no crowd, you would be allowed to stay longer. The hedgehogs there feels like bristles of a soft toilet brush. There were also two owls you could interact with there. During your visit, you can also help yourself to the free flow drinks from the vending machine. Although the drinks were from vending machines, I was particularly impressed by the variety and quality of the drinks at the machine. I tried the fizzy peach drink, coke mixed with an energy drink, and an ice chocolate to perk me up for the night. This cafe can be used be a nice pit stop to chill and rest after a long day of shopping.
---
 6. Kyoto Katsugyu

1−1 Kanda Hanaokachō, Chiyoda-ku, Tōkyō-to 101-0028, Japan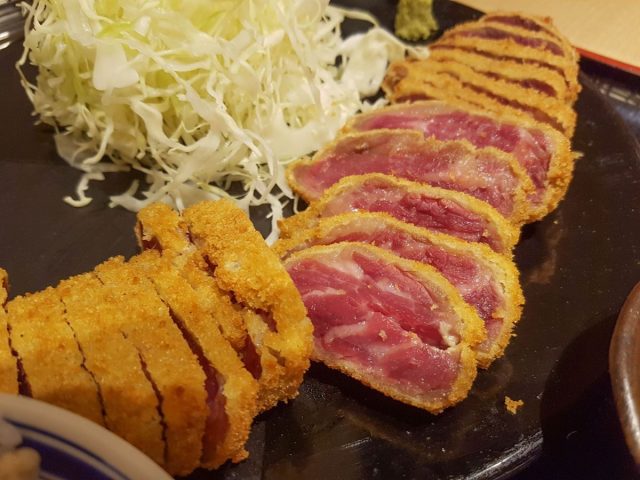 I was hungry while shopping at the Yodabashi Camera at Akihabara, and was scouting for food, and chanced upon this place serving beef katsu rice. I ordered the regular beef to try it out and was not disappointed. The beef katsu was prepared from scratch in the kitchen and arrived piping hot. I could see the slight marbling of fats in the beef too. Biting into it, it was warm and soft on the inside while crispy on the inside.  The dish comes with free rice and shredded cabbage, which allowed me to eat to my heart's content. At the end of the meal, I was satisfied enough to convince myself to try the more expensive wagyu option next time.
---
7. Honey Toast Cafe

1 Chome-1-10 Sotokanda, Chiyoda-ku, Tōkyō-to 101-0021, Japan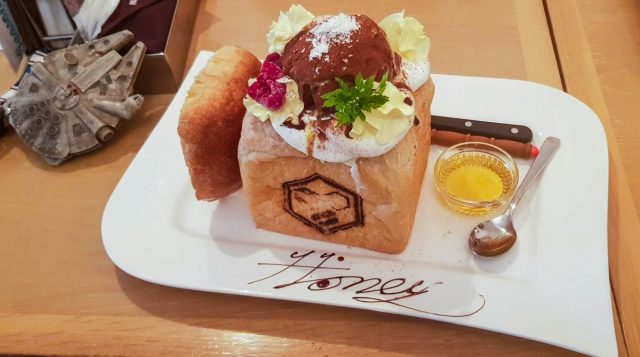 I recalled I ended my shopping trip late in Akihabara and was looking for a place to grab deserts. Someone recommended me to Honey Toast Cafe, as it closes at 11.30pm. The toasts here are huge, and the elegant plating makes the food very Instagrammable. The toast uses a whole loaf of bread, and can be very filling too, since the insides of the toast are buttered and nicely toasted, to make eating it enjoyable.
In my next trip, I would like to try Nadeshiko Sushi, a sushi bar operated by all female staff, and Hakata Mangetsu for another round of horse meat. Feel free to comment on your experiences eating at Akihabara if you have any useful information to share!
SnapSniper is an avid geek who is both a huge fan of games and an even bigger Star Wars fan.