Overwatch's genial Brazilian DJ may finally be getting his own real-life cereal line, if this post from The Junk Food Aisle is to be believed:
Lucio-Oh's first came on the fandom's radar via an in-game cosmetic spray, featuring Lucio on the cover of a bright yellow cereal box, with a cheery grin and an enthusiastic thumbs-up. According to The Junk Food Aisle, who spotted the listing initially on 1fsschools, our physical Lucio-Oh's will sadly forgo the thumbs-up, however endearing, and instead, sport an energetic Lucio with a spoon in hand — presumably ready to dig in. Although, he admittedly looks fairly dashing over here.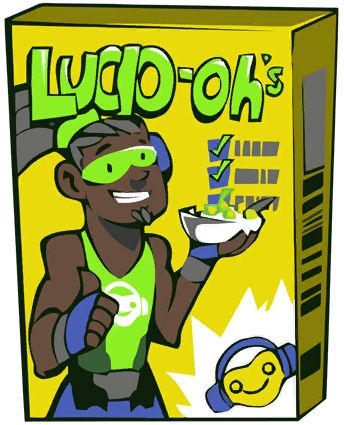 The cereal will reportedly come in 'Sonic Vanilla', which is… probably just vanilla, with an extra bit of Overwatch branding sprinkled on top. It will also include codes for in-game loot boxes — one extra for the next three times a player levels up — for purchases made between December 3 and December 31, 2018. Codes will have to be claimed via a currently inaccessible website (KFR.com/Lucioohs), where customers can upload a photo of their Lucio-Oh's receipt.
So that's definitely one incentive for the more ardent Overwatch players. There's been no official confirmation yet, but the cereal has been said to be making its way to stores on December 3, 2018, and we can only hope that it'll taste good for those already planning to binge on it.
---

Drop a Facebook comment below!