To some folks in Asia and in Singapore, Halloween Horror Nights at Universal Studios Singapore has become sort of the tradition. It's essentially a good night out with friends and if you're found the good mix of folks to experience it, good for you!
Now in its 9th edition, the team at Universal Studios Singapore has honed their skills pretty well to continually top the previous year's attempt. If you think about it, some might actually waver at the task at hand. It's not an easy task but Halloween Horror Nights 9 (HHN9) certainly does its best.
For folks who prefer to watch a video of the experience, this is probably one of the best ways to get a real feel of HHN9 in a video review form –
---
Still here?
In 2019, we have ourselves, five haunted houses, two scare zones, two performances (the scaremony and scare zone centric), and one stage performance. It's pretty much similar from HHN8 as this might be the magical combination which the team has settled on that makes sense.
Tapping into their strength of Asian horror, the team is looking to anchor HHN9 towards the creative minds of Parkpoom Wongpoom and Gunn Purijitpanya. As renowned Thai directors, this influence can be established with the foundation hunted house in the form of –
Curse of the Naga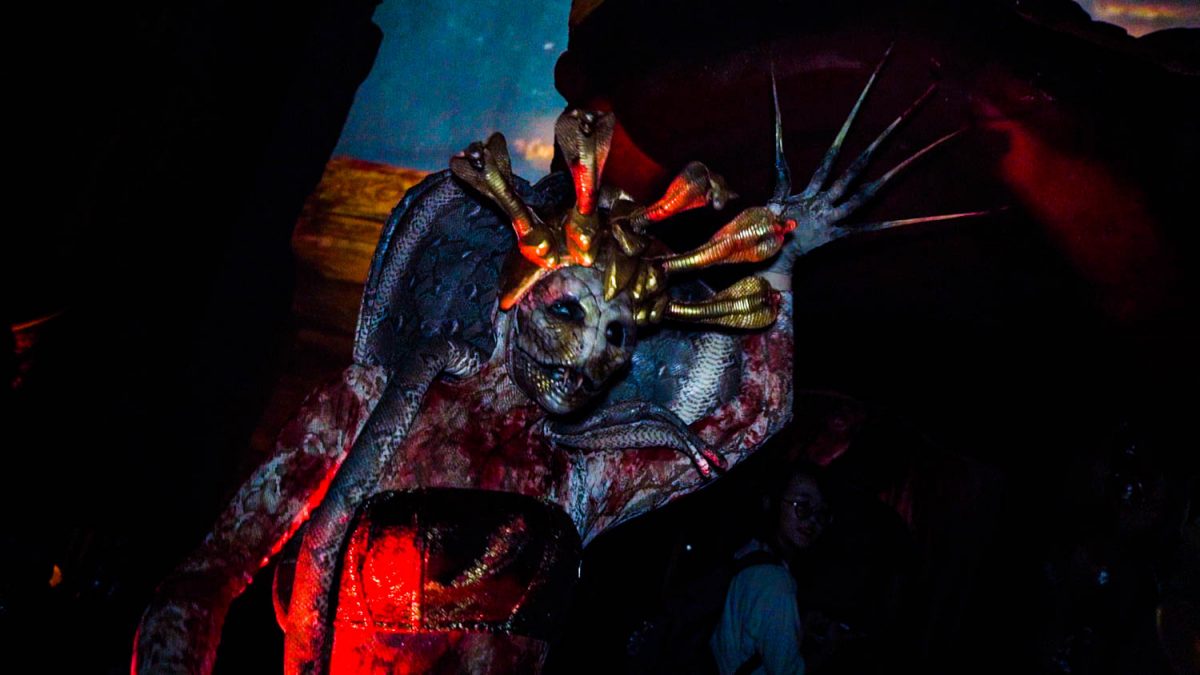 It's not the same night market we have come to love from Bangkok, Thailand. Once you've taken a swig at a cup of mysterious snake blood, that's where the real horror happens. Just because you're an adult now doesn't mean you make good decisions.
Now that you've consumed part of the Naga's brethren, the full force of her wrath will befall upon you.
Overall the Curse of the Naga's house design really brings out the Asian supernatural horror. It's a good blend of the familiar and fantastical. So much so you might want to rethink that short holiday to Thailand after this.
---
The Chalet Hauntings
For Singaporeans going to a chalet is, to some, a rite of passage. Looking back, going to an actual chalet is a horror story by itself. Dirty floors, springy beds, and spooky stories, it's hardly the kind of place one strives to be to land their first kiss. We blame it on teenage hormones.
With Chalet Hauntings at HHN9, the locally theme haunted house instantly hits you in the nostalgia nerve. So much even you'd want to get out ASAP.
The best part of it all? USS seems to have tapped on all their bank of local ghosts and ghouls and used to to good effect.
Anything that looks exactly like the stuff of local nightmares is a hit in our books.
---
Twisted Clown University
Where did the irrational fear of clowns ever come about we might never know. But, we definitely now know that coulrophobia can certainly be engineered.
Combining schools, failure, and, of course, clowns, the Twisted Clown University is a culmination of insane levels of anxiety causing triggers.
We hear that Pennywise passed with flying colours, but some unwilling participants here just might not. Structured education just doesn't work for everyone.
---
Hell Block 9
While they say that correctional facilities help reform the folks who past though such places, Hell Block 9 casts none such aspersions.
Once you're locked in here, you're probably going to be here for a long time. And some even say forever.
This is one haunted house which has no qualms of illustrating scenes of graphic violence. If there's a good example of why folks should not commit any crimes, the dank and squalid nature of Hell Block 9 would be a textbook example.
---
Spirit Dolls
Rounding up the Asian horror would be a Japanese house inspired by the real-life village of Nagoro. While it might not be a place which is famous for any hauntings, the reimagination of the village at HHN9 certainly is.
What's with trapping spirits within dolls? Conventional wisdom from movies has taught us it's always a bad idea and the tale of Yumi reinforces that notion.
Japanese horror as done well and we'd say this is a good extension of what the Haunting of Qiwa gave us in HHN8. However, it does need to go a bit further to expand on the concept.
---
Skin & Bones
The Pantages HHN show is always a treat for weary legs and this year's Skin & Bones outdoes the ones from the past. It's never easy topping already polished acts but the duo onstage killed it (figuratively, of course).
Packed with laugh-a-minute jokes, which take a sudden dark turn, dance segments, and cheesy commercials, we have a recipe for success!
As HHN matures in Asia, it only was a matter of time where gimmicks from the US seeps into the local product. It's not a bad thing and will certainly be well received by audiences here to freshen things up.
Scare Zones
Rounding up the 5 haunted houses are two scare zones which come in the form of Death Fest and Dead Zone. These areas have been always been made for Instagram fodder more than anything.
It seems that the appeal has been well noted, thus there especially more gram-worthy this year.
---
Overall, after nine years, it's quite a feat for Universal Studios Singapore to pull off Halloween Horror Nights with such consistency. With the event approaching its first decade in 2020, it seems that its next peak is but only one cycle away.
Can't wait.