When shopping for wireless routers, the one thing you need to take note of, above all else, is Wi-Fi 6. The new wireless format offers the best speeds to concurrently power up all your devices at home, so that your child watching 4K Netflix streaming in the living room won't interfere with your online gaming session in the bedroom, nor will it interrupt your partner's conference call in the study room at the same time.
Naturally, there will be many brands across the manufacturer offering you the most number of options to network your home, with prices ranging from several hundred, to over a thousand.
All can claim higher speeds than what's available, or coverage that seems physically impossible, so the first rule is to pick brands that you're familiar with, and that is how we ended up testing the TP-Link Deco X68 series of WiFi Routers.
TP-Link might not have the top-end branding of other routers on the market, nor the marketing budget, but their products are solid workhorses that don't break the bank.
The X68 is all of this and then some. It's a tri-band mesh router that eliminates the use of LAN cables, and can wireless power up your home with the correct placement of nodes in the home.  
The dual pack X68, which comes with two nodes, is priced at S$400 placing it comfortably in the smart investment range for Wi-Fi 6 routers, as it can provide home coverage of up to 2,000 sq ft, which is the size of a 5-room HDB flat and then some.
Unlike traditional routers that stays in one spot in the living room and requires the placement of network boosters to cover the entire home, mesh routers connect with each node wirelessly, and the more nodes added to a network increase the coverage area, whether it's a larger apartment, or a two to three-storey house that extends upwards.
Design-wise, the X68 offers a basic, no-frills white design, with each looking like a slightly larger glass cup that can be placed anywhere in the home, as it essentially just fades away into the background as it serves on purpose – to connect the entire home online.
Setup for the X68, like other Deco routers from TP-Link, is done primarily through the mobile app on either Apple's App Store and the Google Play Store). The app is easy to understand and intuitive to use, as it guides users to set things up in under 10 minutes. Users can opt for the 5GHz and 2.4 GHz wireless range, with the former providing faster speeds but at a shorter range, and the latter providing the opposite. Otherwise, you can opt to have the system choose for you, while also creating a guest network, for when you have guests over. This simplicity is welcomed, as it takes the guesswork out of setting up Wi-Fi systems that would have been frustrating to do just a couple of years ago.
Once up and running, placement of each node becomes important and for the best performance, one should not place these on your floor or tucked away in the corner and covered by furniture. The trick is to keep them high up, for the original network signal from the primary node to travel and connect to the additional node. In a four-room home, opting for three nodes will be most ideal to maximise coverage depending on the home layout and concrete walls, but the caveat here is that each additional node reduces the network speed by a little.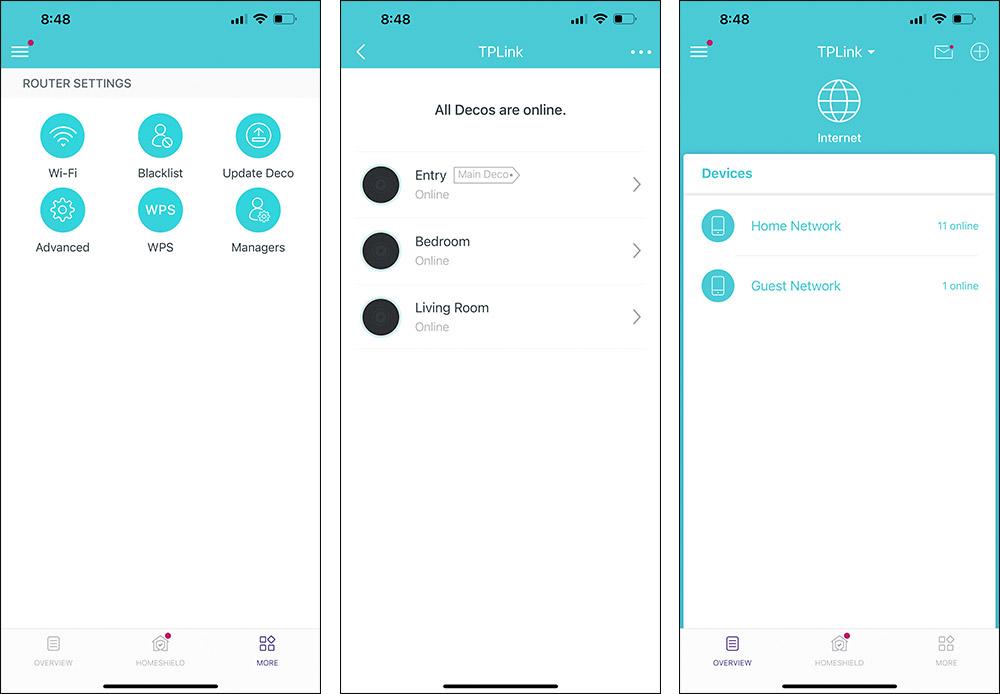 When it comes to speed and reliability, the TP-Link Deco X68 works like a charm. On our 1 Gbps home network plan, we were able to support multiple devices and connections, from gaming, content streaming to voice conference, without any hiccups. While the X68 markets itself as being able to reach speeds up to 3,600 Mbps at 5Ghz, our average speed hovered at around 700 Mbps at the 5Ghz band, which is more than acceptable.  With each Node our speed drops by approx 150 to 200 Mbps so to maintain decent speeds throughout our office, placement is to maximise coverage with a smaller number of Nodes used.
Overall the TP-Link Deco X68 is a solid performer with not much to criticise it on except one thing – access to channel selection and fine-tuning the performance of the Wi-Fi network.
Sometimes, interference does come into play as there are other mesh units used by neighbours, but there is no advanced option to select channels that don't have as much traffic on them, to increase speed and performance. The Deco App doesn't allow this fine-tuning at this point in time, opting for the system to handle it on its own. While we understand that TP-Link wants to keep this as user-friendly as possible, the end result is that for the more technologically proficient, the addition of options and features would be appreciated.
That said, the Deco X68 balances features with price point, and good-performing Wi-Fi from known brands don't come quite as cheap.
GEEK REVIEW SCORE
Summary
The TP-Link Deco X68 balances features with price point, and good-performing Wi-Fi 6 from known brands don't come quite as affordable.
Aesthetics -

8/10

Build Quality -

8.5/10

Performance -

8.5/10

Value -

9.5/10

Geek Satisfaction -

8/10