This review is based on the six episodes of The Snoopy Show.

As the saying goes, if you pay peanuts, you get monkeys. But sometimes, Peanuts is what you want. In this case, Peanuts is the highly popular and well known American comic strip written and illustrated by Charles M. Schulz that gave the world Charlie Brown and his beagle, Snoopy.
It's gotten so popular, Snoopy has become an institution on its own, on par with the likes of Mickey Mouse and Bugs Bunny in terms of iconography. Apple TV+'s The Snoopy Show is all about the beloved beagle, who along with his little yellow birdie, Woodstock, live life to the fullest in Charlie Brown's backyard. They usually disturb and hang around Charlie Brown and his friends, the Peanuts gang. On some days, the duo plays pretend, going around acting like they are fighter jet pilots or guitar hero rock stars.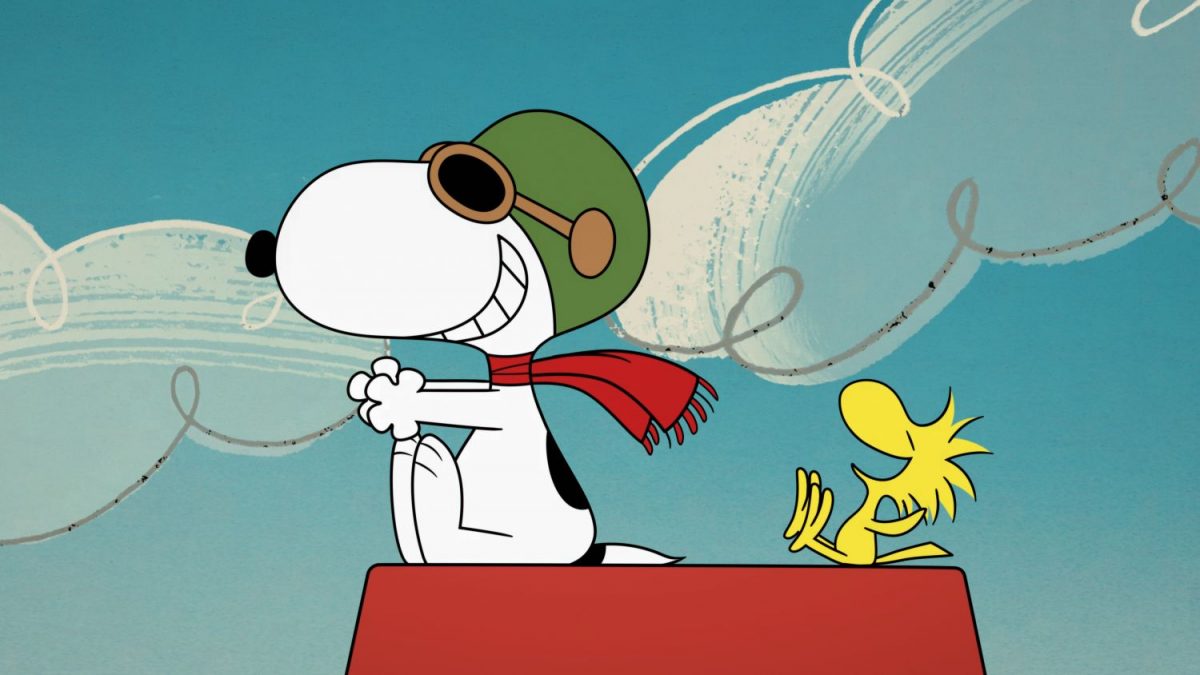 Based on the original comics, The Snoopy Show is a lighthearted and easy series to watch if you miss your childhood favourites and need some familiar company. Unlike the recent TV show 'Snoopy In Space', this show is more down to Earth and easily relatable, even if you are not a middle schooler with a dog.
Why? Well, this is what happens when you have a kid-friendly show as the six-episode series serves as a timeless series that can entertain anyone of any age. Like the old Peanuts cartoon from the 70s and 80s, there's a certain nostalgia to the series, and is a kid's show that's well… not silly baby shark. With an average of 25 minutes per episode, each episode goes by pretty quickly, great for lunch-time entertainment.
Nothing much has changed from the original TV show, Snoopy still lives in his red hut and the opening title shows his signature pose of lying on top of his hut. The show also features the original full gang from the comics. Familiar faces would be of course Snoopy's owner, Charlie Brown. There's also Sally, Charlie's sister who is still in love with Linus, Charlie's best friend. Along with Franklin, Lucy, Rerun, Pigpen, Patty, and Marcie.
In terms of personality, viewers have a good sense of what each character has to offer. We know Snoopy and Woodstock are the best of friends that cannot do anything without one another. If you've ever wondered how these friends came to be, episode two establishes how the two met and how their friendship grew. Most memorable characters would be Charlie Brown with a side story of him chasing the little red-head girl (nothing changes), and Lucy with her short temper and her psychiatric help stand that helped everyone, even dogs!
A downside of this show is that it is too short to see any proper character development. For six episodes, we see a good amount of everybody in the gang, enough to form a rough impression on who's who. But if you are looking to invest your time and soul to, this may not be the one.
The animation art is much like the ones in the old comics and The Charlie Brown and Snoopy Show. Characters' smiles are drawn with their signature thin and squiggly line, while shading and colours are kept simple. Even though the Snoopy Show is in higher resolution, the editors of the show still added in some grain to add a vintage touch to it.
In terms of voice acting, sadly most of the voice actors have grown up, along with their voices. Charlie Brown is now voiced by Ethan Pugiotto, Terry McGurrin, and Rob Tinkler replace Bill Melendez for the voices of Snoopy and Woodstock respectively. The new actors have done a good job reviving the characters, none of them sound unnatural and the voices fit well to the respective characters' personalities.
Just because there are six episodes doesn't mean it's all connected as none of the episodes are linked in any way, and this series is also stand-alone, bearing no connection to any of the other TV series that Snoopy has been in.
All in all, The Snoopy Show gives refreshed content while still having a nostalgic feel to the franchise. Fans of the Peanuts will enjoy the easygoing and casual content with the cookie-loving dog and his gang. There isn't anything this dog couldn't do, and we are here for it. There are not many thrilling and exciting scenes to compel you to click on the next episode. So watch The Snoopy Show for more of a Sunday afternoon relaxing series to catch up with your childhood friends.
The Snoopy Show is only available on Apple TV+, so the question is, is it worth it to get a subscription for this show? For US$4.99 (S$6.98) a month, it is not a bad price to binge-watch The Snoopy Show and other Snoopy TV series like Snoopy in Space, Be My Valentine, Charlie Brown, and A Charlie Brown Christmas.
Apple TV+ also offers other popular shows including Ted Lasso, Central Park and Dickinson starring Hailey Steinfeld. The most popular and recent movie bringing in the subscriptions would be Billie Eilish's personal documentary, Billie Eilish: The World Is A Little Blurry, which addresses Billie's growth to fame and her struggles she had encountered along the way.
There's not a ton of attractive content on the streaming service yet, but it is worth a month or two of subscriptions to watch the shows available there. Or, if you have an Apple device bought in the last year, you get Apple TV+ for free for a few months, until July 2021.
GEEK REVIEW SCORE
Summary
The Snoopy Show features the fun-loving beagle and his friends. The show gives a good laugh while reminding you of the good ol' days. In terms of entertainment value, there is a lack of action scenes that might make viewers bored. It still is a cute animation but no one will be waiting for a sequel.
Animation -

7/10

Characterisation -

8.5/10

Entertainment Value -

6.5/10

Geek Satisfaction -

6.5/10
---

Drop a Facebook comment below!