A timeless classic – not many games can be described this way, but Russian game Tetris is a definite shoo-in in that category. Straightforward yet utterly compelling, the game, about arranging falling blocks, is easy to pick up yet hard to master. Despite the many modern renditions of Alexey Pajitnov's 1984 masterpiece, none has come close to offering a different experience, until now.
Producer Tetsuya Mizuguchi's Tetris Effect quite simply defies words, as it is a visual and auditory nirvana that brings Tetris to a whole new level.
It is clear that Mizuguchi's previous work on Rez and Lumines has honed his craft, and the resulting combination of lights, sounds, and shapes displayed in Tetris Effect is dazzling.
Every move, rotation, drop of the Tetriminos are accompanied by sound effects designed to invoke a deeper sense of self. You begin to see and hear a reaction the game has to your decisions, be it good or bad, a mistake or the perfect move.
It is rare to have a game be so deeply intimate, but also devastatingly simple.
Being able to connect to Tetris Effect through sound, which traditionally only involves sight, is a weird phenomenon. It is difficult to describe, but it adds a new layer of connection that no other game is able to achieve.
Drop in psychedelic whales, bursting flames, blooming flowers, and more, and it is a full-on assault on your senses that is, quite frankly, impossible to walk away from.
Beneath it all, Tetris Effect still contains the time-tested gameplay of the original, but with a few added twists. The ever-changing speed familiar to Lumines' players comes to Tetris, alongside a dynamically changing landscape that brings you on a journey in Tetris Effect's Journey (campaign) mode.
Every section plays like an enthralling song, beginning slow, ramping up, and brings down the house in an exciting climax and a smooth ending. Make it through and the addictive cycle repeats itself with more visual goodness.
Tetris terminology and offerings have evolved with the times, with Holds (storing a Tetrimino for later), hard-drops, soft drops, T-spins, and infinite-spins added to the lexicon over the years. Tetris Effect brings the new Zone mechanic to play, allowing players to slow time and clear lines at a more manageable pace.
Lines cleared do not disappear, instead, they drop to the bottom of the stack as you continue clearing. Once Zone ends, it all explodes in a satisfying light show, opening up possibilities of combos never seen before in Tetris.
And while it is useful for getting out of a pinch, especially at high speeds, the Zone mechanic, in the hands of a seasoned player, becomes much more useful in creating the right situations for combos that can send your score skyrocketing. It is a great tool no matter what kind of Tetris player you are, and a welcomed addition to the formula.
Journey Mode is but one of the offerings in Tetris Effect. There is also a multitude of Effect Modes that transforms the game into new and exciting configurations.g
Neverending games, a relaxing mode to listen to the melodious tunes, challenging puzzles, and even modes that can teach you the finer intricacies of the combo system are all there. There is also great fun to be had clearing infected blocks or a lone block in the various target modes.
The Mystery Mode, however, takes the cake when it comes to screwing players over. Expect misshapen blocks, flipping boards, bombs, and more craziness if you dare take on the challenge.
It all helps to lengthen a game that has no reason being this darn good, and content-rich. Who knew the formula of Tetris can be altered so slightly yet be an entirely new, and more importantly, fun experience? And while local or online multiplayer is not a thing, leaderboards do well in spurring you on for the next run in the rankings.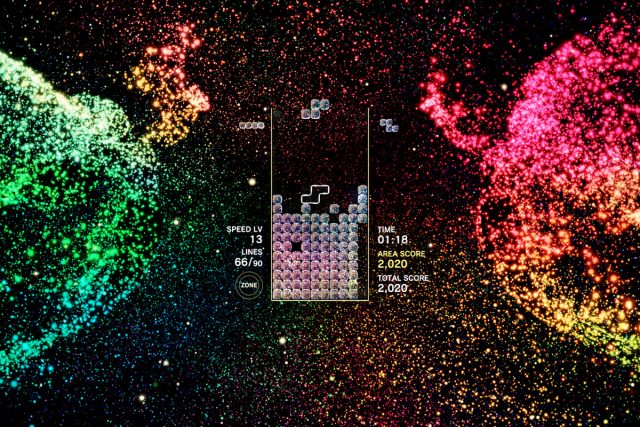 Tetris Effect is a delightful time on the television, but everyone has to try it strapped into PS VR. All the bells and whistles, the visual spectacle, and the auditory paradise are all compounded and amplified when in VR. When games say they can transport you from our world to somewhere entirely new, Tetris Effect delivers it.
Spend an extended period of time in the game, and you might just understand the real-life implications of the Tetris Effect. Your thoughts, mental images, and dreams may begin to take on familiar shapes and structures, where you see much more than what is normally there, at least, it did for this reviewer.
Tetris has and will always remain a masterpiece of gameplay, but with Tetris Effect, we are given a whole new layer to enjoy the ageless classic that tells a story only it can. Tetris Effect is a unique entity all on its own, and the perfect realisation of the VR gaming dream, and we are the lucky generation that gets to experience it now.
GEEK REVIEW SCORE
Summary
A classic reborn, who knew Tetris could get any better?
Overall
9.5/10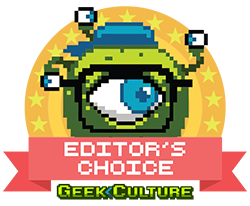 Gameplay -

10/10

Story -

8/10

Presentation -

10/10

Value -

10/10
---

Drop a Facebook comment below!