Being a foodie in Singapore means growing up with a trained tolerance for spicy cuisine, which comes in handy when tackling Malay, Indian, or even Korean dishes. Despite the heat here, it's an exceedingly common sight to find individuals indulging in all things hot and spicy, with some having the practice to ask for extra chilli slices, oil, flakes, and the like to go with their meal.
Enter Spice World Hot Pot (香天下火锅), where two of Singaporeans' favourite food choices meet. Combining both spice and hotpot, the establishment hosted its grand opening on April 28, 2018, and is the first of its award-winning franchise to branch into the island after establishing itself in cities like Sydney, New York, and Los Angeles.
It certainly lives up to its reputation of being one of China's top ten global hotpot brands, from its interior decoration right down to service and overall food quality.
Spanning 6,000 square metres, Spice World is located across from Liang Court, amidst the bustling streets of Clarke Quay and boasts a total of 200 seats in its premises. Where design is concerned, it's split into two parts: the more modern elements in the front-half of the restaurant, and a traditional look in the remaining space. Featuring classic wooden architecture, hanging lanterns, and neat Chinese wine arrangements, the place feels rather homely, fitting nicely into the whole aesthetic.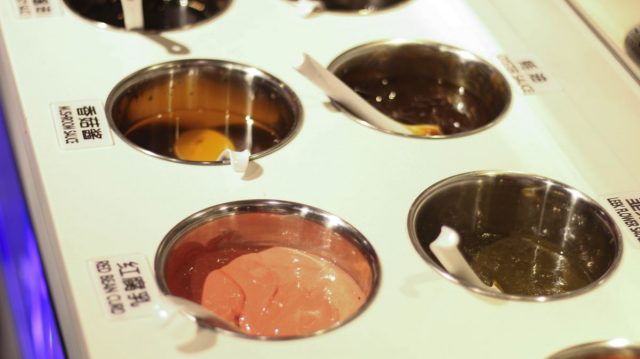 Before diving straight into hotpot dining, visitors can head towards the spice corner, where an array of ingredients awaits. From the more quirky and unexpected choices like peanut butter and red bean curd to conventional ones such as chilli oil and crushed sesame, they have the freedom to craft their own dipping mix, producing varying tastes depending on the combination.
The offerings are not much different from what you can find in other hot pot restaurants, such as Hai Di Lao or Beauty In A Pot, and the only difference is that they offer a small tin of spicy oil to add to your bowl of condiments.
Interestingly enough, Da Miao Hotpot, located around the corner from Spice World Hot Pot, offers small cans of its signature sesame oil. Here, it's slightly different, but this is Spice World after all.
We had two different servings, one of which was surprisingly pleasant with a smooth texture, and the other one less so, boasting a…unique aftertaste. Note to self: red bean curd and crushed garlic do NOT make a good combination. But if your dipping sauce creation doesn't work out, diners are welcome to try again at the spice corner at any time, which also offers various fruits and ice cream to cool the palate if needed.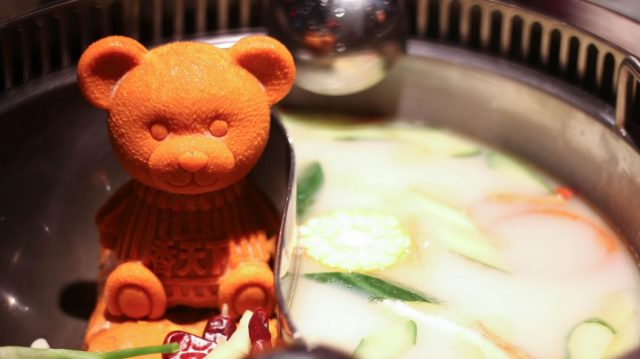 It's important to make a good first impression, and the team there pulls it off in the form of a bright orange teddy bear or Hello Kitty figure, in your pot. Formed out of pure mala soup and butter, and then chilled, they make for an appealing sight, and seeing them start to heat up and sweat nervously at their impending doom before melting and sliding into the soup is an amusing affair. Think of flowing molten lava consuming everything in its path. Goodbye Kitty.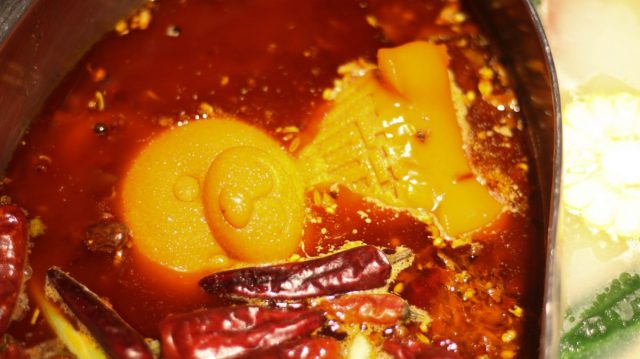 The extra touch of fun has been, and still is, a big hit with Spice World patrons all around the globe, who have to pay an additional S$9.90 for the experience here. Hello Kitty and Teddy aren't available on-demand either, as only eight are made per day and customers have to pre-book to secure them for their meal. Sure, it might seem like a gimmick (which it kind of is), but that's hardly a turn-off for the many willing to pay extra to capture that Instagram moment.
True to the Sichuan spirit, the mala is extremely piquant, sharp and intense in taste – more like wasabi than curry – but flavourful and smooth in all its spicy glory, especially if the chili slices and peppercorns are left behind in the cooking pot. It's a pretty ingenious creation, one that's a perfect infusion of both aesthetics and taste. If the mixture is too spicy, feel free to ask the staff to remove the extra chillies from the broth.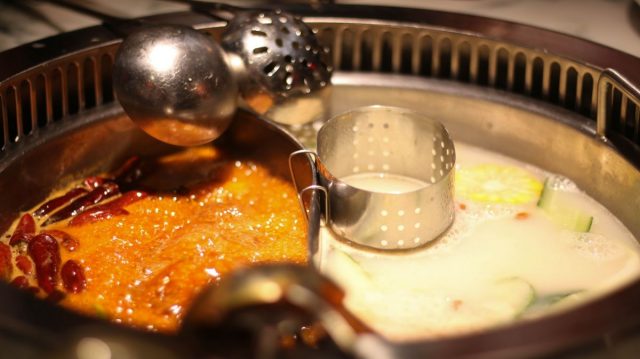 While solo diners can choose to stick to a single serving broth for S$6, bigger groups can fill their hotpots with two spicy soup bases with the Yin Yang broth (S$22). Those with a lighter palate or lower spice tolerance have the freedom to pair less spicy options from a wide selection pool: mala with three varying intensity levels (mild, medium, hot), pork belly and chicken, three-delicacy (pork, chicken, duck), wild mushroom, tomato, tom-yam, and curry.
Our pick is the pork belly and chicken, which sounds like a version of Bak Kut Teh soup, complete with a pepperish aftertaste, but in reality, it's like having a bowl of intense, creamy chicken soup. Forget about all those collagen soups – this is the real deal. It is extremely rich and brimming with flavour, leading to us cheerily ladling bowl after bowl of the soup to drink. The soup bases are simmered for four to six hours straight – time well spent to give them their depth of aroma.
They do an excellent job in capturing and retaining the overall tang of the ingredients, as well as the creamy texture aided by the addition of barley, and serve as a good balance to the sharp taste induced by the spice-filled mala soup.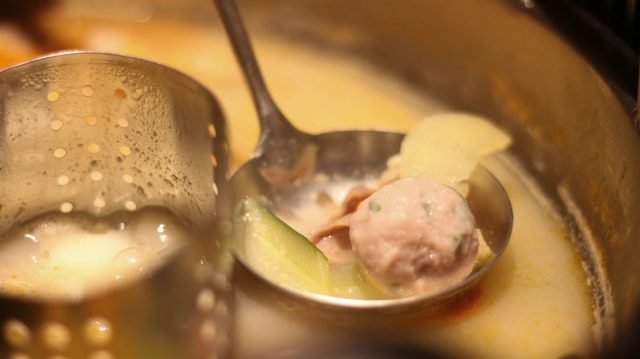 The best part of the deal? There is no added MSG. Even after slurping down bowlfuls of the soup, we didn't feel a hint of that telltale thirsty sensation common after consuming foods packed with MSG.
For those keen on drinking the mala soup, do know that drinking hot pot soup is a very local deal. When in Taiwan, we had the opportunity to dine at one of their leading hot pot restaurants, Man Tang Hong 滿堂紅, and spoons were only provided upon request. According to the maître d' there, Taiwanese diners treat the broth as a dip, and not a soup, so a spoon is not required. The same goes for the mala at Spice World, as it is more of a dip to cook your meats and other fresh food, and not for drinking.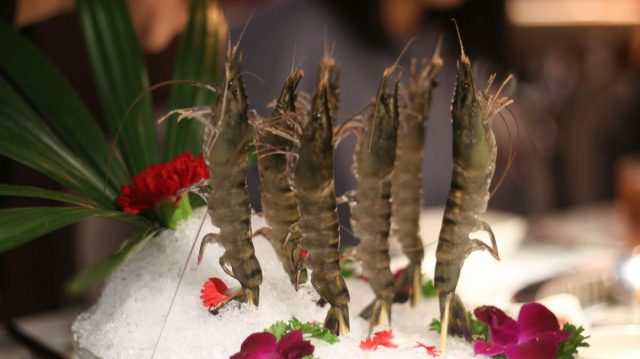 So what did we do? We mixed the broths of course, with a 1:3 ratio of mala and the chicken soup. Yummy.
Considering how the taste of hotpot is highly dependent on the quality of broth, it's definitely important to introduce a tastefully-cooked soup base. Quality goes beyond just that, however, especially since Spice World also has individual dishes on their menu, so there's a need to ensure that standards across the board are maintained.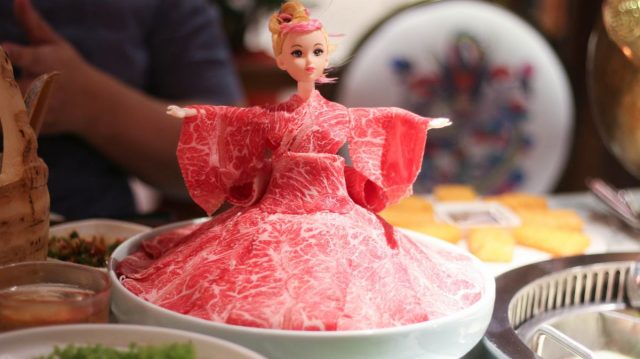 Remember Lady Gaga's iconic meat dress? Spice World certainly does, so why use a boring old plate when you can serve up Australian M8 Wagyu beef (S$38.90) draped on a Barbie doll? She actually manages to look rather regal, in a meaty dress in the style of a traditional Chinese costume. The meat itself is delicious – it cooks quickly in the bubbling soup, with the marbled fat making the thin slices incredibly soft.
An array of fresh seafood options are also available for seafood lovers, with a favourite among diners being the fresh shrimp paste (S$18.90) that's purely made out of shrimp meat and tobiko (flying fish roe).
The icing on top of the cake of the entire experience is the attentive service, with staff politely and efficiently tending to tables. Spice World is also open till late, with operating hours of 10:30am to 4am (6am on Fridays and Saturdays), perfect for the night owls at Clarke Quay.
For those of you keen on a truly Chinese dining experience, the outlet is having a masterclass in wine pairing in July, by offering a selection of 白酒 to go with your meal.
Spice World Hot Pot is serious about their spices, packing a potent punch in their mala soup and offering a wide array of fresh meats and dishes of high quality ingredients. Having conquered the spice and cooled down with some ice cream and fruits, we left Spice World Hot Pot stuffed, yet incredibly satisfied.