Unboxing the Samsung UD590 monitor felt like a major technological leap. Counting back, I've been using my present 23″ monitor for the past 8 years and while it has served me well, who wouldn't want a brand new sleek 4K monitor on their desktop? A huge screen is just one of those things that you can always get used to and having one will only increase the friction of heading back to anything lesser.
Looks are deceptive
Like all monitors, set up of the Samsung UD590 is fast. A small tip to note would be to set up the monitor on the bed, that way you would be able to rest the screen on a nice surface before inserted the base stand. You definitely would not want the screen to be scratched right out of the box.
Despite its slim form, the monitor itself is incredibly heavy. Do not underestimate it as you pull it out of the styrofoam. The materials used for the internals and externals must be incredibly dense which only makes me wonder how all this weight can rest on a stand that looks rather fragile.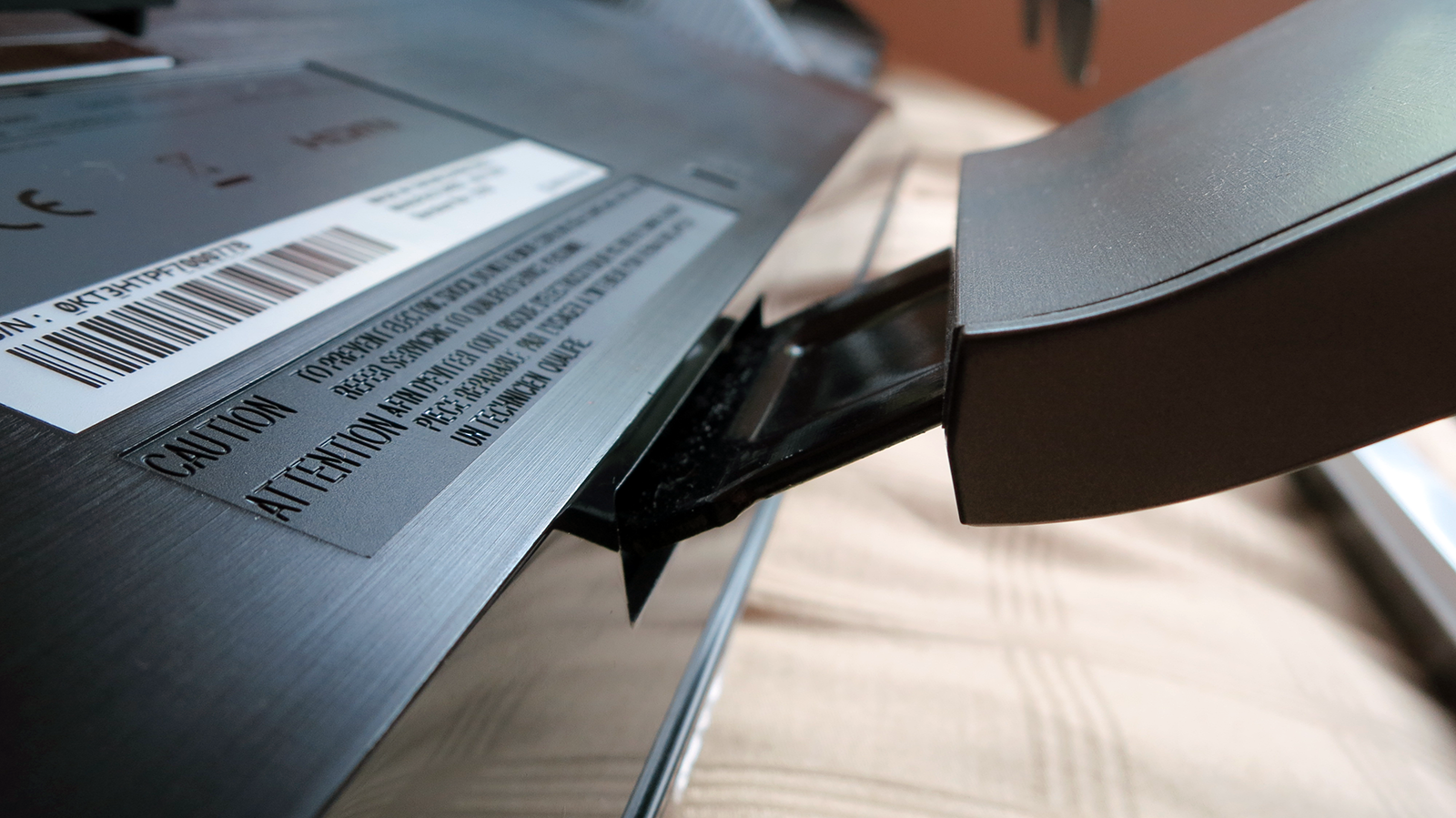 Safe to say it's been on my desk for a few weeks now without any mishap. Whew.
Set-up
The first mistake that I made with this monitor was hooking it up via HDMI. This caused plenty of screen tearing and artefacts to appear on screen. Initially, I was worried that my graphics card was giving out or that I had received a lemon. Thankfully though the issue was easily remedied by connecting the monitor via DisplayPort instead of HDMI. You would want to always connect via DisplayPort because a refresh rate of 60Hz is awesome and HDMI's 30Hz simply sucks.
Most won't realize it from the get go but at 30 Hz via HDMI and you'll see choppier animations and transitions in your OS. You might also encounter some visible motion stuttering during normal use, and you'll be locked to a maximum of 30 frames per second for gaming—it's playable, but not that smooth. And for my case, as stated earlier, it was the artefacts.
Next up, I realized that my aging 5700 could not support the UHD monitor as it's maximum output was 2560 which is a far cry from 3840 which is the realm of 4k. Despite this, things were looking pretty good but I had to scramble to find a card worthy of the monitor's prowess for a fair review.
The saviour arrives
Enter the Radeon HD 7850. I got this as a loaner from a friend and it was time to unlock the beast.
At 2560, I was already wow-ed by the desktop real estate. I then booted up World of Warcraft and presented to me was an incredible amount of space that I could fill with bars after bars. You could potentially Iron Man and Jarvis your UI out. The game's textures didn't really do the monitor any justice and with a bigger screen I realized that the amount of mouse movement that I needed to track across this new massive real estate was pretty tiring considering that World of Warcraft sessions are hardly 1hr affairs.
It's pretty moot for me to share screenshots of games because 4k really is just one of those things where seeing is believing. So, I'd add that Titanfall plays so much better on 4k and I'm not sure how I'm going to go back to my old monitor after this.
Next up, I tried TimeScapes because there frankly isn't much 4k video content out there at the moment. I'd like to throw in things like "breathtaking" "stunning visuals" which is true right up close but it doesn't have a big difference once I've stepped further back. But yes, 4k really is that pretty and having a 4k monitor will be a cornerstone for all rigs in the future.
But do you really need it?
It dawned onto me as I was writing the review of the amount of hoops a potential customer has to check off before taking the leap. This was way too much hassle for a regular consumer to bother with.
Imagine if you didn't have the 7850 loaner or 4k ready GPU, your sole monitor purchase would balloon into not only a monitor but a new GPU as well. Always remember to do your homework prior to a UHD monitor purchase.
While I really loved the increased screen real estate, you mileage may really vary. The gaming looks great for Titanfall but at 28″ I found myself having to swivel my head around far too much. This was especially the case with World of Warcraft as well.
The monitor is about 90cm away from my preferred sitting position and I would have to turn my head (albeit slightly) to see stuff at the corner edges. Try doing that for a few hours and your neck will know what I mean.
As much as I'd like to future proof my hardware, there's still many considerations of factor in before purchasing a new 4k monitor. The lack of content is a common and widely used excuse; which is true. However, at the price that you are paying to be a step up from your peers, the Samsung UD590 is a very worthy contender.
The Samsung UD590 is available for purchase at SRP of S$899.
---

Drop a Facebook comment below!