Will the real Robin Hood please stand up?
Is it the man in tights? The prince of thieves? Of Locksley? Or Sherwood Forest?
Since the first on-screen depiction of the legendary outlaw in 1908, well over a hundred years ago, the man who robbed from the rich, to give to the poor, has been played by countless actors.
Kevin Costner and the infectious theme song "(Everything I Do) I Do It for You" pleased die-hard romantics in Kevin Reynolds' Robin Hood: Prince of Thieves (1991), while Russell Crowe portrayed the hero as a sad and gritty man in Ridley Scott's insipid Robin Hood (2010). But no film about the archer has ever hit the high of Cary Elwes' hilarious performance in Mel Brooks' Robin Hood: Men in Tights (1993).
But does the world need another Robin Hood movie? If the dashing Taron Egerton agrees to be your leading man, the answer is a definite yes. But man does this miss the mark, completely.
The Welsh actor, who rose to fame after playing Gary "Eggsy" Unwin in Matthew Vaughn's Kingsman: The Secret Service (2014) and its sequel, puts away his nicely pressed suits, to don medieval costumes in this action adventure flick.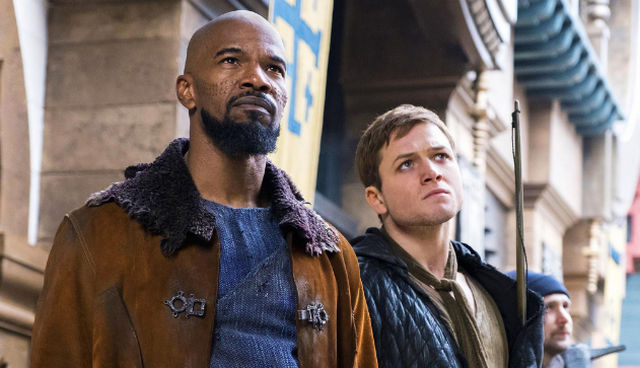 We first see Egerton's Robin of Loxley when he gets enlisted to fight in a religious war against the Muslims. He meets a charismatic commander Yahya (the much-missed Jamie Foxx), and the two team up when Robin returns home to England to find that everything he had owned has been taken away by the Sheriff of Nottingham (the perfectly cast Ben Mendelsohn).
And just when you think things cannot get any worse, Robin finds out that his sweetheart, Marian (Eve Hewson), has become Will Scarlet's (Jamie Dornan sporting a dirty goatee) wife. What's a good man like Robin to do in such circumstances? Toughen up and beat up the bad guys, of course.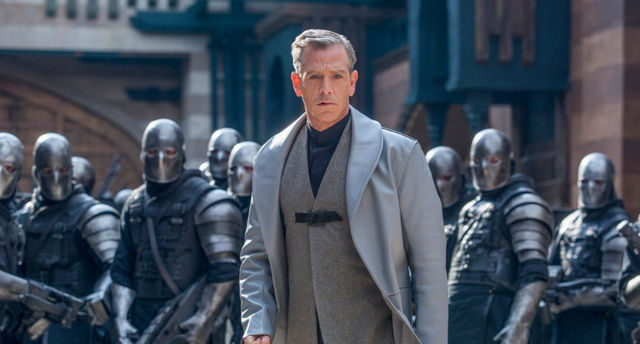 The movie chronicles Robin's training regime with Yahya (whom we will fondly know as "Little" John) so that he can be strong enough to right the wrongs around him. That includes uncovering the conspiracy set up by the sheriff, making sure that the common folk are not ill-treated, and getting back the love of his life from a sneaky rival.
Clocking a runtime of 116 minutes, you can expect the movie to showcase adrenaline-pumping action scenes, but where is the fun and humour that people associate Robin Hood with? The combat sequences may be well choreographed, but the results are a dreary and exhausting mess, no thanks to the filmmakers' decision to bombard viewers' senses with non-stop loud and senseless action.
It may be initially amusing to see how director Otto Bathurst takes on a modern approach to execute the bow and arrow fights (it almost seems like the characters are spraying bullets from M16s), but things get tiresome after a while. For almost two hours, you are numbed with one action sequence after another. We already have a Michael Bay, thank you very much.
But despite the lackluster narrative, you can feel the cast's conviction. Egerton is a brooding hero, while Foxx is an inspiring mentor (the two men also get to show off their sculpted bods). After Rogue One (2016) and Ready Player One (2019), Mendelsohn looks like he is meant to play the conniving antagonist in every movie he is in. It is just too bad that their performances are overshadowed by the needless action and special effects.
GEEK REVIEW SCORE
Summary
We wished Robin Hood had brought along his Merry Men to breathe some life into this action-packed movie.
Story -

6/10

Direction -

5.5/10

Characterisation -

6/10

Geek Satisfaction -

5/10