MSI's Titan series of gaming laptops are the Taiwanese hardware brand's top-of-the-line models that deliver superior performance in running the latest 3D games smoothly, at maximum graphics settings. Just last July, we had a look at the GT77 which was equipped with Intel 12th generation i9-12900HX processor, NVIDIA GeForce RTX 3080 Ti laptop graphics, 64GB DDR5 memory and 4TB storage, and it easily claimed our Geek Culture's Editor's Choice and Gold Award for best gaming laptop in 2023.
Barely six months later, the Taiwan manufacturer introduced the newest member of the Titan family, the Titan GT77 HX, at the recent Consumer Electronics Show held in Las Vegas. We managed to get our hands on it for this review, and it's one of the best gaming machines currently available. Do note that the Titan GT77 HX sent to us is an engineering sample, though the final retail version would not be too different in terms of hardware specifications.
The Titan GT77 HX is powered by the latest Intel 13th generation i9-13950HX processor and comes with NVIDIA GeForce RTX 4090 laptop GPU (16GB GDDR6), 64GB DDR5 memory and 4TB SSD storage. The 13th Gen Intel Core H-series mobile processors boast to be the world's first 24-core processor for a laptop and feature 32 threads to deliver superb mobile gaming experience for the hardcore gamers. The H-series mobile processor also supports both DDR4 and DDR5 memory (up to 128GB) as well as Thunderbolt 4, which can achieve transfer speeds of up to 40Gbps and PC connectivity to multiple 4K monitors and accessories.
| | | |
| --- | --- | --- |
| | Titan GT77 HX | Titan GT77 |
| Processor | Intel Core i9-13950HX (up to 5.5GHz, 24 cores, 32 threads) | Intel Core i9-12900HX (up to 5GHz, 16 cores, 24 threads) |
| Memory | 64GB DDR5 dual channel | 64GB DDR5 dual channel |
| Graphics | NVIDIA GeForce RTX 4090 Laptop GPU | NVIDIA GeForce RTX 3080 Ti Laptop GPU |
| Display | 17.3-inch UHD display (3840×2160) | 17.3-inch UHD display (3840×2160) |
| Storage | 4TB SSD | 4TB SSD |
| Keyboard | Cherry Mechanical RGB by StreelSeries | Cherry Mechanical RGB by StreelSeries |
| OS | MS Windows 11 Pro | MS Windows 11 Pro |
| Dimensions | 397x330x23mm | 397x330x23mm |
| Weight | 3.3kg | 3.3kg |
On first look, the Titan GT77 HX resembles its older GT77 sibling with a black plastic chassis and yes, this beauty has a massive footprint, measuring 397 x 330 x 23mm, and weighing 3.3kg. Lifting the lid reveals a 17.3-inch ultra HD 4K display that offers a 144Hz refresh rate that provides fast response time when you run your 3D games. With 10 adjustable brightness levels, the screen looks sharp and vivid when we run games and view images and high definition videos. An infrared HD webcam ([email protected]) is positioned above the display for recording videos and images, instant messaging services and video conferencing. Below the screen is a full-size mechanical backlit keyboard with Cherry MX switch keys by SteelSeries, touchpad and spacious palm rests. The keyboard has cool-looking RGB running lights when the laptop is powered on, and that same running RGB lights can also be seen on the slightly protruded rear that housed the company's proprietary cooling system, with the MSI dragon logo at the back of the display. If you find the RGB lights distracting, you can always lower the brightness or disable them completely via the function keys or software controls.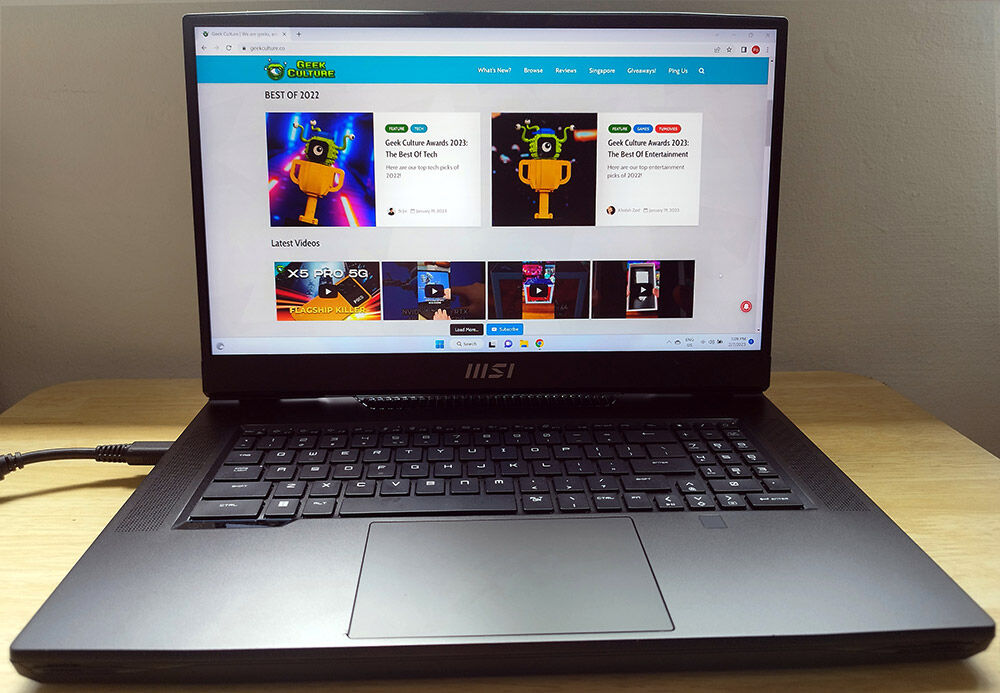 In terms of connectivity, the GT77 HX comes with 2 x USB 3.2 Gen 2 ports, combo microphone-in and headphone-out audio port. There is a built-in card reader on the left, while the right holds the Ethernet, HDMI, two Thunderbolt (Type-C), mini DisplayPort and USB 3.2 Gen 2 connector. The built-in stereo speakers are located beneath the palm rests, with two tweeters on each side that provide above average audio quality for your gaming and multimedia enjoyment. We noted the speakers can be loud at maximum volume with little distortion, though the bass is slightly lacking, like its GT77 sibling.
The GT77 HX comes preinstalled with the proprietary MSI Center software, a centralized platform that has a suite of MSI software utilities to optimize performance and efficiency to gamers. For example, in the User Scenario feature, you can select Extreme Performance mode that will boost the highest performance when you run your games; or Silent mode to lower the noise generated by the cooling fans. The MSI Center also has Hardware Monitoring if you want to find out the percentage on CPU, GPU, Disk and Memory usage in real-time.
In the performance department, the Titan GT77 HX managed an impressive 24,672 and 10,803 scores in the 3DMark Professional Fire Strike Extreme and Time Spy Extreme benchmark tests respectively. The scores are higher than the GT77 sibling, which translates to better graphics performance. On the 3DMark CPU Profile benchmark tests, the laptop scored 13804 on maximum threads used; the GT77 has a score of 9958. We also installed Borderlands 3, a role-playing first-person shooter game that comes with an in-game benchmark utility.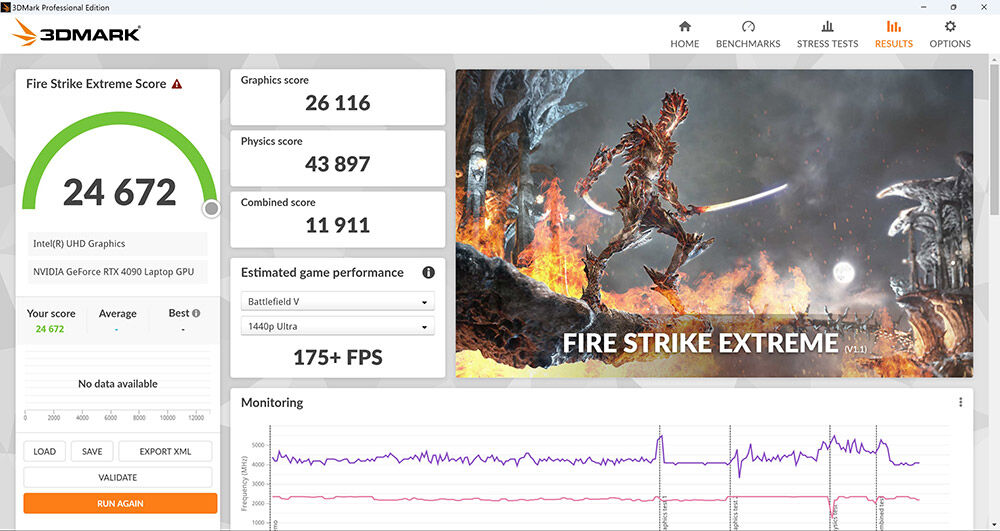 | | | |
| --- | --- | --- |
| | Titan GT77 HX | Titan GT77 |
| 3DMark Fire Strike Extreme | 24,672 | 16,446 |
| 3DMark Time Spy Extreme | 10,803 | 6,460 |
| 3DMark CPU Profile (Max Threads) | 13,804 | 9,958 |
| Borderlands 3 (1920×1080) | 150.41 avg. fps | 111.86 avg. fps |
| PCMark10 Battery Life (Gaming) | 1hr 40min | 1hr 30min |
At 1920×1080 display resolution and maximum graphics settings, the GT77 HX has no issue achieving 150.41 average frames per second, which is more than sufficient to offer a smooth overall gameplay. Sadly, battery life is not a gaming laptop's forte, and in the PCMark Battery test in a gaming scenario, the Titan GT77 HX was only able to last 1 hour and 40 mins before it will start prompting you to plug in the power cable. If you are bringing the laptop to a friend's house for LAN party, don't forget to bring the power cable and power brick.
The MSI Titan GT77 HX with the faster Intel Core i9-13980HX processor (up to 5.60GHz turbo frequency), 64GB DDR5 memory, NVIDIA GeForce RTX 3080 Ti GPU, 2TB SSD, 17.3-inch UHD IPS display (3840 x 2160) and preloaded with Windows 11 Professional is available for pre-order at MSI Singapore online store, and if you're expecting the package to come at a price, you would not be wrong. At S$9,299 with two years warranty, this top-of-the-line gaming laptop offers performance that can match a desktop gaming PC, but for the serious gamer looking for a dependable machine, look no further.
GEEK REVIEW SCORE
Summary
The MSI Titan GT77 HX is one superior gaming beast that will make desktop gamers jealous.
Overall
9.2/10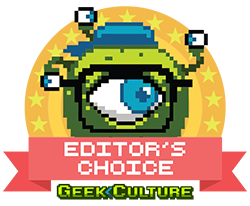 Aesthetics -

9.5/10

Build Quality -

9/10

Performance -

10/10

Value -

7.5/10

Geek Satisfaction -

10/10