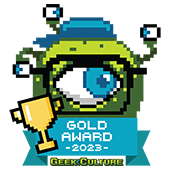 All laptop companies build machines that tout portability, form and function, and performance, but few take things to a whole new level, only because brands understand that while there are expectations for power and performance, few will pay for that right mix, even if they claim otherwise. Taiwanese hardware maker MSI is telling the world otherwise though, with its new Titan GT77 – one of the most impressive gaming laptops in the market right now.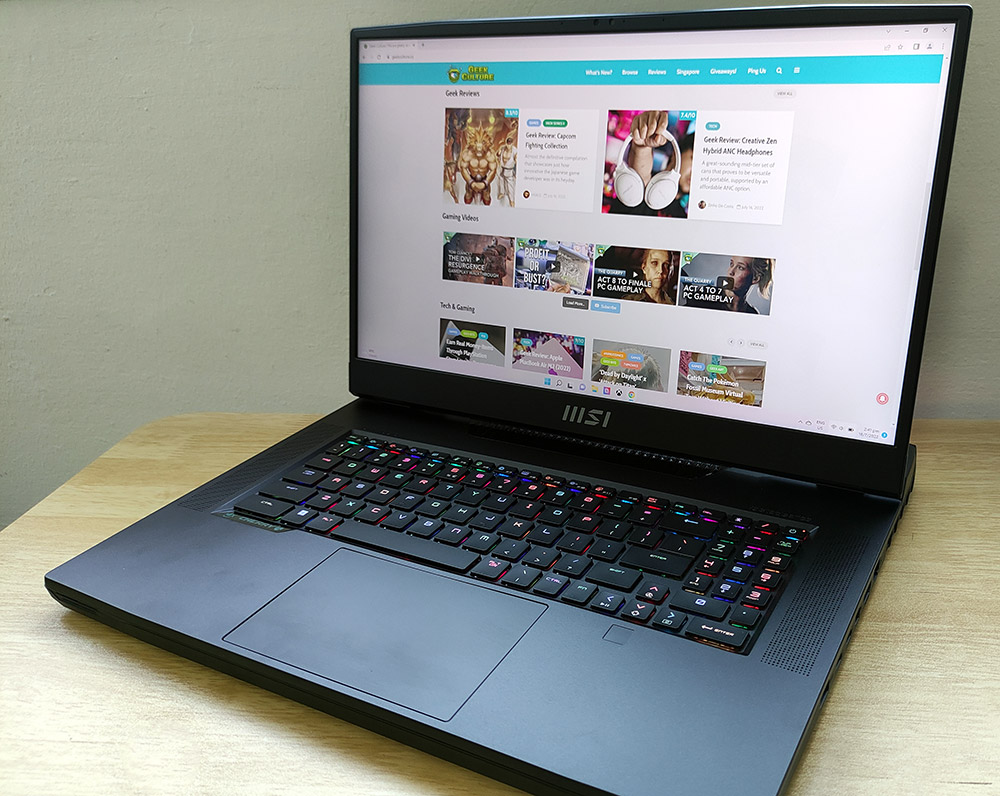 Boasting the latest Intel 12th generation processor (Intel 12th generation i9-12900HX), and powered by the top-of-the-line Nvidia GeForce RTX 3080 Ti (16GB GDDR6) graphics card, the company has packed in the two key items in supercharging any gaming laptop, along with 64GB DDR5 memory and a total of 4TB SSD storage. The Intel HX series claims to be industry-first unlocked and overclockable mobile processors, featuring up to 16 cores (8 Performance cores and 8 Efficient cores), along with 24 threads running at a processor base power of 55W, which are more than capable to handle intensive applications, including professional CAD, animation, content creation and high resolution 3D gaming.
Our test shows that this machine, along with the new processor and GPU performs admirably, though do note that this review unit is an engineering sample, though the specifications here are not very far off from the retail version that is selling in-store today.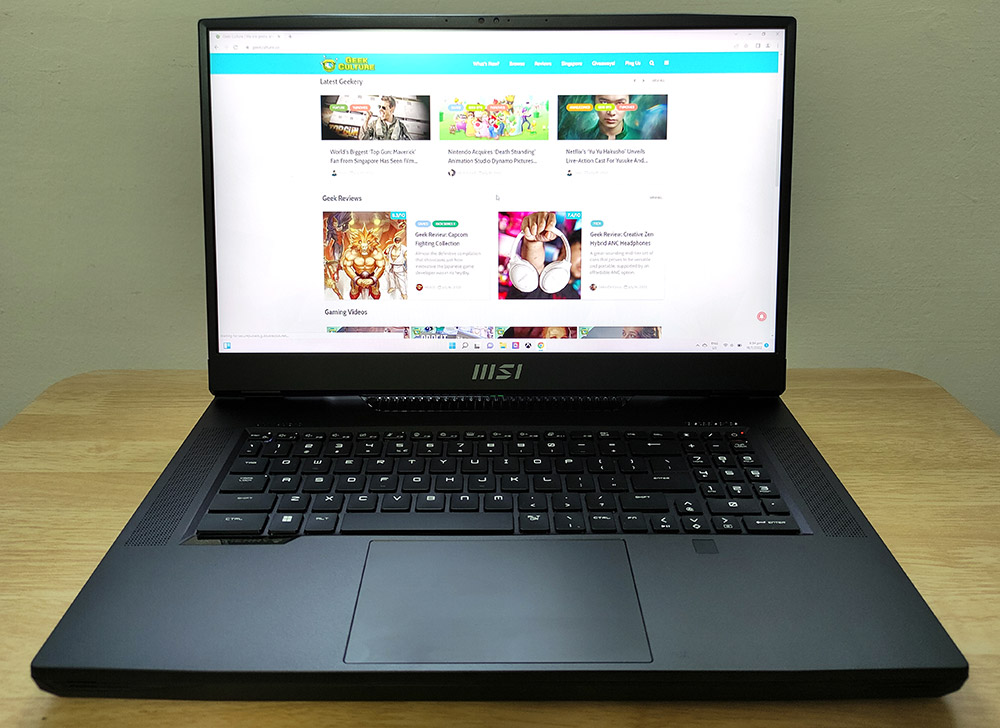 Measuring 397 x 330 x 23mm, this 17.3-inch behemoth is no slouch in the hardware front, and delivers on the software as well. It comes preinstalled with Windows 11 Pro and MSI Center that offers easy adjustable system modes and resources to enhance user experience. When it comes to having a desktop replacement, nothing comes close and the Titan GT77 stands apart with its slightly slimmer profile compared to other equivalents in the market. At 3.3kg, it is not something you want to lug with wherever you go, except maybe to a friend's house for a LAN party, but for what it packs under the hood, you know that the engine can't be a tiny one.
Housed in a black plastic chassis, the MSI laptop is a mix of durability, as the back of the display and base plate of the machine is composed of aluminium. The GT77 is loaded with the essential connectors you need – on the right are the Ethernet, HDMI, two Thunderbolt (Type-C), mini DisplayPort and a USB 3.2 Gen 2 port, while the left holds two USB 3.2 Gen 2 port, power connector, combo audio port (microphone-in and headphone-out), and a built-in card reader.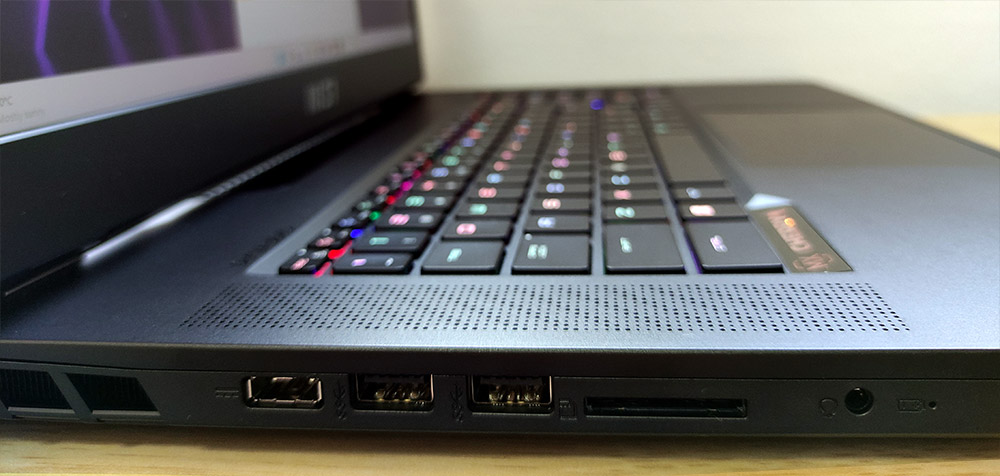 When we first power up the gaming laptop, the first thing that catches our attention is the running colored RGB lights on the keyboard, at the rear as well as the MSI dragon logo on the back of the display. The GT77 has incorporated a mechanical RGB backlit keyboard with Cherry MX Ultra low switch keys that provide a clicky, tactile feedback which is not overly noisy when you type. Even though the keyboard is a full-sized 98-key, the numeric keypad on the right is awkwardly smaller than most of the other keys. If you find the keyboard running colour backlight a distraction, you can easily disable it by simply pressing the Function (FN) and Esc keys simultaneously to enable (or disable) the quick FN launch keys, and then press FN and F8 to adjust the keyboard backlight LED settings – there are a total of five brightness levels.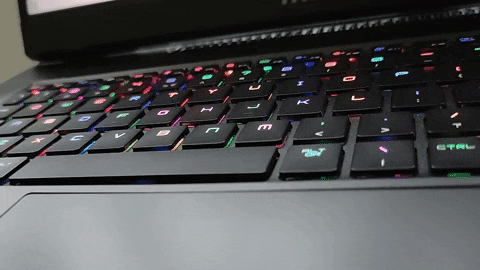 Audio-wise, there are two built-in stereo speakers under the palm rest and two small tweeters along the side that provide decent audio for your multimedia playback and gaming enjoyment. Audio is clear with good treble but the bass was a little lacking.
For when gaming gets too intense, the GT77 utilizes Cooler Boost Titan technology that consists of four fans, seven heat-pipes and a phase-change thermal pad to complement the Intel i9-12900HX processor. Which is also why the gaming laptop has a slightly protruded rear, to accommodate the complex cooling system. And with the company's proprietary OverBoost technology, the laptop can achieve 250W of combined power transmission to CPU and GPU and deliver desktop PC-like gaming performance.
On our benchmark tests, the GT77 did very well for the 3DMark CPU profile benchmark with a score of 9958 on maximum threads test (the longer the green bar, the closer the score is to the best result for the CPU model).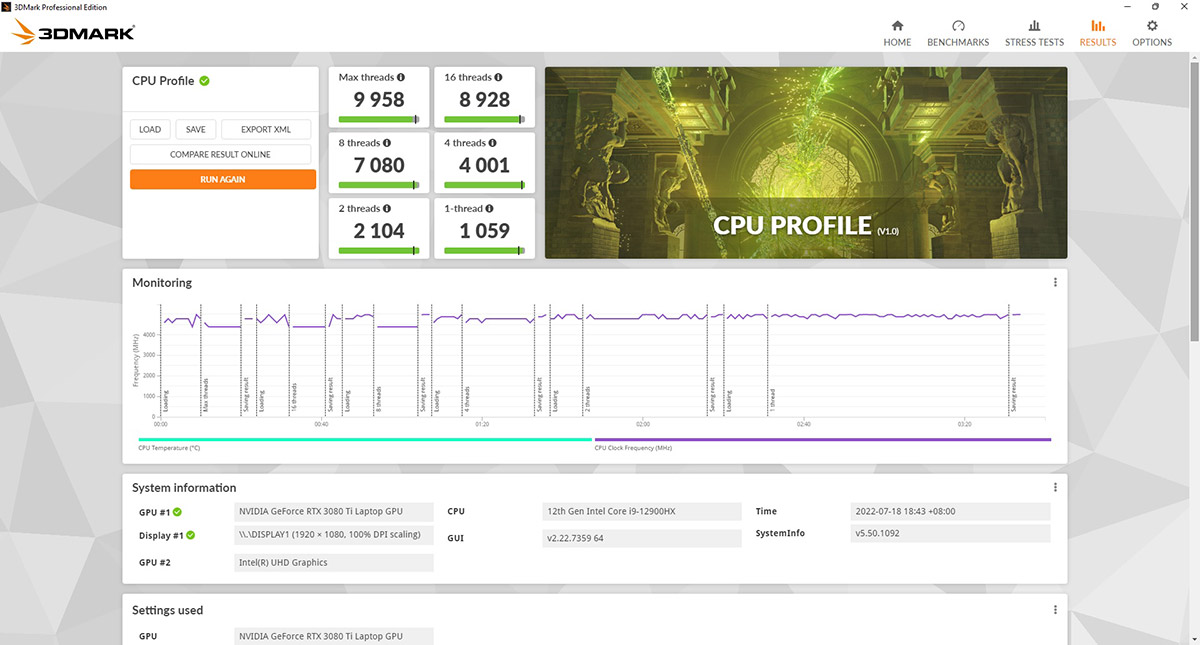 It also scored a high 16,446 for 3DMark Firestrike Extreme and 6,460 on 3DMark Time Spy Extreme, which means that the laptop can achieve 115fps in most games at high graphics settings. Borderlands 3, a popular role-playing first-person shooter game, has an in-game benchmark utility and at 1920 x 1080 resolution and maximum settings, the GT77 was able to achieve 111.86 frames per second, which is more than sufficient for a seamless gaming experience.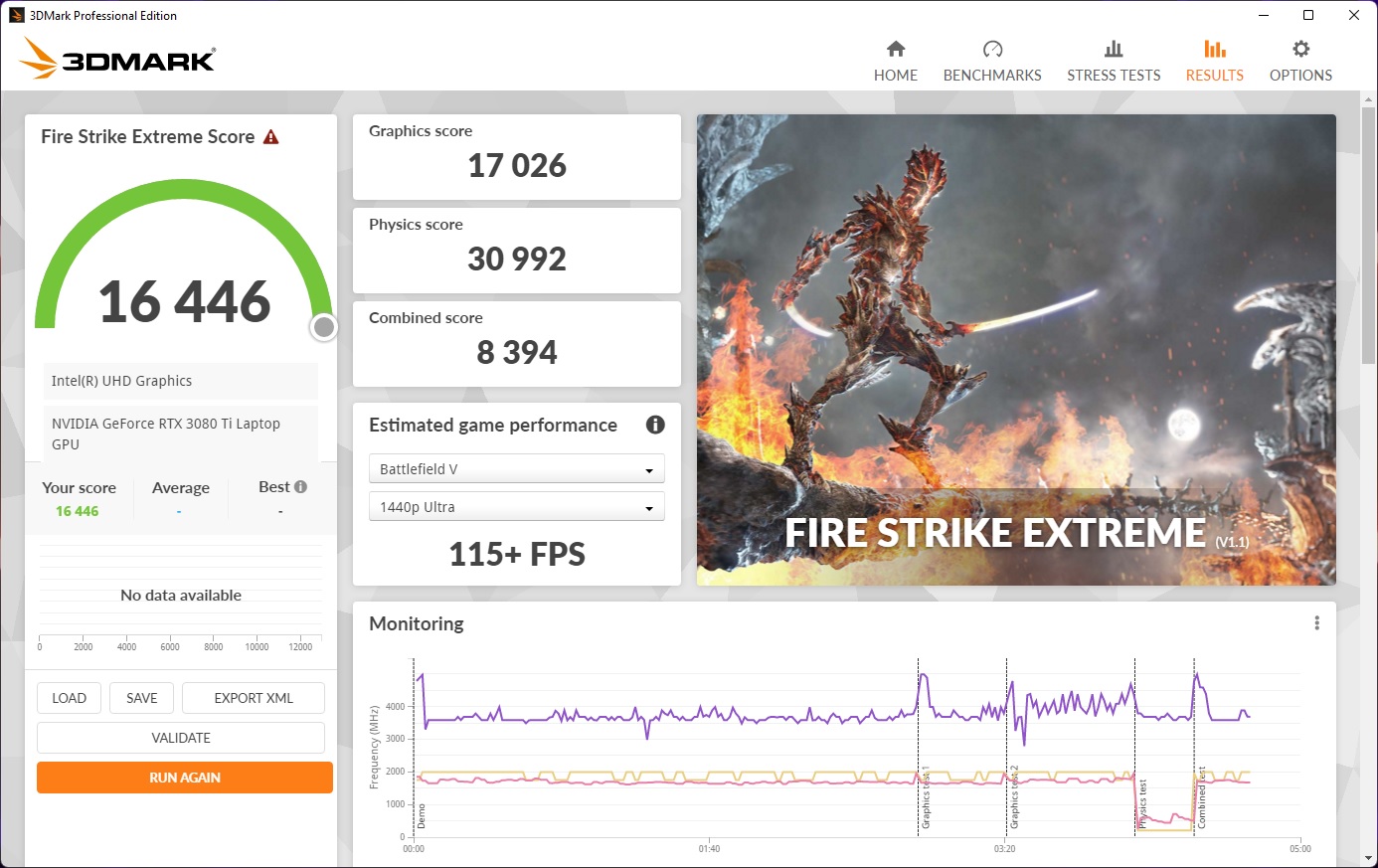 Benchmarks done on PCMark 10 & 3DMark Professional Edition
Naturally, where any gaming laptop falters is with battery life, which can never deliver on performance due to the power-hungry components within. The GT77 managed to last an hour and 31min on the PCMark Battery test on gaming applications before it needed to be plugged. As with any machine running intense operations, the cooling fans will start running and here, they will spin faster and loudly, especially when the GT77 is running games and applications intensively, to stabilize the overall system temperature, and this in turn draws more power from the battery. However, you may want to take note of the warm air blowing from the vents at both sides and the rear.
The MSI Titan GT77 with Intel Core i9-12900HX processor, 64GB DDR5 memory, NVIDIA GeForce RTX 3080 Ti GPU, 2TB SSD, 17.3-inch UHD IPS display (3840 x 2160) and preloaded with Windows 11 Pro is selling at S$8,099. It is definitely not cheap, but you are paying for the high-end hardware components and superb gaming performance that can rival a desktop PC.
GEEK REVIEW SCORE
Summary
The MSI Titan GT77 is one powerful gaming machine that should appeal to most gamers who are looking for a desktop replacement.
Overall
9.1/10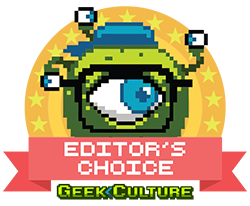 Aesthetics -

9.5/10

Build Quality -

9/10

Performance -

10/10

Value -

8/10

Geek Satisfaction -

9/10