"I wonder if you know,
How they live in Tokyo.
If you see me, then you mean it,
Then you know you have to go."
There you go boys and girls, the lyrics to Tokyo Drift (Fast & Furious) by the Teriyaki Boyz. So what does a song from one of the lesser entries in a hit Hollywood franchise have to do with a spin-off from one of the, if not the best video game franchise from Japan? Well, the lyrics actually provides the best review summary for MariCar Japan.
Taking on the namesake of Mario Kart, MariCar allows customers to drive on the roads of Japan dressed up as their favourite Mario Kart character.
*Cue the theme song from Super Mario*
Starting Block
For those still driving around in circle, here's what you need to know. Nintendo created a game called Mario Kart over the years, and it has characters from Super Mario competing in racing challenges. A Japanese company then decided to mix two popular Japanese pastimes – video games and cosplaying – and threw in go-karting into the mix, to create MariCar – the chance to dress up as Super Mario characters (and more), and drive around Tokyo.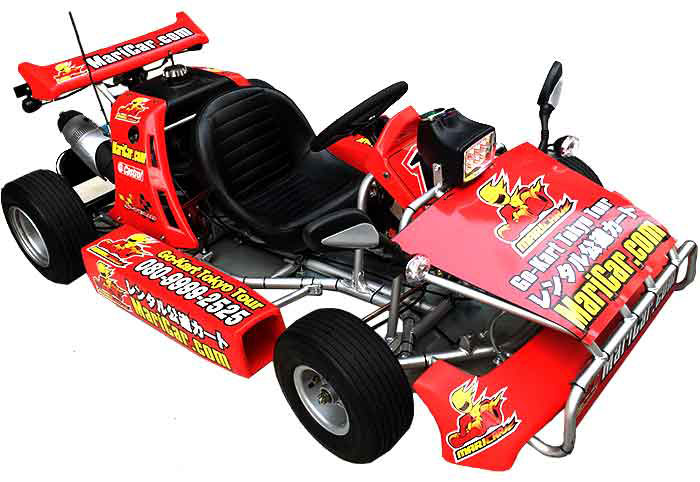 For go-karting enthusiasts, this is a no-brainer. Driving on a circuit is fun, but driving on an expressway alongside actual cars is awesome! As of now, Tokyo, Osaka and Okinawa are the only cities that can provide you with this experience. Located in three different areas in Tokyo – Shibuya, Akihabara and Shinagawa. MariCar is open from 1000hrs – 2200hrs daily.
There are around 3-4 sessions a day and customers can choose up to 3 different courses (just like Mario Kart), lasting between 2 – 3 hours for the karting experience:
Course A (2 Hours): Shinagawa -> Tokyo Tower -> Roppongi -> Shibuya
Course B (2 Hours): Shinagawa -> Rainbow Bridge -> Odaiba -> Tokyo Tower -> Roppongi
Course C (3 Hours): Shinagawa -> Rainbow Bridge -> Odaiba -> Tokyo Tower -> Roppongi -> Shibuya
Prices are 8,000 Yen for Courses A and B and 11,000 for Course C.
We inquired via email and were told that they recommend interested customers to book at least a week in advance. MariCar also provides a 2,000 Yen discount if you promise to write a review on their Facebook page after your session with them. For more details, visit www.maricar.com
And since quite a few people have asked, yes, you need a valid international driving licence to participate in this. You are traveling at high speeds on actual roads after all. More details can be found here.
And We Are Off
I decided on Course B, and we set off for their office, which is located 1km away from Shinagawa Train Station, within a residential estate. Here, customers would be able to settle down and change into their costume of choice. Yes, this is Japan, and if we are going to go karting, we would do it in style.
There is a huge array of costumes/onesies to choose from ranging from characters from Mario Kart (Mario, Bowser, Yoshi, Luigi, and Princess Peach) and even other characters (Spider-Man, Bat Man, Iron Man). There were many similar costumes available in different sizes and we were told that all the costumes were washed and sent for cleaning after each race.
Accessories such as hats, shells (for Bowser) are all available. Gloves are also provided and recommended (especially during winter). Deciding on Yoshi and Bowser, my partner and I were then off to collect our karts.
For an additional 500 Yen each, you can also rent a GoPro camera or a Bluetooth speaker to blast all your ah-beng techno music as you drive around Tokyo. It might sound tacky now but this was something I regretted not doing).
The group size for each tour varies from 6 to 12 karts. For those who are keen to do it among friends, just drop MariCar an email to request for it.
After a quick instruction on how to operate the kart, we are off!
Fast and Furious
Unlike driving on the circuit, MariCar brings you on the roads in Tokyo, as such there is no room for dilly dallying and 'casual driving'. It is important to keep up with the convoy of karts in your group, and this is on top of paying attention to regular cars, buses and trucks that will be driving alongside you. For the karting enthusiasts, this is the only opportunity for you to go full throttle and 'whack' your car.
The session starts off pretty relaxed, as we headed off from the residential area. With a guide at the front and at the back, the first 10 mins of the ride is to get customers accustomed to the roads and speeds that everyone will be driving at over the next 2 hours. This segment is a relaxing drive, and it is perfect for taking pictures (at red lights of course) of yourself and each other. Please note that road hogging is not allowed, so please drive considerately.
It starts to get more exhilarating once the karts get on the ramp, onto the expressway. This is when you start to accelerate as fast as you can. With the wind blowing against your hair (and face), try to keep up as you don't want to end up at the back, or worse as road kill.
As I drove, I was immediately caught up in trying to drive as fast I could. Yet, there was a constant reminder to enjoy the beautiful sights on the Tokyo Rainbow Bridge, and at the Tokyo Tower. As the road curves and bends, you are definitely reminded of the courses on Super Mario Kart on your Nintendo System. Just remember, throwing a banana on the road or at your fellow drivers is frowned upon.
Our session started at 7.30pm, which meant that the roads were pretty dark (as it is during the winter period). However, it also allowed us to take in the beautiful nightlights of Tokyo. Tokyo Tower was beautifully lit up and driving across Roppongi at night brought us a lot of stares and cheers.
Throughout your tour, the guides that follow you will also stop at the various attractions for pictures and selfies. The guides are knowledgeable about each tourist location, and are always game to take photos for you even while you are on the road. Rest assured that your entire Mario experience will be well captured.
Just Like a Mario Star
Besides driving on the road like Mario Kart professionals, one of the best experiences that you will get it being treated like a star! A convoy of Mario Kart characters is guaranteed to turn some heads! Throngs of fans (both adults and children) will snap pictures as you drive by and some will even walk up to you (at the traffic light) to give you high fives before you drive off. I spent a huge amount of time waving to my adoring fans. I have to embarrassingly admit, I did feel a little special when groups of Japanese girls started giggling and waving at me. (Shh! Don't tell my wife)
Even neighbouring cars would wind down their windows to talk to you, or just give you a friendly wave. Need the feeling to have adoring fans taking pictures and chasing after you? MariCar is your answer. The feeling is just amazing.
By 930pm, we were headed back to our garage at Shinagawa. Despite having a numb face and hands (it is winter and the temperature was around 7 degrees centigrade), and heading back around 10pm, the adrenaline was still pumping in our veins. I was ruing the opportunity of not selecting the 3 hour tour.
For those who are still wondering if they should try this the next time you head to Japan?
Do it.
You can even get 20% OFF your booking now, via GoVoyagin.com!
Glenn loves traveling and is a huge fan of movies. In his spare time, he is constantly on the look out to add to his Star War collection of toys and memorabilia. He is also looking for more space to store these items as his office cubicle is now reaching full capacity.
---

Drop a Facebook comment below!