The Logitech G933 Artemis Spectrum is the wireless variant of the G633 headset we reviewed earlier. All the good things we liked about the G633 can be found in the G933, with the exception of having one less wire to deal with. Luckily, the wire doesn't matter because the G933 has been designed to link up with whatever gaming platform you prefer, from consoles such as the Playstation 4 and Xbox One, to your DIY PC. Every connection needed can be found right out of the box, without having to run out to grab an adapter.
While it might sound pretty trivial, wireless gaming headsets can use plenty of love when it comes to their development. For the longest time, these headsets suffered from delayed audio, sub-par audio quality and poor battery life (more on that later). All things considered, the G933 has been able to alleviate most of these issues, to the point where it actually makes sense to invest and upgrade to one, if the wallet allows.
As a high-end device for Logitech, the company has spared no expenses in crafting a premium product. The unboxing process made me feel as if I was lifting a crown out of a velvet case, to place it on my head. The remaining accessories are tucked away nicely waiting to be discovered within the packaging. Compare this to past experiences on other Logitech products, which had me ripping the box apart to get to the core product.
Material love
I have always sworn by the use of velour as my preferred material when it comes to gaming headphones, but I have been won over by the new mesh materials found on the G933. While I've seen this material used on other headphones before, Logitech has been able to tweak it so that marathon gaming sessions with it are made bearable. Having tested with extended gaming sessions in both air-conditioned and non air-conditioned environments, I found the the headphones performed admirably under both conditions but they still faltered slightly under warmer conditions.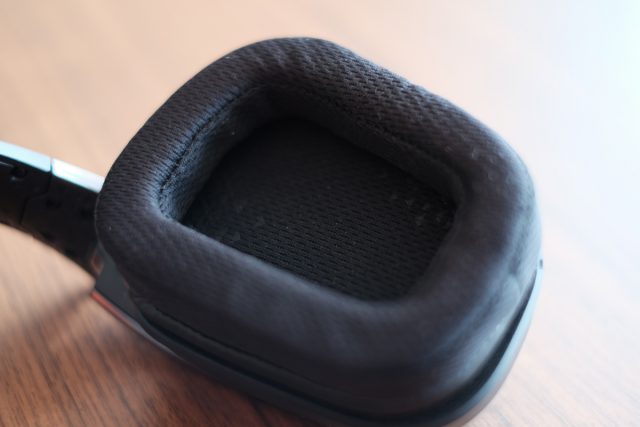 In a non air-conditioned environment, it took me about two hours of gameplay before I started to notice a change in comfort levels. It wasn't distracting enough to the point that I had to take off the headphones to cool my ears, but the heat made its presence known.
The mesh material affords a certain level of heat distribution that is especially evident when gaming in an air conditioned environment. It felt constantly cool throughout extended gaming sessions. I particularly liked how the ear cups creates a small vacuum to keep external sound out, which certainly helps with the overall acoustics.
Sound check
Logitech's purchase of the Ultimate Ears audio brand seems to have benefitted their gaming range somewhat, as these headset definitely sound better than your normal, everyday headsets. Be it music or gaming, the audio sound crisp, even if it was a tad soft. Still, it was more than sufficient for me to hear the footsteps of approaching enemies in the Overwatch beta. The levels were also distinct enough for me to distinguish between oncoming opponents above the sounds of battle.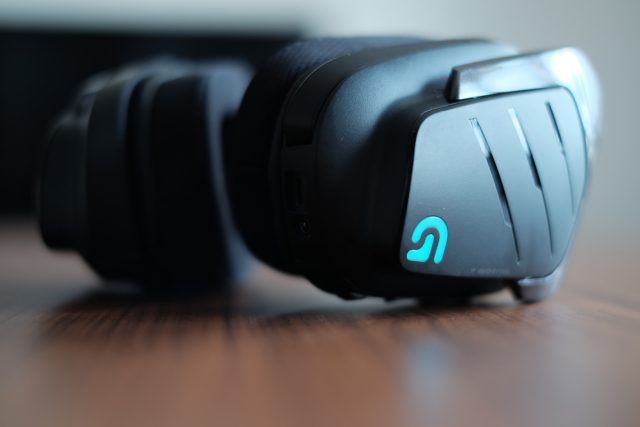 When there are 11 other individuals blazing their guns above your head, it pays to know who's friend or foe based on the direction of the audio. However, the path to achieving precision audio projection was not evident right out of the box, and getting to this required a fair amount of setting up, on top of installing the required drivers, Logitech should have done much better with their documentation, in order to make it easier for owners to attain 7.1 surround sound. These are small bugbears which might sail above the average consumer's head, who would be expecting more of a plug and play experience. In addition, Windows 10 does not seem to play nice with audio inputs as well, as I had to manually select the output and input ports in order for the G933 to function fully.
These issues are relatively small speed bumps in the overall experience but once they have been pre-set, there's little need to tweak them ever again.
In terms of microphone quality, there's nothing groundbreaking and the G933 performs well and gets the job done. Personally, I'm not entirely a fan of the design, as it felt cumbersome to lower the mic and extend the mouthpiece, as this created a sort of boom when extending the mic, when lowering it should have sufficed.
Battery economy
Wireless audio has come a long way since the early days, and thankfully, the G933 has kept up with best practices and avoided the use of Bluetooth all together. Instead, we are supplied with a USB adapter that handles everything being channeled to the headset. This minute marvel is responsible for delivering all the crisp audio when you're on a PC.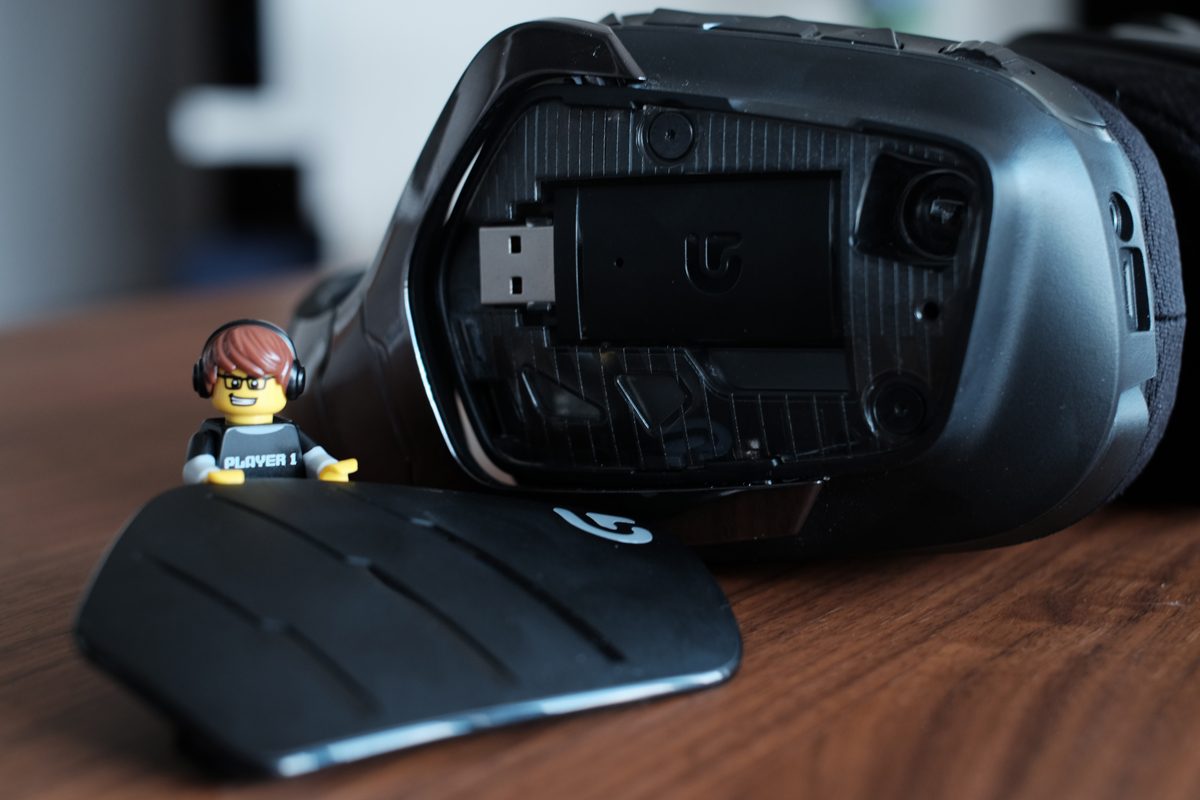 But while the G933 might sound great, the wireless feature, while a luxury in itself, introduces a new issue for gamers. Logitech states that the headphones should see approximately 12 hours of continuous use, when the volume is set at 50%. However, due to the relatively low volume levels of the headphones, I found that turning it up to 75% was a more realistic setting for me.  Combining this with all the LEDs turned off (similar to the G633), the battery life came closer to 7 to 8 hours of continuous use, which was good enough for an entire day's worth of gaming but nowhere near 12 hours. The tricky thing is that having to charge it up to required two hours of continuous charging via USB.
As far as standby time goes, I have a small suspicion that the battery slowly drains itself even after it shuts down automatically following five minutes of audio inactivity. So, coming back to a dead headphone was a common occurance for me until I made it a habit to charge it after each marathon gaming session. I do foresee that many gamers might possibly have the headset plugged in 24/7, to avoid having dead headphones at any point of time.
All things considered, I found the Logitech G933 Artemis Spectrum to be an excellent purchase, especially if you spend most of your time gaming on the PC. It checks all the boxes when it comes to audio quality, and providing comfort when it comes to extended gaming sessions. The best part of it all would be its relatively affordable price point, as compared to the other headphones of similar quality and features. Logitech cuts no corners here with multiplatform support, and providing the cables necessary for every use scenario. When was the last time a company didn't try to nickle-and-dime you?
The G933 Artemis Spectrum is now available in store for SGD$299.
GEEK REVIEW SCORE
Summary
As long as you remember to charge your headphones as part of the shutdown routine, the G933 is an easy sell and should be a core component of any gaming setup.
Aesthetics -

9/10

Build Quality -

8/10

Performance -

8/10

Value -

8/10

Geek Satisfaction -

9/10
Gerald currently straddles between his love of video games and board gaming. There's nothing that interests him more than trying out the newest and fanciest gadget in town as well. He dreams of publishing a board game sometime in the future!
---

Drop a Facebook comment below!