When it comes to technology, quality and affordability don't necessarily go hand-in-hand, but Jabra's Elite 45h headphones manage to infuse both successfully with little fuss. A modest alternative to the pricier Elite 85h headphones, these on-ear cans do not skimp on performance despite the leaner cost, establishing itself to be well-deserving of the CES 2020 darling accolade. Among the spread of appreciative features, the 50-hour battery life and S$138 price tag are what makes this wireless addition stand out from the competition.
With the cordless lifestyle becoming increasingly common, charging technology for wireless products has certainly evolved over the years. The traditional way of plugging in a cable to charge, say, wireless earbuds, is no longer in fashion – it's now possible to do so by simply placing them in designated charging cases, allowing for greater convenience and efficiency. The Elite 45h's monstrous endurance makes it easy to forget that charging is even a thing, powering users through long hours of music, video-watching, or gaming sessions. But talk is often cheap, and Jabra is quick and firm in establishing their credibility with an actual show of results.
Here's what three weeks of using the headphones yielded: one, that they only had to be charged twice despite constant daily use averaging anywhere between four to six hours each time, and two, that their fast-charging technology is no short of impressive. While fast-charging is very much a common feature nowadays, the Elite 45h is able to last 10 hours with just 15 minutes of USB-C charging, which is a figure that few headphones – least of all those in this price range – can deliver.
Of course, expectations will have to be managed: the 50-hour figure proves to be accurate only when playing back at moderate volume, so it's not really fair to demand the same performance at higher volumes. Even then, the gear's stamina is nothing to scoff at, making it an excellent commuting partner for long distances, and a reliable work-from-home companion.
The impressive battery life is testament to the Elite 45h's approach of offering handy, neat features at a discount. Leaning towards the lower end of the mid-range price tier, it leaves out some of the more coveted elements that pricier models boast like active noise-cancelling technology, but what it does well, it does pretty damn well. All of the basics, from the comfort level and audio quality to customisation options, are more than well-covered, albeit in an unassuming yet pleasant fashion.
At first glance, the Elite 45h spells no frills written all over. It comes in five colour variants: Black, Copper Black, Gold Beige, Navy, and Titanium Black, with little adornments or additional design elements to boot. The review unit came drenched completely in black tones, sporting a svelte silhouette, premium-looking leatherette ear cups, and a lightweight, plastic build. While a little dull in appearance, the gear's blend of non-glossiness and finely-punched L and R labels on the earpads adds a nifty touch of sophistication that takes it away from the "cheap" look. The headband is perhaps the weakest part of the design, for it's fairly flimsy and feels like it can easily snap into two if you're not careful.
On the edge of the right earcup sits a handful of tactile physical on-board controls, which is where all the heavy lifting is done. There's the power-slash-Bluetooth-pairing slider at the bottom that accompanies the three fingertip-sized buttons above for adjusting volume levels, playing/pausing media, and skipping tracks or answering calls. On the opposite end is where you'll be able to activate or mute the two-mic setup – a convenient feature that still allows you to speak or listen in without interruption when stepping away from the workspace. Fancy an espresso in the middle of a Zoom call? No problemo.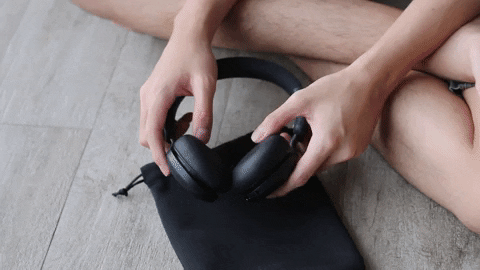 Unlike some wireless headphones on the market, the Elite 45h cannot be folded for easier storage, but thankfully its compact size does little to hamper portability. The headwear is small enough that not much space is needed to tuck it into your travel bag, and it fits rather well around the neck. To keep it, just rotate both earcups inwards, and then slide it into the included carrying pouch.
Where on-ear cans are concerned, there's quite a bit to consider in the comfort department, such as the amount of clamping pressure on the ears and skull, as well as the cushion support for the earpads. The Elite 45h does a respectable job in both areas, with the faux leather feeling soft and gentle to the touch, and the holding grip being just taut enough to maintain its perched position on the head. Additionally, the porous earpad design also helps to introduce some welcome ventilation, bringing comfort to an even greater level. The average wear time before having to take the headphones off clocked in at a decent three to four straight hours, which is when the ears will start to feel hot.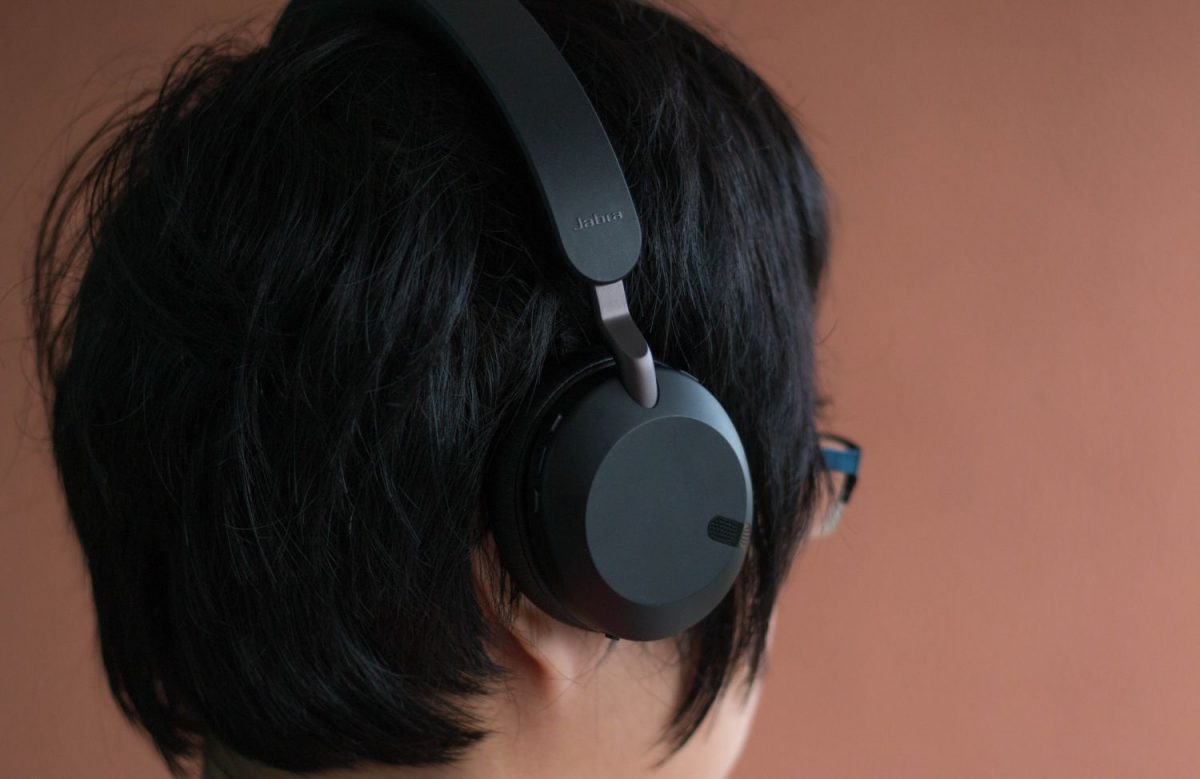 A common concern with over-ear headphones is slippage, and you'll experience that with the Elite 45h in the beginning – unless you manage to find the perfect fit at the first try. It takes a little experimentation before the earcups can sit comfortably on the ears, but once they are in position, the gear pretty much stays in place, and continues to be a secure, stable fit even as you bob your head to songs. Those with bigger heads may find it to be quite a tight fit, though, and there's unfortunately no option for an extension of any sort.
As with all audio devices, sound quality is what serves as the most defining and important factor. With the Elite 45h, you'll get a dynamic, perky, and crisp performance that introduces just the right amount of oomph to bass and low-frequency sounds. Little to no distortion was experienced during listening sessions, and detail levels were impressively high – not only can lyrics be heard rather clearly, it's also easier to pick out each specific instrumental part for more complicated arrangements. Mid-tones proved to be decent as well, with vocals coming through strongly.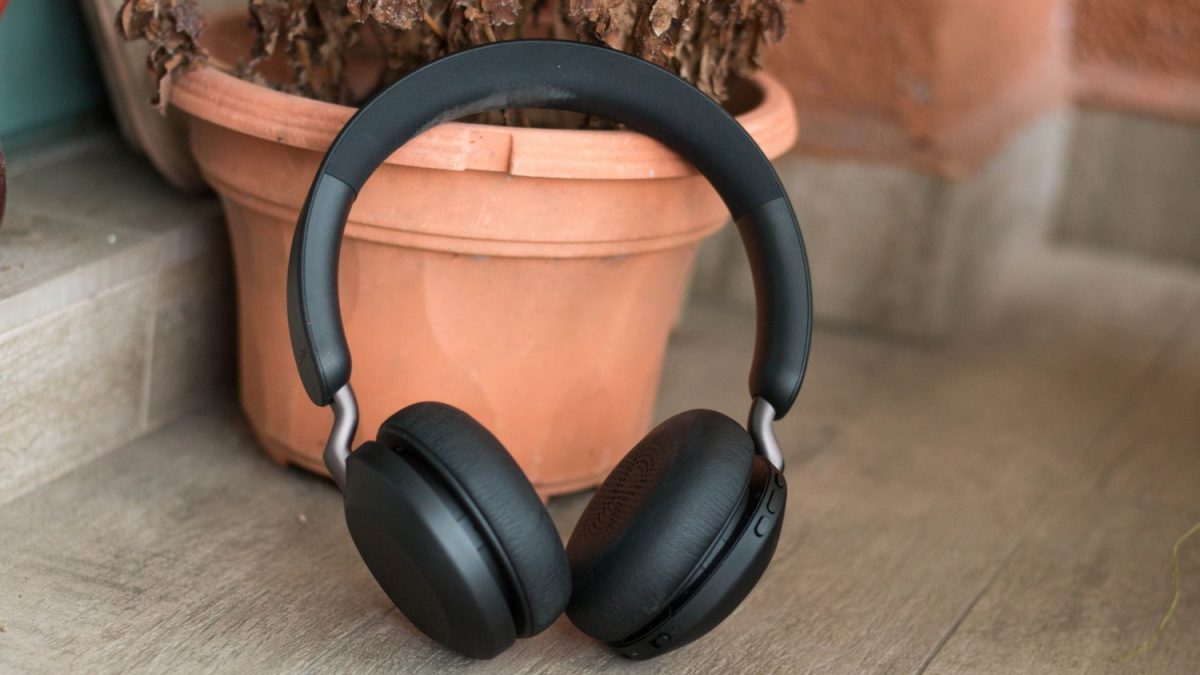 Some slight flaws start to arise at higher frequency levels, however. At times, the audio can appear a little detached and less rich, while treble notes tend to hit more aggressively. Reaching or exceeding the bass threshold, meanwhile, yields harsher tones. For the most part, all of these can be refined in Jabra's Sound+ mobile app, but shouldn't affect the experience of casual listeners, for the differences are actually rather subtle if you aren't paying too much attention.
The Elite 45h may appeal less to individuals looking to immerse themselves in the world of music and audio without any distractions. The absence of active noise-cancellation means the headphones are unable to block out ambient noise entirely, which can distract you from what's playing on the playlist. Blasting music also causes some audio leak, such that others around you will hear whatever's bleeding through the earpads.
User-friendly features are always a boon, so it's great that the headphones boasts efficient Bluetooth pairing technology. Simply slide the button at the bottom of the right earcup, wait for a voice to appear and follow the instructions, and voila, you're all ready to go; once connected, the battery level and number of connected devices will be announced. In the case of the Elite 45h, users can pair up to eight devices and connect up to two devices simultaneously, which is a welcome upgrade from before.
Where wireless performance is concerned, the device isn't too shabby either. It remains connected up to about 10 metres, and is able to provide an uninterrupted stream of audio while on the go. There are instances of the audio getting choppy or cut off, most notably in underground areas or when approaching low battery levels, but they fortunately don't happen often. In an indoor environment, its connectivity hardly ever falters, making the work-from-home experience a pleasant one.
The Elite 45h's mic set-up serves as a decent complement to its audio system, ushering in vocal clarity and noise reduction that ends up as a mixed bag of practicality. While there was a general recognition of clear speech on Discord, Zoom, and multiplayer titles, the headphones were observed to have fallen short of blocking background noise. At its price tag, the accompanying sort-of ambient sound option is a welcome addition, allowing users to hear their own voices during calls so they can adjust their volumes accordingly. It's possible to refine it further on the app as well, but you'll have to pay attention to how much adjustment you're making – a high-frequency buzzing sound appears after a certain percentage.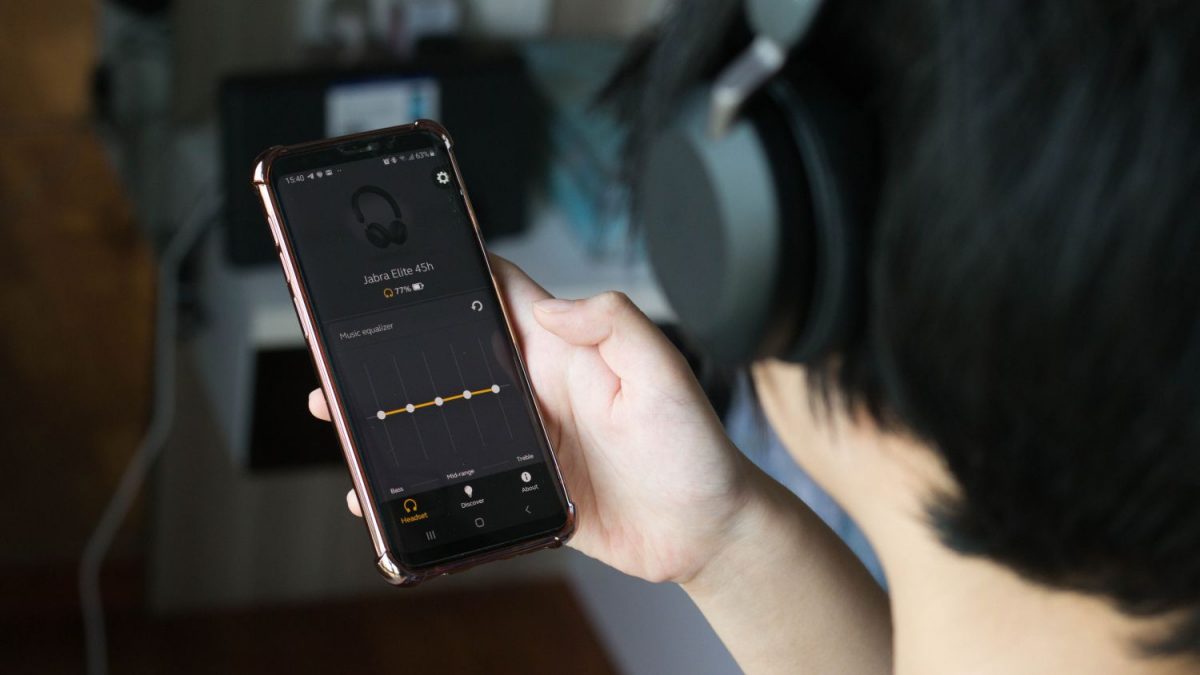 On the note of Jabra's Sound+ app, it's actually an outstanding support feature for the Elite 45h. Upon launching it the first time, users will be guided through a hearing test that helps establish a personalised EQ profile for the best listening experience. Within it, users can create and save their own audio profiles, choose from five music presets (Bass Boost, Energise, Smooth, Speech, and Treble Boost), have access to features on other Jabra products, and find several handy technology like Call Experience, Sleep Mode, and Find My Headphones.
It's a bold statement, but the Jabra Elite 45h is likely the best pick on the market right now for those seeking feature-packed performance without breaking the bank. The pair of headphones exceeds expectations with long-lasting battery life, impressive audio quality, trustworthy connectivity, and great app compatibility that come at the cost of several more premium features. For the most part, Jabra has created a solid, attractive, and comfortable build that would make for a great buy for anyone – unless you're looking for an upgrade or need a more portable option for high-movement activities.
GEEK REVIEW SCORE
Summary
The Jabra Elite 45h certainly lives up to the 'elite' part of its name, offering an attractive blend of affordability, performance, battery endurance, and comfort that secures it a place in the 'top headphones under S$150'. Lower expectations for a less premium build? Not in this camp.
Aesthetics -

8/10

Build Quality -

8.5/10

Performance -

9/10

Value -

9/10

Geek Satisfaction -

9/10