If there's one constant that you can be assured of in these hectic times, it's that Apple never ceases to disappoint us when it comes to rolling out a new iPhone annually. And despite all that's been happening around the globe, the company has managed to come up with it's biggest step-up in a while with the new iPhone 12 series.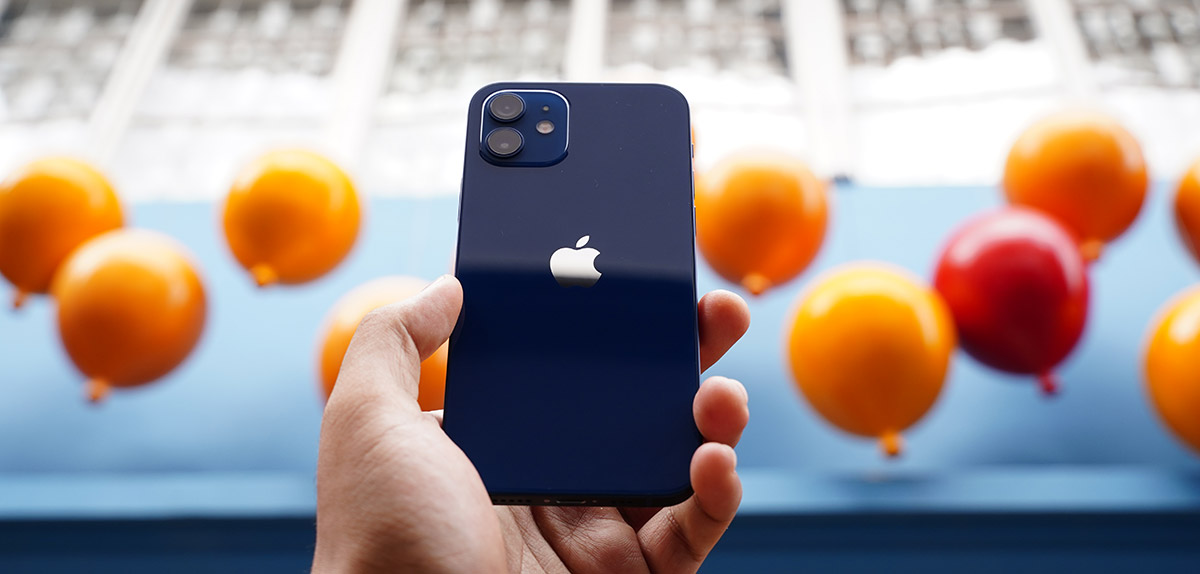 The iPhone 12 is actually one of four devices the tech giant is launching at the end of 2020 and despite its plain moniker, is not the leading device, as that is the Pro series. The iPhone 12, together with the iPhone 12 mini, has been crafted for those who prefer a smaller screen size, which in this case, is the 6.1-inch display. So what sets the iPhone 12 apart from its recent predecessors? The biggest is the new 5G capabilities, followed by improved cameras and internals powered by a new processor, and a new display and design with a phenomenal range of colours: black, white, red, green, and blue.
The first thing that catches your eyes is the striking design of the iPhone 12, which is a throwback to a former aesthetic. The new phone takes a step back from the curved edged design and goes back to the flat-edge aesthetics reminiscent of the iPhone 5 era. Those who have used older iterations of the iPhone will find themselves experiencing a nostalgia trip with this.
The straight-edged matte aluminium band gives the iPhone a more sophisticated feel and a nicer grip, which makes the phone also feel lighter and more compact. And we're glad to see the squared off side returning as it allows for the iPhone 12 to stand on its own for filming purposes! The phone also boasts a new edge-to-edge OLED screen with a 6.1-inch (diagonal) Super Retina XDR display.
This means much more vibrant colours, a wide colour display P3 (or a cinema standard wide color gamut) and a brighter display with a high 2,000,000 : 1 contrast ratio for true blacks. It even allows users to experience immersive HDR viewing for high-definition videos.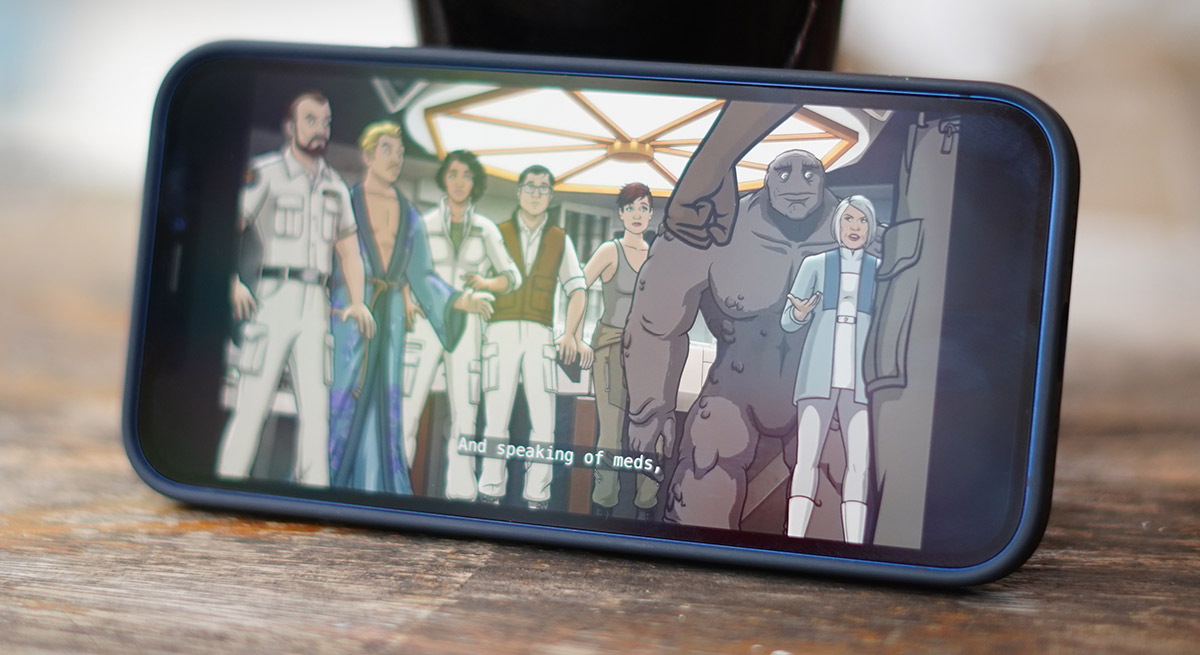 iPhones, and most smartphones essentially, have also been famously plagued by the low durability of the screen, especially in terms of being drop or knock proof and thus, Apple has concerted a new formula for its iPhone 12 screens using Ceramic Shield, a new material consisting of glass infused with nano-ceramic crystals made in partnership with Corning
This new material is said to give four times the protection of previous screen glasses. Speaking of durability, the iPhone 12 is rated IP68 for water and dust-resistance and can withstand being submerged in water to a depth of 6 meters for 30 minutes. (We have yet to truly test that out for ourselves though.)
A downside to the screen is that the phone is still locked into that same 60Hz refresh rate, while some mid-range Android phones are already pushing 90Hz. However, this doesn't seem to affect the performance of the phone and the iPhone 12 has improved its display in another way, by finally upping the resolution to 2532 x 1170 pixels at 460 PPI (Pixel Per Inch), which means that any previous complaints about the phone screens not even reaching 1080p can finally be abated.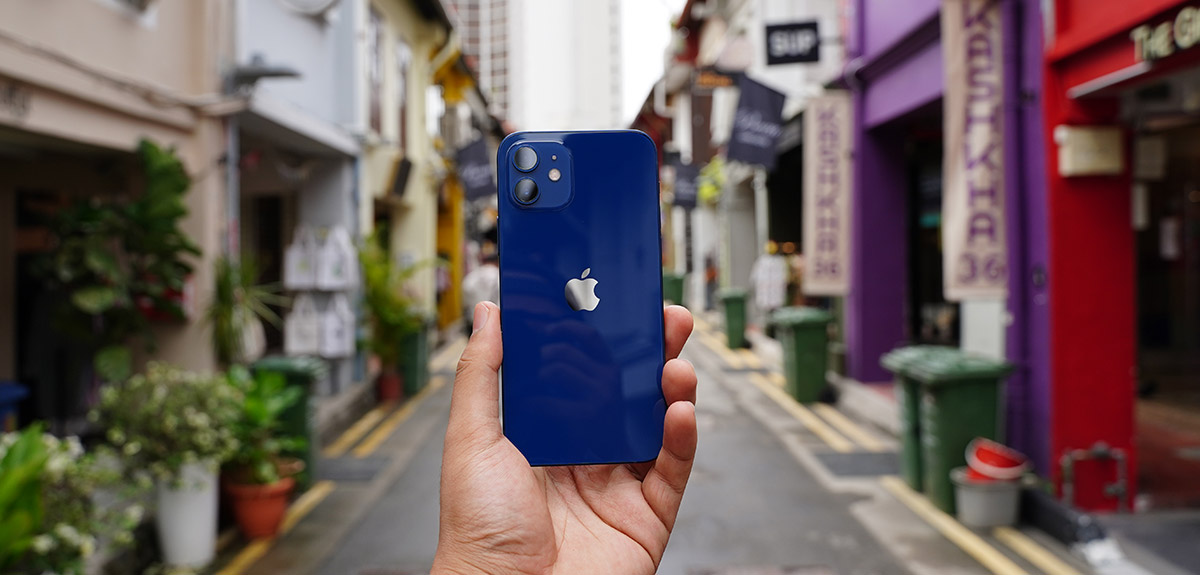 Flipping the phone around, we see that the backing is made of glossy glass and is no longer the matte metallic shades of the iPhone 11. While we love the shinier design, the rear glass being super glossy also means it's super prone to picking up fingerprints. And it seems that even with the new backing, the phone casing is still susceptible to picking up tiny micro-abrasions, though that won't pose as much of a problem since most people will use their iPhone 12 with a cover.
Also on the rear are two cameras – a wide and ultra-wide. While this is nothing new for the iPhone, we have to say that as users of the iPhone XR and 11, there have been serious leaps in terms of camera performance for the new iPhone 12. The quality of the camera work for the new iPhone is undeniable, providing more dynamic range and detail for every picture.
The biggest leap in terms of improvements will be the Night Mode which was first introduced in the iPhone 11. Dark scenes come out brighter with less noise and better colour balance. The Night Mode even extends to the front camera too, so say goodbye to grainy obscure night selfies when you're out partying on a late night with friends.
The wider aperture also makes for a faster camera. Being able to go up to a ƒ/1.6 aperture means that 27 percent more light can be captured by the camera, and this, combined with Smart HDR 3, churns out dynamic photos with accurate colors. Moreover, if you like more drama in your pictures, the ultra-wide lens will provide that effect for you as Apple has even made improvements to the software, which now helps to correct lens distortion that the iPhone 11 suffered from.
Furthermore, the new depth-detection sensor helps the camera on the iPhone 12 to focus correctly. This is particularly useful when you're doing photography in the Portrait mode, whereby the camera can now more accurately sense what to blur out in the backgrounds.
It is noticeable that the balancing out the tones and white-balance is still lacking as it creates a more garish yellow finish to the photos when they're shot around noon. This is strange considering that the iPhone XR seems to even out the white balance more intuitively as compared to the iPhone 12.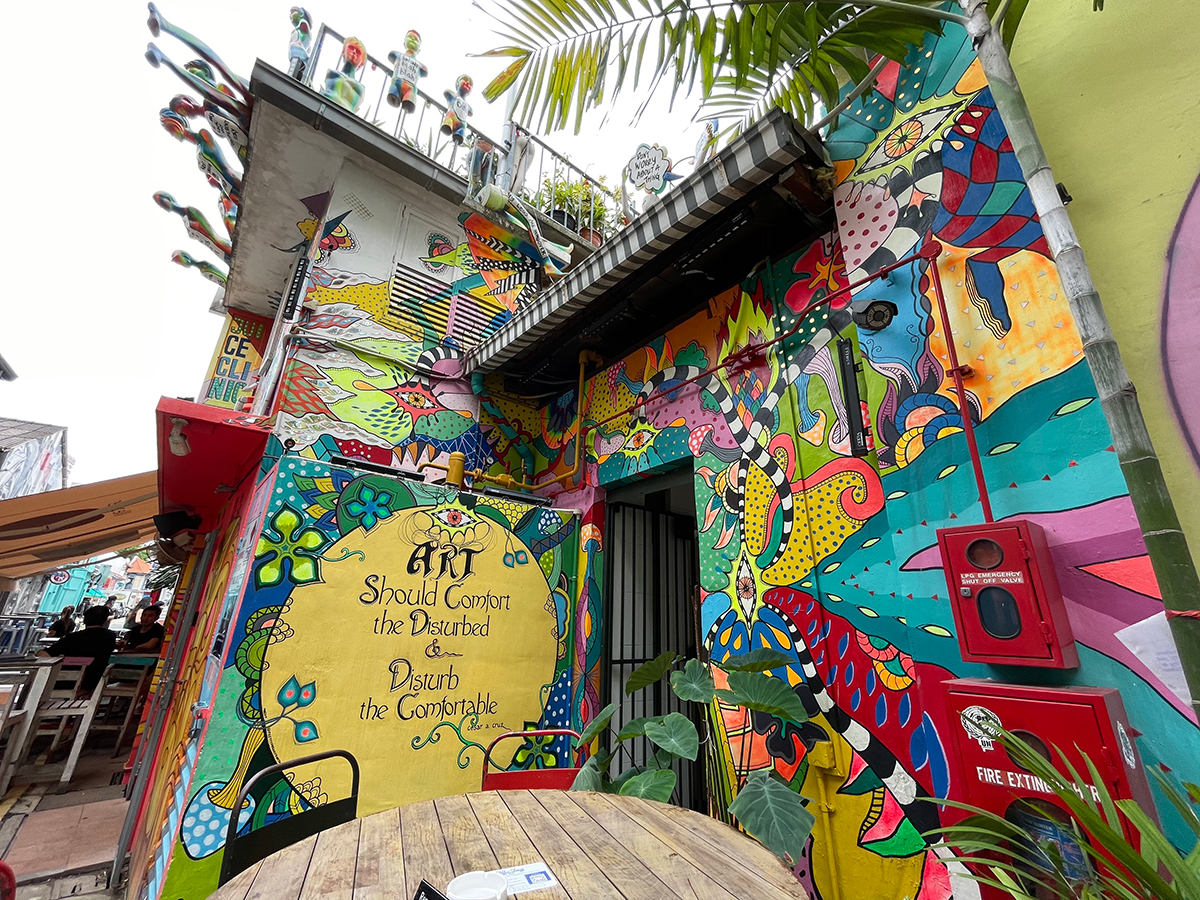 The iPhone 12 continues to use digital zoom for its cameras and can go from 0.5x to 5.0x zoom. And it's pleasing to note that even at 5.0x zoom, the images still retain much of their clarity even with some blurry parts here and there. The improvements in clarity are probably a big selling point for these new phone cameras.
The front view camera continues to shoot at 12MP, similar to that of the iPhone 11 but it now comes tacked on with a whole host of goodies including Deep Fusion, Smart HDR 3, Dolby Vision recording and more to capture your face in the best light.
Unfortunately, it seems like Apple has yet to resolve the issue with its notch size. The front camera and mic continue to sit in a notch that takes up part of the screen, which means that when playing games on your mobile device, certain side bar displays or usernames of your teammates will be blocked and though it doesn't hinder gameplay much, it's still uncomfortable to have to look at.
Besides that, thanks to the new A14 Bionic chip, the camera performance of the iPhone 12 has been improved so greatly that it can even shoot in an astounding Dolby Vision HDR. This means creating movie standard 4K videos on your phone and even editing everything together on the same device.
Beyond improving camera capabilities, the A14 Bionic Chip also allows the phone to clock high performance benchmarks. On the Antutu test, the iPhone 12 clocked a Benchmark Score of 585,782. The breakdown of the score includes CPU at 168,502, GPU at 211,172, MEM at 113,590 and UX at 92,518. The iPhone 12 is now equipped with what Apple dubs the Neural Engine, allowing for motion tracking in AR and HDR Video editing and more. We tried running a few apps on it and played PUB-G and barely experienced any lags despite the high performance demand.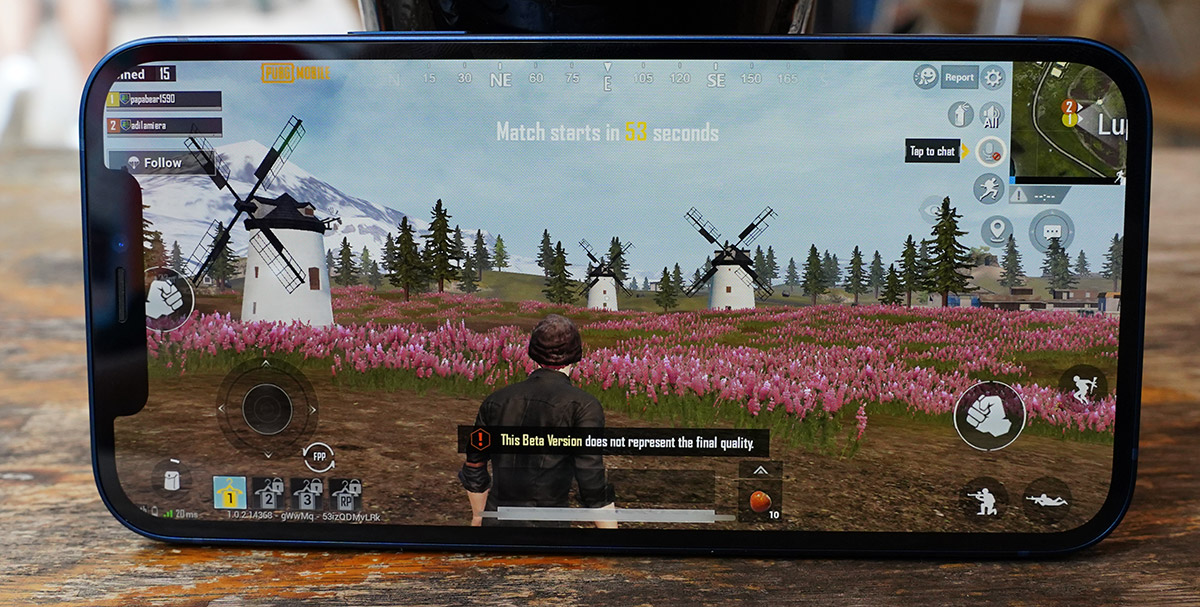 Apple claimed that with video playback on streaming, battery life can last up to 11 hours. We tested it out and found that the battery life is pretty good, able to last a full day of use with only a need for charging in the evening. This does change if the more heavy usage is being made such as gaming, or even using 5G. When the phone was left at 6:30pm on a full charge, it lasted throughout the night and was still at 28% by 10am the next day (that's 16 hours in total).
It's notable that the iPhone 12 is also 5G ready, allowing users to download, stream and even game on the go with good network latency and hence less lag. Alas, local telcos are only slowly starting to roll out the faster network but its above ground for now, so you likely won't enjoy the full benefits until next year. Nonetheless, it is a good investment to have for the future.
Unfortunately, if you're thinking of reaching for a charger from your box to charge your dying battery, you'll find the kit sorely lacking a power adaptor. Instead, the iPhone 12 comes with a USB-C to Lightning cable which you can connect to your MacBook for charging.
This is also Apple's way of showing us their newly introduced MagSafe wireless charging. The iPhone 12 comes with a ring of magnets embedded within it in the rear, allowing for the new line of Apple MagSafe accessories to snap onto the back. This means wireless chargers, cases, gimbals, car mounts and more will eventually be able to attach easily to your device with a satisfying click.
The magnetic charger attaches firmly enough and doesn't slip off even if you pick it up by the wire and swing the phone attached to it. It does charge at a slower pace though, taking about an hour to reach around 45% charge from a dead battery.
For the MagSafe accessories, the iPhone 12 also has a second NFC chip that identifies what's been attached to it. So if you purchase the MagSafe case and attach it to the phone a cute ring of light will pop up on your screen, reflecting the colour of that case. Moreover, the MagSafe case makes it easier for the magnetic charger to attach and charge your phone as compared to other silicon cases.
The phone's operating system is now powered by the new iOS 14, which means it will come fully equipped with the latest perks such as Exposure Notifications in settings for COVID-19 alerts as well as the new Translate App. (Which is basically Google translate but instead you can speak to it and it'll translate on the go.)
Another cool thing to note (all pun intended) is the Notes update. This means no more textured backgrounds as users can have the new flat background that looks great in light mode and dark mode, which takes advantage of the iPhone 12 OLED screen to display true black.
The redesigned actions menu includes a new Send a Copy action. This allows you to conveniently convert your note into another format such as a .txt document for sharing and saving into other apps. The Notes also feature improved scanning. The system document scanner has been upgraded to capture better scans than before. It will instinctively detect where the words are and provide a mostly accurate cropping of the text.
All in all, the iPhone 12 is a good upgrade especially if you're looking for a new phone from iPhone X or older. The iPhone 12 is priced from S$1,299 in the Apple Store and while it may seem like a hefty sum to pay, it is quite a good catch to consider especially since it is S$400 cheaper than the iPhone 12 Pro, which boasts similar functions.
GEEK REVIEW SCORE
Summary
Hardened glass, snappier processor with cameras that are a step up from the previous models, the iPhone 12 is a great phone to consider if you would like to up your smartphone videography and photography game. It's especially great for those who wish to upgrade from older iPhone models, such as the iPhone X series.
Aesthetic -

9/10

Build Quality -

8.5/10

Performace -

8/10

Value -

8/10

Geek Satisfaction -

8/10