The market for premium wireless earbuds with active noise cancelling (ANC) is growing ever so slightly. These days, more unlikely names have popped up alongside the pantheon of top performers; for every Sony, Bose, and (dare we say it) Apple, you have a Google or an LG that seems to punch above its weight every now and then, but there are a dozen more that end up as a gimmicky flop.
Huawei, however, is one of the oddballs in the market. While it has been around for a while now, with its FreeBuds line of wireless earbuds, it so far hasn't quite broken away from the general consensus that it is a mere clone of the Apple AirPods. So when the Huawei FreeBuds Pro was first announced, one can imagine the laboured mental groans that might have rung across the community of AirPods fans.
Right from the get-go, there are several reasons why one can label the FreeBuds Pro as a test-tube sibling of the AirPods Pro. From the case, to the look of the earbuds themselves, to even the on-app controls (on a Huawei device, at least), there really isn't much to separate the two, at least on paper. Probably the only major difference at first glance would be the FreeBuds Pro's S$238 pricing, which is quite a far cry from the AirPods Pro's S$379.
Where the previous FreeBuds models were unabashed ripoffs of the AirPods, with strikingly similar designs, there are several design choices that make it stand out. Firstly, it comes in three colours instead of one (Ceramic White, Carbon Black, and Silver Frost on our review unit). Most strikingly, its antenna stems are small rectangular blocks instead of cylinders, which automatically gives the FreeBuds Pro a strangely refreshing look. Also, the option to use silicone eartips instead of full plastic ones is always a great choice for both comfort and hygiene, as it helps keep any earwax out of the actual speakers in the earbuds. And of course, the presence of small, medium, and large eartips is pretty much a no-brainer.
The charging case is slightly flatter compared to the AirPods Pro, though small enough to fit snugly into your pocket without bulging out too much, unlike the likes of the Sony WF-1000XM3. Just holding the case in your hand feels so good in and of itself, probably thanks in part to the matte finish on about 80% of it (the remainder is a glossy steel finish on the hinge area). Unlike the AirPods Pro case, it isn't a fingerprint magnet, and feels brand-new even after a month of heavy use.
The earbuds themselves sit securely within the interior of the case thanks to a really strong magnet, which prevents them from dropping out easily. One massive downside to this, however, is that taking the earbuds out of it is quite an arduous task; there isn't a proper way to pop them out. What we found helpful was to use the underside of our finger/thumb to scoop the round edges of the earbuds to let them slide out, though we wish there were an easier way to do it ultimately.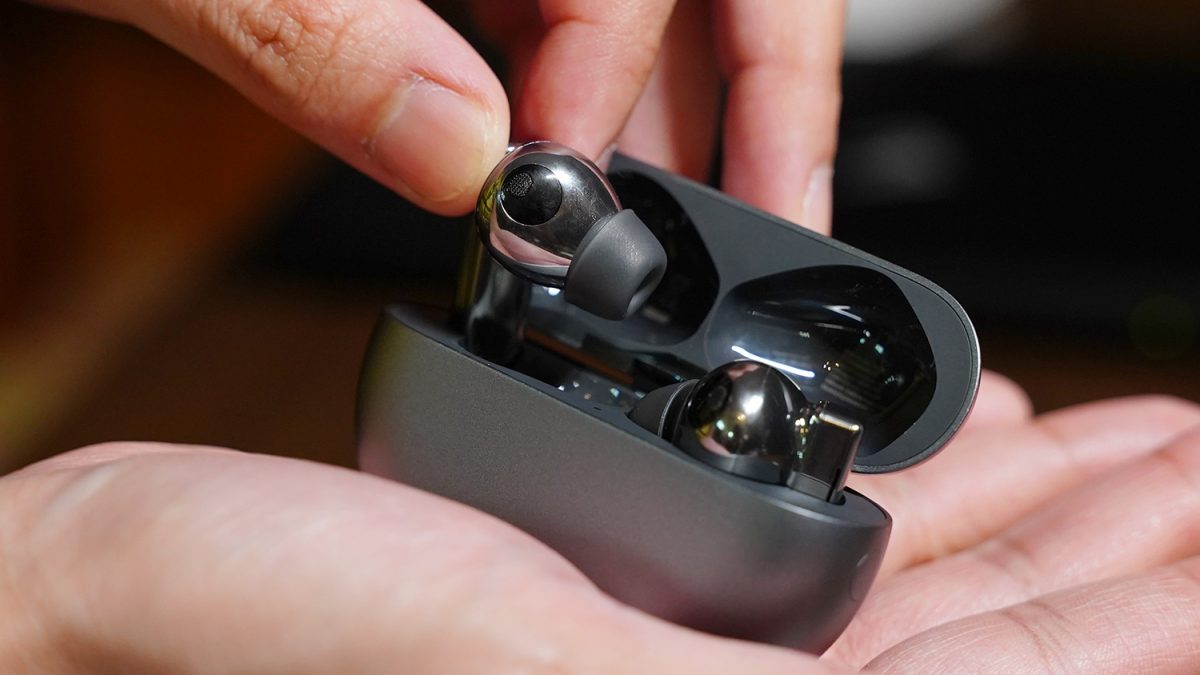 Regardless, popping the FreeBuds Pro into your ears is easy enough. Simply twist the eartips into your ear gently, and they should fit rather snugly. The fit is really good; it only ever needed a grand total of one adjustment during a cumulative two-hour commute on the MRT, brisk walking and some frantic head-turning to check for traffic included. One potentially worrying factor in terms of durability is the lack of an IPX rating. However, the FreeBuds Pro seems water-resistant enough to stand a little rain and even some sweat while out on a hot day. Because of this inherent lack of an IPX rating, we personally don't recommend you to try taking it out for a run.
If you've ever used Huawei FreeBuds or the more common AirPods before, using the manual controls on the FreeBuds Pro is pretty much the same. Pinching the stem on either side once controls playback or picks up calls; swiping up and down controls the volume; and pinch-holding toggles between ANC, "Awareness" which lets you pick up environmental sounds so you don't get hit by oncoming traffic and the like, and "Off", which is a sort of in-between of the first two modes.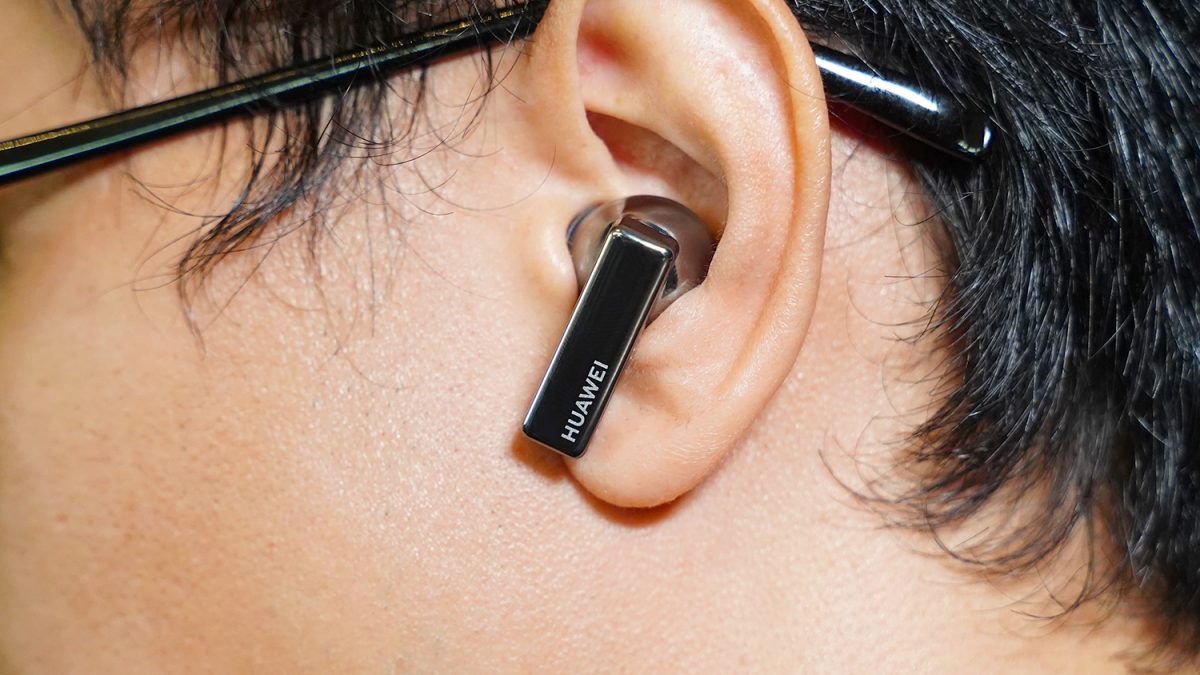 These controls can be customised via the Huawei AI Life app, which lets users customise the functions of the FreeBuds Pro a little more, such as access the ANC levels above. While these features are cool, this app is only available on Huawei's AppGallery, and Google Play on Android devices. Yup, sorry Apple users, but the lack of this essential software essentially makes the FreeBuds Pro dead weight on iOS devices. Okay, that's a bit of an exaggeration, as you can use basic playback and volume controls on the earbuds themselves, but you won't get to use auxiliary features such as tip fit testing, custom controls and gestures, and controlling up to three levels of ANC, which is considered quite important in getting the best out of the FreeBuds Pro.
Speaking of ANC, the noise cancellation on the FreeBuds Pro is actually quite superb. The typically loud blares of oncoming traffic, loud music, and even aircraft soaring overhead are reduced to small wisps of sound, with only high-frequency sounds left gasping in the background, which really lets us hone in on our aural entertainment with greater focus.
When using the AI Life app, the ANC could be adjusted to three distinct levels: Cosy, for quieter spaces such as your study room, General for a more "balanced" ANC, and Ultra for areas such as construction sites or big crowds. The differences among the three aren't that much from our experience, so we typically kept it in General for virtually all scenarios. Awareness mode lives up to its name exceptionally well, as it lets us pick up even others speaking directly to us, making it great for quick coffee runs on the way to the office.
Aside from ANC, the Huawei FreeBuds Pro performs superbly in the sound quality department. As an everyday audio accessory, this one is excellent, as its 11mm ultra-magnetic dynamic drivers deliver crisp, clear audio on a consistent and reliable basis. Podcasts get a ton of love here. Whether we were listening to more zany, sound design-focused ones such as The Adventure Zone, or more simple, talk-centric setups such as On Purpose with Jay Shetty, clarity was consistent throughout, and when paired with ANC, the isolation just makes any podcast that much more listenable.
As for music, the FreeBuds Pro fares relatively well too. Synth-heavy dance-worthy beats such as The Weeknd's "Blinding Lights" are brought to life here, with a clear separation between low, medium and high-frequency sounds that end up in an aural party in your ear. Crunchier, punchier, more aggressive tones such as The Clash's "Should I Stay Or Should I Go" take advantage of this separation quite well too, and Joe Strummer's typically muffled vocals get a little more uplifted here, much to our delight.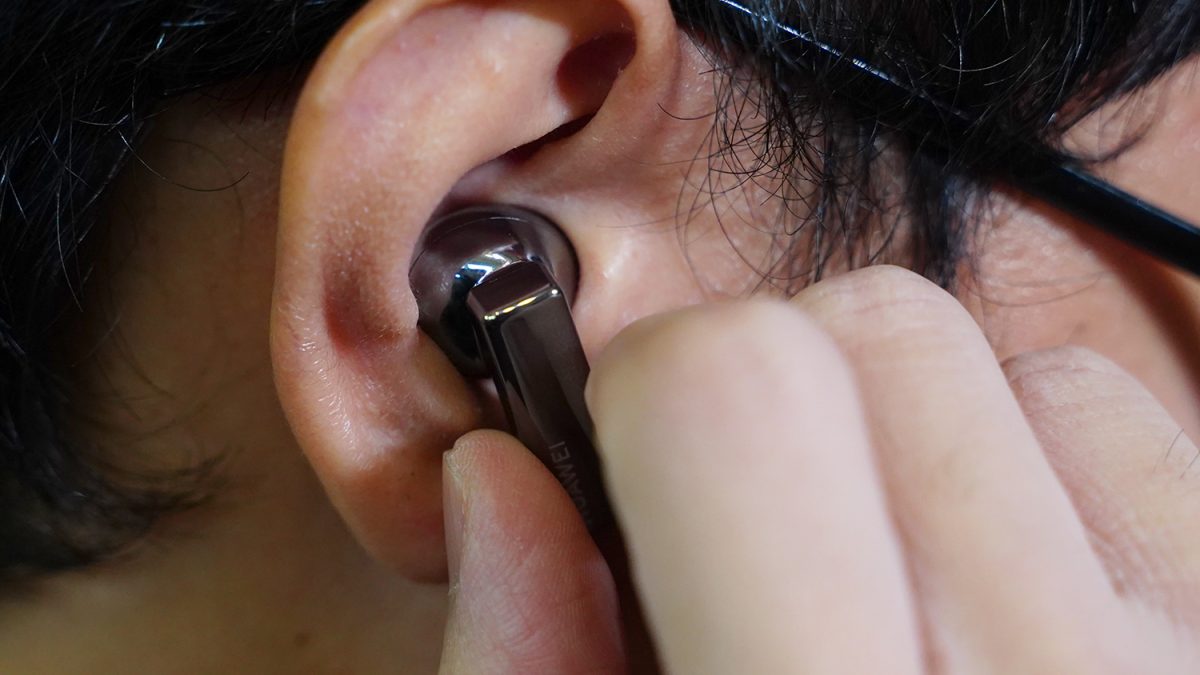 Granted, the overall audio quality here isn't anywhere as fantastic as that of the Sony WF-1000XM3, but you could say it's almost there. Huawei has clearly given a lot of time and effort into its R&D to produce some really competent drivers in the FreeBuds Pro, and it certainly has paid off.
Call quality on the FreeBuds Pro is somewhat of a revelation, as vocal clarity is excellent here. Somehow, Huawei has found a way to incorporate ANC into voice calls, that let those on the receiving end hear the user's voice with greater clarity. From our test calls, there was surprisingly very little distortion on the speaker's voice. It's really quite shocking, but Huawei has indeed come out on top in the market in terms of call quality on true wireless earbuds.
And on top of it all, the Huawei FreeBuds Pro comes with pretty solid battery life. On average, lasted for a good 3 – 4 hours of playback with ANC on, and about 6 – 7 hours without. That's about comparable to the WF-1000XM3, which makes it great for short flights. Its charging case offers up to 30 hours of battery life, and from our experience, the case did actually require charging after only about a week of use. And the best part is that it can charge from about 5% to full in under half an hour, which means that we were practically on the go with the FreeBuds Pro almost all the time. And not to mention that the case supports Qi wireless charging, which is always nice.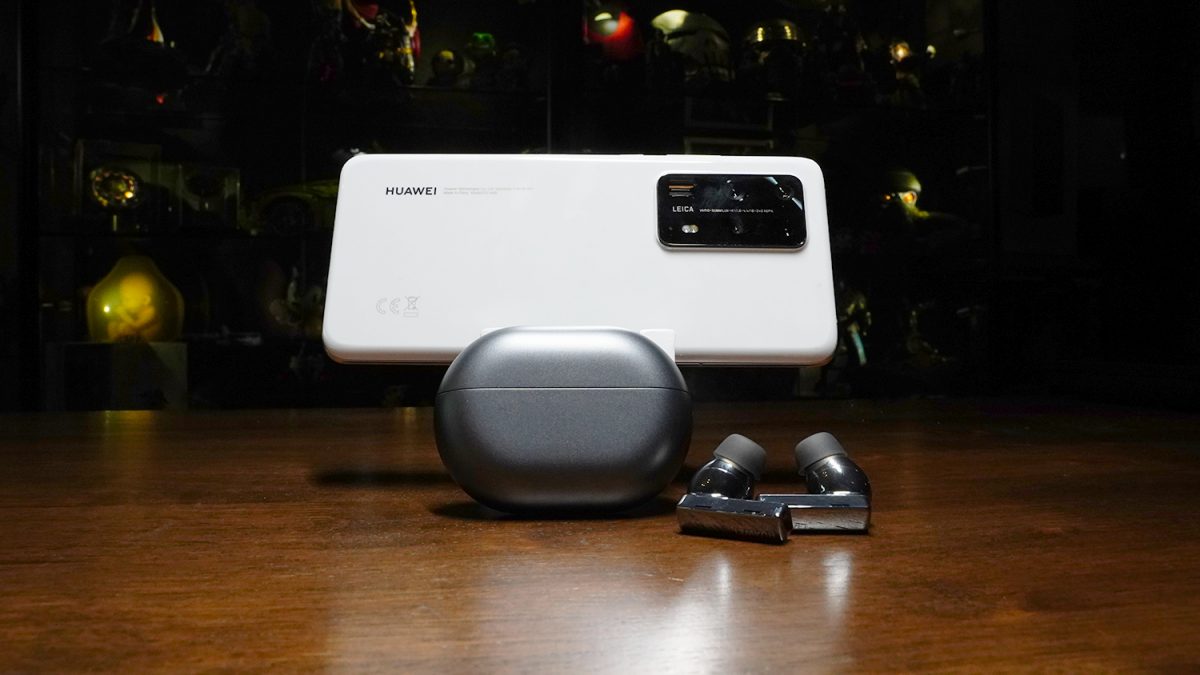 Overall, the Chinese tech giant has landed a sucker punch to the true wireless market with the Huawei FreeBuds Pro. No one probably expected this set of wireless earbuds to be this good, given that there have not been a lot of really good products in this category that have come out over the past year. For all of its capabilities, the FreeBuds Pro has really given the likes of Sony, Apple and Bose a run for their money, but it does come with the caveat of requiring that AI Life app to truly shine. So in essence, it's just like any other wireless earbuds in the hands of an Apple user.
GEEK REVIEW SCORE
Summary
Sleek, stylish, and sound (literally), Huawei seems to have truly transcended the "Apple AirPods clone" stigma with the FreeBuds Pro. With superb noise-cancelling and even more stellar audio quality, this is an unexpected powerhouse that even non-Huawei users will rue to have slept on in favour of more "mainstream" audio entries. But if you're an Apple user, you'd best steer clear of this one.
Overall
9/10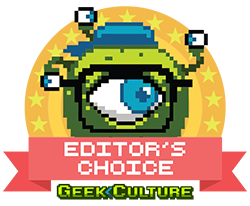 Aesthetics -

8.5/10

Build Quality -

9/10

Performance -

9.5/10

Value -

9/10

Geek Satisfaction -

9/10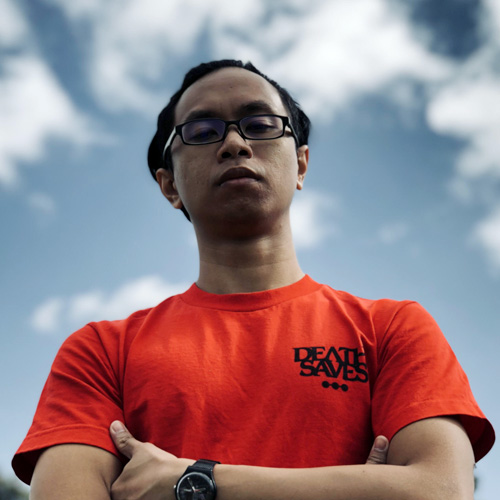 Marion has a serious RPG addiction. Sometimes it bleeds into real life; he forgets to sleep because he thinks he has a Witcher's body clock. Forgive him in advance if he suddenly blurts out terms such as "Mind Flayer" and "Magic Missile", because never once does he stop thinking about his next Dungeons & Dragons game.
---

Drop a Facebook comment below!