There was a time whereby laptops were synonymous with portability and convenience. Then came the more compact tablet. But however powerful or efficient they were, tablets meant trading in functionality for a lighter chassis and touchscreen capabilities.
The tide has turned in recent years as laptops started to get better and more efficient, and for those looking at more than a tablet but want less of a hulking laptop, the ASUS ZenBook Flip 13 (UX363) you'll be able to lighten your load both metaphorically on your wallet and literally for the weight of your backpack.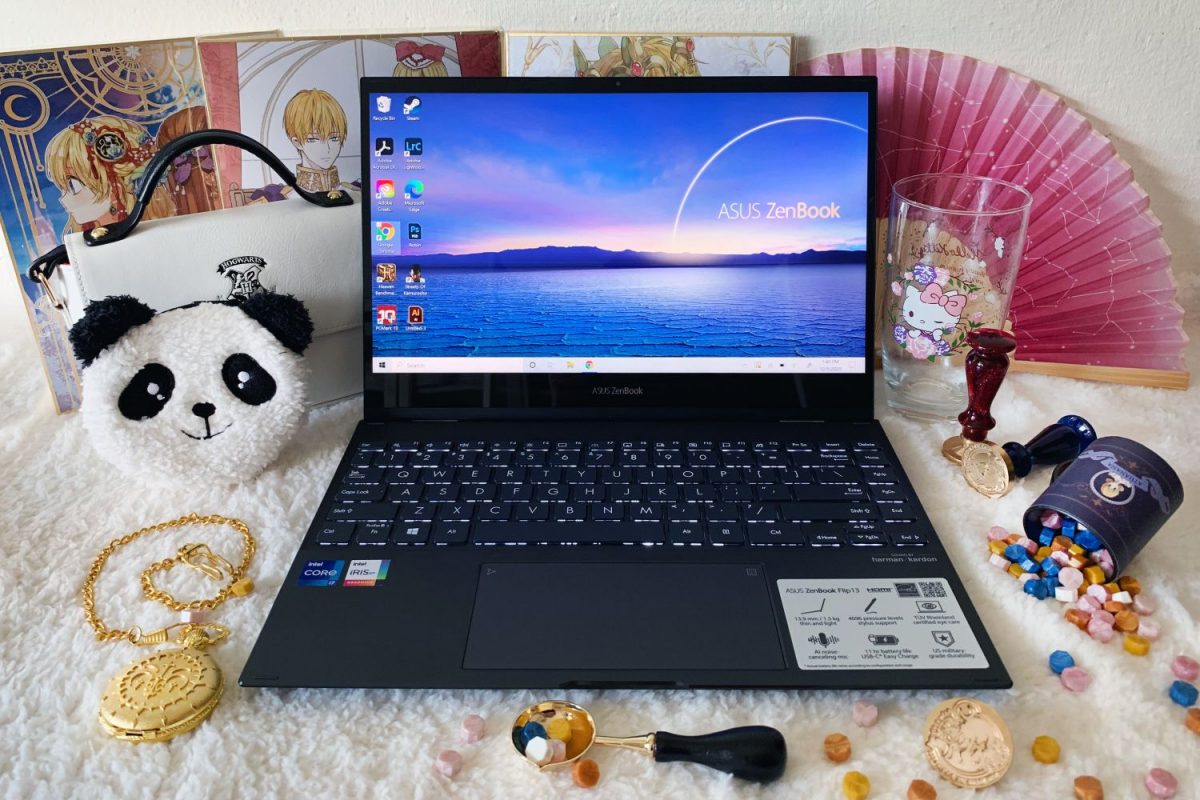 Weighing just 1.3kg, at 13.9mm thin, the ZenBook Flip 13 is a versatile 2-in-1 convertible ultrabook, which can be used as a laptop or transformed into a tablet. Its size and weight make it compact enough for stuffing into both backpacks or fashionable tote bags. Completed with a sleek Pine Grey lid, the Flip 13 is a classy and elegant powerhouse that offers both touchscreen capabilities and a physical keyboard & touchpad; which comes in handy for when you want to switch between typing out a creative essay and doing up a digital masterpiece.
Aside from having a weight comparable to that of a tablet, the long battery life also adds to the portability of this laptop. While working on Adobe Illustrator and surfing Google, the battery lasted from 10am till 8pm without a need for charging. When doing less intensive work, the laptop gives up to 14 hours of battery life with its 67 Wh rechargeable battery.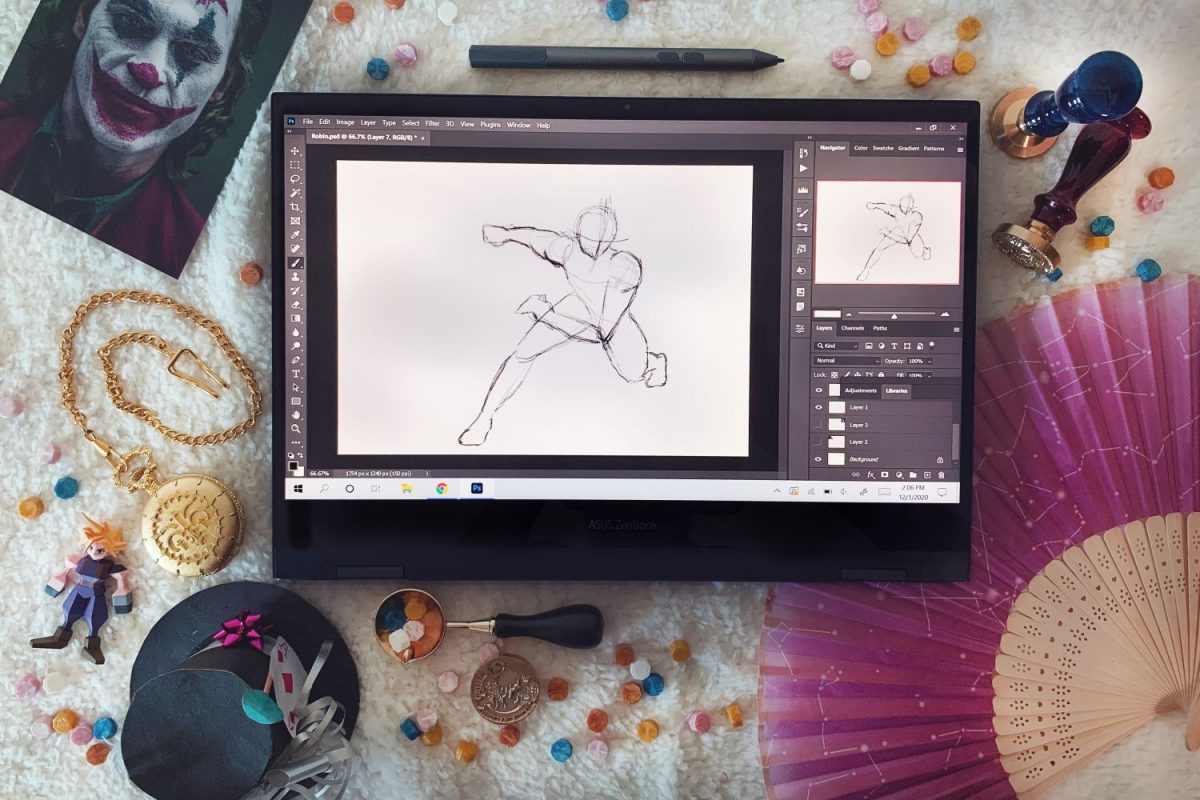 Moreover, with its 360° ErgoLift hinge, you can seamlessly flip between laptop, tent, stand or tablet modes, finding the best angle for you to work in. The smooth hinge allows the keyboard to be angled to a comfortable position for a more ergonomic typing experience when used in laptop mode. The hinge has even been torture-tested, being able to withstand a 20,000 cycles of rotation.
Like the Lenovo series, this laptop can be flipped to form a tent or A-shape, turning it into something very much resembling a mini version of the premium Wacom Cintiq. However, we found that it wasn't too ergonomic as this position makes it difficult for drawing on with its instability.
Crafted for designers, the ZenBook Flip 13's 100% 13.3" NanoEdge Full HD IPS display means a wider screen and vibrant colours that are comparable with Apple's True Tone display. This optimises the ultrabook for artists who need to work with accurate colours when painting or photo editing.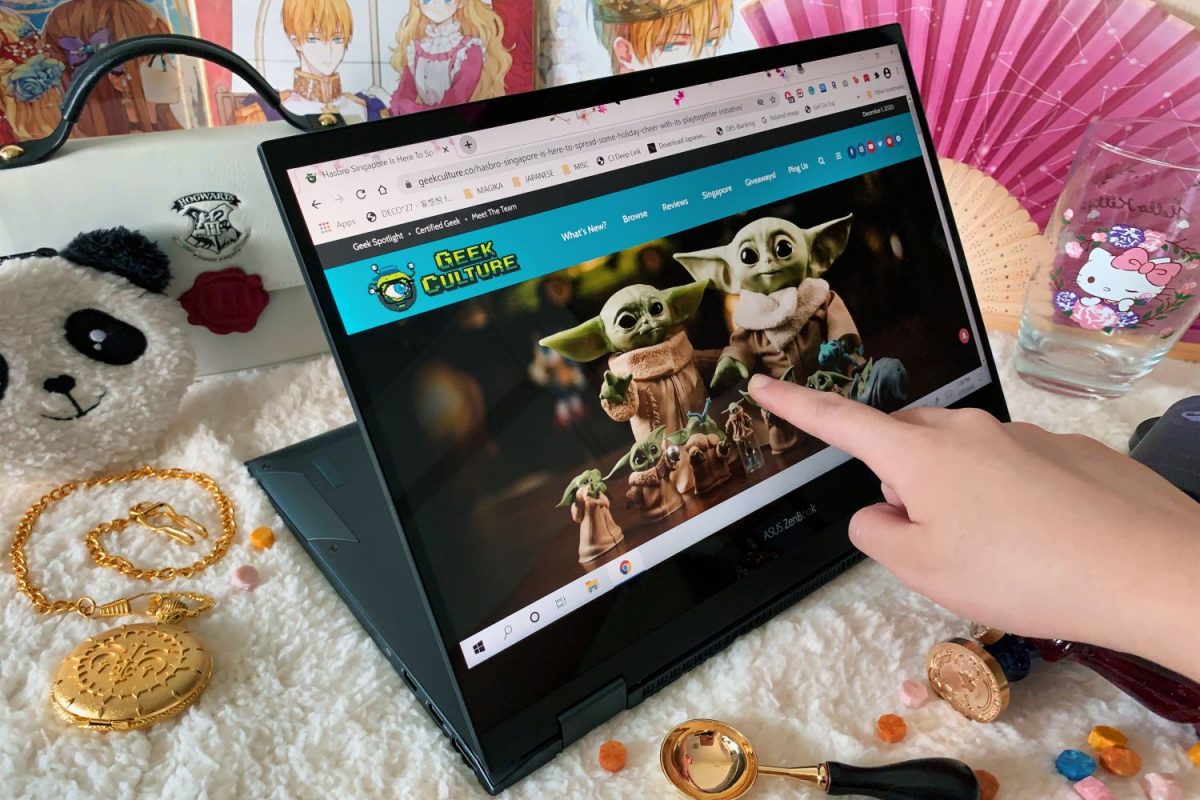 Paired with the latest 11th Gen intel core i7 processor and Intel Iris Xe graphics, the thin laptop is no lightweight and is powered to punch out stellar performances no matter how intensive or demanding the workload.
This of course also means that the laptop is built to support casual gaming. When running Steam games such as Yakuza Kiwami 2 and Streets Of Kamurocho, the games run smoothly, with no noticeable lag. Packed with a 512GB M.2 NVMe PCIe 3.0 SSD and 16 GB RAM, this gadget still has enough space to load in and run extra graphics-intensive working files such as an Adobe Photoshop painting or a Premiere Pro project.
The ZenBook Flip 13 also demonstrates highly intuitive touchscreen capabilities. Allowing for smooth scrolling, pinch & zoom, selection and swiping when used. Moreover, when used as a tablet, the screen provides 4096 levels of pressure sensitivity with the included ASUS Pen. This means being able to produce a better variation of the line quality for a more hand-drawn touch to the illustrations.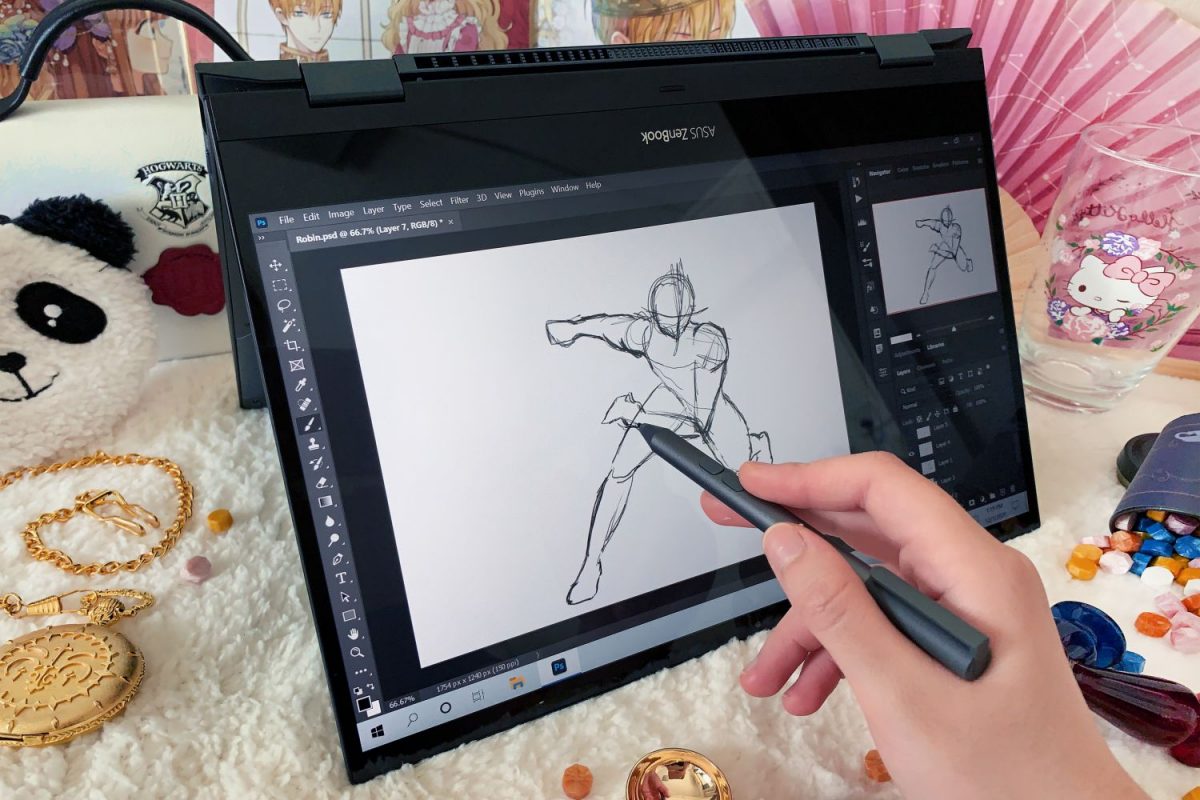 A downside to using it as a tablet is the keys at the bottom which can make it a little uncomfortable to work with. The lid also gets scratched easily, which we felt could have been improved on since the convertible laptop was made for flipping around its hinges for various modes.
On top of that, the pen pressure gets a little wonky, resulting in us having to press with quite a bit more strength in order to get a bold line. And without having stable support in the tent position, it makes transitioning from a thin line to a thick like smoothly harder to achieve.
Furthermore, working on it vertically can pose a challenge with some applications. When used with Adobe Photoshop, the software can't be adjusted to fit the screen and requires a bit or switching back and forth between portrait and landscape orientations in order to create a new file to draw on. Though this may not pose a huge problem as it seems that most artists prefer to draw using the landscape orientation.
Aside from some minor setbacks when used in its non-traditional laptop form, the ZenBook Flip 13 is still a pretty awesome piece of productivity machinery. Surprisingly, its thinness doesn't stop it from having a generous selection of ports, ranging from two USB-Cs, one HDMI and one USB Type-A, for increased connectivity. The USB-C easy charge also allows for use of a wide range of chargers with the ZenBook Flip 13. And despite its lack of a 3.5mm earphone jack, there is a complementary adaptor included with the laptop just for that.
As for sound itself, the laptop exhibits quality for both the recording and delivery of sound. With the Clear Voice Mic Feature, the ZenBook Flip 13 provides AI noise-cancelling audio technology to filter out distracting background noises and amplify the human voice. This along with its HD IR Camera support Windows Hello Webcam makes the notebook perfect for video calls in any environment, especially since online team-meets have become increasingly common with the rise of WFH and remote working.
Playing music directly from the Flip 13's speakers even without headphones may not reach the sonic dexterity of Sonos speakers, but it still makes for a rich listening experience for such a compact laptop. The robust audio quality comes as no surprise considering that the laptop is equipped with stereo speakers by Harmon Kardon Audio, producing a clear sound for blasting your Spotify playlist or Netflix shows out loud.
The Flip 13 also features a backlit keyboard, adding an extra glow to its aesthetic. A 1.4mm key travel gives the keyboard some clickiness despite the thinness of the laptop, and a new edge-to-edge keyboard design even boasts extra productivity-improving function keys on the right side of the layout. Yet, the keys remain nicely spaced out despite the laptop's smaller form factor. The touchpad is also responsive, reacting to light taps on it.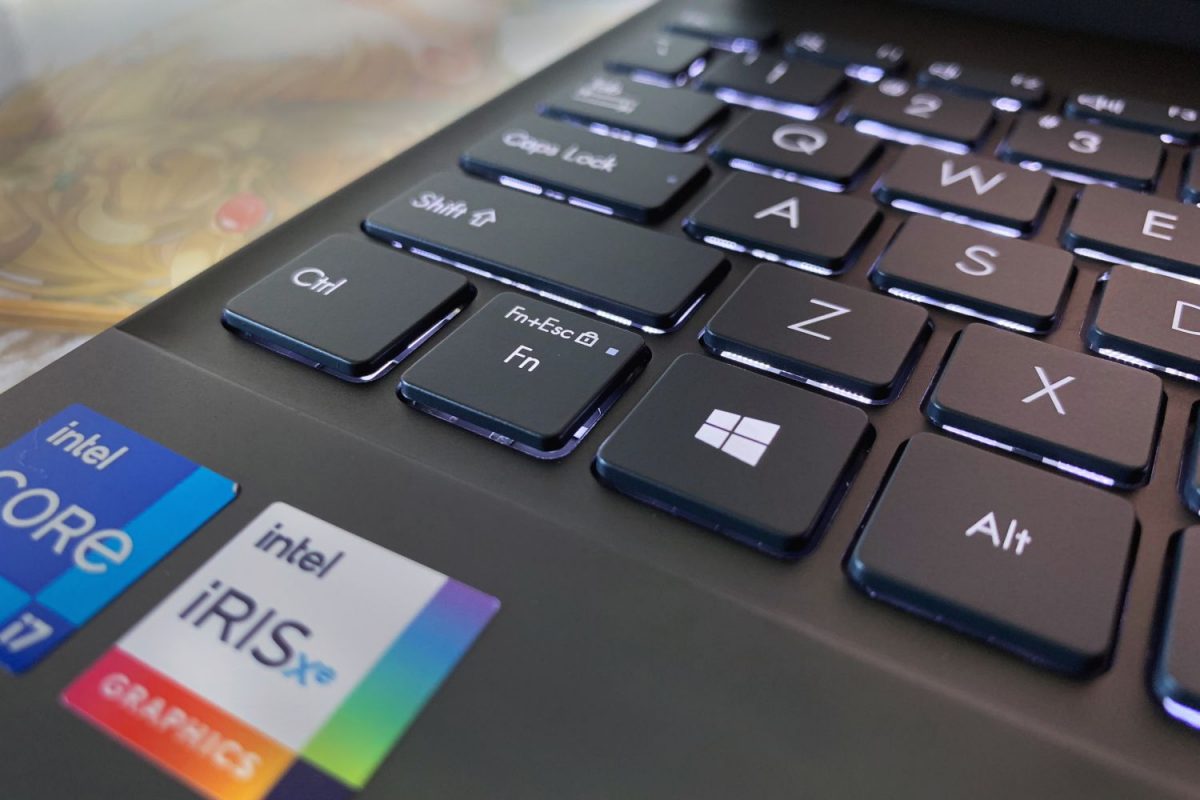 And despite being a device made for heavyweight usage, the Zenbook Flip 13 runs silently, doesn't overheat crazily even after being pushed with intense graphics work on a low battery.
The laptop is also built to optimise the possibilities of next-gen technologies with its WiFi 6 and Bluetooth 5.0 support. These provide faster download speeds, stable connection, less lag times when streaming or gaming online.
An added bonus is that despite all these powerful features, the ASUS ZenBook Flip 13 won't cost you an arm and a leg. At an affordable price of S$1,698 on the ASUS Singapore Store, the laptop-and-tablet is a pretty sweet deal worth it for designers and artists looking for alternatives to the pricier Apple MacBook.
You won't even have to worry over cybersecurity as the machine comes with a pre-installed McAfee Anti Virus and 2 years warranty with pickup & return service. Other accessories included are the aforementioned stylus pen, USB-C to audio jack adapter, a 65-watt fast-charge adapter, and a sleeve.
GEEK REVIEW SCORE
Summary
The ASUS ZenBook Flip 13 (UX363) is a snappy, high-performance, 2-in-1 convertible ultrabook which provides flexibility for designers and artists whose line of work often calls for a convenient yet affordable switch between a laptop and tablet.
Aesthetics -

8/10

Build Quality -

7.5/10

Performance -

8.5/10

Value -

8.5/10

Geek Satisfaction -

8/10
---

Drop a Facebook comment below!