Holy Potatoes! What the Hell?! is a colourful, hell-themed cooking management sim. You play as Sweeny Tots, an amnesiac potato chef who is trying to cook his way through the nine levels of hell's kitchens and get into heaven.
It's the third instalment from local game developers Daylight Studios. The first game, Holy Potatoes! A Weapon Shop?!, was a puntasy business sim where you played as a entrèe-preneur forging hundreds of different weapons; the second game, Holy Potatoes! We're in Space?!, had you managing a battle spaceship while you went on a space adventure.
The gameplay harkens back to the studio's first game, which revolved around completing quests via time/task management and pleasing 'customers' versus the second game which added an element of space battles and had you trashing everyone in your way.
The game's learning curve is well thought out,  albeit plodding in the first few levels. It's easy to pick up the gameplay and create a simple strategy.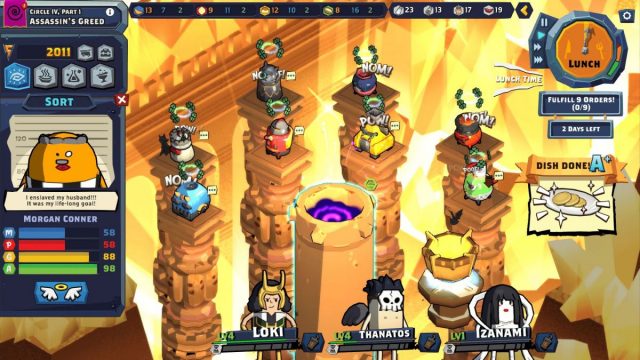 In Holy Potatoes! What the Hell?! you use four special, upgradable cooking stations to turn spud sinners (spinners?) into various ingredients, to create a variety of starch dishes to appease different patron gods. You divide evil potatoes based on four key traits – Malice, Pride, Greed and Apathy. By matching the highest ranked traits to the matching cooking stations — which are colour coded to make things easier — you can get better graded ingredients which in turn leads to better dishes and better results.
It's important because due to the slow start to the game, you might think that that's all there is to it, but you would be so wrong. Right after you get into the groove of things, a few new "chores" will be added to your list.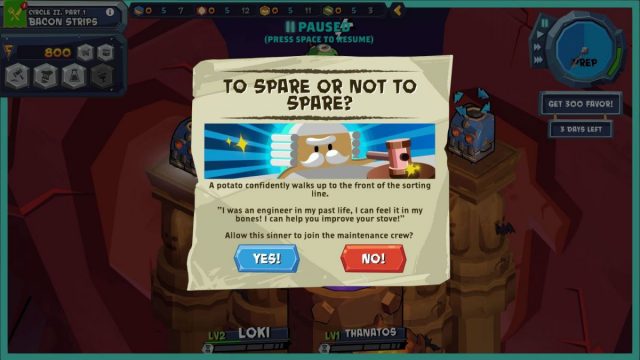 Apart from managing your cooking stations, you will have to keep an eye out for "Most Wanted" spuds, have the option to add spuds to your team or even send spuds to heaven. The ability to multi-task and having a keen eye is essential to the game. Fortunately, the game automatically pauses (there is an option to manually pause the game as well) during certain actions, so it's a little less stressful.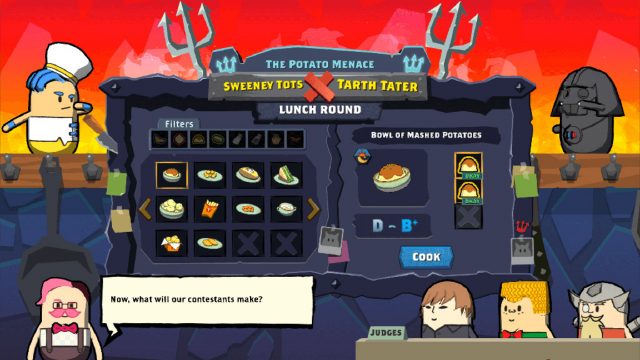 By adding these elements to the game progressively, Daylight Studios managed to keep the game interesting and avoid a monotonous grind. It's actually a whole of fun spotting the "Most Wanted" characters, and taking part in showdowns but nothing beats feeling like an all-powerful god as you decide the fate of some poor spuds.
The general narrative is simple and there isn't much character development but that's not what we're here for. We're here for the dark jokes,adorable character designs, pop culture inspired characters and background stories. While the game delivers on its hallmark puns, it suffers from minor monotony that comes with being the third in a themed series. The puns can a little tired and uninspired, and aren't as much of a pleasant surprise as they were before. However, the silly reasons why some spuds are sent to hell are some of the best lines there are in the game.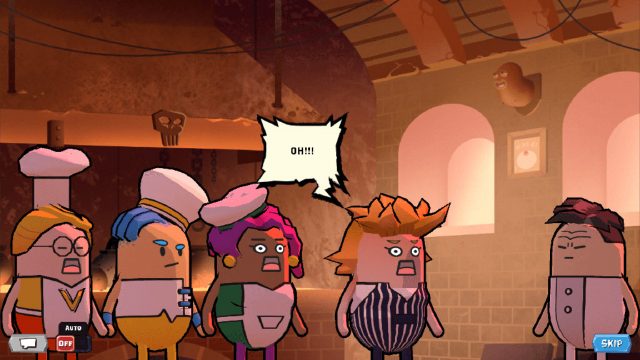 Visually, the characters have just enough distinct traits to give each of the characters something unique. The backdrops are simple and without much variation since the levels of hell don't change all that month. The cut scenes have fun dialogue that animates a bit slowly so if you click through impatiently, you might miss some of the fun stuff. Just like the previous two games, the design and animation style is simple but works.
Holy Potatoes! What the Hell?! is a fun game that will appeal to cooking sim lovers and fans of the previous game. On a scale of soggy fries to crisp tater tots, this is a warm, buttery baked potato.
GEEK REVIEW SCORE
Summary
A simple but entertaining cooking simulator filled with spud-tastic puns. Great for an afternoon of fun.
Gameplay -

7/10

Story -

7/10

Presentation -

7/10

Value -

7/10
Victoria is a consummate dragon trainer fueled by ice cream and cake. A huge cartoon, tokusatsu, bronze and modern age comics fan, she aims to one day use her cosplay skills to become a spy like Sydney Bistrow.