If there's anything that Koreans are great at, it's non-verbal comedies. Storyline is typically secondary in these shows, the emphasis is placed on physical comedy, acrobatics, and even audience participation.
In Resorts World Sentosa's latest show, Flying Through Time, a theatrical action comedy directed by NANTA and JUMP creator Choi Chui Ki, it combines comedy, acrobats, gymnastics with a dash of local flavour to get the audiences laughing throughout.
With a cast made of martial artists and gymnasts from China, Mongolia, Korea, Taiwan, and Malaysia, alongside local actor Joshua Tan (from Ah Boys to Men fame) and starlet Melody Low (who starred in local R21 film Siew Lup), the story takes us from ancient Korea to modern-day Singapore.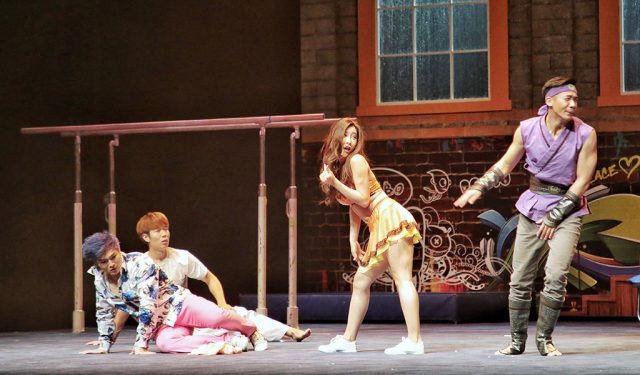 Tiger (Tan), the guardian of the Great Magic Rod, chases the villain Dark X, who stole a mythical relic with infinite power, through a time portal and the pair lands up in a local cheerleading academy.
Thankfully, the weak storyline isn't the focal point of the show, but acts like a loose thread that binds the sequences of action that sees the cast engage in gymnastics, martial arts and acrobatic moves combined with comedic elements. The star of the show is the cheerleader captain, with actor Jung Ui Hyuk cross-dressing in a cheerleading uniform, prancing around with long luscious locks and hideous make-up. From beginning to end, Jung brought the audiences plenty of laughs, and you get the sense he truly enjoys performing the role- he's seen to be hardly able to contain his own mirth.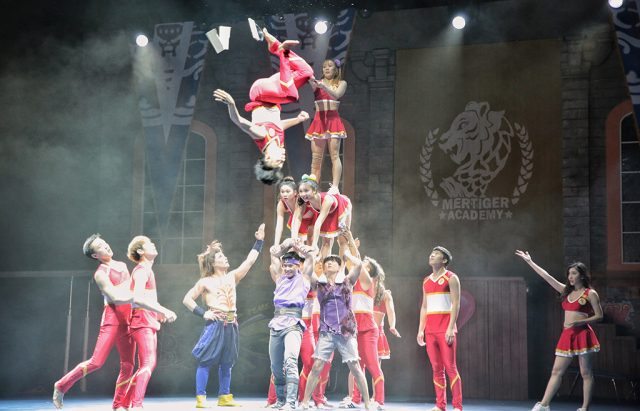 The rest of the cast hold their own, with most of them coming from an athletic background, they were able to carry off the show's physical comedy well. There're also mini-segments to showcase their true talents, such as b-boying, rhythmic gymnastics routines, aerial acrobats and martial arts.
Although the show is termed as non-verbal, the cast do sometimes punctuate their performances with familiar Singlish terms that the audiences react in laughter.
One of the supposed highlights of Flying Through Time is the animation effects, where the stage backdrop is transformed into an interactive space that the actors can react to. Sadly though, the animation and effects look outdated and amateurish, although Tan does a commendable job syncing with the action on the backdrop to pull off a seamless interaction sequence.
From start to end, Flying Through Time brought plenty of laughs to its audience, despite the lacklustre storyline and cheesy animation, thanks in large part to its likable and talented cast. Because it was largely non-verbal, even my four-year-old was able to grasp the show's jokes and laugh throughout. And that's the beauty of Korean created non-verbal comedies.
Lash grew up living and breathing Star Wars, and has lost complete touch with reality. She survives solely on movies, music and coffee.
---

Drop a Facebook comment below!
---