Being super cute and trendy, Hana Song, a.k.a D.Va is one of the most popular and iconic characters from Blizzard's hit game, Overwatch. Fans can't seem to get enough of her official merchandise, consisting of t-shirts and an upcoming Funko Pop figure. At the present, there aren't any licensed full sized D.Va statues or figurines, which convinced Xinhao, a Chinese company, to create a statue of D.Va and her mech in their default colour scheme.
This is probably an unlicensed product as the box does not have Blizzard's logo anywhere, or contains any mention of Blizzard. I managed to find this piece on eBay for USD$60, including shipping. I recall seeing this piece on Aliexpress and Taobao as well.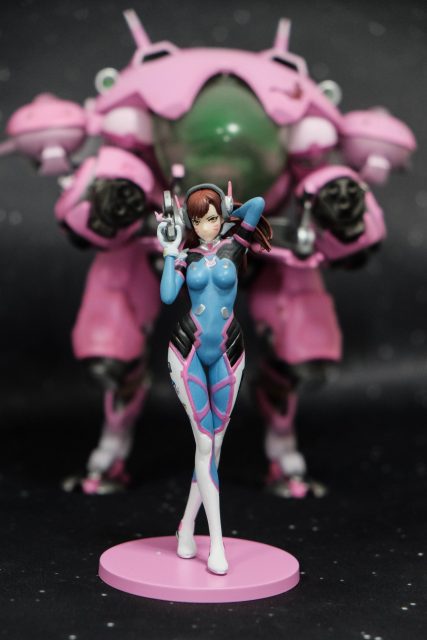 Plugged into the pink base, D.Va measures about 14cm tall. It is not poseable but scales to her mech included in the set.
As you can see, the figure is accurate, well proportioned (ah-hem) and has good facial details. I was impressed by the amount of detail on this statue. D.Va has sponsors and Meka logos on her thighs and the bunny logo above her chest. Even her pistol has her logo emblazoned on it, and sports a bunny key-chain. I am guessing the designers of this statue derived these logo designs from the D.Va reference kit for cosplayers. My only gripe is that the figure is a bit loose from the base and the paint job is not very clean and sharp. Also, it will be great if a miniature bottle of Mountain Dew and Doritos pack are included as accessories for this set.
Moving on to the statue of D.Va's mech, this piece stands at 23cm tall and has a heft to it.  It is front heavy and tends to tip forward, but is able to balance itself well when its legs are in the right position.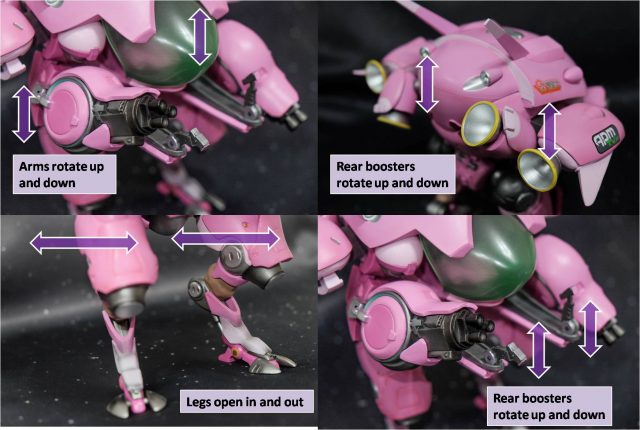 Unlike D.Va, the mech actually has 8 points of articulation. Each leg can open in and out, the guns and joysticks moves up and down, and the rear booster can rotate. However, I felt these articulations do not mean much as the range of movement is quite limited, and there are many articulation points not actuated. Still, it is better than nothing, as the intention of this piece is to be a static display instead of a poseable toy. My copy of the mech has a minor flaw, where a joint will open up when the legs of the mech are opened too wide, hinting at low quality control from the factory's side. Thankfully, this flaw was on the underside of the mech, and is not very obvious.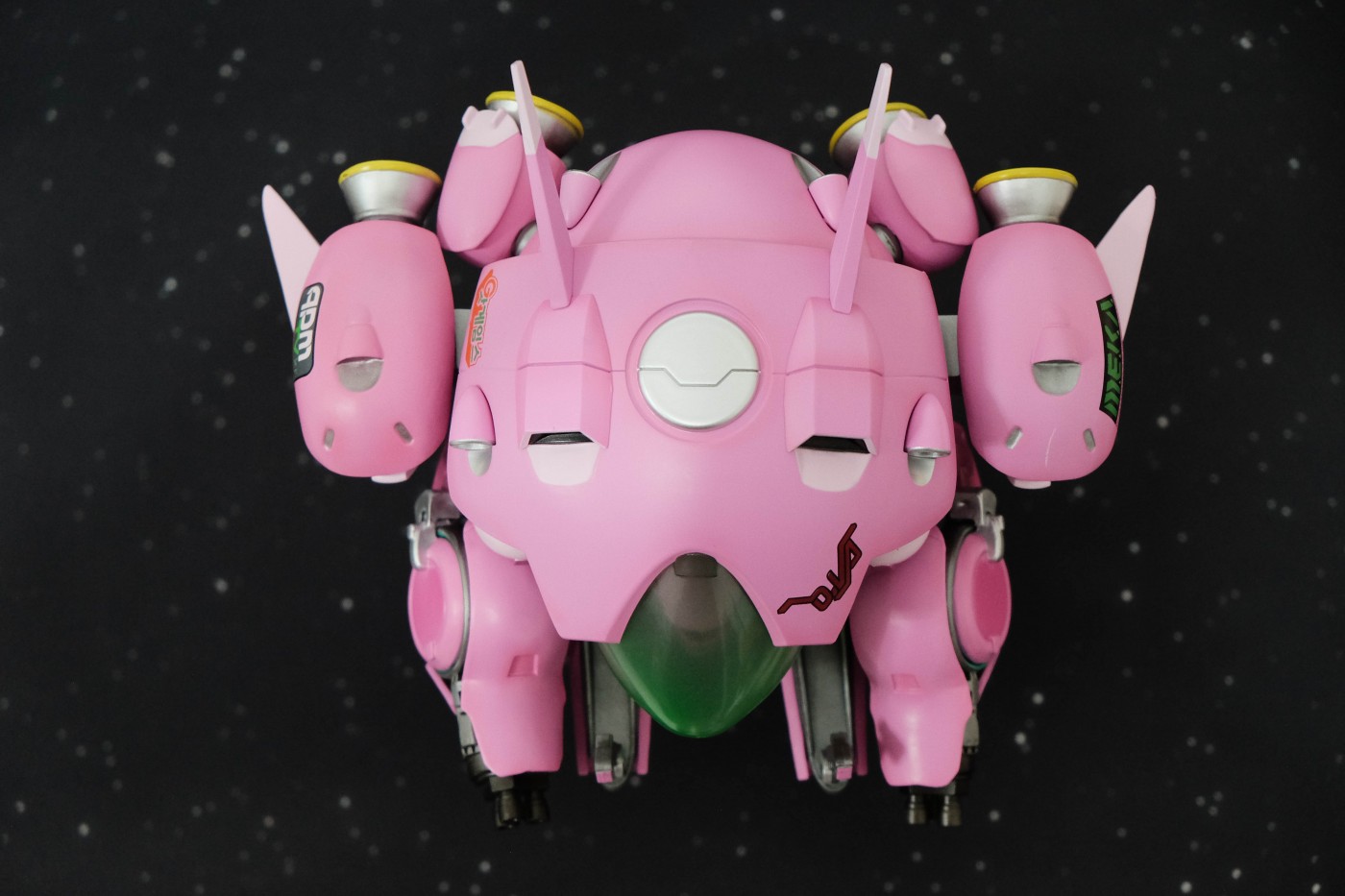 Like the D.Va statue, the mecha's colour scheme is accurate, with light weathering on the legs.  I might be nit-picking, but I was able to spot random blotches and stray streaks on the mech's body. Some painted lines are also smudgy and not clean when viewed up close. The saving grace is that the mech has D.Va and her sponsor's logos, which were applied onto the mech. Still, this piece left me desiring for a better D.Va collectable.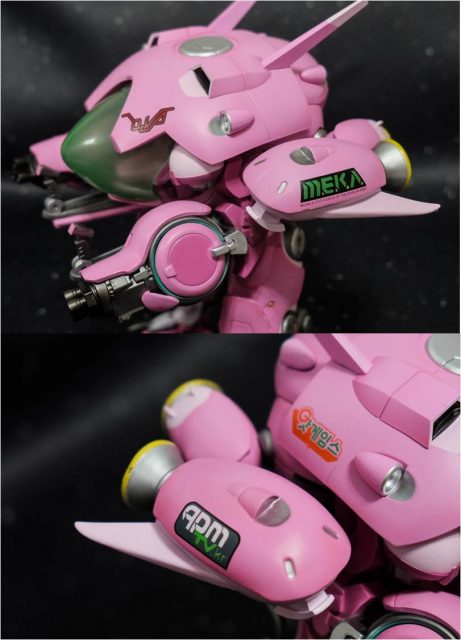 Hopefully, NECA, who has a history of creating action figures from Blizzard's game can create a licensed D.Va collectable in the future. I am hoping they will include a posable D.Va which actually can go in and out of her mech, and include accessories such as a green soda drink and a red packet of tacos. In the mean time, Overwatch fans will have to be contented with Xinhao's D.Va statue to display in their collection.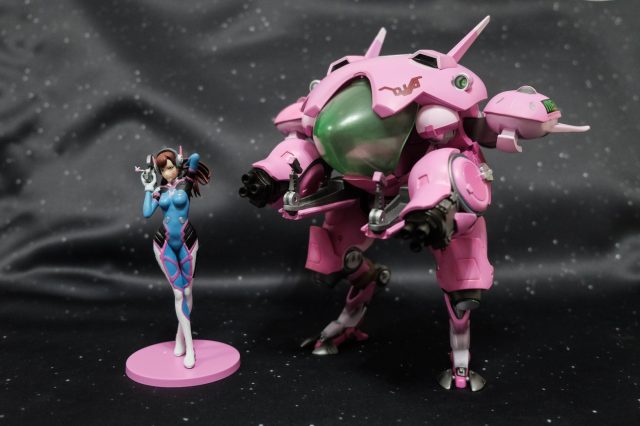 GEEK REVIEW SCORE
Summary
Overall, the mech is sturdy and has some heft to it. The paint job on both D.Va and her mech is accurate but could be cleaner and sharper. My favorite part of this collectible is that the decals on the figure are detailed and impressive. However, I felt it was rather expensive to pay USD$60ish for an unlicensed product, which has inconsistent quality control. That being said, beggars can't be choosers , this is the largest and only full-sized D.Va figure with her mech available on the market. I am sure almost every geek who is a D.Va fan will fall in love with this colourful and game accurate piece.
Build Quality -

6.5/10

Quality of Painting -

7/10

Value for Money -

6/10

Geek Satisfaction -

8/10
SnapSniper is an avid geek who is both a huge fan of games and an even bigger Star Wars fan.
---

Drop a Facebook comment below!